The Client

Macau.com is the largest travel and entertainment online booking platform. It provides hotel accommodation, shows, travel activities, and packaged tours to the city's tourism market. Being a multi-language website, the platform caters to visitors with varied interests and from many different countries. It's a user-friendly source to find online information for trip-planning.
The Campaign
Under the title "Getaway to Macau", Macau.com launched a contest for their Facebook fans and followers. They offered all participants a chance to win a free stay for two at StarWorld's 5-star hotel and a meal for two at the prestigious Inagiku Japanese Restaurant. Prizes were valued at over HKD 30,000 ($ 3,864 USD).
The contest started on March 6th and lasted until March 28th. The Facebook quiz consisted of four questions related to the newest features on Macau.com. Users had to visit the website in order to be able to answer the questions correctly. Furthermore, a final question was included, giving the users the opportunity to be creative when explaining what they would like to do on their trip to Macau. Winners were selected based on the highest scores and the most creative answer to the last question.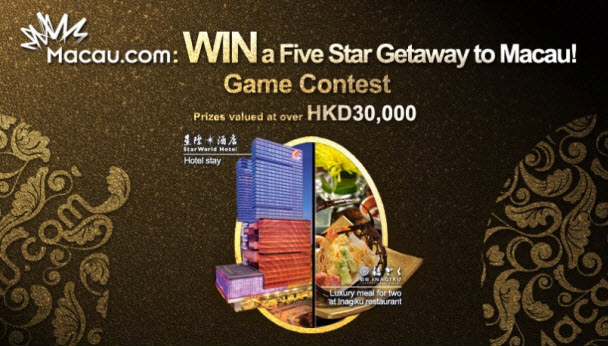 The Challenge
The main purpose of the contest was to inform the audience about the newest features of the Macau.com platform, such as the Things to Do, Dining, and Innovative Maps sections. They were launched prior to the Facebook quiz release. The organizers encouraged their Facebook audience to visit the website and interact with the new sections. The main goal was to drive Facebook users to their new site.
Macau.com is a multilingual platform and provides information in English and Chinese. The challenge was to run the contest on a Facebook fan page for English and Chinese speakers.
The Solution
Macau.com used the Easypromos White Label solution and enhanced these functionalities:
Macau.com published their Facebook quiz that consisted of four questions with closed answers and images. The Knowledge Quiz application offers the possibility to include direct links to external websites in the questions, therefore it generated traffic to the new sections of the website while testing the users' knowledge on Macau.com. For instance, participants had to visit the Things to Do section and answer a question about the names of the different sections featured on the page.
Thanks to the Easypromos multilingual support, the promotion was launched in English and Chinese, depending on the users' internet browser's language.
Macau.com worked together with the Easypromos team to ensure the proper functioning of the application concerning the Chinese language function.
The Benefits
Increase in the fans database: 5,000 new fans for Macau Facebook page.
Macau.com increased page views by more than 30,000.
Setting up a single trivia contest, with contents that were shown both in English and Chinese language at the same time, made it possible to give the users a personalized experience concerning their own language.

Testimonial
Easypromos is very experienced & ambitious, flexible team – they are all familiar with the situations we would face (i.e from technical to marketing), and provided us instant support even we just communicated through emails, they give us confident that their app is well-fit into our business model. I have no doubt to recommend Easypromos to any companies. They definitely helped us to acquire our KPIs.

– Amas Li –
Marketing Manager, Macau.com