Posted in: Business news
With the aim of increasing the number of Likes of a Facebook Page, we are offering you Friend Gate: a new Easypromos tool for capturing fans that can be implemented with any type of promotion or contest. In order to participate in the promotion the user must have a minimum number of friends who also Like the Page. The user can then invite friends to help them reach this number. In this post we will explain how Friend Gate works, what the user's experience will be like and which are the principal benefits.

This feature is out of date. Review our 'My Networks' feature, which enables you to encourage users to like your Facebook Page following Facebook's rules.
The contents of this post are as follows:
2. What are the principal benefits of Friend Gate?
3. What will the user's experience be like?
What is Friend Gate?
Friend Gate is a  feature from Easypromos that permits administrators to make it a requirement for users to have a minimum number of friends who are also friends of the same Facebook Page before the user can take part in a promotion. In this way the user can only enter the promotion when he/she obtains the required number of friends who are also fans of the Page.
The user will know at every moment exactly how many of his or her friends are fans of the Page, and, if lacking the required minimum, can invite friends from the application itself.
Friend Gate is available for all promotions created with the Premium and White Label versions of Easypromos.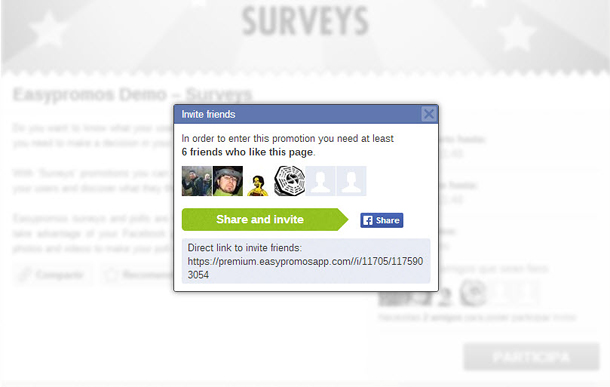 Read more »