One of the factors most often used when measuring the effectiveness of a post is its reach. Generally, the greater the reach of a post, the more engagement it generates. This important and significant metric is not visible in Instagram personal profile posts, although it is visible in sponsored posts and stories and in the insights in Instagram Business profiles.
Let's start by taking a look at promoting your Instagram giveaway. It's important to focus on your objectives, target audience and channels which you want to use to publicize the contest. Bear in mind the following aspects:
Share posts on other social media networks to drive the audience to your Instagram account. Prepare a series of posts for all social media channels.
Make sure you use emojis in the text – it will grab more attention than a text without any visual elements.
Use images similar to the ones used in your Instagram giveaway post and showcase the prize. This way, users of other social media networks will find it easier to locate your giveaway post.
Remember about the recommended size of images for each social media network. Images shared on Instagram should be 1080x1080px, while the best dimension for Stories would be 750x1334px. When it comes to Facebook and Twitter the recommended image size is 1200×63-px.
If you add links to your posts, make sure you use programs to make them shorter and customized – it'll be easier to type it into the search bar.
Decide how many posts you want to share on each social media network to promote your Instagram giveaway. Focus on publication times, segments, etc.
Don't forget to share the giveaway with newsletter subscribers, blog readers, and website visitors. You can also send text messages and app notifications.
Here are ten tips to consider when disseminating your comments-based Instagram giveaways to ensure it obtains maximum reach.
Create the post on your Instagram profile
It's important to think carefully about what the post of your comments-based Instagram giveaway will look like. The image should fit the text, the instructions should be clear and easy for participants to follow, the text should fit in the window so users don't have to scroll to read the important information, and so on. Don't forget to showcase the prize and share the participation dates.
We suggest you follow these tips when creating your sweepstakes post on Instagram.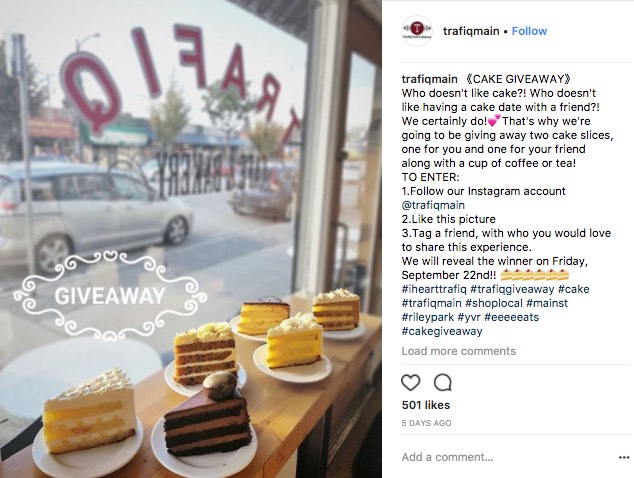 Create a cobranding action to boost dissemination
Before publishing the post of your comment-based Instagram giveaway, consider all the possibilities that Instagram provides. Decide which type of giveaway you want to run, what prizes you want to offer, and what the requirements for participation will be. And of course, decide whether to make your giveaway part of a co-branding strategy with two or more brands promoting the campaign. This way, all the brands involved can share the same sweepstakes, making it possible for the organizing brands to reach a wider audience and boost brand awareness.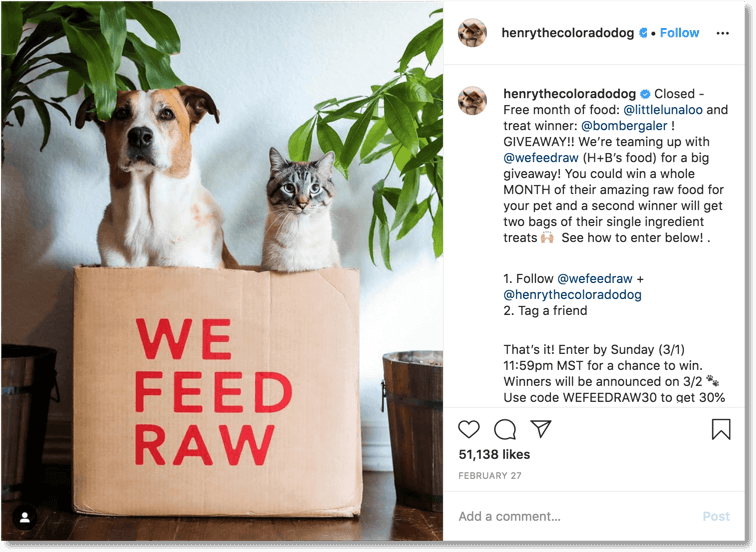 Use the participation requirements: comment and mention
There's no more effective way of making a post go viral than to add some mandatory requirements for participation:
To enter in the prize draw, users necessarily need to comment on the post. You can ask them to answer something interesting to know for your business and to use specific hashtags in the comment.
To qualify for the prize, participants could also be asked to mention friends in a comment below the giveaway post. This will help you to make the sweepstakes viral and boost brand awareness. We recommend you don't ask participants to mention more than five friends.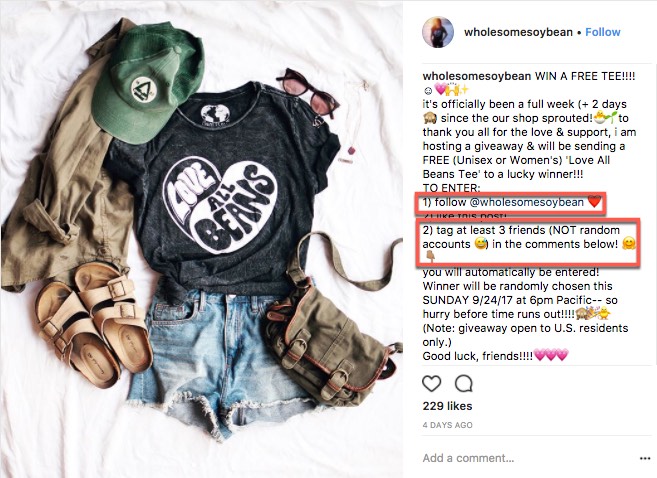 With the changes applied by Instagram on April 5, 2018, the Instagram API no longer allows third-party applications like Easypromos to verify if a user is a follower of a brand. That's why we don't recommend making it a requirement to follow a brand to participate since it can't be checked automatically with an app. You can still suggest it in the participation dynamics. If you make it a participation requirement you will have to manually check if the winner is also your follower.
Use the hashtags #sweepstakes and #giveaway in your post
You can use the hashtags #sweepstakes and #giveaway in the post. This way, Instagram will display the post to everyone who searches for these hashtags. All the hashtags you use in your posts become links that can be clicked on. This means that users can easily find posts about themes that they are interested in, such as sweepstakes. It can be a good idea to use several hashtags throughout the post with key words to disseminate your giveaway across different lists of posts.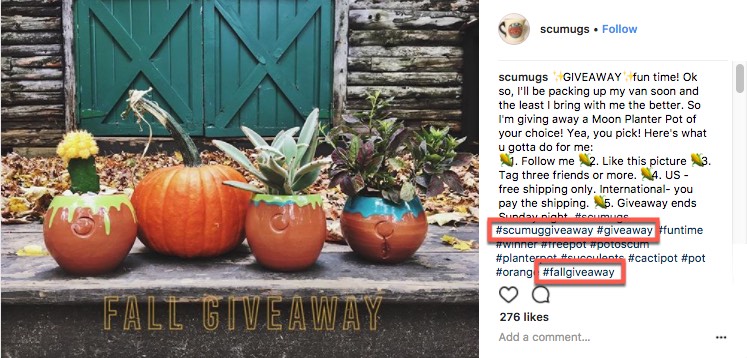 Promote the sweepstakes in your bio and as a story
The bio of an Instagram profile can also be used to spread the word about your Instagram comment contest. The bio is where users can learn more about you and your Instagram profile, so it's the perfect place to promote the giveaway you're currently running. Write a small summary of the promotion and add a link to the terms and conditions or to an external site where the details of the promotion are provided. Here's an example of the text you could use to publish the giveaway:
Participate now! You could win a [PRIZE]. Look for the GIVEAWAY POST on our profile and PARTICIPATE NOW. Legal bases: [LINK TO TERMS AND CONDITIONS]
Another highly effective way of disseminating a post is via Instagram Stories. This feature has become super popular among users and is, therefore, an essential tool for sharing your giveaway. An Instagram Story now often gets more views than a normal post. In addition – as we've already mentioned – a story's reach is displayed beneath it, providing the sweepstakes organizer with information about how many views the story has generated and which users have seen it.
It's important to remember that stories have a short lifespan: just 24 hours. After this, the stories disappear from your profile, so the best way to promote a giveaway via Instagram Stories is to upload an image every 24 hours until the sweepstakes has ended, accompanying each story with messages such as 'Just three days left!' Or 'Last day for participating in our giveaway!'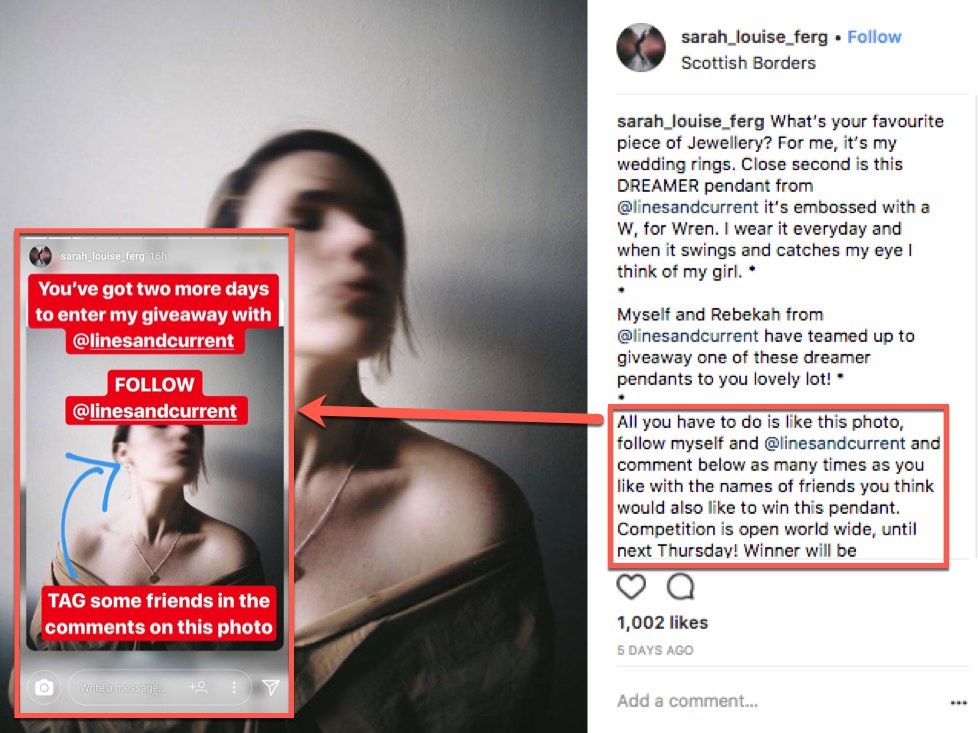 You could use the story to tell users to check the link in the bio to find out more about the giveaway – the terms and conditions for example. If your Instagram profile is a verified brand account you can also link the story to an external site. This will enable you to link to the terms and conditions or to a site with information about the sweepstakes.
Invest in online publicity
All Instagram posts have a unique link. Share this link on other social networks and use it to invest in publicity campaigns by redirecting traffic directly to the unique link to your Instagram post. You can pay for traffic via services like Facebook Ads and Google AdWords.
On Instagram, it's possible to promote posts directly from the Instagram app or create new sponsored posts from the Facebook Ads tool. In both cases, a new Instagram post is generated, meaning that the comments and likes of the sponsored post do not accumulate in the original Instagram sweepstakes post. If you want to count these comments as well and add them to the original sweepstakes, it is then necessary to count the interactions separately and add them before carrying out the final sweepstakes.
Announce your giveaway via newsletter
Do you send out weekly newsletters to inform your clients about news and other product-related content? Make the most of your Instagram giveaway by sending out a newsletter to your database to inform about it. This will enable you to reach your target audience, boost giveaway participation and increase engagement from your followers.
Promote the sweepstakes on other online channels and your website
To give greater visibility to your comments-based Instagram giveaway you can promote it via your brand's other social media channels, as well as your website and blog. You could also create a specific landing page for the sweepstakes. These actions will help you to dynamize your channels with content that is diverse and appealing to users. Tell users about your giveaway and lead them to your Instagram profile so that they can participate.
You can also carry out the same giveaway on another social network (Facebook for example), but always keeping in mind that participants then have the chance to take part and win twice (via Facebook and Instagram for example).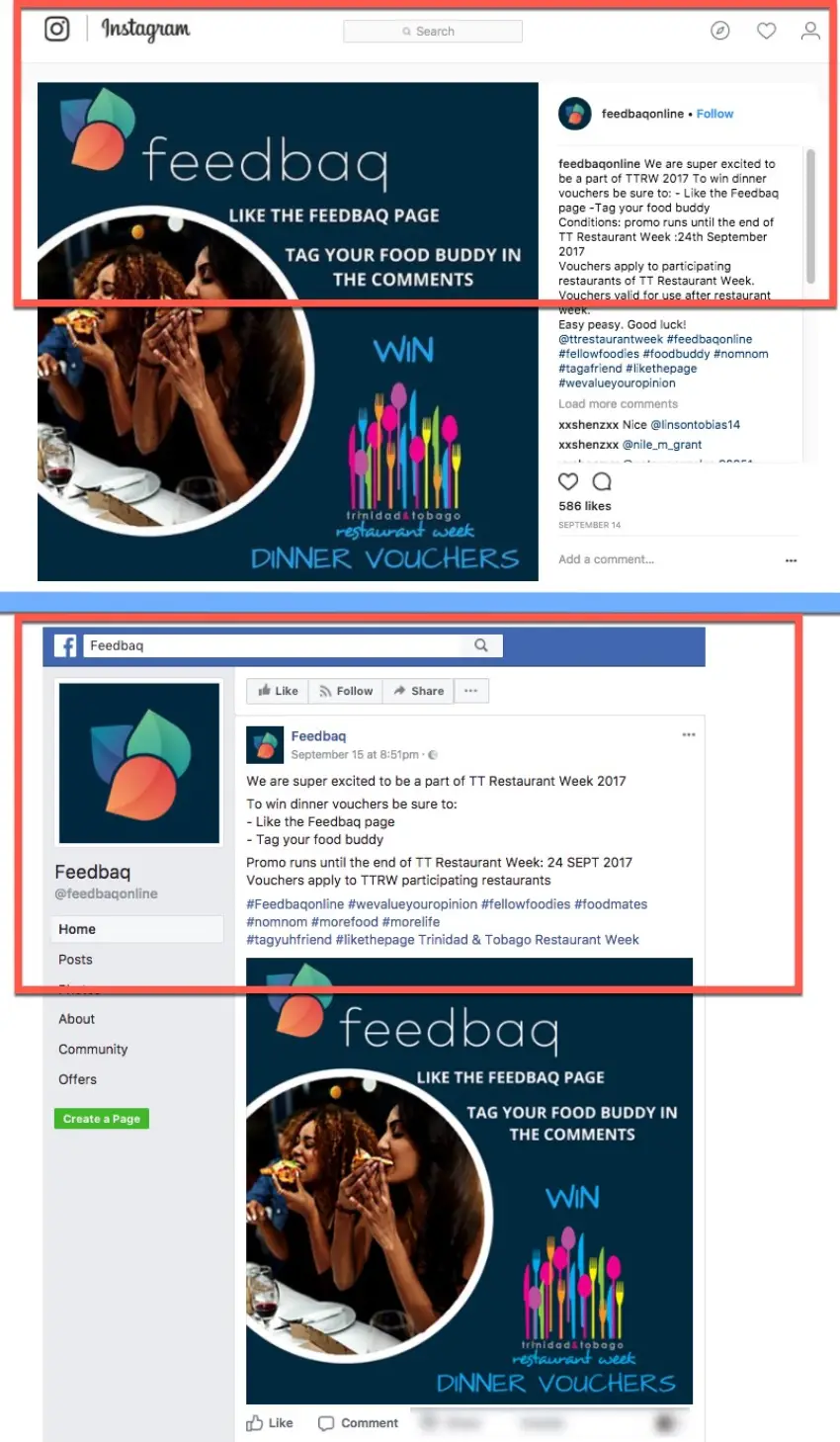 Don't forget the offline channels
Don't let online promotions make you forget the physical point of sale! Your promotion should be appealing and the CTA should be clear, attention-grabbing and highly visible. Do you have a physical store? Promote your Instagram giveaway at the POS (point of sale) and try to capture the attention of offline customers and convert them into online fans. You'll then be able to promote your giveaway and Instagram profile to your online fans, contact them directly, and inform them about the latest news, etc.
Keep in mind promotion and contest portals
It may be that your target audience is very wide-ranging and you're interested in reaching more people. In that case, you can review the contest portals and the promotion and discount portals to promote your sweepstakes.
Has this article given you new ideas on how to disseminate and increase the reach of your comment-based Instagram giveaway? Then remember, your first giveaway with Easypromos is free! Don't hesitate to contact us in case of further questions!