Father's Day promotion ideas for your brand
According to Statista, Father's Day was worth more than $20.1 billion in 2021, up from $17billion in the previous year. Customer also increased their average spending to $149 per consumer. But we've come a long way from the traditional hand-knitted tie or bottle of whiskey. Nowadays dads are smart, smartly dressed, and social media-conscious superheroes.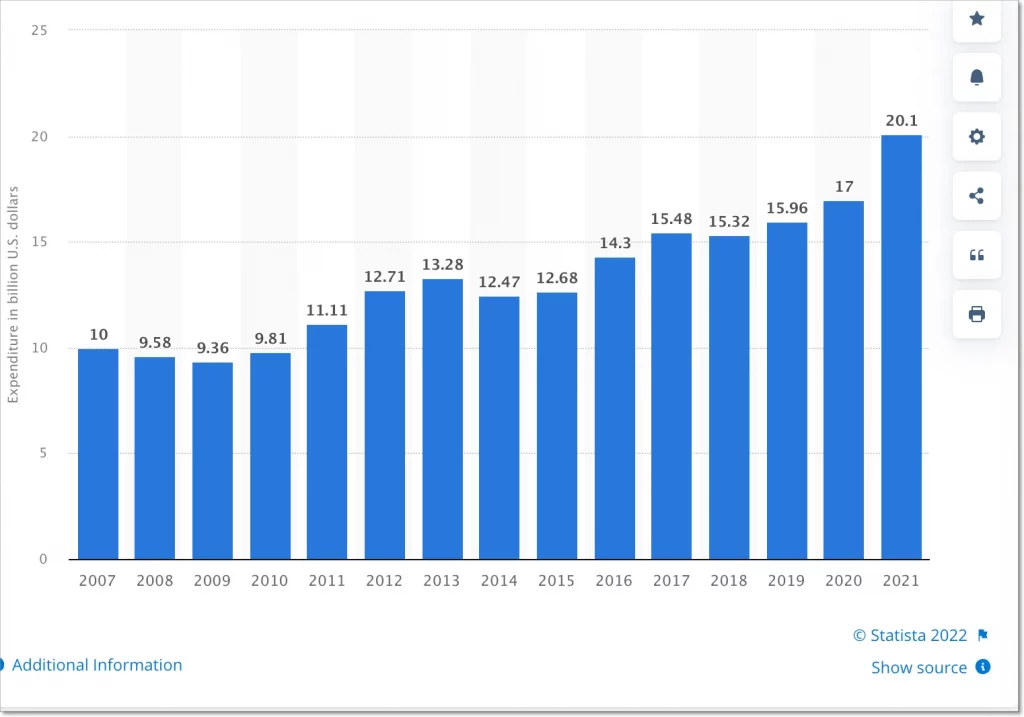 So what does that mean for Father's Day promotions? Well, it's time to get up to date, with marketing campaigns that reach out to both kids and parents, and combine traditional themes with modern values. In this post, we'll take a look at:
Boost brand awareness with Father's Day branded games
Nowadays, the best promotions and campaigns are the ones that not only engage but also entertain the audience. Therefore, they should be interactive, and this means that this Father's Day you should put your bets on branded games ! There are many different gamified applications and ways in which you can engage your online community. At the end of the day, everyone likes a bit of challenge.
Entertain your audience with an interactive Father's Day promotion idea: Match It game
How many fathers like to watch big football events, or sit restlessly in front of their TVs during the Olympics? Many! So how about a sport-themed Match It game for Father's Day?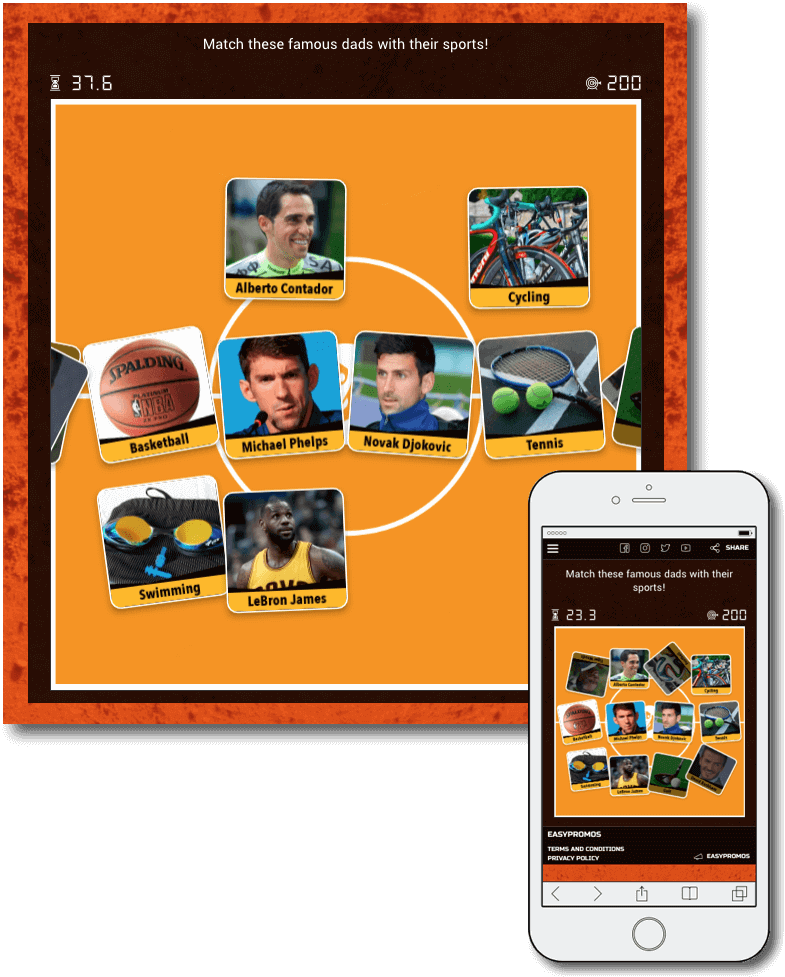 In this example, participants are asked to match famous athletes with their sports. The fun thing is that these successful sportsmen are also… dads. This is an ideal way to entertain your audience with a topic that will most likely appeal to the majority of your followers. If you decide to use our Match It game for your Father's Day campaign, remember to customize it with your logo and branding color for maximized brand exposure!
Interactive content is the current go-to, and it should be used if you're looking to achieve your marketing goals in terms of engagement, lead collection, and entertainment.
Collect user-generated content with a Father's Day promotion
Photo and video contests are the most effective ways to obtain user-generated content that you can then reuse for promotional purposes. And did you know that users grant you permission to reuse their content once they submit the registration form?
If you're looking to use your Father's Day campaign to highlight a product you can organize a photo contest. But not just any photo contest…! PhotoFun is an interactive tool used to personalize and decorate pictures with frames and stickers chosen by… you! Upload your branded stickers and disseminate the promotion on your social media, and success will be guaranteed!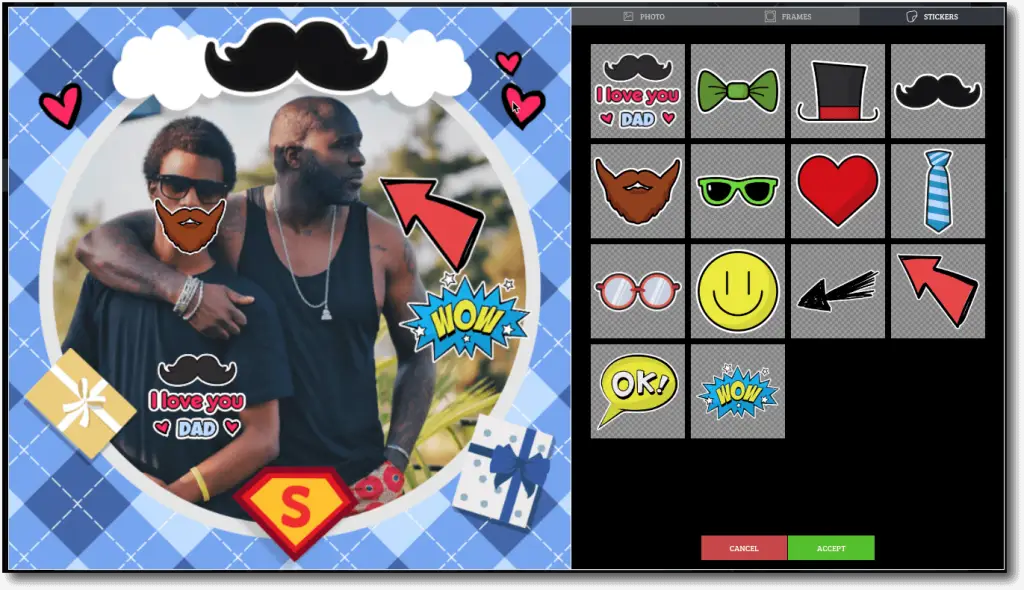 To motivate more participants to this fun Father's Day promotion remember to add an interesting incentive. A good prize will always be the best motivation. Enable voting to drive even more traffic to your promotion. Participants will willingly share the promotion with their friends as a way of obtaining more votes, and concurrently they will also be taking care of promoting your business!
Try our Father's Day PhotoFun app to discover how it can collect new leads and high-quality user-generated content.
Promote your products with a Father's Day Word Search
One of the main reasons for creating a Father's Day campaign is of course a possible spike in sales. So what would the best Father's Day promotion idea for someone looking to invoice more than usual? We say online promotions that not only allow you to entertain and engage your audience but also promote your products in a creative way! Take a look at this Father's Day Word Search game.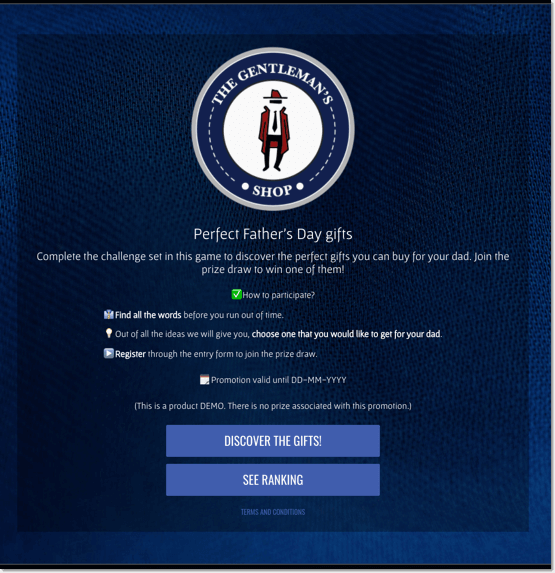 Do you own a clothing shop? Or maybe an electronics store? The truth is that a branded Word Search can be created by any brand! The above example shows can a clothes shop can promote their products prior to Father's Day. Simply create an easy-to-enter game and ask your online community to look for names of your bestselling products hidden in the grid.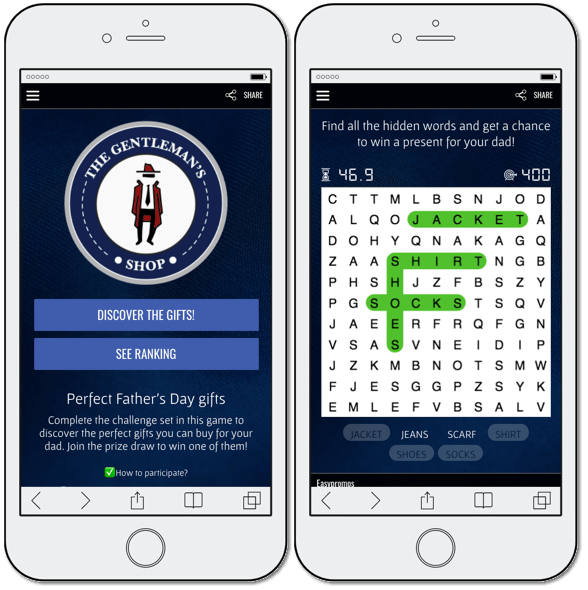 To encourage participation raffle a trendy Father's Day gift among all participants. You will not only generate new leads but also reinforce brand loyalty and awareness!
Father's Day promotion idea: showcase and promote products with a Father's Day Product Recommender
Once you've chosen your audience, it's time to pick a promotional prize or Father's Day gift. What will appeal to your target market?
To help you get started, here's a round-up of the top Father's Day gifts:
47% of consumers plan to buy dad an experience
43% plan to buy clothing
42% plan to buy gift cards
22% plan to buy books or music
20% plan to buy consumer electronics
19% plan to buy personal care products
16% are interested in home improvement supplies, tools or appliances, sports, and leisure, or automotive accessories
And of course, greeting cards remain a classic option. 63% of consumers plan to give dad a card, as well as gifts.
The conclusion? Stereotypical "dad gifts" are less popular than ever before. Instead, consumers are looking for fun experiences and products which suit dads' hobbies and self-care. Instead of focusing on the macho aspects of fatherhood, you can offer gifts that speak to parenting's softer side.
Some children might actually encounter problems when it comes to choosing the right gift for their father. What do I get him this year, they wonder. We recommend you take advantage of this! Product Recommenders are interactive surveys that display a final personalized message based on the participant's answers.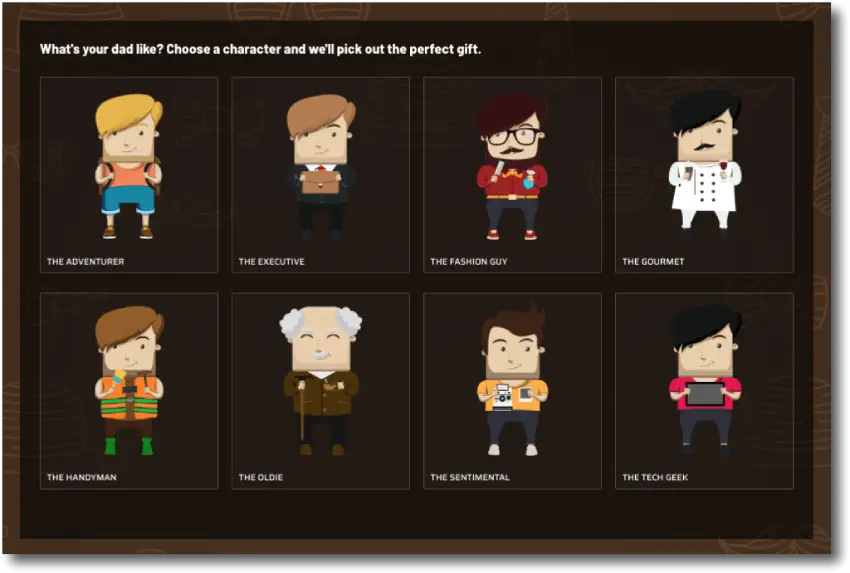 You can easily configure a short questionnaire where you ask your audience a few simple questions about their dads. Once they submit their answers you can display a message suggesting what present could be ideal for their fathers. But how do you increase sales? By adding discount vouchers and coupons!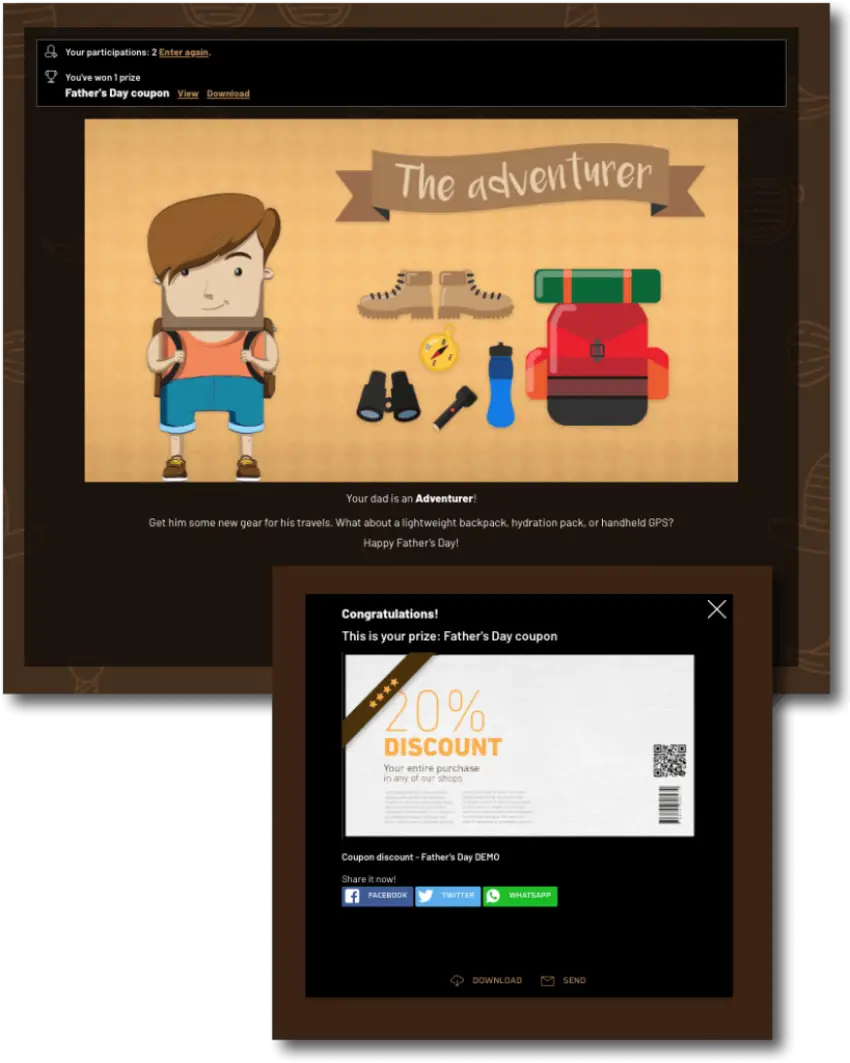 Product Recommenders are a fantastic tool to collect new leads. You can use the contact details to email discount codes and vouchers to redeem at your stores.
Do you think this Father's Day promotion idea might appeal to your audience? Give it a go by trying out DEMO – you can even download our ready-made template to create your own Product Recommender for Father's Day. And if you'd like to fond out more about this dynamic check out our blogpost dedicated to creating a Father's Day quiz.
Social media giveaways: Father's Day promotions for dads or children?
First things first: when you're brainstorming Father's Day promotion ideas, you need to know who you're targeting. Do you want to offer special treats and experiences for dads, or market your products to their children as they shop for gifts?
As social media gives us more tools to connect, you can do both. With a campaign that asks fathers and kids to get in touch, you can make a two-fold offer to consumers: they can get awesome Father's Day deals, and let their dad know they care. Let's take a look at some creative and interactive ideas for Father's Day promotions.
Take a look at examples of effective Father's Day giveaways on Instagram and learn how to generate engagement, visibility, and loyalty!
Take a look at this example, from ready-meal brand Amy's Kitchen. They offered a gourmet treat for Father's Day while encouraging their followers to share with their dads. All it took was a simple Twitter giveaway.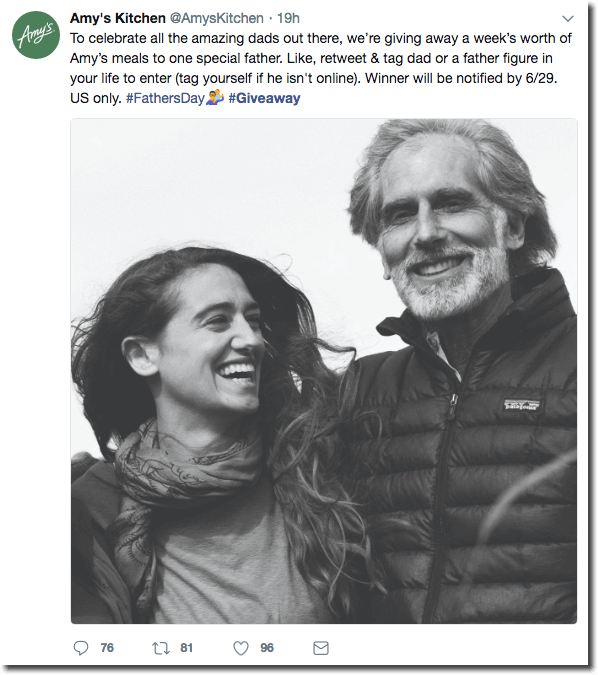 Even if you don't directly ask users to tag their family, you can certainly build on father-child relationships to start a conversation on social media. Here's a clever example from a men's grooming brand, also on Twitter: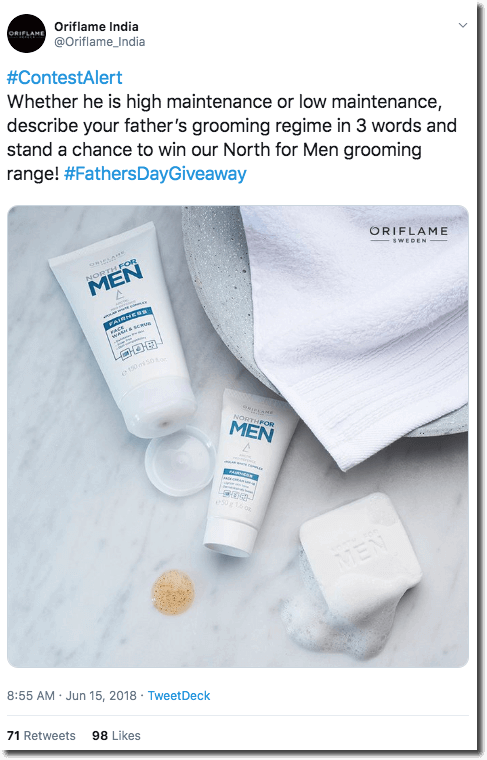 This is a really smart Father's Day promotion idea because it achieves several goals at once:
showcases a product
increases engagement
increases brand awareness and visibility
Retain and acquire clients with giveaways for paying customers
Fairfield Forum is an Australian shopping center. With Father's Day coming up, they decided to take advantage of the event and use it as a great excuse to increase footfall to their premises. All customers that spent $15 dollars or more in participating Fairfield Forum retailers had a chance to win shopping vouchers.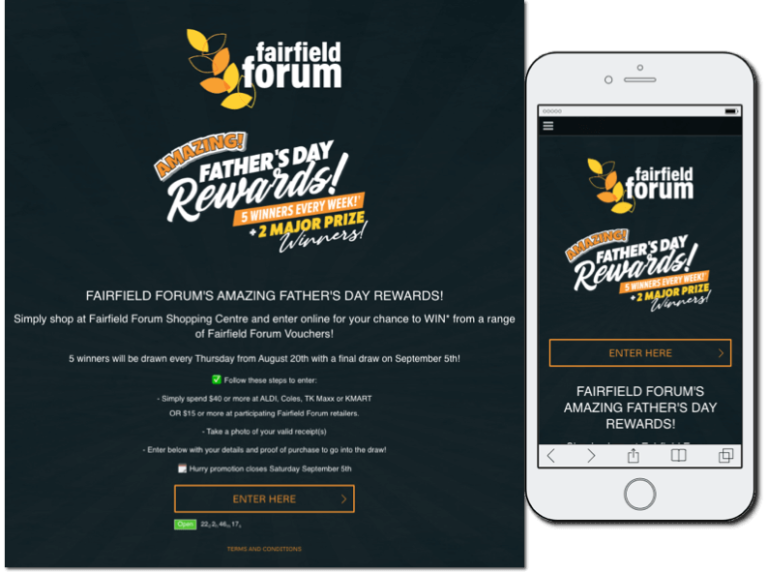 Users entered the promotion by filling in a registration form and attaching a receipt proving their purchase. Apart from collecting new leads, the organizer drove repeat sales and reinforced customer trust right in time for Father's Day.
Feeling inspired? Use the links in this blog post to learn more about each type of giveaway – or get in touch with us through our Online Chat if you have some questions or would like to share some Father's Day promotion ideas with us!