November and December are very busy months for marketers. Halloween, Thanksgiving, Black Friday, Cyber Monday, and Christmas always bring a lot of work for brands looking to differentiate from their competitors. This task becomes more difficult as every year there are more and more brands putting their bets on holiday marketing. But the good news is that today we share with you ideas for a comprehensive strategy for your Black Friday promotions. Read on to discover Black Friday promotion ideas for 2021 and find out how to boost brand engagement, collect sales leads, and most importantly boost sales this Black Friday!
Celebrate with a Black Friday social media giveaway
Black Friday revenues have grown steadily since 2008. What's more, consumers still have a clearly positive attitude to the shopping festivities. Shoppers are excited for the chance to buy holiday gifts at a discount and take part in what is now a global tradition.
You can tap into all that excitement and anticipation with a Black Friday social media giveaway promotion. Take this chance to promote your products and spread the news about your fantastic Black Friday offers. Run a quick and easy social media giveaways to boost engagement and reconnect with your social media followers. Remember, there's no easier promotion than a social media sweepstakes! Take a look at this promotion from Bismarck Motor company. The brand collaborated with a shopping mall in an attempt to promote both businesses. Their Instagram Giveaway generated buzz and engagement, and both brands got to significantly grow their following, as participants followed the organizing brands and commented on the post.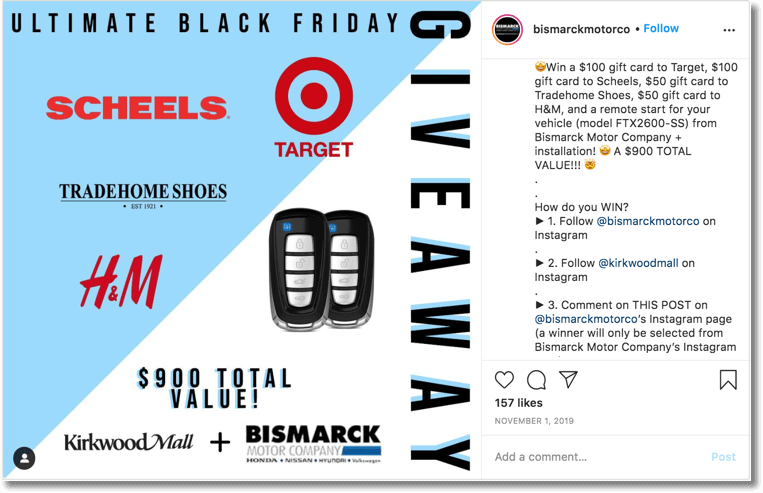 Looking for a quick fix? Try our free, instant templates for Black Friday giveaways on Instagram and Facebook. Just fill in your brand name, prize details, and promotion dates!
Let customers know that you'll be ready with a full range of products, services, discounts, and deals. Don't forget to announce your Black Friday promotions in-store and online. More and more consumers now use their mobiles or home devices to look for Black Friday discounts and deals. Don't let them down and launch a Facebook Giveaway to celebrate with your audience, just the way lastminute.com did!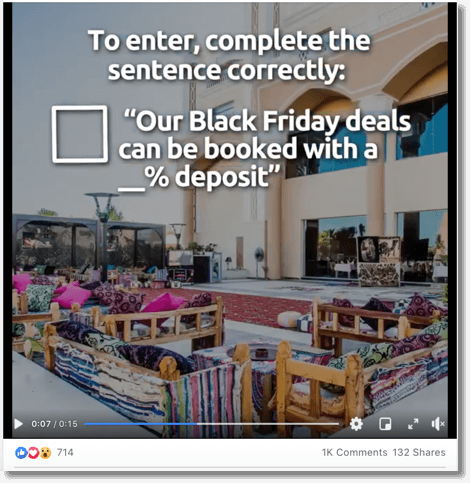 Lastminute.com boosted their social media engagement with this super easy Black Friday marketing idea, where they raffled an exclusive holiday for two. Users only had to comment on the post and answer a simple question: "Our Black Friday deals can be booked with a… % deposit". They also mentioned who they'd take with them on the exotic trip. This easy action tapped into customer loyalty and strengthened customer relationships.
Convert social media followers and web visitors with a Black Friday Entry Form Giveaway
Would you like to launch a giveaway for your social media followers or website visitors? Would you like to expand your mailing list at the same time? Here's how to do it!
Create a simple Entry Form Giveaway to collect participants' contact details. You can customize the registration form so that you can collect all the details that you need. Then you can offer exclusive Black Friday promotions as a reward for signing up. You'll be able to share the promotion link across your social media, website, and in-store publicity. Spreading the news is a very important aspect of Black Friday marketing! Take a look at this great example from Eastwood.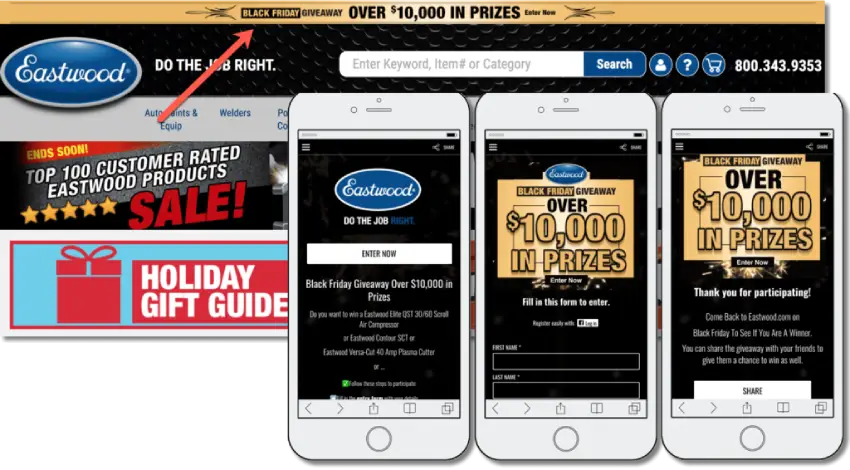 The brand launched a giveaway with an integrated registration form. In order to convert website visitors into qualified leads, they added a giveaway promoting banner to their home page. Upon clicking, the users were redirected to the giveaway microsite where they shared their contact details for a chance to win. We always say that incentives are what attracts users to online promotions. Eastwood raffled a variety of different prizes of a total value of $10,000! Now, that's a great Black Friday giveaway!
Boost sales with a Black Friday prize wheel
Interactivity is now an important aspect of marketing. Make sure you step your game up and gamify your strategy right in time for Black Friday. Why don't you entertain and engage your audience with a Black Friday game? Branded mini-games have proven to be highly effective marketing tools that not only generate engagement but also attract and retain customers.
You probably know by now that everyone loves discounts. Deals and bargains can help you reach all the customers interested in your brand and products. But apart from attracting new customers, they also encourage your existing clients to come back. And as Black Friday is the time when everyone is on the lookout for special offers, it also happens to be the perfect time to distribute discount codes and vouchers.
Stand out from the crowd and share discounts with an interactive Spin the Wheel promotion. Share the game on your social media channels to convert followers, or embed it on your website to turn visitors into qualified leads.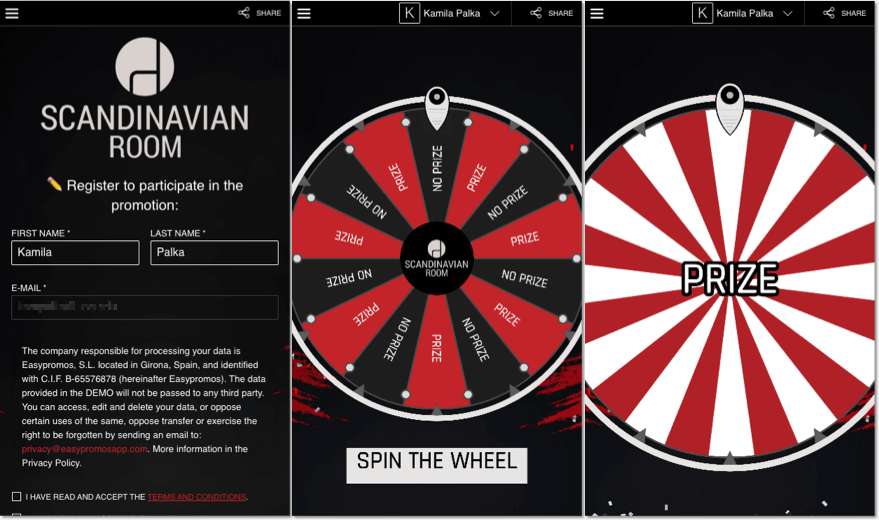 Did you know that you fully customize Spin the Wheel promotions? Simply upload your logo, edit the texts and adjust the colors to expose your audience to your corporate image.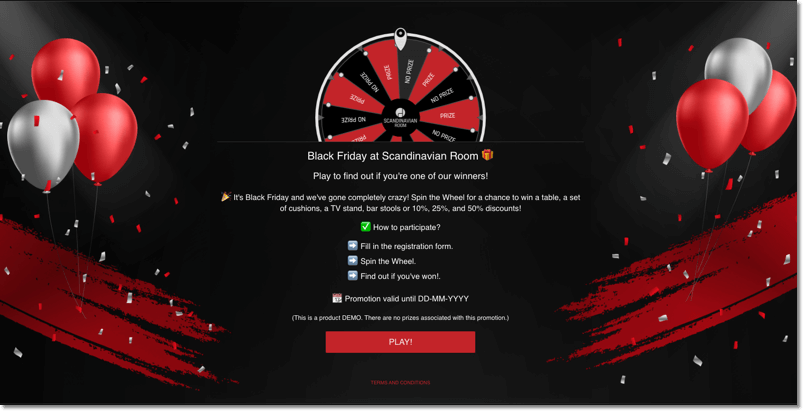 TravelUp already put their bets on a branded prize wheel. This Black Friday marketing idea turned out to be successful for the British travel agency, They engaged their audience and converted followers into potential paying customers by raffling discount vouchers for flights and holidays packages.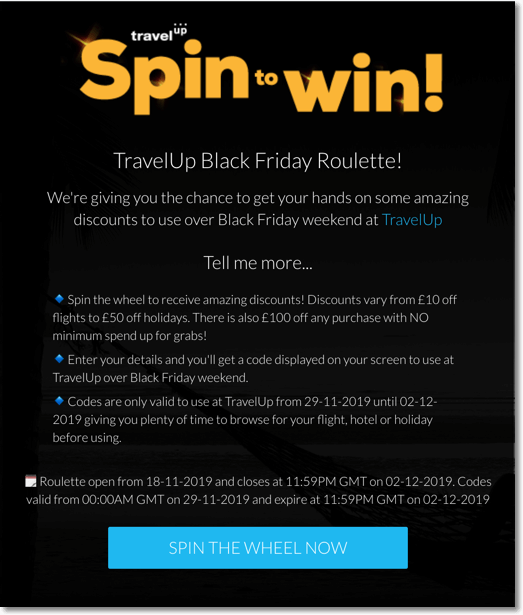 Would you like to launch a branded prize wheel for as part of your Black Friday campaign? Test our DEMO and then use our pre-configured promotion template to save time and launch your promotion in minutes!
Boost brand engagement with a Black Friday Multi-Game
Do you like the idea of fostering customer loyalty and providing an excellent user experience with a Black Friday promotion? We have some great news because it's all within your reach with one multi-stage promotion.
Spice up your content with a Multi-Game – a promotion with multiple games. You can create an excitement-boosting Black Friday countdown with daily giveaways, or you can run a Black Friday weekend promotion, all the way until Cyber Monday! What do you get from such an action? Daily participation boosts brand engagement and retains users, you attract new customers and convert them into leads, you generate buzz around your brand and most importantly you drive traffic to your business by distributing discount codes and voucher. Awesome, right?!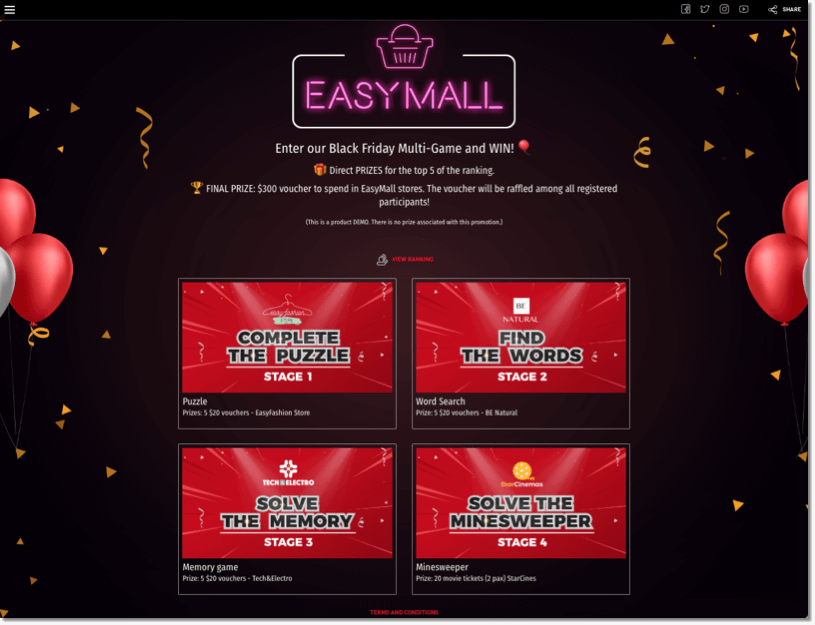 At the end of each day, you can raffle a prize among all participants who entered your Black Friday promotion on that day or reward the best player in the ranking. You can even create an exciting final giveaway for all the users who participated in any of the games.
Simple Black Friday marketing idea: distribute discount codes with a registration form
If you're looking for something a bit simpler, opt for something like the Distribute Discount Codes app. It's another Black Friday marketing idea that will help you drive traffic to your stores or online shops but with less work than the previous gamified examples.
If boosting sales is your primary objective then this one's for you: share the promotion link on your social media channels to convert followers into potential paying customers. All your followers have to do, is fill in a registration form with their contact details, and then download their coupon with their discount code.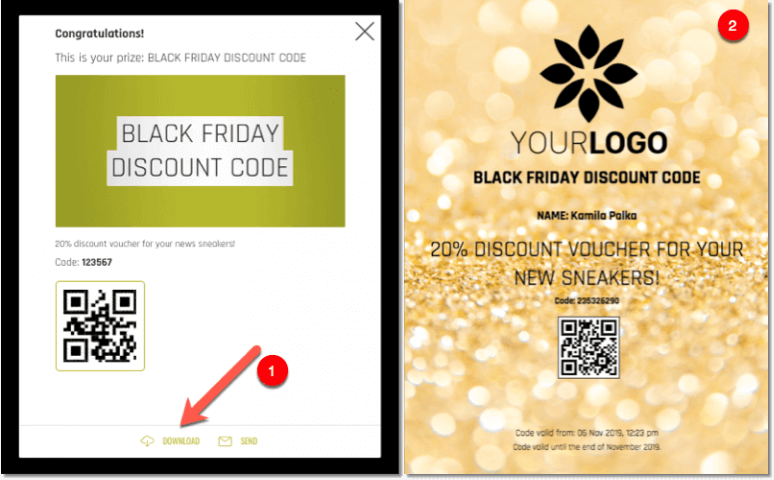 When the excitement of Black Friday is over, don't forget to follow up with old and new customers. Send personalized emails to thank them for shopping with you. Make sure you stay in touch to share more promotions throughout the year – and bring them back for Black Friday promotions in 2021.
It's never too early or too late to plan your Black Friday promotions. Create your free account now to design promotions and giveaways with Easypromos.
Do you have some questions about Black Friday promotions? Don't worry! You can contact our Support Team – always ready to assist!