What is the first thing that comes to your mind when someone says "Instagram"? For us, it's pictures, hashtags, and contests.
Instagram has become an important communication and marketing tool for brands from all over the world. It's not just the simplicity of sharing messages but also the possibility of reaching hundreds, thousands, – and in some cases – millions of users. But once you reach them you must find a way to keep them engaged and connected for a longer period of time.
Combine pictures, hashtags, and contests and you will get an Instagram hashtag photo contest (we hope you saw it coming!). Why is it a good idea to implement such contests into your social media strategy? Here are some reasons:
Get user-generated content. Contests in which users participate by sharing their pictures or videos generate UGC that brands can use for their social media channels as social proof.
Improve customer trust. UGC is real and honest, unlike purely promotional content produced by brands.
Increase brand visibility. Hashtags help users explore content they're interested in and filter information. On the other hand, brands use hashtags to draw attention to their campaigns. So creating a special hashtag for your photo contest will draw in more potential users and generate more awareness for your brand.
Augment social media engagement. Social media contests generate excitement and initiate interactions that lead to algorithms better positioning your content.
Sounds like something you might be interested in? It's time to take a look at how different brands use our hashtag contest app to organize photo contests and engage their online communities. 
Don't know where to start? Discover how to run a successful Instagram photo contest! Learn the difference between different contest apps that you can use to collect social proof for your brand.
Give visibility to your brand and products with an Instagram hashtag contest
Growing your brand's social media accounts can be a difficult task, especially, if you're only just getting started. But if you've previously organized comment giveaways it might be the right moment to encourage your followers to participate in another type of contest.
There's no better way to promote your brand than to have happy customers post about it on their favorite social media channels. By sharing positive experiences about your company, social media users become your brand ambassadors, helping you reach and positively influence new prospects. And here's an example from SHAD, a motorcycle case and seat producer, showing how to use hashtag contests to grab the attention of a considerable number of Instagram users.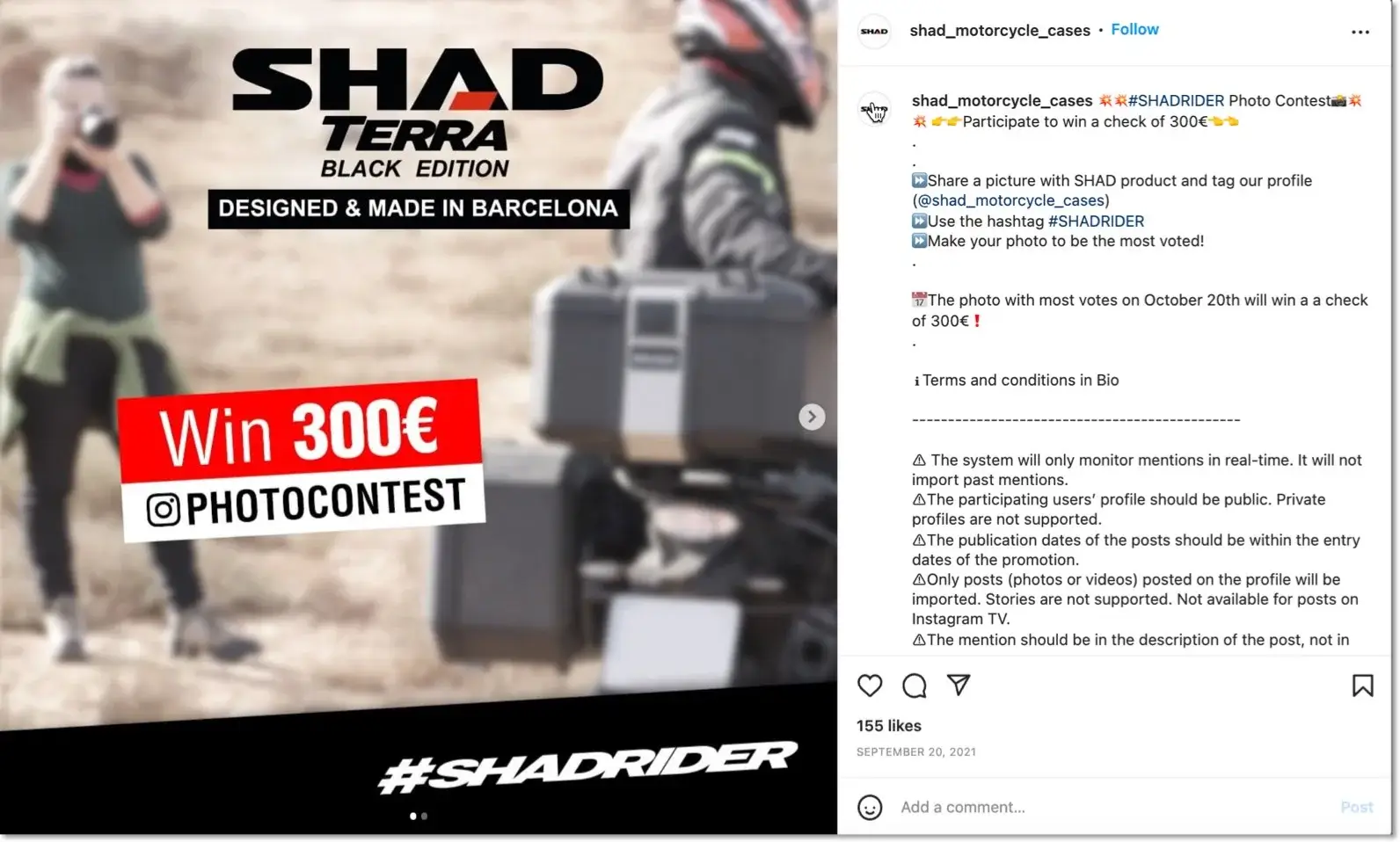 The company based in Barcelona wanted to reach more motorbike riders and expand its Instagram reach. They opted for a Mention + Hashtag contest in which they gave away a $300 SHAD voucher. Users participated in the contest by uploading a picture of their SHAD product to their Instagram account, using the hashtag, and mentioning @shad_motorcycle_cases in the post description. Then, our Instagram hashtag contest app imported all the entries to a public gallery.
In order to attract more Instagram users to the contest, SHAD published various posts and Instagram stories that publicized the promotion.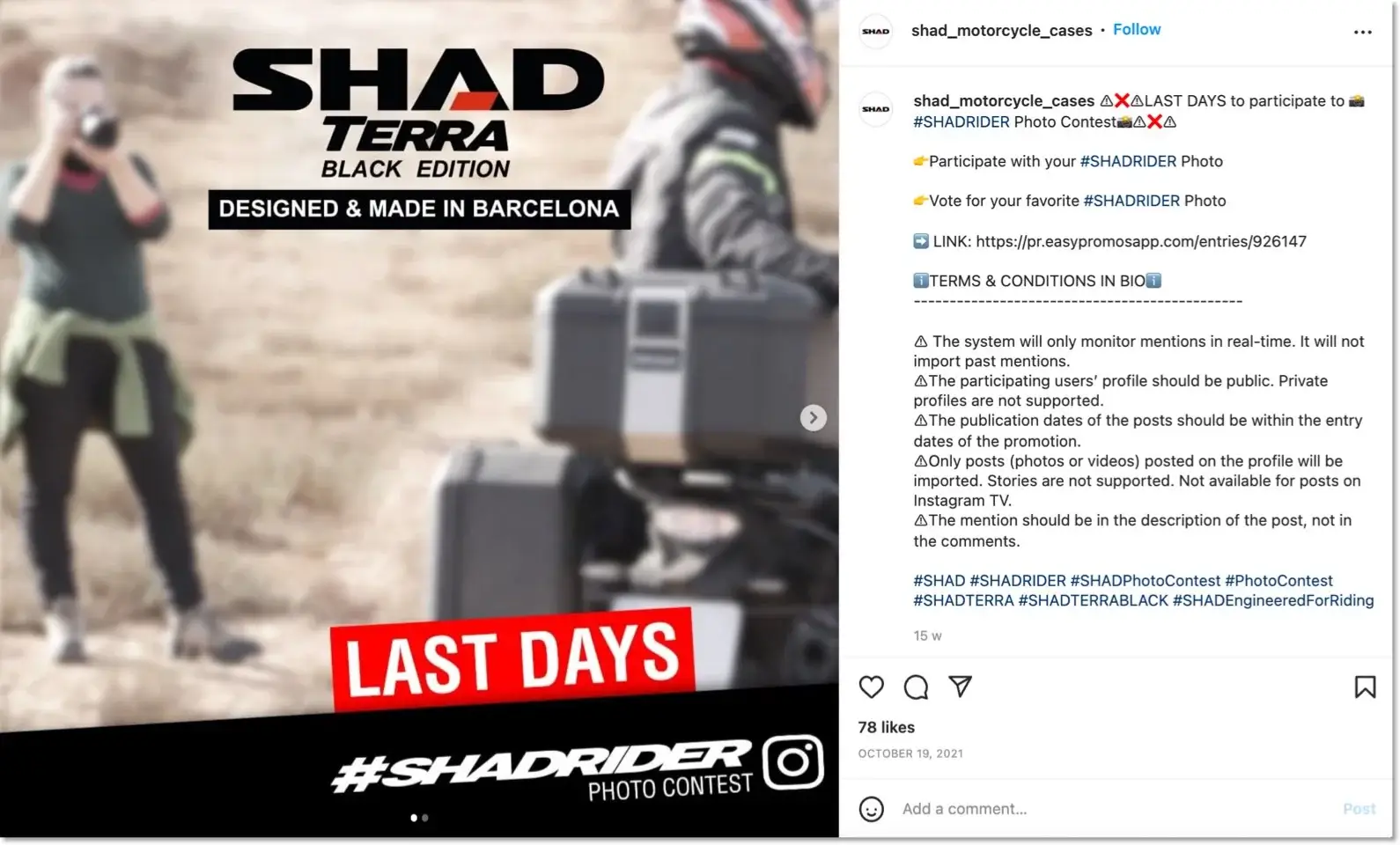 Note that SHAD's contest was only targeting the brand's existing customers, as only pictures with SHAD products could enter the competition. This is a proven way to reward paying customers and further reinforce their trust. However, you might want to expect to attract fewer participants than in a contest with more accessible participation requirements. Nevertheless, the motorcycle accessories producer was very pleased with the final outcome, as only two months later the brand used exactly the same dynamics to engage their followers and give a boost to their social media visibility.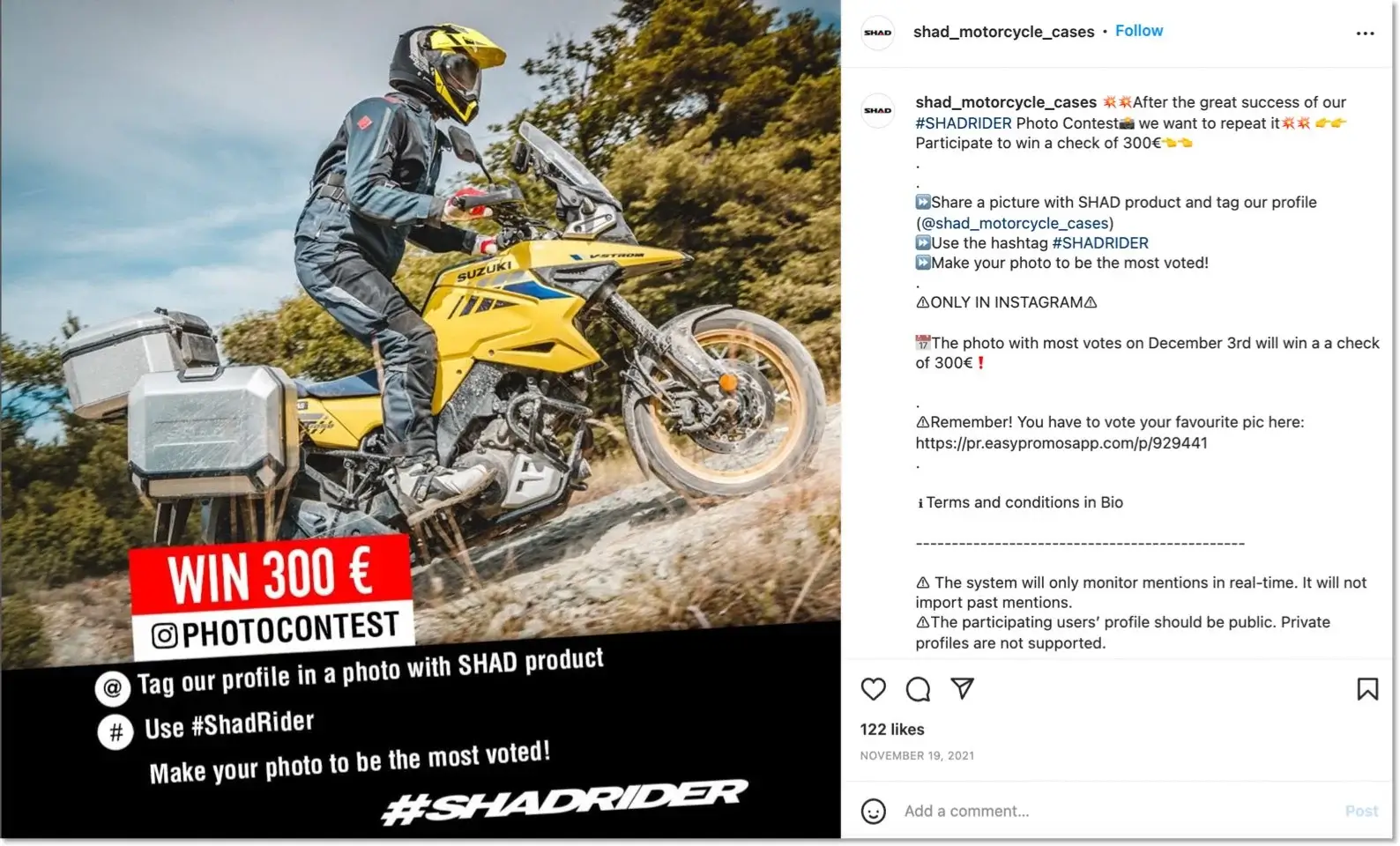 Collect memories with an Instagram hashtag contest app: high-quality pictures for your content calendar
An engaging idea and attractive prize are a way to go whenever you want to launch a converting online campaign. And people will go a long way to put their hands on tempting freebies! Here's an example of an Instagram hashtag contest organized by Odisseias, a Portuguese provider of experience gifts.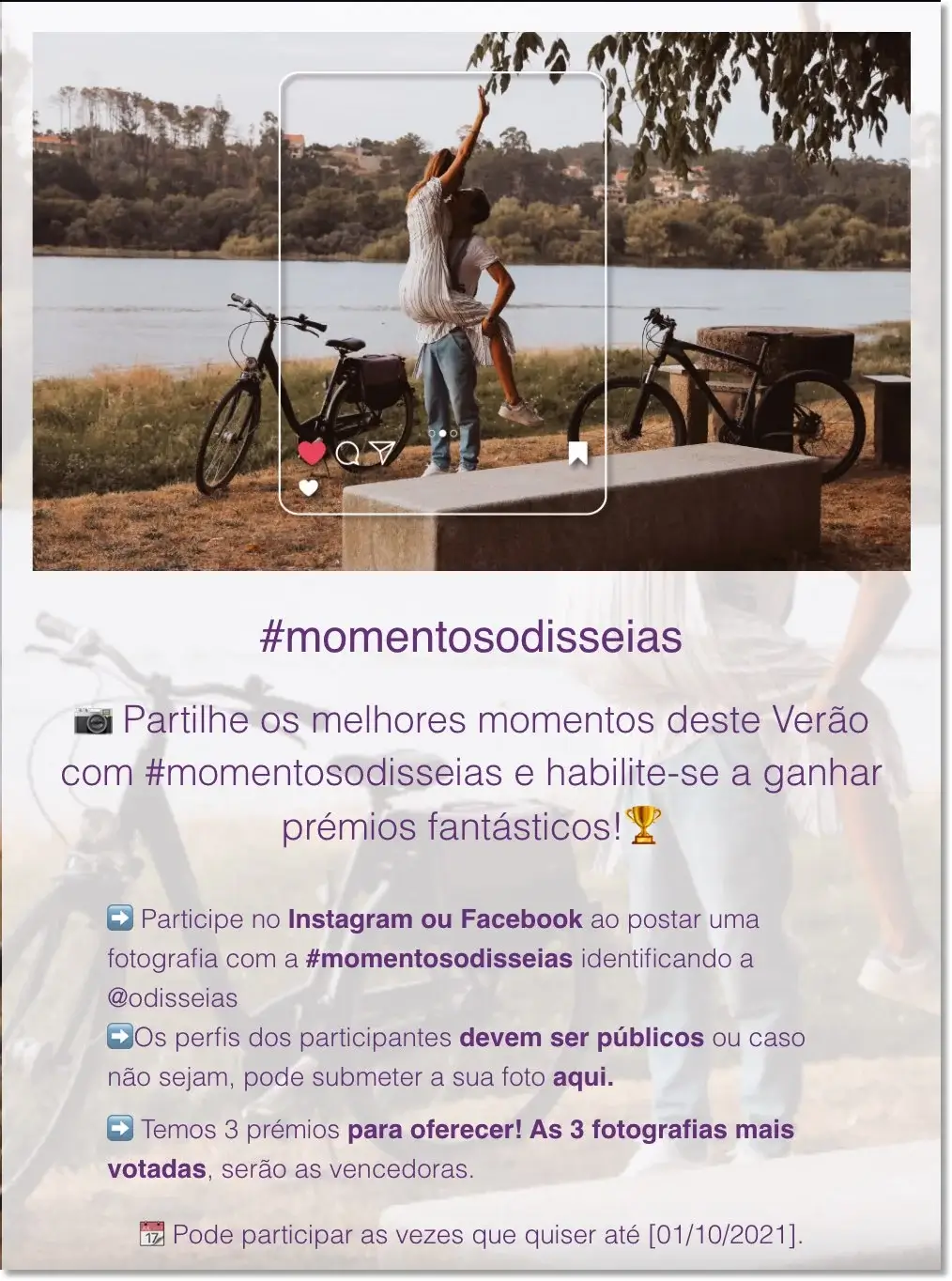 Odisseias regularly prompts users to share their memories and stories in a form of stunning images that the brand can reshare as part of its social media strategy. By inviting users to describe their experiences and memories, brands get to build strong emotional connections with the audience. And by showing your target that you care about their stories you make them feel cared for, while also showing genuine interest in their lives. All these aspects lead to increased customer loyalty and trust.
In this example of an Instagram hashtag contest app, Odisseias encouraged their social media followers to show their best summer memories for a chance to win one of the three fantastic prizes that drove the audience to the campaign in the first place. The participation requirements were pretty straightforward; upload your best summer memory to Instagram, mention Odisseias and use the campaign hashtag.
Note: the Mention + Hashtag app will only import images published on public accounts! Participation posts MUST include the campaign hashtag and brand mention. If one of them is missing, the app will not pull the participation from Instagram and the user won't be entered into the contest.
Reach more customers with a selfie contest
84% of the world's population owns a smartphone. Does that mean that 84% of people regularly snap selfies?
The Rhode Island Lottery was looking for a way to see off the summer… So they came up with a summer selfie contest. Interested users participated in the competition by posting their selfies with Rhode Island Lottery's hashtag and brand name.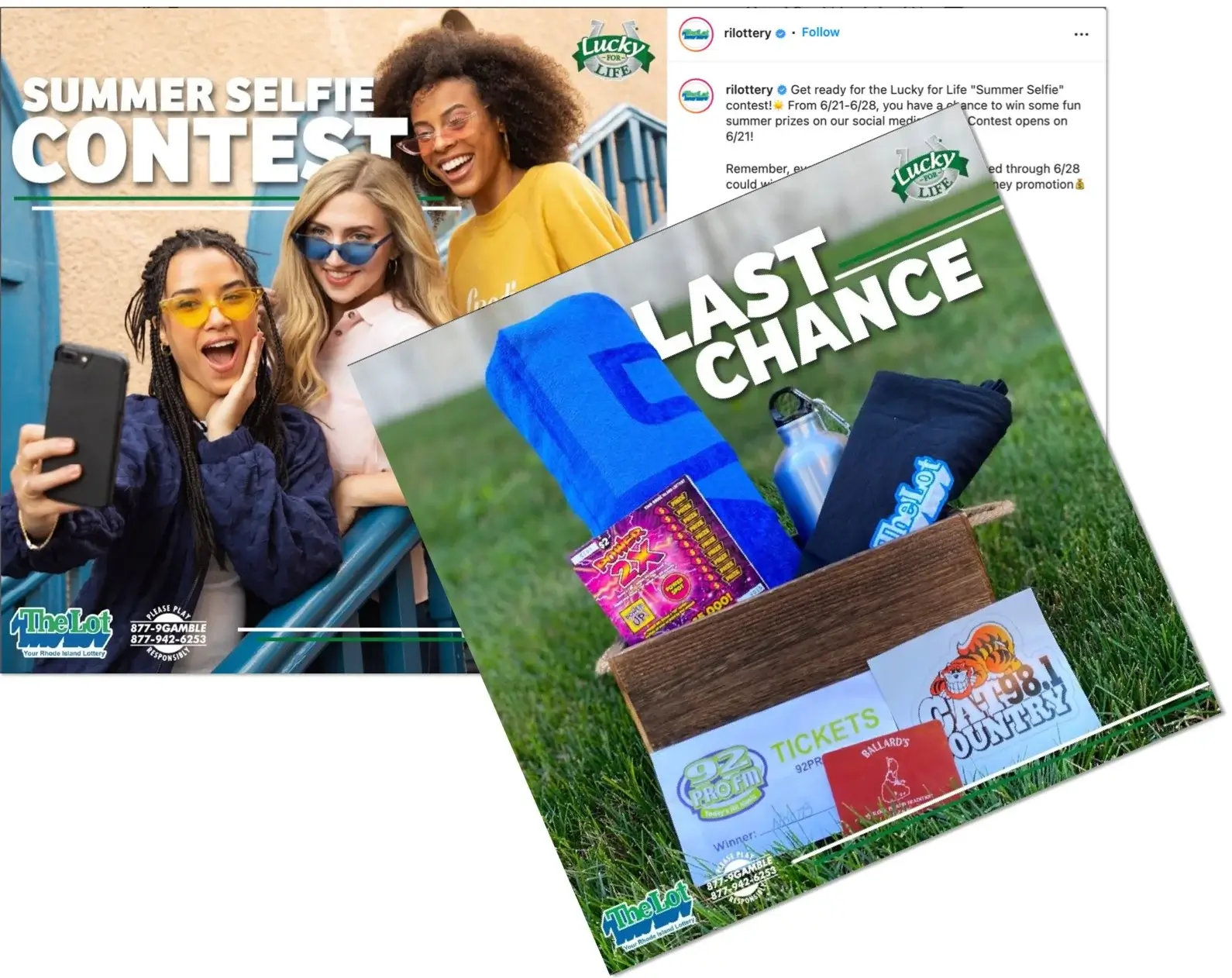 In return, each user got a chance to win a bundle of great prizes, including $50 in instant tickets, as well as free concert and ferry tickets. Apart from engaging their audience, the Rhode Island Lottery improved its social media visibility as users posted with their hashtag and brand name, helping the lottery brand reach more social media users. This Instagram hashtag contest shows perfectly how easy it is to target a wider audience like this kind of prize will always appeal to online users – and it's still associated with Rhode Island's Lottery audience.
Remember! It's always a good idea to share a post announcing your hashtag contest winners. Apart from giving visibility to the prizewinners you also show the honest and transparent size of your organization. And we already know what that means… more customer trust!
Target families with your Instagram hashtag contest
The Instagram hashtag contest app can be used not only to generate quality content for your social media channels but also to prompt schools and families to participate in challenges that require some planning. The Invasive Species Council of British Columbia works to protect BC's environment and economic future. To help raise awareness for their cause, the organization organized an Instagram hashtag contest in which they invited local schools, youth groups, and families to share pictures of invasive species that they spot in their neighborhood.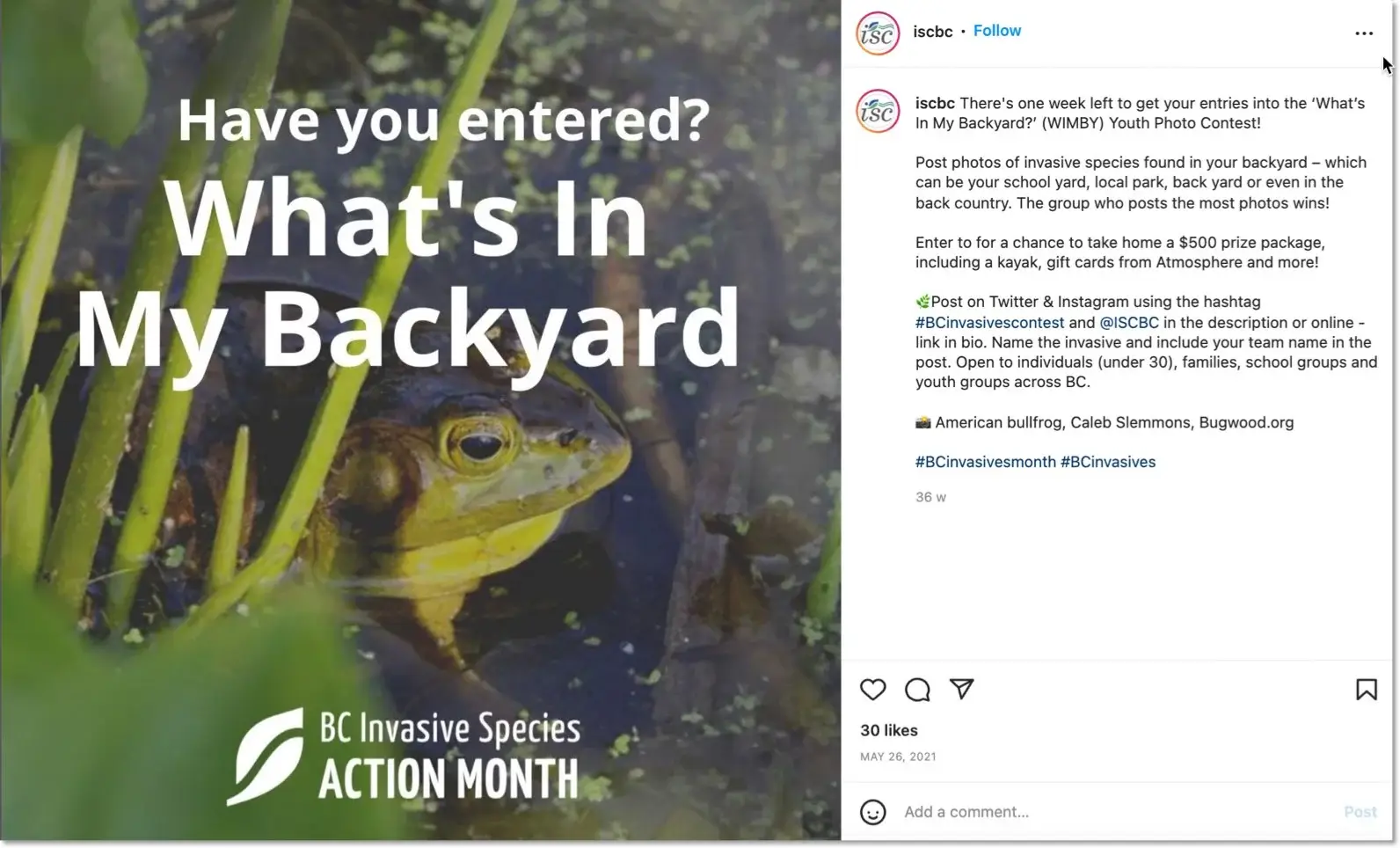 The Invasive Species Council of BC used a variety of communication channels to spread the message about their campaign. They regularly uploaded reminders to attract more users and call for more submissions. In this case Instagram hashtag contest example, entrants had a chance to take home a $500 prize package, including a kayak, pizza night, gift cards, and more. Users participated in the competition by using the organization's campaign hashtag and Instagram username. Besides educating the youth about BC's invasive species, the organization grew its following and got to collect some really outstanding photographs.
Not sure if a Mention + Hashtag promotion would work for your campaign? Take a look at how the 2019 Netball World Cup organizers gathered more than 45,000 images with our Instagram hashtag contest app.
Win your followers' hearts and loyalty with a pet-themed Instagram hashtag photo contest
We all have something that we're crazy about. For some it's books or hiking, for others it's their beloved pets. Tap into customer loyalty by holding a pet-themed contest and giving visibility to their special animals! Here's an example from Rabbit Hole Hay. The hay and bedding provider looked for a way to raise awareness and increase visibility for their brand. To do so, they teamed up with a popular pet products distributor, and together they ran a photo contest on Instagram.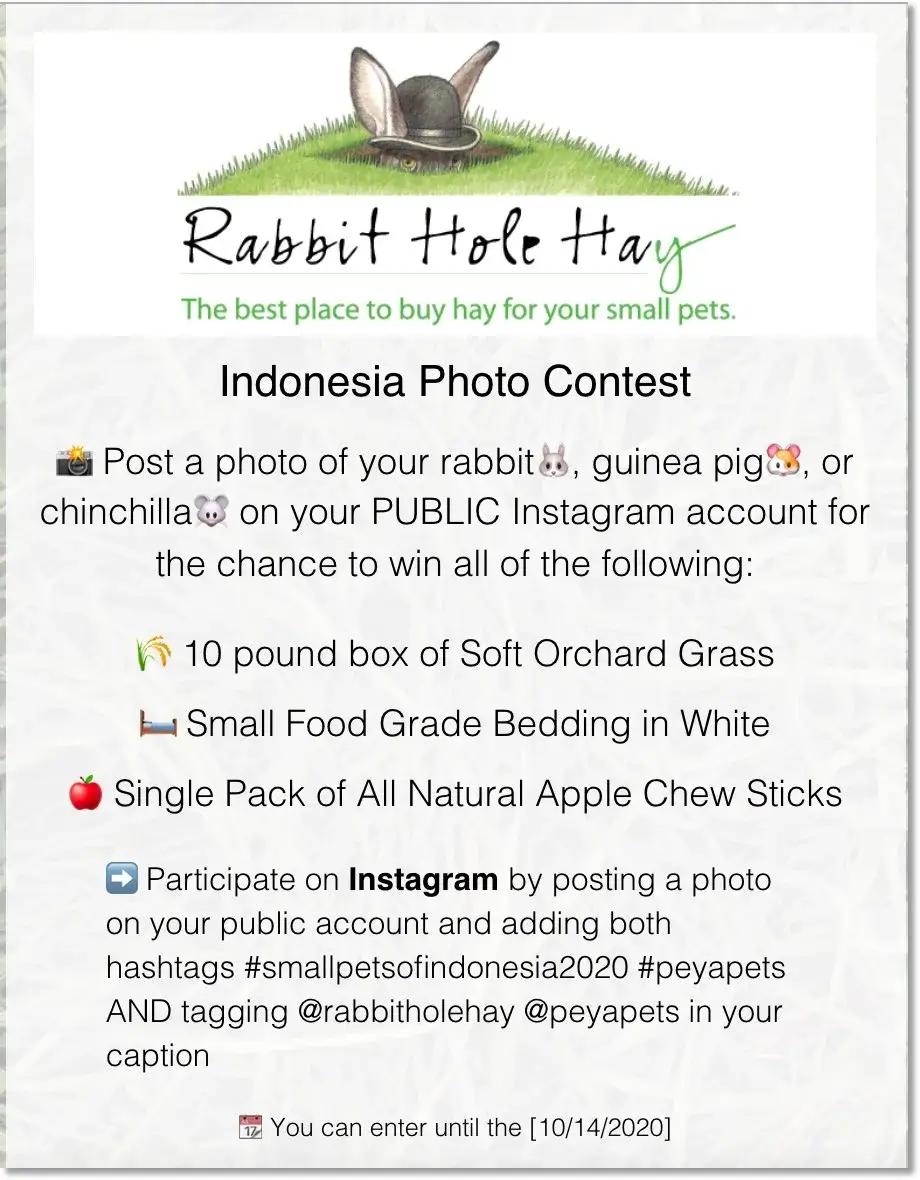 Users interested in winning freebies for their rabbits, chinchillas, or guinea pigs uploaded shots of their favorite pets and added two campaign hashtags to the description, as well as tagged the organizing accounts. By coming up with these entry rules, both brands ensured to gain visibility.
The contest worked so well that Rabbit Hole Hay decided to run another competition just a few weeks later. This time they looked for cute and creative shots.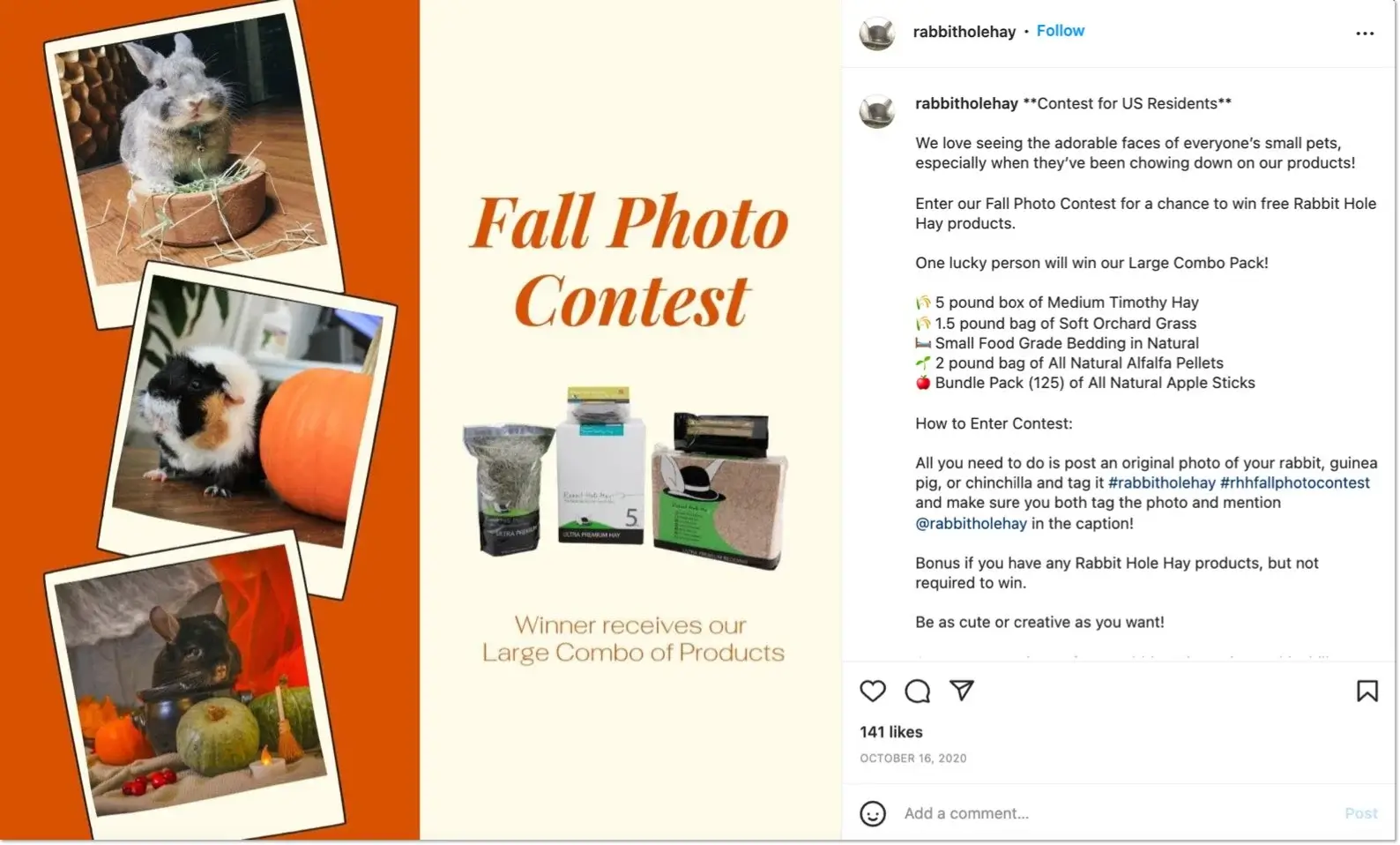 Do you feel like you can now use our Instagram hashtag contest app and easily create your own competition? We hope so! However, don't hesitate to contact us in case you have any questions!