Establishing a clear and consistent brand voice is the key to developing long-term customer relationships. By reinforcing brand voice, organizations can increase digital engagement, strengthen traditional marketing efforts, and leave a stronger impact in terms of positioning and tonality.
Brands can also enhance their trustworthiness with the right voice. This is because buyers are 1.6 times more likely to purchase from companies that demonstrate empathy towards their needs.
87% of marketers agree that traditional experiences are not enough to engage customers at-scale. This is why CMOs are looking towards creative digital marketing strategies to re-engage audiences. This includes launching digital-native campaigns, driving user-generated content (UGC) initiatives, and focusing on interactive giveaways to increase engagement.
Social media platforms shape close to 80% of festive purchasing by millennials, making them a preliminary avenue for reinforcing brand voice.
From a strategic standpoint, it's essential to revisit a brand's core message and promise, before reinforcing or re-engaging customers at-scale. This helps in streamlining social media messages, online posts, thought leadership efforts, and digital campaigns for greater organic and promotional growth. Brand managers can start reinforcing brand voice by engaging with the following creative marketing strategies.
Influencer brand marketing tie-ins
Influencer marketing is one of the most impactful ways to reconnect with your audience. It also helps to develop a new channel for reinforcing your brand voice. Close to 34% of shoppers have purchased an item online because an influencer promoted it on their profile. Marketers can connect with influencers on Facebook, Instagram, Twitter, YouTube or TikTok, to reach out to their customers at scale. Promotional giveaways, sponsored posts, unboxing videos and branded hashtags are what brands can use to connect with new customers.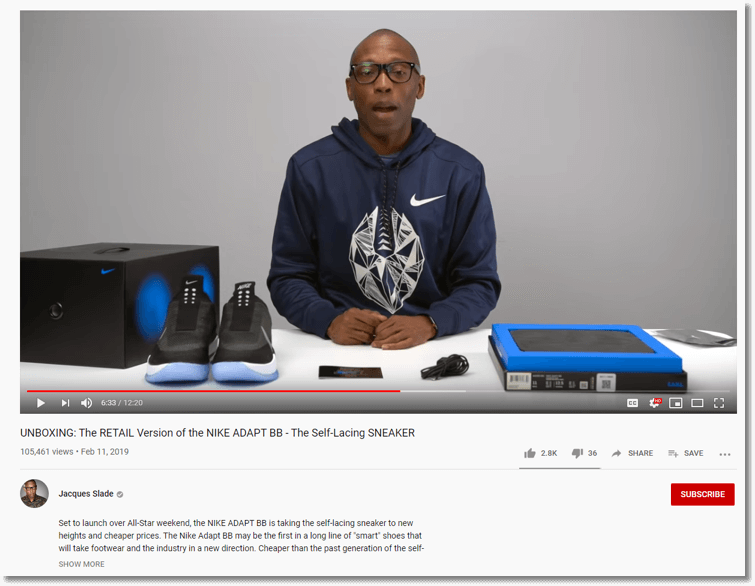 In 2019, Nike rolled out Adapt BB, a new range of self-lacing shoes. With technology inspired packaging, Youtuber Jacques Slade created an unboxing video for Nike. He mentioned the breakthrough features, with the packaging adding value to the brand's product. The packaging featured how this product was different from other Nike products, creating a memorable unboxing video.
Brands can connect with micro and macro-influencers to maximize their impact. By researching the psychographics and demographics of each influencer-base, brands can get clearer insights on the best way to target their audience set. A creative and engaging campaign can be launched, either tying in all influencers or a single set, for reinforcing brand messaging and extending reach during promotional seasons.
Influencer marketing is also a critical strategy to create a direct to the consumer model of digital engagement. Brands can direct traffic from influencer campaigns to their profile to reinforce brand voice on their social media channels. This is a critical strategy for e-commerce brands that want to lower their cost of acquisition and streamline marketing to their audience base long-term.
Influencers are great for creating buzz around new products, publicizing them, and spreading awareness with giveaways.
The rise of vertical video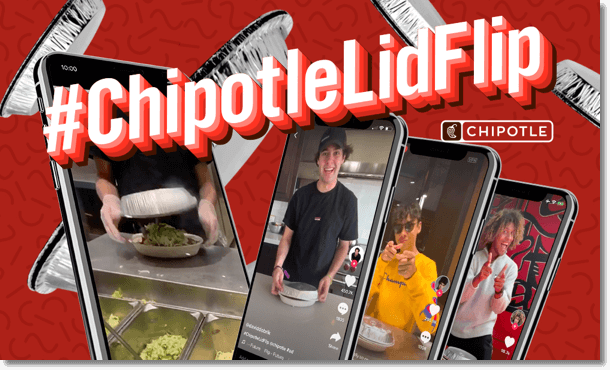 The rise of vertical video-based social media apps such as Tiktok, resulted in brands realizing the potential of the same. For instance, in 2019, Chipotle partnered with vlogger David Dobrik to celebrate National Burrito Day with the hashtag #ChipotleLidFlip. The six-day campaign went viral and garnered 230+ million views over a month.
Giveaways also benefit both the brand and the buyer community, while driving organic user-generated content for marketing purposes. Instagram contests can generate 3.5 times more likes and 64 times more comments than general posts.
The only pitfall of influencer campaigns is the inability to track offline sales from online campaigns. Solve it with a custom QR Code. The QR Code can be shared by influencers online and scanned at the checkout by a salesperson at the store.
Driving interactive social media giveaways
Incentivized gamification drives customer engagement with brands, owing to their time-bound and reward-oriented structure.
Successful giveaways, puzzles, contests, and games can help jumpstart engagement and drive greater click-through. They can also help reinforce brand voice by involving community members in a fun and interactive manner. It is the ideal way to capture key customer information that can be leveraged for remarketing purposes and to reinforce brand voice through omnichannel funnels.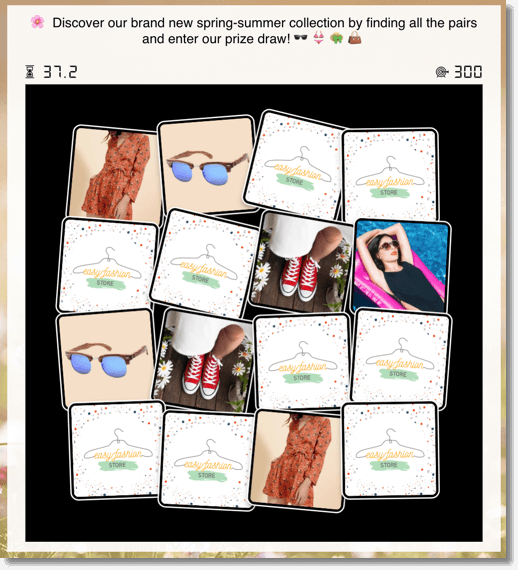 For instance, here's an example of an interactive Memory game. Users looked for matching pairs of clothing pieces from a new fashion collection of a major shopping brand. The potential of this gamification marketing helped showcase new products and reinforce brand voice.
CMOs, marketers, and social media managers can use a leading contest software solution that can integrate perfectly with social media platforms and provide the necessary analytics for deep insights. Easypromos streamlines contest management for your brand, tying digital and traditional marketing efforts for enhanced engagement and conversion.
Cross-promotion across engaged platforms
A great way to expand your brand reach is to cross-promote with other brands, platforms, and marketplaces. It is the ideal way to engage with a pre-existing audience base while reinforcing brand voice. Cross-promotion helps establish your brand further, especially if it is a start-up or a new entrant into the market.
This form of promotion helps localize marketing efforts to specific communities or local events. So engage niche audiences for a longer period, through online meetups, podcasts, webinars, or other digital platforms. It also aids in streamlining brand communication in new industries, customer groups, and buyer segments as well. Sponsorships and cross-selling initiatives can be maximized by introducing new launches and product offerings exclusively to buyers via cross-promotional activities.
A key benefit that cross-promotion also offers is the scalability of the brand voice across mediums. Marketing campaigns can be designed around offering exclusive discounts or deals to audiences across highly engaged mediums. These initiatives help drive significant click-through for brands, sending traffic to landing pages or social media platforms. Brands can capture visitor information seamlessly and reinforce brand voice and messaging as customers explore brand presence further.
An example of a brand nailing cross channel marketing is Tuft and Needle. They provide a series of paths to allow the purchase and not just one, generic path. One can visit a store location, call them, chat with a live representative, and sign up for email. They advertise, retarget, and encourage a variety of ways for customers to connect with the brand.
Scaling one-on-one communication through chatbots
Chatbots are highly effective at driving real-time engagement with thousands of customers and ensuring a consistent brand voice across buyer groups. Customers prefer talking to a chatbot, rather than waiting to speak to a service representative. Brands can leverage this opportunity and drive scalable and genuine one-on-one conversations with customers to recommend new services, products, and offerings.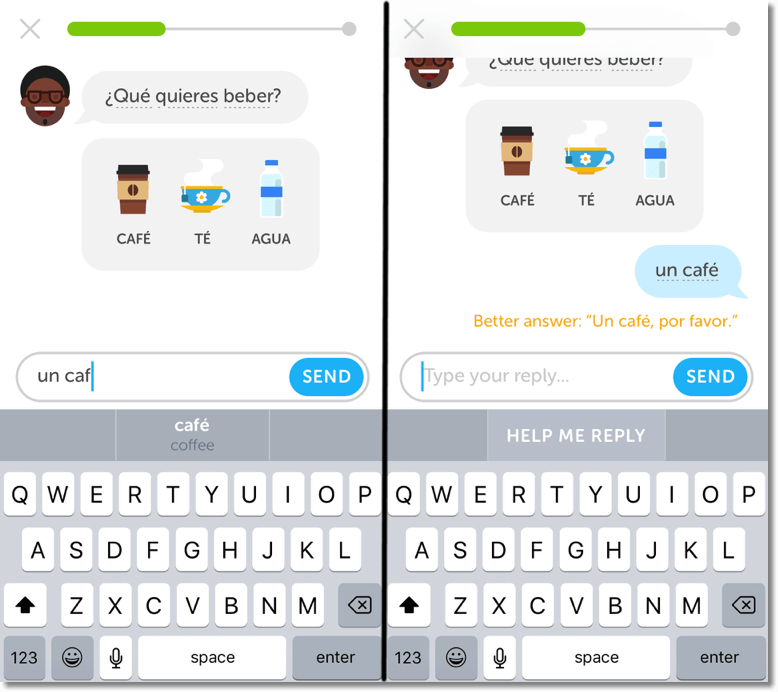 For instance, Duolingo, a language-learning platform saw success after implementing a chatbot. Over 150 million users could converse with a bot without the pressure of talking to a live person. Due to the automation of software, the bot could respond to new dialogues quickly and be more responsive. This highly increased user engagement.
Companies can define their core brand voice, such as warm, formal, direct, or catchy, and reinforce their brand messaging in a highly engaging manner. The chatbots work great on the website, mobile app, social media portal, or IoT devices owned by the enterprise. The personification of the brand is reinforced when customers opt to speak to customer agents, post interacting with the marketing chatbots, for exciting offers, and giveaways.
Chatbots also capture a breadth of information that may otherwise have been missed, due to a lack of one-to-one conversations with customers at scale. Brands can not only reinforce their message and communication strategy but also perform machine learning-based analysis on the information acquired via chat logs and metadata.
Remarketing campaigns for search and social
Remarketing campaigns are one of the most efficient ways to reinforce your brand message while introducing new offerings to your audience base. In some cases, it can drive 50% more paying customers for mobile apps than traditional marketing initiatives. Customers can revisit your store, website, or mobile application, easily if they retargeting uses the right message at the right time.
Remarketing can be designed around specific actions, demographics, or behaviors for your brand, which is why they are highly effective to execute at-scale. Impact cart-abandonment, bounce-rate, and consumer sentiment by the right brand voice reinforced through a comprehensive remarketing campaign.

To show how retargeting campaigns are successful, we have Grammarly's multichannel campaign. Grammarly remarkets to an interested prospect using an omnichannel method. From text ads to YouTube ads, banner ads to use cases that resonate with our daily lives. This method of marketing with integrated channels have proved to be twice as effective compared to single channels.
Brands can set up remarketing campaigns to also focus on distinct messaging areas, to target customers through multi-touchpoint communication. Search, social, display, and in-app messaging can be driven through remarketing campaigns that reinforce brand voice through multiple mediums throughout their lifecycle.
Several brands are opting for AI-based remarketing campaigns that automatically optimize campaigns to showcase the right ads to the right audience. By leveraging algorithmic advert showcasing, these platforms allow brands to fully focus on reinforcing their brand voice through creative audio-visual messages.
For instance, Amazon as a company, has used AI based marketing campaigns which have become increasingly sophisticated over the years. From personalized shopping recommendations to dynamic pricing, the algorithm elicits more sales when needed. Besides creating an AI driven personalized customer experience, the algorithm enables optimal sales and revenue automatically.
Beacon marketing for effective retail conversion
Proximity marketing, or Beacon marketing, is a strategic initiative that connects physical and digital experiences for streamlined engagement. Customers with brand applications on their mobile devices, can walk into stores and instantly receive promotional or branded messages. Virtual geofencing ensures that brands can strategically plan what message to issue when to drive real-time conversion and enhance in-store purchasing.
Restaurants, gyms, retail outlets, and hotels, can maximize the impact of their marketing efforts by introducing beacons for message reinforcement. Promote a specific bottle of wine, sauna session, apparel line, or guided tour to existing customers, along with messages around loyalty or bonus points initiatives shared. Beacons are highly effective at engaging customers on-site while ensuring that they have a memorable experience at the location.
Nordstrom uses beacons to combine online shopping and in-store experience. With their beacon-enabled app, consumers are notified if any item in their mobile shopping app is back in stock, whenever they pass by a store that has a beacon at the entrance. Several brands leverage beacon technology to notify customers with push alerts and in-app updates.
Beacons can also reintroduce key messages, driven by strategic brand campaigns, to visitors entering your store. Reinforce brand messaging through videos, text, or graphical images, that can aid in brand storytelling at scale. Customers can get a better sense of the brand's proposition, without having to visit the website or speak to an in-person representative. Beacons also capture a significant amount of metadata, easy to analyze, to gauge the impact of their campaigns in terms of footfalls, order size, etc.
Technology is a key driver of brand messaging. This is why enterprises are opting for digital marketing channels to reinforce brand voice. Through promotional giveaways, influencer marketing, beacons, and chatbots, brands can creatively reach out to a wide set of audiences and scale up engagement seamlessly. The right channels are critical to explore. But it is also important to work with the right technology partner that can help facilitate brand campaigns through sophisticated hardware and software integrations.