Posted in: Digital marketingLast update: 04/08/22
Gift bags, goody bags, samples, swag, stash, merch, and more… Whatever you call them, event rewards are a great way to engage your audience. But how exactly should you hand those rewards out? We rank the best event giveaway ideas to share prizes with attendees.

Giveaways are a tried and tested strategy to raise brand awareness and reward attendees at charity or corporate events. Your audience goes home with a souvenir that will remind them of your brand, well into the future – and keep on spreading your message to others. But it's not just about the gift bags. Pick the right strategy from our list of event giveaways ideas to get more lead info, increase audience interaction, or educate attendees about your business.
Read on to learn the pros and cons of our best event giveaway ideas – and find the one that works for you. Let's work through them in reverse order.
#4 Gift bags and merchandising for everyone
Gift bags and branded merch are classic choices for corporate or charity events. Take a look at your desk: how many branded pens have you got? We're betting it's more than a few…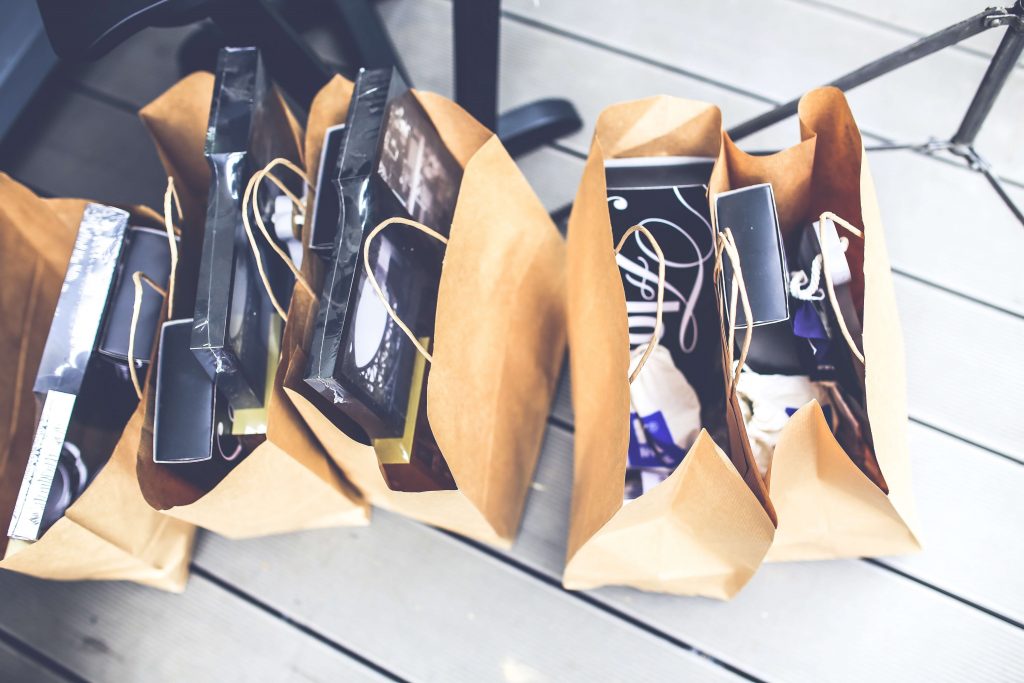 These event prizes are a very effective way to spread your logo far and wide. And with a wealth of options now available, you can offer your audience something more creative or useful than a simple pen.
Just be aware that when you give gifts to everybody, costs can mount up fast. What's more, goody bags don't offer much opportunity for personalization or interaction. It's difficult to create the perfect gift bag for every single person. And because you just hand the bag over, your guests have no incentive to interact or share data with you.
---
PROS
lots of opportunities to show off your brand logo
CONS
can be expensive
doesn't encourage audience interaction
---
#3 Arcade and casino games to pick a winner
Most brands and businesses want to interact more with their customers and event attendees. Why? Because the key to marketing in the 21st century is genuine, one-to-one relationships between people and companies. You want to meet your customers directly. And if you can inject some fun into that interaction, even better.
That's where games come in. Roulette wheels, vintage arcade games, and even traditional fairground games have become popular at corporate events, tradeshows, and expos. They're eye-catching and engaging, bringing people towards your stand so that you can start a conversation.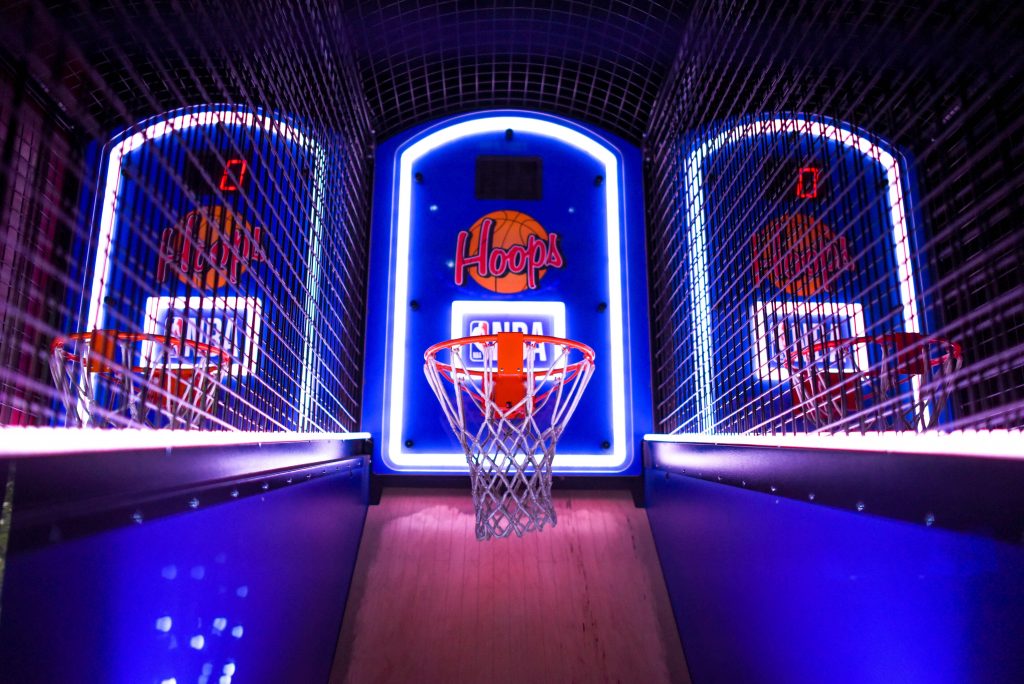 Games like this also enable you to save the prizes for people who really make the time to talk to you. However, while you'll save money on prizes, the game equipment itself can come with a high price tag.
---
PROS
interactive
fun for attendees
CONS
only 1-2 players at a time
expensive to rent or set up
---
#2 Raffles and giveaways to collect lead info
As we continue with our ranking of the best event giveaway ideas, hopefully you're starting to see a pattern. We're looking for event giveaway ideas which are interactive and open to lots of people, without breaking the bank.
That brings us to the next idea in our ranking: raffles and giveaways.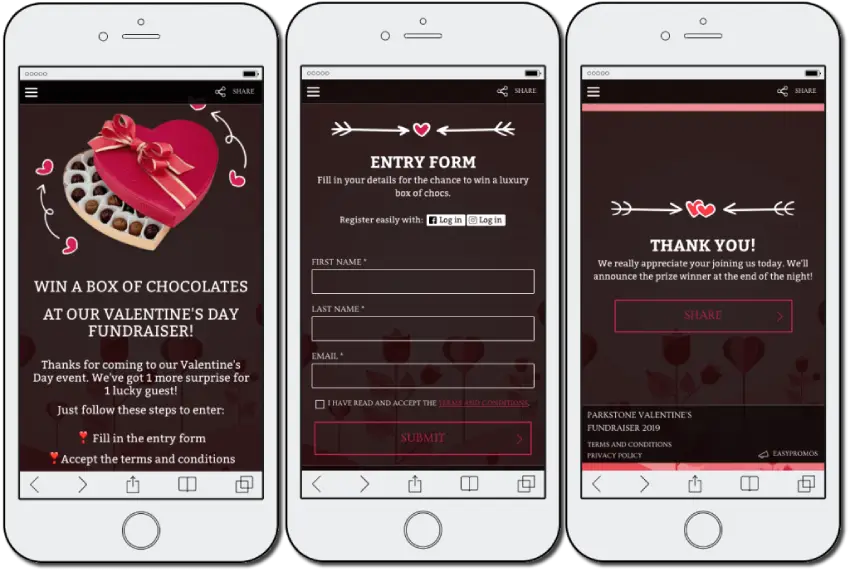 Like this giveaway? Click here to create your own Valentine's Day sweepstakes from our instant template.
Just like arcade games, a giveaway lets you share a few prizes with select members of your audience. But unlike physical games, you can make the contest available to hundreds of people at once, because people sign up with their mobile phones.
Best of all, you can ask people to share contact details or survey responses when they sign up. So raffles and giveaways are a powerful tool for lead generation and qualification.
There's just one caveat. Apps like this can take your audience "out of the room". In other words, while they're filling in the registration form, they're not watching your awesome presentation or enjoying your event.
So you need to consider your goals, and weigh up which is more valuable to you: lead info to use later, or people's attention in the moment? Don't forget that people may already have shared contact details in order to sign up for your event. Make sure that your choice fits in with the overall event strategy.
---
PROS
collect detailed lead info
CONS
can be time-consuming or distracting for attendees
---
#1 Live mobile contests for your presentation
You've guessed it: our #1 idea for event giveaways is interactive, inexpensive, and in the room. It combines the best of all worlds.
While your audience have fun joining in on their mobile phones, you can award a few select prizes… without ever detracting attention from the main presentation.
Here's how it works…
---
PROS
instant
mobile-friendly
run quizzes and surveys
CONS
can't collect individual lead info
---
How to give away a prize at your corporate or charity event
This blogpost is just our opinion. It's true! Every brand and event will have its own goals, and therefore its own needs. So it's worth spending some time reviewing the pros and cons of all these event giveaway ideas.
Think about which one will get the best results for you, personally. Then get ready for a roaring success.
Publication date: 2019-07-08