Presenting an audience with a challenge is one of the best working motivators to engage your online followers. With that in mind, here are some ideas to gamify your marketing campaign. Adding some prizes to the mix will surely catch your audience's attention and nudge them to interact. Take a look at the following examples and give the idea of implementing gamification to your strategy a thought.
Match three combination game to promote Black Friday
Let's start with a customized match-three combination game to motivate and entertain your audience on social media and other digital channels. This is certainly a fun game that anybody can play. Take a look at this example that the Shopping mall MN4 launched for Black Friday. It consisted of a Slide & Match game where that presented the playing elements as discounts. Users had to match the discounts to score points. Every user that registered and played entered a final prize draw.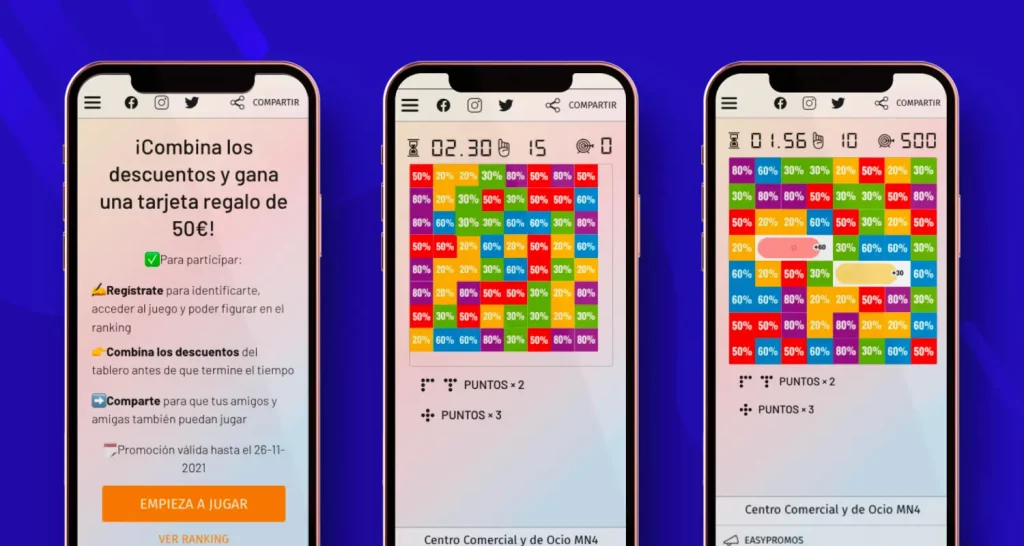 Prize Roulette to reward e-commerce customers
In this day and age, customers are only impressed by brands that market themselves in an innovative and creative way. Interactive marketing certainly ticks that box and a Prize Roulette is a good example. Furthermore, all the elements of our Spin the Wheel app are fully customizable to ensure your brand or products will be always visible to the user. This is a good solution to offer attractive prizes, product discounts, or experiences. Let's take a look at the promotion that Celtic Titles organized for their St. Patrick's Day. The brand embedded a Prize Roulette in a prominent place on their website. Website visitors could access the promotion directly, spin the wheel and win a discount. This promotion is not only fun and enticing, but it also serves as a purchase trigger for visitors.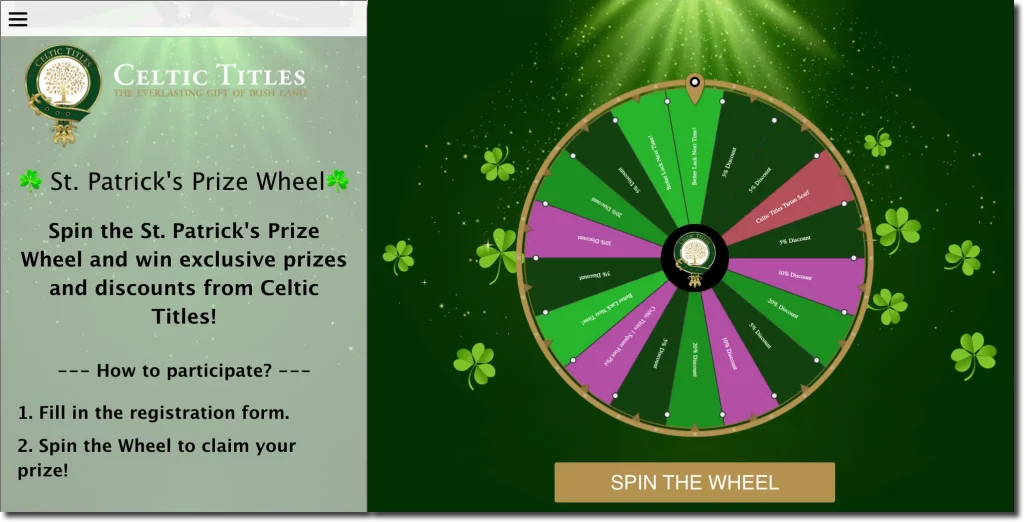 Gamification Marketing with a memory game to promote a product
Launching or promoting a product implies a lot of work and more often than not we are left wondering what's the best way to go about it. Gamified applications will help you give your brand more visibility and exposure as they are attractive and engaging to your target audience. Gamification in marketing is ideal to complement your product launch action plan since it's entertaining and attracts user participation. In the following example, the Singaporean restaurant chain Texas Chicken launched an online memory game to promote their products and the top-ranked players would win restaurant vouchers. With this action, the organizers not only promoted their products but also entertained and fostered competitiveness among users.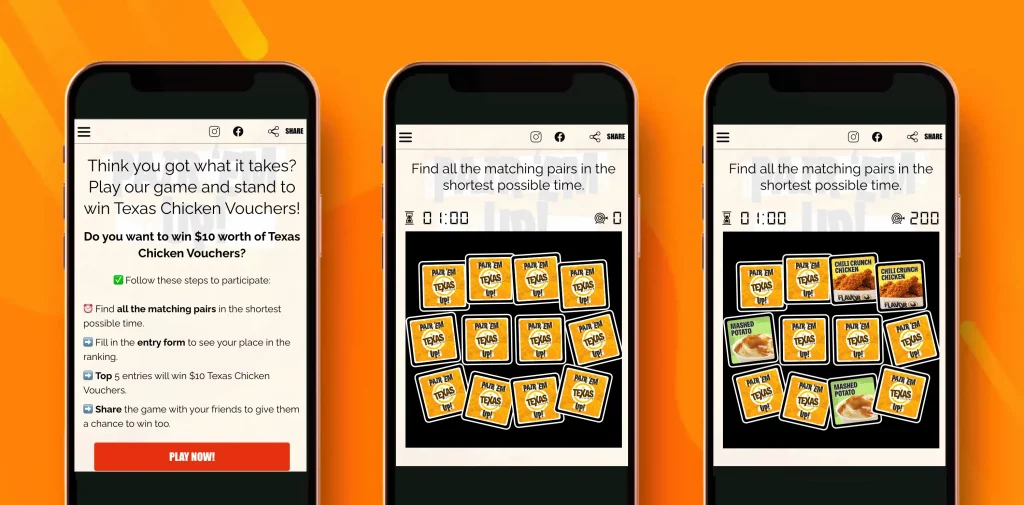 A brand's anniversary: the perfect reason to work on brand awareness
Competing is an inherent trait of people and it can be used as a motivator to generate user interaction with a brand. Thus, as part of their 40th-anniversary campaign, the French supermarket chain Alcampo launched an online Multi-Game promotion. This successful gamified interactive marketing action allowed users to play several games and compete against other users.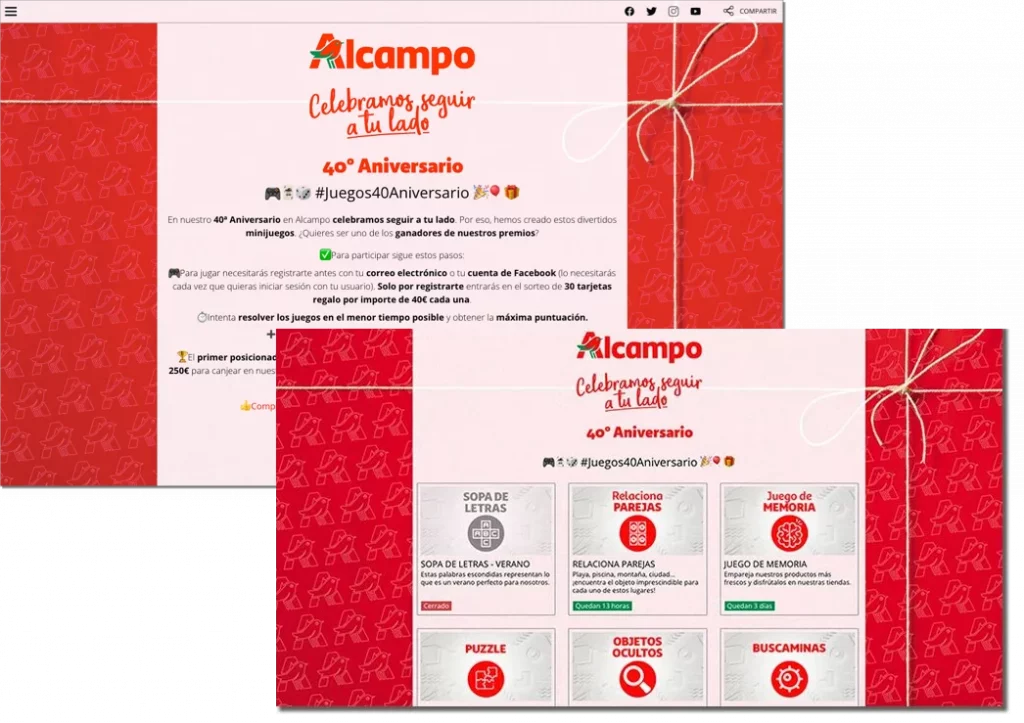 Timed Quiz game to promote your product and brand
Familiarizing your audience with your brand, products, prices, and even staff to build confidence might well be the single greatest marketing challenge. Speaking of challenges, a quiz is probably the first one that comes to mind. Therefore, launching an online timed quiz is a great way to challenge your audience and work towards achieving such an objective. Let's take a look at what Andrew's Airport Parking did in Australia.
The brand launched a times quiz with questions related to the company and its products. What's more, the questions themselves served several purposes: challenging and entertaining its audience, informing clients about available services, prices, upcoming promotions, locations, etc.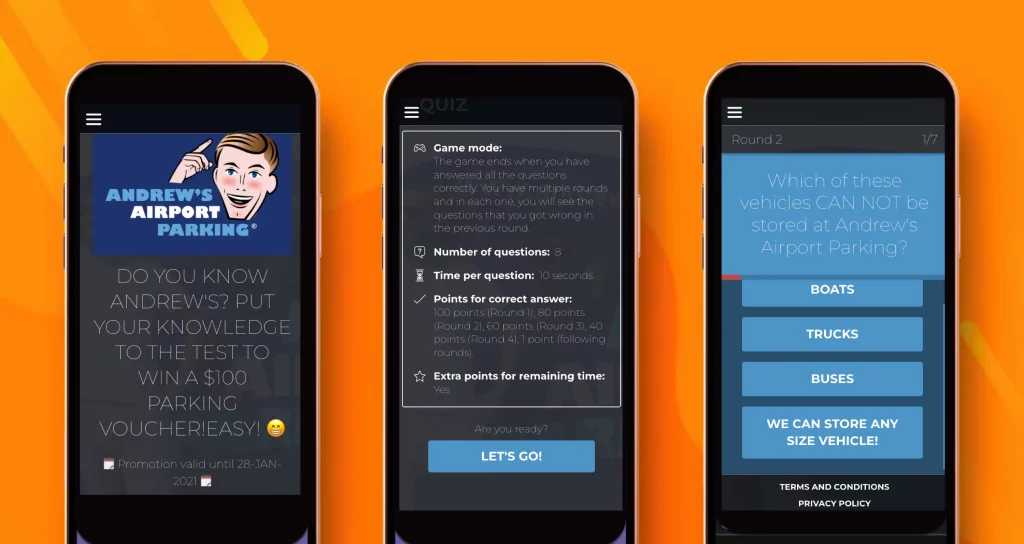 Easypromos offers a variety of tools to configure and promote games on social and other digital media to increase your actions' visibility and bring in users. Use our ready made templates and/or contact our support team via live chat for help and suggestions. We will be happy to help!