Posted in: Applications for Facebook,Ideas for your websiteLast update: 26/10/20
Have you just launched a new promotion? Learn how to reach more people, increase conversions, and grow your business by sharing your promotion on social media. Dive in!

So you've just launched your promotion with Easypromos… Now it's time to disseminate it on social media channels and attract as many participants as possible so that you can grow your brand, increase sales, and maximize lead generation. Here are 11 steps to share your Easypromos promotions on social media and drive traffic to your marketing campaigns.
1. Publish a post on your corporate social media profiles
The very first step you want to take is to inform your followers that the promotion has begun. Create a post on your Facebook page, share Instagram posts and Stories, and tweet about your promotion to reach as many potential entrants as possible. If you have a corporate YouTube or TikTok channel you might also want to use these channels to drive traffic to your campaign.
Encourage users to participate by explaining the participation requirements and highlighting prizes involved in the promotion. It's also important to include a mobile-friendly link to the campaign.
Learn how to get a direct link to share your Easypromos campaign.
2. Pin posts about the promotion to the top of your Facebook Page
Pin the post to the top of your Page so that it stays visible throughout the promotion.
As soon as you publish a post, hover over it and click on the menu that appears in the top right-hand corner. Select the option 'Pin to top of page'. It's a great tactic for anyone looking to target their Facebook community.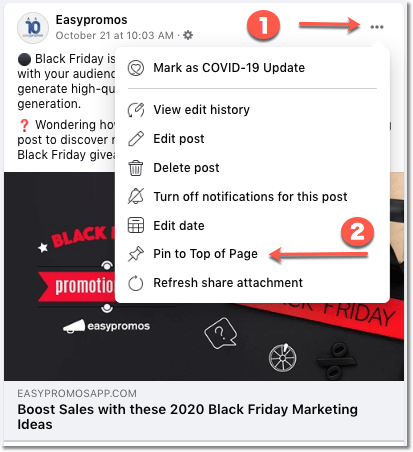 3. Use Facebook Ads to reach more people on Facebook and Instagram
Recently, organic posts from Facebook Business pages tend to have low reach. Do you want all your followers to see the post? Or maybe you want to advertize to new audiences? Reach your target audience with paid Facebook Ads!
Facebook Ads Manager allows you to promote the post you've already published on your Facebook or Instagram page. Alternatively, you can create dark posts – these ads don't appear on your main page, but they'll still be shown to targeted audiences.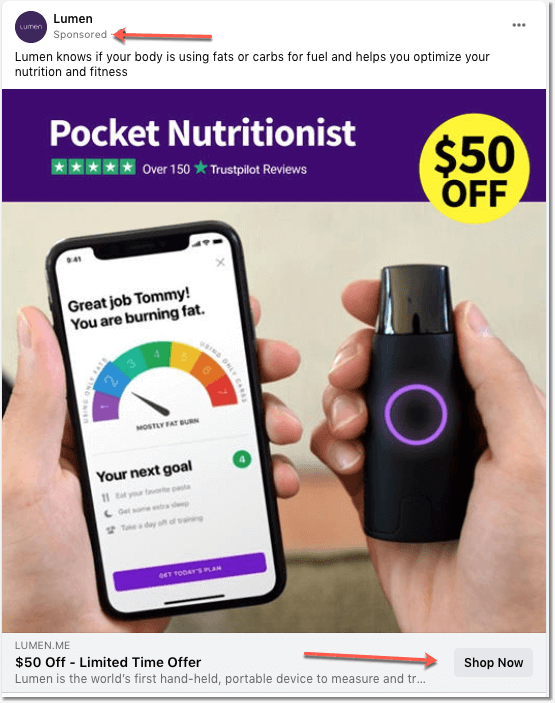 4. Take advantage of Facebook's 'Call-to-action' button and Instagram's Link in Bio
If you have a Facebook Business page, then you can set up call-to-action buttons. These make it easy for followers to convert in a specific way, such as buying a product or signing up for your mailing list. So whenever you share promotions on Facebook, you can use the call-to-action button as a new channel to attract users and get more participants. You just need to enable the button with the main link to your promotion.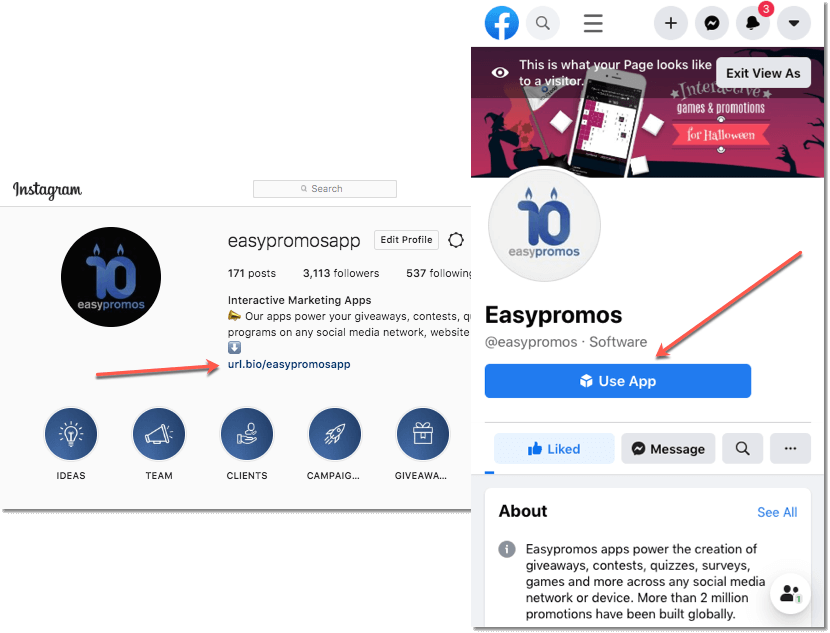 Instagram doesn't offer a call-to-action button, however, it allows you to add a link to your profile. Use the Instagram Link in Bio to share a direct link to your promotion.
5. Customize the cover image of your Facebook Page
For as long as the promotion lasts, you should theme your whole Facebook Page around the contest.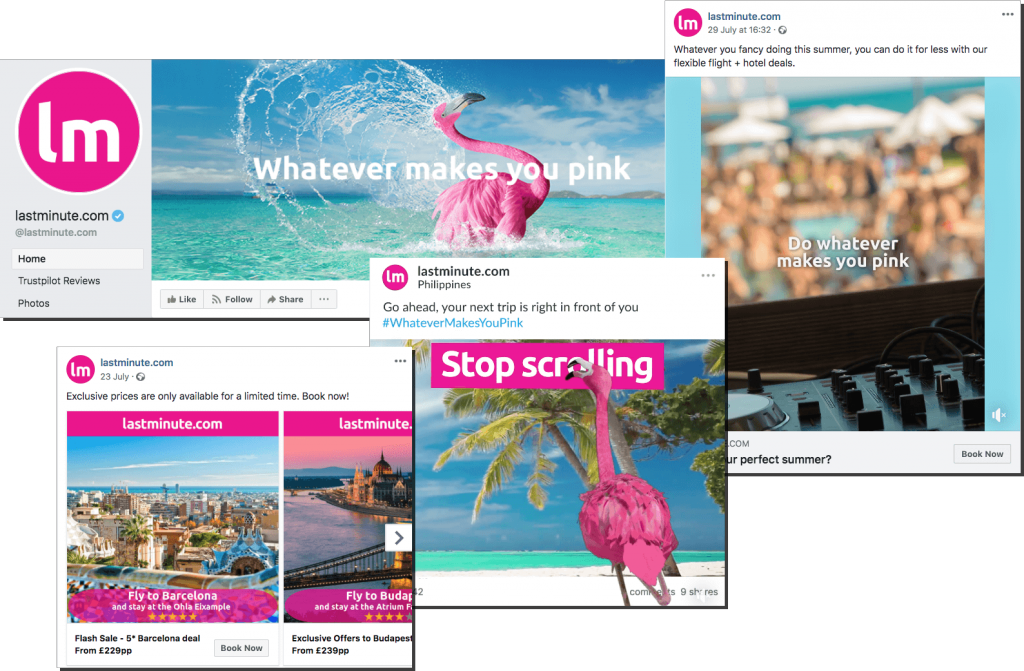 For example, you could update your page with a new cover image, and include a reference to current promotions. The cover image is the first thing that users see when they reach your Page, so they'll be introduced to your promotions right away.
If you have a business Twitter account make sure you update the Twitter cover image, too!
6. Use Facebook and Instagram Stories to announce contests, giveaways, and promotions on your page
Make the most of Facebook and Instagram Stories to share images and videos. Keep your promotions top-of-mind and encourage people to visit your Page!
Stories are also a good way to attract new users to your page with valuable, follow-worthy content.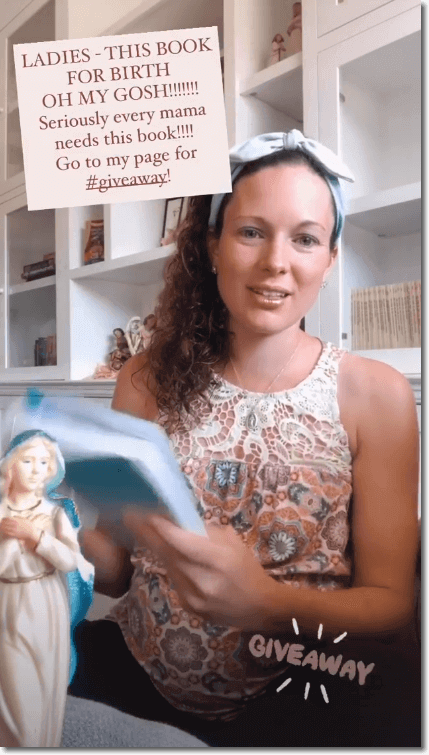 Did you know that you can create Story Ads? Learn how to promote your next promotion with Instagram Story Ads!
7. Set up UTMs to measure traffic sources to your promotions
Once you have a direct link to the promotion, you can create a personalized link campaign to measure where participants come from. So you can check whether a participant finds the promotion via an organic post, Facebook Ads, or other online channels.
Setting up UTMs is easier than you think – you just need to define some parameters and add a short piece of text to the end of the link.
Learn how to create a customized link campaign with Easypromos.
If you want to attract to your next promotion as many participants as possible, it's important to identify which social media network works best for you. Next time, you can put more effort on the social media platform that worked best for you this time!
8. Share promotions on social media with shortened links
Use URL shorteners (like «bit.ly») to share user-friendly links. A short string of letters is much easier to fit into a social media post (especially if you're tweeting!), or copy and paste on a mobile screen.
Most link-shortening tools also offer statistics about clicks on each link. This gives you extra feedback about how to share promotions more effectively.
9. Pay attention to the content
The main image, title and description of your promotions will have a powerful effect on how people respond. To get more participants, follow these basic guidelines:
Main image. Design an attractive image that shows what the promotion is about. There is no longer a limit on the amount of text that you can add to an image. Still, make sure the image is attractive and not full of text.
Title. Think of a short title that includes a call to action and explains the prize. It's also a good idea to mention the type of promotion – for example, "Comment to Enter our Gift Card Prize Draw" is a short, simple title that covers all the bases.
Description: Explain the rules of the promotion and how people can join in. Include the start and end dates of the promotion, and a link to terms and conditions.
10. Re-publish the promotion on your social media pages
As long as the campaign lasts, you can re-publish and share promotions on Facebook with fresh posts, Stories and Ads. Update followers with more details about the prize, or share a daily countdown to when the promotion closes.
11. Watch out for location restrictions
If you plan to restrict the campaign to certain countries, it's important to use the location filter when you share promotions on Facebook. So long as users from other countries can't see the promotion, you won't have to worry about invalid participation.
Key tips for social media promotional campaigns
The most successful social media promotional campaigns are built on a smart communication strategy. Use every channel available to tell your followers and customers about the campaign.
Do you have questions about sharing your promotions on social media? No worries! Contact our Support Team, ready to answer all your questions.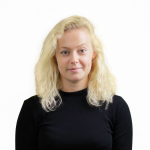 Kamila Palka
Easypromos marketing team
Publication date: 2015-03-23