Posted in: Success casesLast update: 26/01/16
The following Twitter sweepstakes case study, carried out by Vodafone yu with the help of the Sra. Rushmore agency, has many interesting aspects. We're going to outline some of these during this post. Four copies of the book Yellow Mellow, signed by the author and YouTube star of the same name, were raffled among followers who retweeted this tweet: "Would you like a signed copy of the book by @YellowMellowMG? We're raffling four copies among everyone who retweets this tweet."
The agency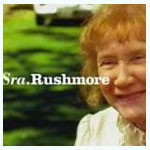 Sra. Rushmore is an agency that believes in the power of ideas, and knows that the one true meaning of its work is to connect with people. It believes that the place where campaigns must really succeed is on the street. It believes in experiences of global brands. It believes that different forms of media must coexist and feed off each other, getting the most out of the tools of communication necessary to connect with people at each specific moment. And it believes in the integration of ideas. For this reason it doesn't use names such as digital, interactive, direct and so on.
The client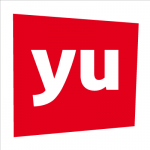 Since this telecommunications company launched its range of Vodafone yu rates, aimed at young people, it has concurrently developed content aimed at this target audience. In this way, it tries to connect with young people and relate a variety of positive values, experiences and emotions to the brand. One of the most significant examples is the top 40 radio show "Yu, don't miss a thing" – three hours of humor, interviews, tutorials, street reports, and more.
The campaign
Behind this simple sweepstakes is a studied strategy of branded content which Vodafone has been implementing over a number of years via its commercial project, Vodafone yu. The brand places a great deal of importance on the social networks as providing a way of communicating and interacting with young consumers and offering them exclusive promotions. Vodafone yu possesses Facebook, YouTube, Instagram and Twitter accounts. It was from this Twitter account that the sweepstakes was carried out. The prize was a book written by YouTube star Yellow Mellow, aimed at an audience similar to Vodafone yu's target market. The book talks about first dates, about the differences between going out for a run and going running, and the new motives for creating a WhatsApp group.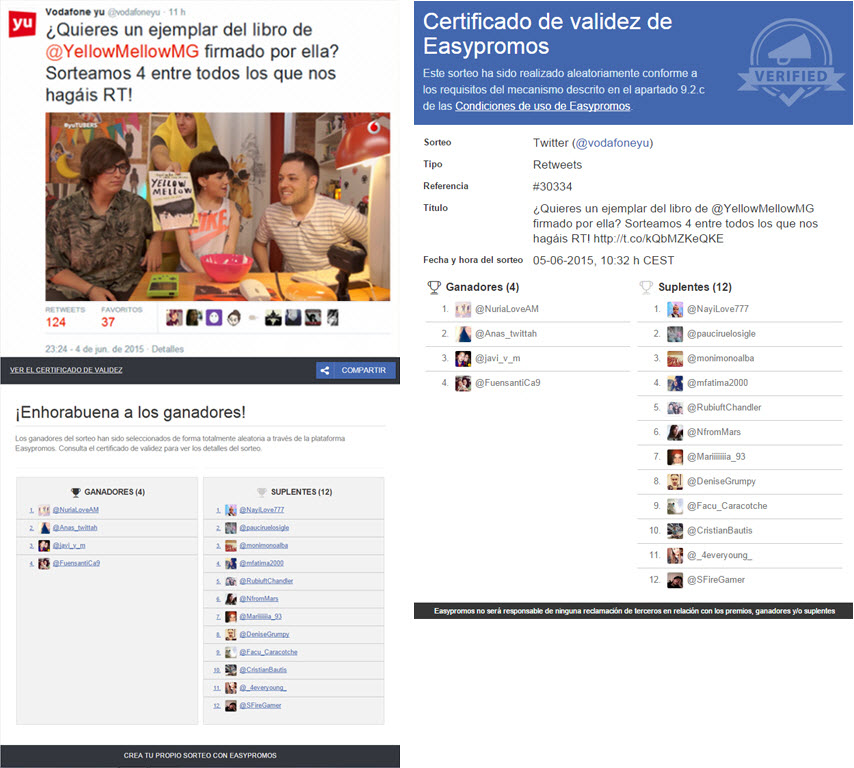 The solution
The results of the sweepstakes, which lasted a few hours, were as follows:
An increase in the number of followers.
The loyalization of current followers.
An increase in engagement.
Linking Vodafone yu with another Twitter account – @YellowMellowMG – and with content that would interest the brand's target audience.
Use of the retweet for viralizing and disseminating content.
Transparency, thanks to the certificate of validity and the publication of randomly-picked winners and alternates.
Would you like to create your own Twitter sweepstakes? Find out how to create one in just three minutes in this video tutorial: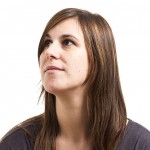 Silvia Marti Ferrer
Marketing and Customer care Easypromos' team