Posted in: Business newsUpdated on the 26/05/2017
Have you ever recommended Easypromos as a contest application sometime? Do you conduct workshops or trainings about Easypromos? If you know Esypromos, you follow it and you contribute to our renown, why do not take profit about your suggestions links? You can register to Easypromos Referral Program. By joining this program you will have a dashboard to manage your recommendations and to know which are your referred users and your earnings.

On this article we explain Easypromos Referral Program. You will find important information to enter our Referral Program in the following sections:
General characteristics
How does it work?
Who is this Program aimed at?
Accessing
Program Features
1. Commission policy. Get 10% of all your referred users' payments during the first year.
2. Centralized dashboard:
Know the status of your commissions
View your pending collections
Know the status of your referred users
3. Tracking your reffered users. You will receive real-time notifications of your referred users' activity.
4. Material to recruit. Get resources to create content for your website which will help you spread your recommendations.
How does it work?
Get referred users. When accessing the Refferal Program dashboard, you will get a unique referral link which you must share and link to the Easypromos site or any content published on our blog.
People accessing Easypromos through this link will become your referred users when they make one of two actions:
Register in Easypromos dashboard
Create their first promotion.
Commission. You will get 10% of all the purchases made for your referred users during their first year. It can be 3 types of payments:
Purchase a Basic, Premium or White Label individual promotion.
Payment of monthly or annual subscription of any kind.
Purchase promotional packages of any kind.
Also, if you achive more than 10 referred users, we will update your Referred Program conditions: we will increase your comission percentage and we will extend the period of your referred comissions.
Notifications. As a member you will receive an email from Easypromos in the following cases:
When you enlist a new member
When one of your referred users activate a free trial
Each time a referred user makes a payment
You can know in detail all the Referral Program Policy on this link.
Who is this Program aimed at?
All kind of users interested in becoming an Easypromos referring member, being  a customer or not, can access to the Referral Program. For example:
Clients. If you are a payer user of our platform you can access directly the Referral Program.
Bloggers. If you talk about online marketing and you are interested in talking about online promotions and Facebook contests, you can benefit from our program.
Lecturers. Do you talk about Easypromos as a social media tool in your courses and workshops? Take advantage of this recommendation.
Webmasters. Are you the owner or responsible of a contests-based website or a marketing tools site? If you are interested in recommending Easypromos in your website use our Referral Program.
Organizers of online events. If you organize a webinar, online conference or workshop you can also access our Referral Program.
Marketing profesionals and students. If you work in social media strategy, online marketing and advertising or digital business strategy, you can join our Referral Program.
Partners. Are you interested in working with Easypromos? Our Referral Program can be a meeting point. Contact us.
How do I access the Referral Program?
1. If you are already a payer customer of Easypromos, access your dashboard and click on "Referral Program" drop-down list of "Account settings".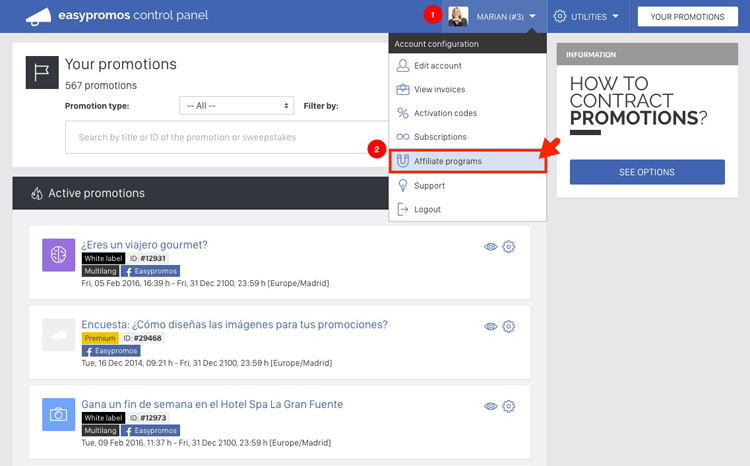 Note: If you're not a payer customer you can also join the Referral Program, but you must contact Easypromos and point it out.
2. The first time you access your Referral Program dashboard you must accept the terms and conditions of the Referral Program. You can check them in this link.
3. This is the Referral Program Dashboard, where you can get your referral link: share it when you recommend Easypromos and in this way, all new Easypromos users who access the application from your suggestion will be counted as yours. In addition, you will be able to check:
• Your earnings as a referring member
• The activity of your referred users: how many members do you have, if they have done their first free promotion and if they have become payer users.
• Members' names and date where they used your referral link to access Easypromos.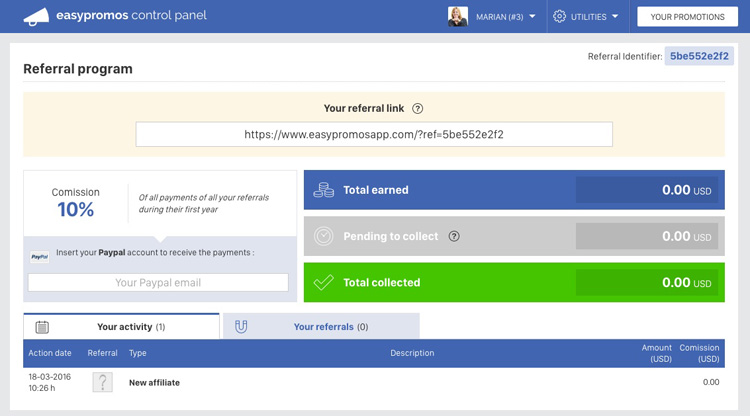 Do you want more information or join our Referral Program? Contact us.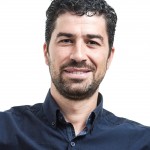 Easypromos CEO and co-funder