Instagram giveaway has proven to be one of the most effective marketing techniques. The ease of organizing comment-based promotions and entering them makes it a win-win situation for brands and Instagram users. Still, you shouldn't just open your Instagram account and create a giveaway – at least wait until you get to the end of this article as we're about to take you through all the dos and don'ts of Instagram giveaways in 2023.
But why is it important to follow certain Instagram giveaway rules? If you wish to win customer loyalty and position your brand as a market leader, your social media accounts must be professional. And hence your giveaways must comply with all Instagram rules.
We guarantee that if you keep an eye on the following Instagram giveaway rules, your account will see a spike in interactions and followers! And your brand will gain new loyal followers. Let's dive in!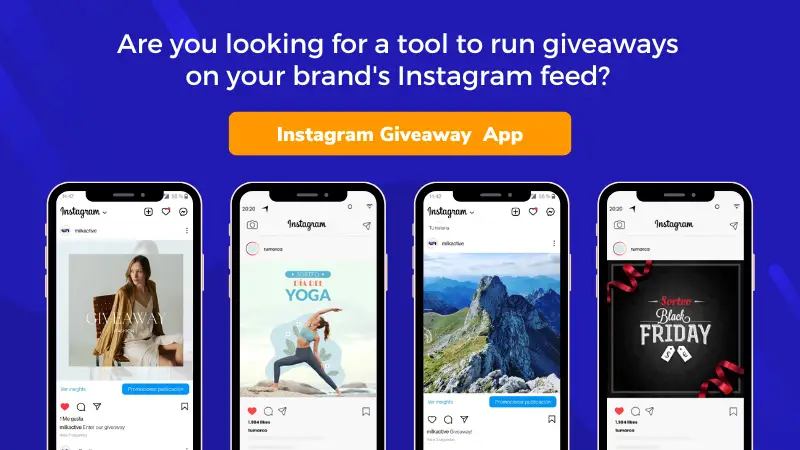 DO share terms and conditions
This is one of the most important and concurrently most overlooked Instagram giveaway rules; you must share terms and conditions with your giveaway participants. And not only to amuse the participants but also to protect yourself from potential problems or complaints from entrants. Make sure you mention the participation dates, age, and location restrictions, and it's also worth mentioning clear guidelines on how to enter the promotion. Once you have your Instagram giveaway T&Cs, share them with your followers by adding the link to your Bio.
Not sure where to start with your terms and conditions? Use the free Easypromos Terms and Conditions tool.
Instagram also puts emphasis on highlighting that your giveaway is in no way sponsored, endorsed, administrated by, or associated with, Instagram.
DO use an automated tool to choose the winner
Make sure you use a trustworthy application to choose the winner of your giveaway, for example, the Easypromos Instagram winner picker app. This professional fully automatic tool will help you pull all the comments from your giveaway post (or posts if you promoted the sweepstakes in multiple publications and ads), not just the last 100. It will also allow you to specify how many friends each participant had to mention in the comments section, or whether they had to include a specific hashtag. You can even choose alternate winners in case you can't contact the official winner. Additionally, our Instagram Giveaway app also generates a Certificate of Validity to prove the transparency of the winner selection process.
DO showcase the prize
Why do Instagrammers enter any sort of social media giveaway? Because of the chance of winning, of course, as incentives are the biggest motivation to participate in digital promotions. So if you really want to boost Instagram engagement by attracting as many participants as possible, make sure you announce your sweepstakes with an attention-grabbing image presenting the main prize. We also recommend you add the magic "giveaway" word to the image for extra visibility!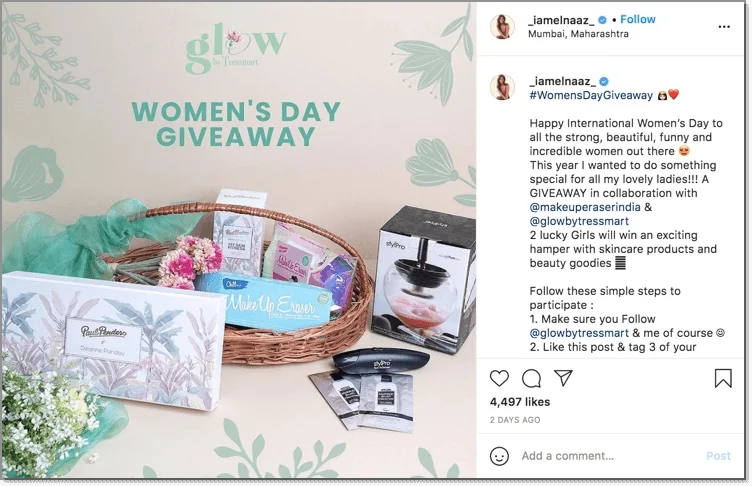 What would be the best prize though? There's nothing better than raffling your own product or product bundles; you get to show your offer to the world and reach your target audience. Additionally, you also get to reactivate your community and even attract potential customers.
Are you ready to launch an Instagram giveaway but you're not sure where to start? Choose from more than 50 ready-made Instagram giveaway templates to get a head start.
DO ask people to comment
Instagram giveaways are all about product promotion and increased social media engagement. Participants interact with the brand's post-generating engagement which leads to the brand gaining better visibility. But let us point out the most important aspect of organizing Instagram comment promotions:
If you want to boost customer loyalty and trust, make sure you choose the winners in an automatic way. Currently, all the automatic winner selection tools available on the market can only pull comments from Instagram posts – it's impossible to choose a random winner based on followers or likes.
So make sure your Instagram giveaway is all about comments. Ask users to participate in your Instagram giveaway by leaving a comment or an answer to a question – our favorite is open questions! They persuade participants to share their opinions, views, and stories. They help participants create an emotional bond with your brand which leads to nothing but increased loyalty and trust. Open-ended questions also encourage real conversations; you can reply to the comments to further boost engagement but chances are that users will engage in conversations with other participants.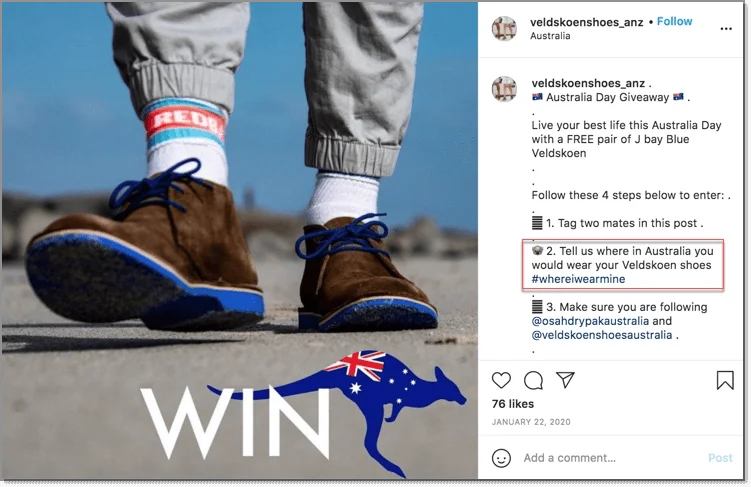 Apart from asking questions, you can also require that interested participants tag their friends in the giveaway post – between one and five mentions is the recommended number. You can even ask users to follow your account and give a like to the giveaway post. However, once an automatic winner selection tool chooses a winning comment, you will have to manually check if the lucky participant followed you and left a like. Bear in mind that Instagram is removing likes in some countries, therefore you might want to give that requirement a miss.
DO collaborate with other brands and influencers
Are you looking to grow your Instagram audience? Or maybe you want to reach a specific online community? This is where Instagram collaborations come in handy and they totally comply with Instagram giveaway rules.
Teaming up with like-minded brands is a fantastic opportunity for augmenting your Instagram reach and growing off of each other's backs. Two brands organizing a sweepstakes can also offer a much more attractive prize – great product bundles are especially popular! Another way to increase your Instagram scope is to hook up with influencers that have the power to drive traffic to your brand and products.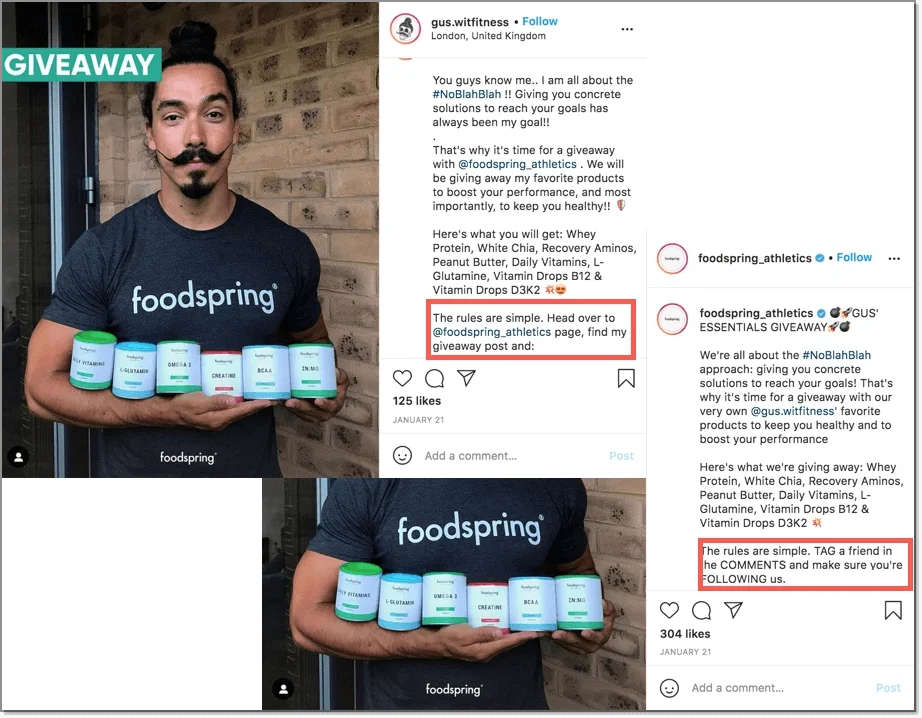 The Easypromos Instagram comment picker allows you to pick random winners from among users that commented on various posts – and on different accounts. Learn more about Instagram giveaway Collabs.
DO cross-promote your Instagram giveaway
What happens when you organize an Instagram giveaway and decide not to promote it on any other social media channel? You're limiting yourself. Drive traffic from your Facebook, Twitter, TikTok or YouTube accounts to your Instagram giveaway. Chances are you will attract more participants than you would have if you focused your efforts simply on Instagram. And if you're lucky you might hugely increase the number of your Instagram followers. Because if someone follows you on Twitter, why wouldn't they follow you on Instagram, too?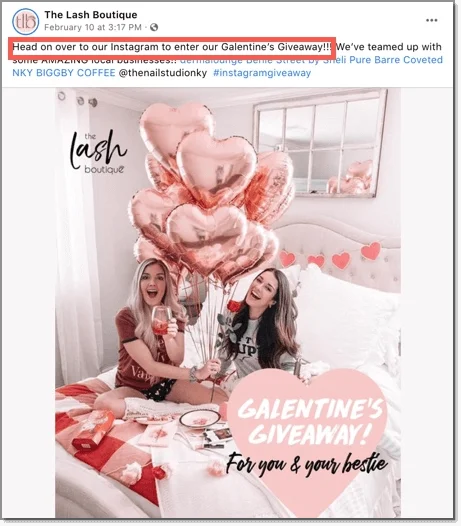 But don't limit yourself just to social media – add a pop-up to your website or blog and re-engage your newsletter subscribers because the more the merrier! Oh, and have we mentioned running social ads for your giveaways?
Did you know that Easypromos has the only tool in the market that allows you to run a fully automated and reliable Instagram Stories Giveaway?

DO run giveaways on Instagram Reels and videos
You might know by now that static content is not as engaging as interactive audiovisual content. This is why running your Instagram giveaways on videos and Reels is a great idea for anyone looking to reach more users, generate visibility, and build the brand in the meantime. Ask users to comment on your videos or Reels and then choose a random winner from among all the users. You can ask participants to tag their friends, too.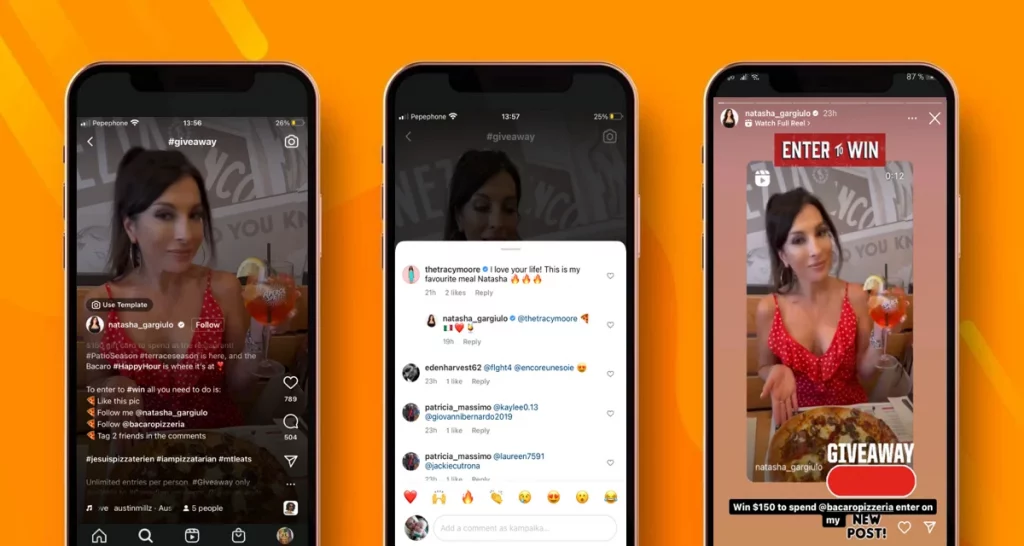 Find out more about running comment giveaways on Reels.
DON'T encourage spamming
The Instagram algorithm doesn't like spam, and rightly so. And that's probably our most concrete reason for why your giveaways shouldn't promote spamming. What do you think is more important, 50 comments from one user or 10 comments from 10 different people? We would definitely go for the second one! The popular "1 comment = 1 entry, comment more for more entries" requirement is against Instagram giveaway rules as it encourages spamming. Not sure if you trust us on this one? Instagram community guidelines ask to "foster meaningful and genuine interactions".
DON'T offer extra entries for sharing in Stories
This one's a no-no for us. Let's agree it's acceptable if you're expecting no more than 50 participants. You can sit with your face glued to the screen, writing down every single user that reshares your giveaway and mentions your brand in their Stories. But once you're expecting hundreds or even thousands of entrants… It will be literally impossible to track and then give those extra entries in the prize draw. As we previously mentioned, Instagram doesn't allow external tools to pull any information apart from comments – so it's impossible to automatically import all the users that shared your giveaway or mentioned you in Stories. So simply don't make your life harder than it has to be!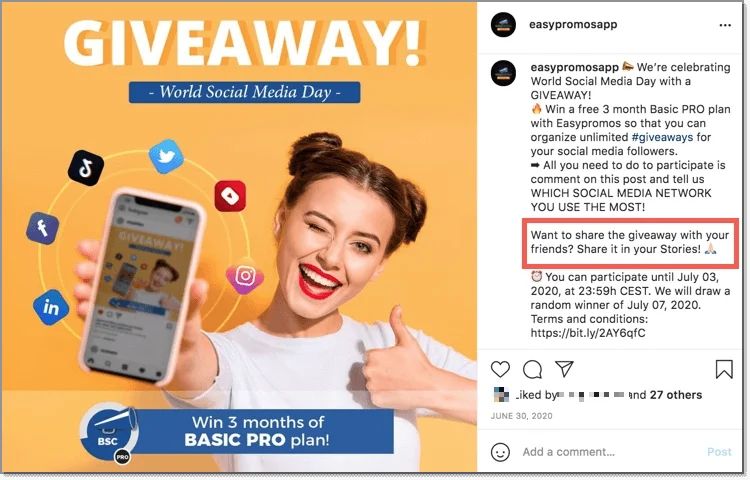 However, you can encourage participants to share the giveaway in their Stories to help you reach more people. Just don't make it an obligatory requirement to enter your promotion and don't promise additional entries sharing the giveaway in Stories.
DON'T forget to announce the winners
Users participate in giveaways for a chance to win – make sure you offer only positive experiences by announcing the lucky winners of your promotion. If you don't officially share the winners of your giveaway, you might lose credibility and trust as some users may simply think that the giveaway was a fraud – and you don't want that!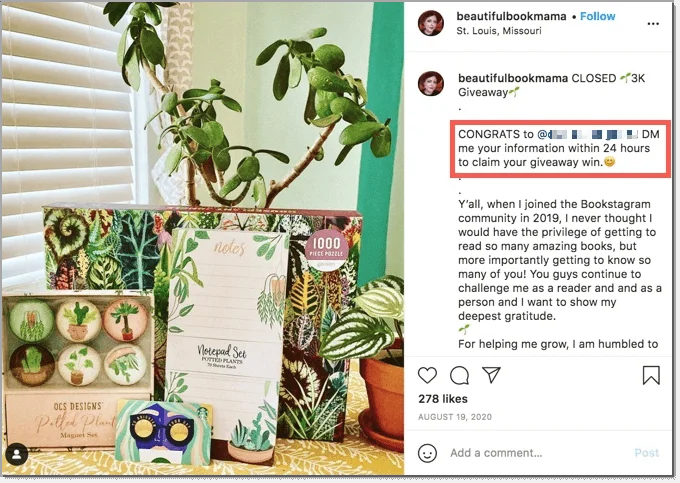 There are three different ways to announce Instagram giveaway winners:
Edit the giveaway post and add "Giveaway closed, the winners have been contacted". But you can reinforce trust further by tagging the lucky winners in the post.
Create a new post only to announce the winner
Share the winners in Stories and create a Highlight so that it doesn't disappear after 24 hours
Remember the Certificate of Validity I mentioned before? You can share it in stories or as a Link in Bio.
So… How does it all sound? Are you a little bit more clear on how to organize a successful Instagram giveaway now? Just stick to what we mentioned in this article and you're good to go! And remember – it's all about fun and growing your brand! And in case of questions or doubts make sure you contact us via live chat!