Do you know how to spot a fake giveaway on Instagram? Fake competitions are often used to trick users into following fake accounts. Then those accounts, with inflated numbers of followers, are sold on to other spammers. Because you can change the name of an Instagram page easily, it can be difficult to spot when these frauds have taken place.
In this article, we've collected a quick guide to spotting Instagram giveaway scams. If you're ever in doubt, refer back to this list.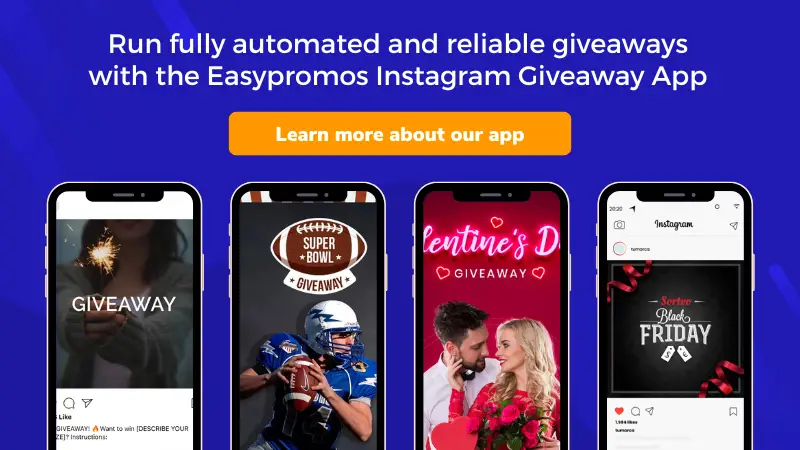 Quick guide to spotting Instagram giveaway scams
The giveaway account is a famous brand name, but it's not verified
Look for that iconic blue tick next to famous brand names or celebrity usernames. If a giveaway comes up in your feed, check that it comes from a reputable, genuine account.
The giveaway account has only just been created
Imagine you see a tempting giveaway, so you click through to the organizer's profile. But there are no posts in their feed – just the giveaway. Of course, it could just be a new brand. Check the giveaway rules and the profile information (such as the bio link or email address) to make sure that it's legitimate.
The giveaway account doesn't have any followers or recent activity
Most real giveaways come from well-established accounts, with plenty of active followers. Be suspicious of accounts which have very few followers, or no activity. A sudden spike in activity after months of downtime can also be a warning sign.
Still not sure whether an account is real? Try running it through a tool like Modash's Fake Follower Check.
There are spelling mistakes or translation errors in the giveaway post
Trust us – brands care about what they post. So if you see spelling mistakes, blurry images or basic language errors, then you could be looking at a fake giveaway.
The giveaway post uses stock images or stolen images
There's nothing wrong with using stock photography. But if a brand or influencer is offering a specific prize… then you'd expect them to have their own photos, right? If you notice photos which are obviously generic or used without permission, then you should be suspicious. And if you're not sure, try running the photo through a quick Google Image search to see if it's been posted before.
The giveaway is designed to trick you
Unfortunately, many fake giveaways use photos and text that are designed to confuse or trick you. Take a look at this example: a roulette wheel that will never start turning, however many times you tap. But if you try to get the wheel turning, then you "like" the photo without meaning to.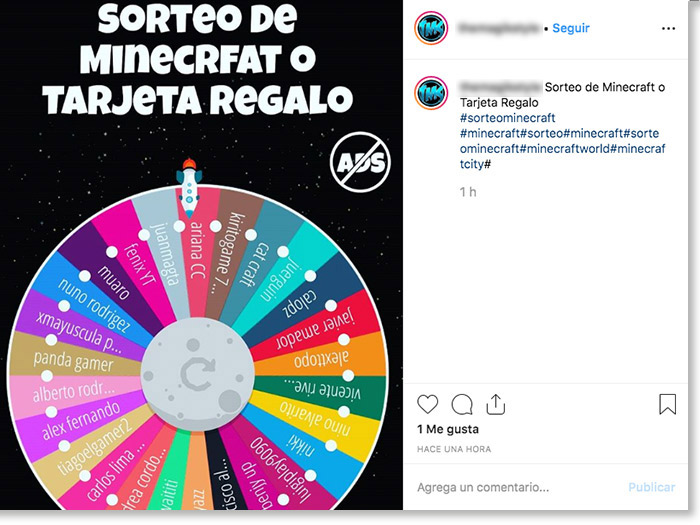 The giveaway asks you to complete too many tasks
At Easypromos, we help people run hundreds of giveaways every day. So we know that most giveaways are simple: after all, there are only two or three real ways to pick a winner. (Check out the chart below for a quick reminder.)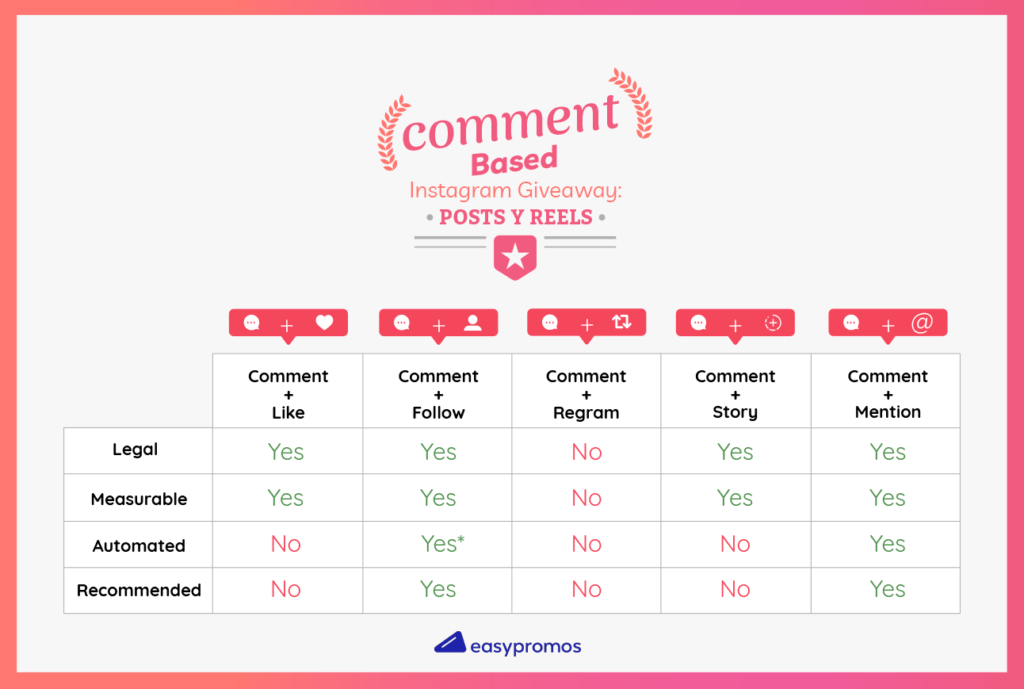 If a giveaway asks you to follow hundreds of people, or complete a long list of tasks, then it's probably fake! That includes loop giveaways. They're time-consuming for brands and followers, and it's almost impossible to pick a winner fairly.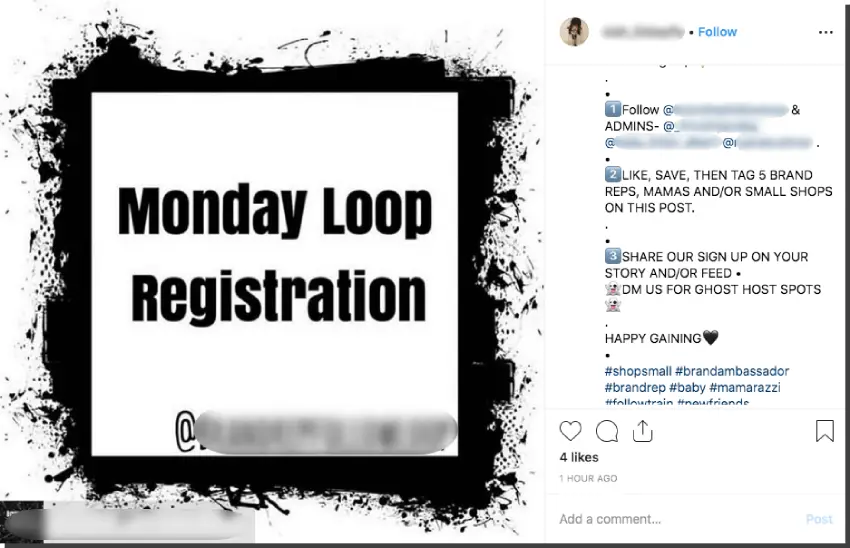 The giveaway sets a minimum number of followers
We occasionally see giveaways with a caption like "Giveaway when we get to 10k followers!", or "Prize increases by $100 for every 100 followers!". Another variation is "You must have 5k+ followers to win".
The fact is, Instagram giveaways are a very powerful way to get more followers organically. A good giveaway will result in more followers, without demanding specific numbers or bullying people. If you see a giveaway which insists on a minimum number of followers – especially if it's very high – then it's probably shady.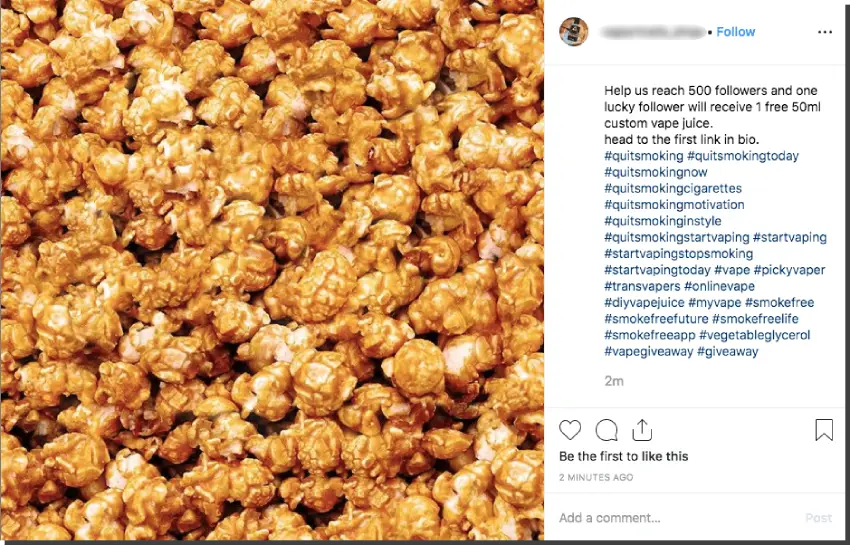 Commenting or tagging more people gives you more chances to win
Comments and tags are a great way to run a giveaway because we can use them to pick a random winner. But if someone promises you more chances to win with extra tags and comments, that's spam. You should only ever have to comment once to take part. And we recommend that brands only ask for 3-5 tags per person.
There are no terms and conditions
Every online giveaway legally has to include terms and conditions. These include crucial information, like the name and contact details of the organizer, how to take part, how the winner will be selected, what happens to your data, and so on. If you don't see terms and conditions, that's an instant red flag.
There's no certificate of the prize draw
When a giveaway is run fairly, the organizer should be able to show you the evidence. A certificate of validity proves that the prize draw was free, fair, and random. At Easypromos, we generate a public, permanent certificate for every single Instagram giveaway on our platform.
The organizer chooses a winner based on activity, or by hand
The only way to pick a winner fairly is to use a random, automatic tool. Easypromos offers an Instagram winner picker that always chooses a random winner, so that the competition is fair to everybody.
The organizer doesn't answer your messages
The giveaway organizer should be ready to help with any questions or doubts. If you can't find any contact information, or the organizer doesn't respond to your messages, then you should be suspicious.
The prize is too good to be true
Brands love to give away grand prizes. But they have to be realistic: you can't give every customer a new car, or the latest iPhone. Be cautious about a giveaway which offers enormous prizes, especially if the prize is via money transfer or from a small brand.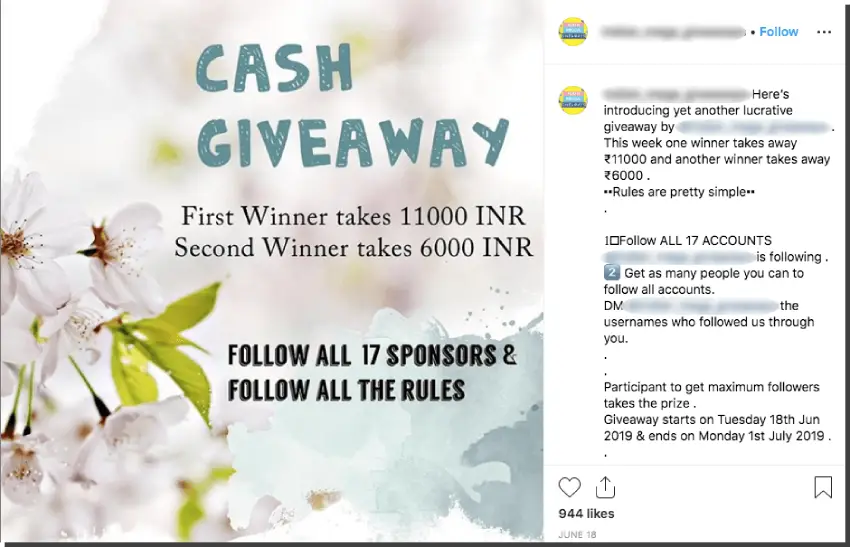 The giveaway post uses lots of random hashtags
Hashtags are a great way to get your posts seen on Instagram. But you should only use relevant ones! If you notice that a giveaway post has lots of hashtags – especially if they're irrelevant – then it may not be a real giveaway. Even if it is real, it's aimed at a wide audience and is using spammy tactics.
There are bots in the comments
When you're thinking about joining a giveaway, take a look around you. Who else is taking part? If you notice lots of real people enjoying the fun, then go for it. But if you see fake accounts and spammy comments, then check up on the giveaway in more detail. Look out for lots of repeat comments from the same users, or comments which contain links.
The giveaway isn't mentioned on the brand's website or other social media
Like we said, brands love running giveaways. And they love to tell people about them!
After all, giveaways are designed to promote a brand. So why wouldn't they share it all over their socials, website, and email newsletters? If you can't find any mention of the giveaway on the brand's other channels, then it might not be real.
It's April Fools Day
It seems silly, we know. But if you find a giveaway which just seems too good to be true… maybe check the calendar.
Phising is one of the most common internet scams, learn how to avoid phishing in Instagram giveaways.
How to report fake Instagram giveaways
So what's next? What should you do if you spot a fake Instagram giveaway?
Check the details. Follow the steps in this guide, and try to contact the organizer. If you can't tell whether the giveaway is fake or not, it's best to just ignore it.
Report fake Instagram giveaways. If you're sure the giveaway is fake, then you can report the organizer to Instagram. Tap the "three dots" symbol in the top right-hand corner of the giveaway post, and choose "report". (You can also report the organizer's profile in the same way.)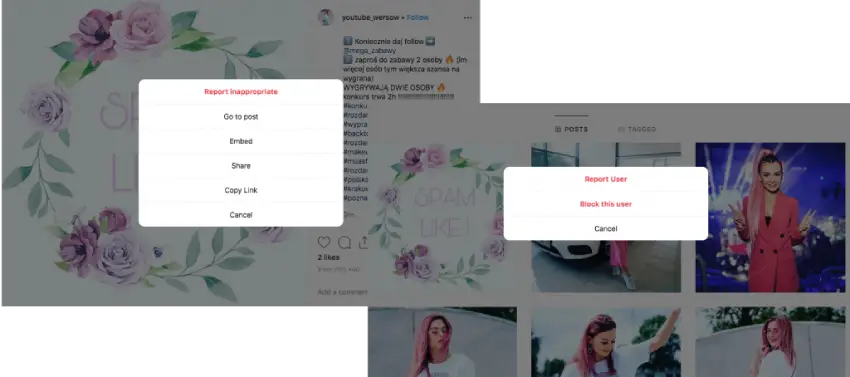 Block. Once you've reported a fake giveaway, block the organizer so that you're no longer at risk.
Be data safe. Never share sensitive personal information in a giveaway unless you are completely confident that it's real, and you know exactly how your data will be used.
Do you have more questions about Instagram Giveaways? Make sure you contact our Support Team.