Posted in: Business newsLast update: 19/04/22
Every year, World Health Day falls on April 7. The World Health Organization invites people from around the world to help raise awareness of different health issues. World Health Day is yet another opportunity to engage your employees, with health-oriented activities and campaigns. In this blog post, we share five ideas for celebrating World Health Day at work – and while your employees are working from home.

In 2021, World Health Day is calling for action to eliminate health inequalities around the world. It might seem like a daunting task for companies keen to engage their employees on this important day. However, World Health Day is all about promoting health and that includes healthy lifestyles, habits, recipes, workouts and also profounding our knowledge.
We're about to show you some fun ideas for highlighting World Health Day in the office – and celebrating even if your employees are currently working from home.
1. Ask employees to share their favorite healthy meals and recipes for World Health Day
A healthy, balanced diet is the key to being healthful. Are there some real foodies among your coworkers? Or maybe someone particularly interesting in cooking or baking? Ask them to share their favorite recipes and meals with your team! Apart from boosting employee engagement, you will also boost employee morale. You can then share the recipes or pictures on your work group chat or share them on social media channels to show the humane side of your company and give visibility to your employees.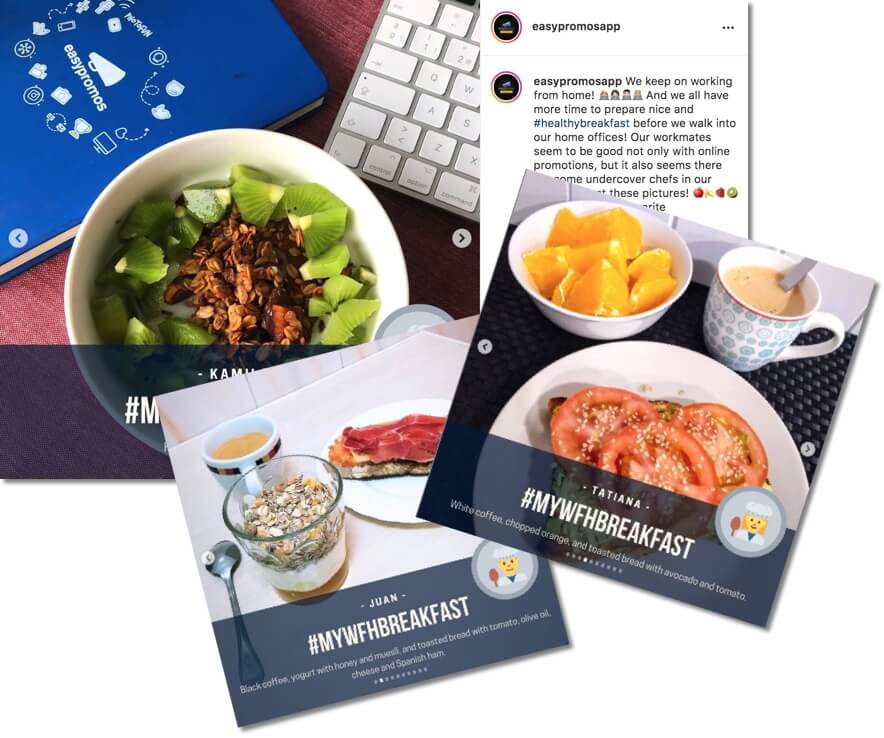 Above you can see how our teammates participated in the activity prepared by our marketing team. We all shared our favorite #WFHBreakfast – apart from getting some real inspiration for our breakfast we also got to find out who eats cookies for breakfast!
2. Get everyone to share their favorite workouts
A healthy diet is the most important aspect of staying healthy but it's also important to stay fit! If lunch breaks in your company consist of some people exchanging their recent deadlift or chest press PRs, they will surely participate in this activity. Ask your employees to share their favorite workouts or exercises – it's time to show off those PRs in real life! Motivate other team members by sharing motivational pictures of metamorphoses, hard workouts, or relaxing exercises.
Maybe one of your employees is a yogi or Zumba instructor? They might be keen to prepare a special class just for your team (even on Zoom)! But if no one's keen or qualified to organize a guided class, hire a professional! You won't pay much for one hour of boot camp but the memories will be meaningful as there's no better team-building technique than sweating together!
3. Use the Fitness Wheel to get everyone moving
If you know that the majority of your team members won't be up for a full-on workout, encourage them to move for at least 30 seconds! We adapted our traditional prize wheel to a… fitness wheel that our customers love!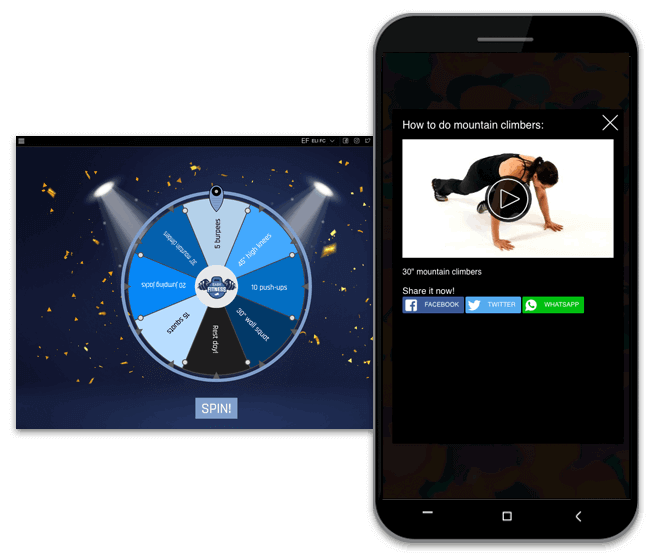 Use our pre-configured Fitness Wheel template to engage your employees this World Health Day. You can encourage them to share videos of their mini workouts for a chance to get a free fresh bagel delivered to their desk!
This proposition works like any other prize wheel. Participants register and spin the wheel to find out what exercise they must do. You can adapt the wheel to home and gym workouts, as well as yoga poses!
4. Educate on healthy measures with the Memory game
With the sudden outbreak of the pandemic last year, everyone was focused on following the measures recommended by the WHO. We created this World Health Day Memory game to help online users memorize all the steps they should follow.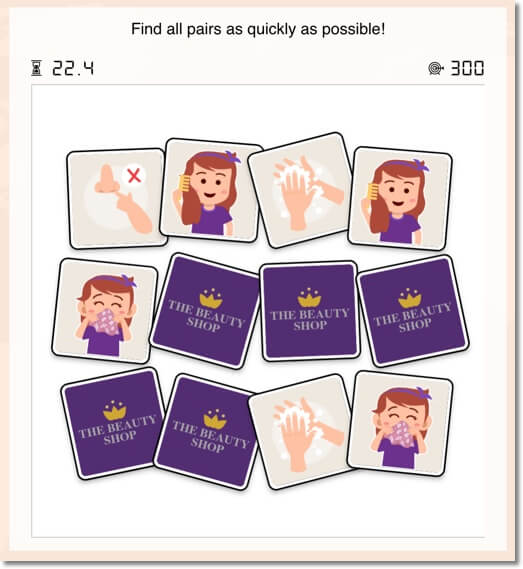 Use exactly the same application for promoting power foods or the most nutritious fruit and veggies – it's completely up to you which theme you go for. You will motivate your employees even more if you offer a prize to the fastest player or enter all participants into a random prize draw.
5. Check your colleagues' knowledge of healthy habits
Generally speaking, we are all quite informed on healthy habits. We know that ditching cigarettes and alcohol are as important as eating 5 pieces of fruit and veggies every day. But maybe it's time to see who is the best informed colleague out of your team?
Organize a Timed Quiz where your coworkers answer a series of questions about a healthy lifestyle. The fun thing about this application is that you can make your employees play until the moment they answer all the questions correctly! What a great way to educate your team! 
Bonus: Don't forget about the basic World Health Day ideas
Is your team working from the office? Make sure that apart from organizing fun activities you also organize some traditional activities, for example:
Bring a basket of fresh fruit for everyone in the office
Provide a biometric health screening for your employees
Remind everyone of the importance of a proper desk and chair set up
What do you think? Are you ready to celebrate World Health Day with your employees? Don't hesitate to contact us in case of questions and doubts!
Publication date: 2021-03-25