Posted in: Digital marketingLast update: 27/09/18
One of the pillars of any Inbound Marketing strategy is to capture the attention of potential customers. This isn't always easy because there's lots of competition out there. A brand should always offer something interesting that users will find appealing and worth spending time on. It should be a relationship in which all parties benefit; otherwise, it won't be sustainable over time. Let's think about your Inbound Marketing strategy for a moment. What do you hope will happen when people visit your website or blog?

Exactly! Your hope is that visitors on your website will take that extra step and become contacts you can work with: potential clients you can accompany through the purchasing process until they become customers.
Now, if you have an online area for interacting with your audience –a website, blog or online store, that you cultivate carefully and that is aimed at your target audience– all you need to do is fill it with valuable content that's interesting and updated frequently enough to ensure visits continue and increase over time.
How to boost lead capture via your website?
An interesting idea for obtaining leads through your website, blog or online store is to run promotions or contests that are also accessible from these platforms. This can be done very simply as all applications available in Easypromos enable you to insert a promotion in any webpage, making it easy for users to register using Widgets.
What's a widget?
A widget is an iframe code that you can use to embed the contest in your website or blog. Users can then participate directly from there. There are different types of widgets to choose from, depending on how you want the contest displayed on your website. Customize the size and other features, and copy the iframe code into your website to install it.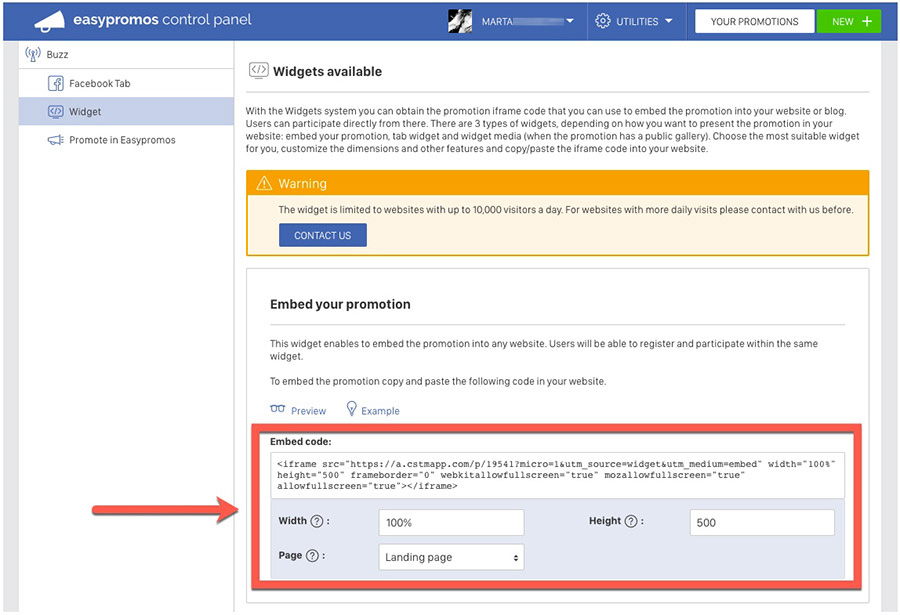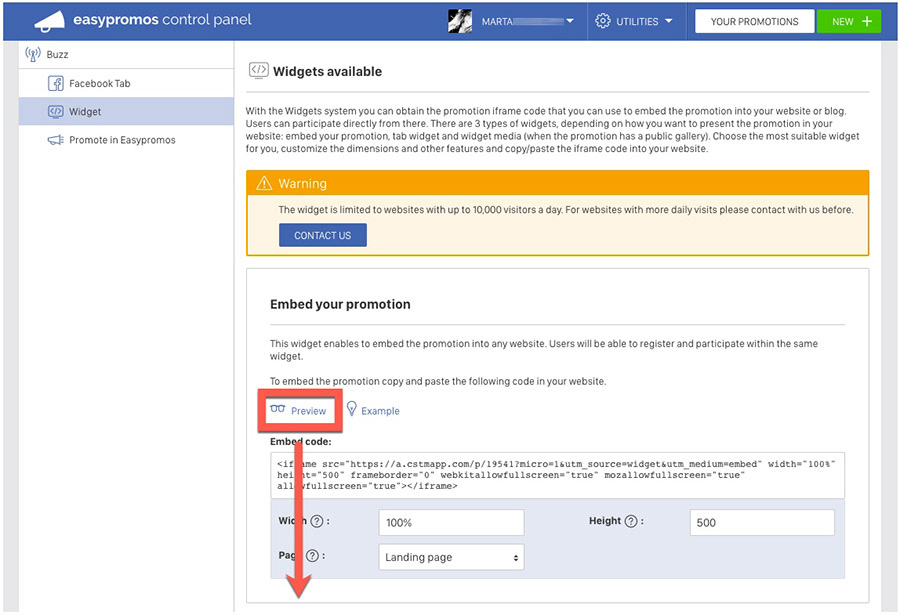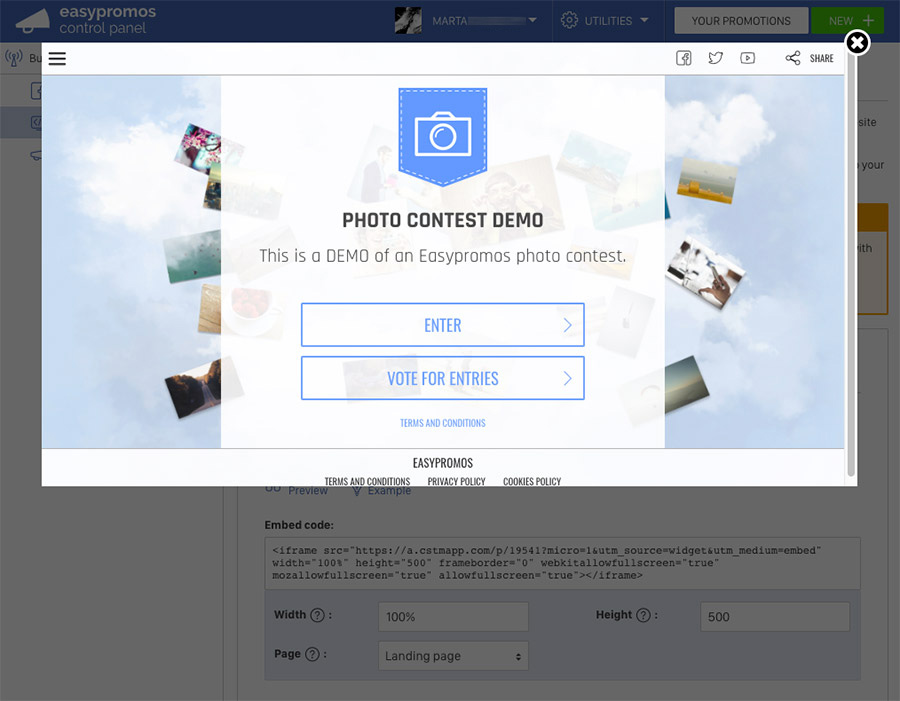 Advantages of using Easypromos widgets
These are the advantages of using widgets: features that are available in all contests and promotions you run with Easypromos:
You can measure the impact of the widget and find out the total number of users who have participated in a promotion via the widget.
Make the most of all points of contact with your audience to disseminate a contest or promotion.
You can get external links to the website if users share your promotions, linking to your website.
You will attract traffic to your website and generate engagement with your visitors.
As a bonus, you'll also be able to increase your number of social media followers.
You can include widgets in four formats:
Embedded in a section of the website, with the dimensions that best adapt to your site.
As a tab at the side of the page. After clicking on this tab, the promotion's website will open in a new window.
Multimedia. If you carry out a video or photo contest, this feature will allow you to display a gallery of images on the website or blog of your choice, enabling the visualization of content uploaded by participants. The visual power of this will exert a powerful call-to-action and encourage participation.
Finally, there's a link version. This will enable you to link to the promotion from any part of the text. After clicking on the link a popup window will open, overlaying the webpage.
What are you waiting for? Try all the mechanisms you have at your fingertips and make it easier for your followers to participate in the contests and promotions you run. You'll soon see your Inbound Marketing strategy strengthened and you'll achieve the kind of relationship you were seeking with your target audience.
If you have any doubts about how our app's widgets work, leave your comments here and we'll get in touch with you.
What kind of promotion could you run?
Imagine bringing your website or online store to life with a Trivia Contest. This is a fun way of entertaining your online visitors while finding out how much they know about your brand. You'll ensure that those who access your website get drawn in by your contest and motivated to register and participate.
If what you're seeking is to get to know your leads better by identifying their needs, tastes and interests, set up a survey with the key questions that will give you access to this information. This will help you learn more about and understand your leads.
Another idea could be a voting contest. This could be carried out with the aim of improving your website – or even your products if it's an online store. In this way, you can encourage participants to get involved in decisions made by your brand.
Have you tried using promotions to communicate with your audience yet? Make the most of your potential and have a direct impact with your campaigns. Sign up and give it a try now!
Publication date: 2017-06-30