Posted in: Ideas for your websiteLast update: 22/07/22
Sharing discount coupons and promotional codes has become a key strategy for ecommerce. Offer discounts, giveaways, free gifts or shipping to increase sales. Tempt customers to fill in surveys, try new products, and indulge in impulse purchases. Trust us: with a well-run campaign, your profits will more than compensate for the discount on offer.

In this post, we've collected 7 key objectives of coupons for ecommerce. We've shared some ideas to achieve each goal, along with real-life examples of Easypromos campaigns. At the end, we've also shared some key features that make Easypromos coupon campaigns more effective. Read through the list, or jump straight to the section that's most useful to you:
Increase sales and traffic
E-commerce grows each year, and it's evolving rapidly too. Customers already search, compare, and review purchases online. They're increasingly likely to shop through online stores, and mobile shopping is forecast to be the next big thing in e-commerce.
But one thing hasn't changed: online and offline, customers love coupons. 81% of customers use coupons regularly! There are entire websites dedicated exclusively to collecting and sharing coupons.
Some retailers are wary of coupons for e-commerce. They're worried that their brand will look cheap, or they won't see a big enough ROI. But the opposite is true! Discounts and offers give customers a positive view of your brand, and you'll see an increase in sales which outweighs any discount. In addition, when you share coupons on social media, you can drive traffic to your website and online store. You'll raise your profile and your sales figures.
Take a look at this coupon directory software that can be launched by any brand, either online or offline.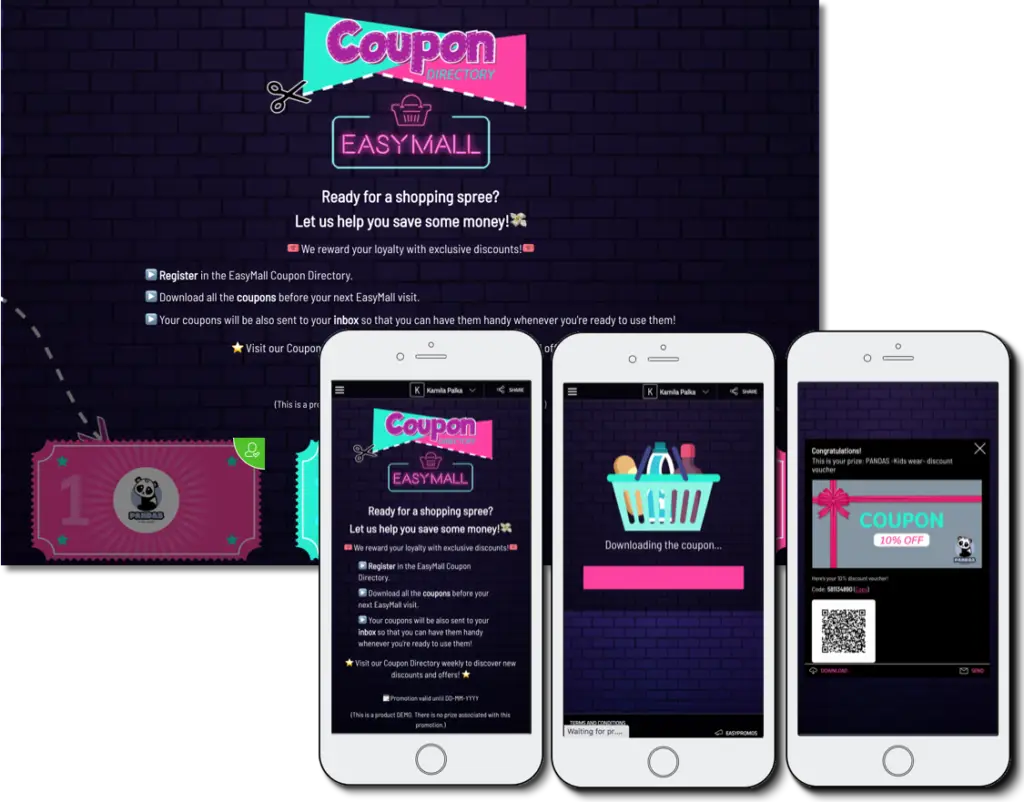 The above example shows how shopping malls can use codes to promote the shopping center stores. But this kind of promotion can also work for e-commerce owners looking to boost sales and generate new leads. Users simply register to download discount codes and vouchers and then redeem them at checkout. The best thing about it? You can add new coupons daily, weekly, or even monthly so that you'll keep your customers coming back for more.
Showcase your products or services
Coupons are a great way to draw customers' attention to new products. Take a look at this example. The popular homeware brand Yankee Candle wanted to show off their new summer scents. So they offered a set of three votive candles, completely free, to anyone who registered for their summer promotion.
However, the brand set strict time limits on the promotion, to add a sense of urgency. And of course, while customers were registering for the promotion, they would have the chance to view other products and connect with the brand's social media.
Coupons for e-commerce aren't just for new products! If you're clearing out your stockroom, then consider sharing leftover products in a giveaway, or offering a generous discount coupon.
Capture customer data and contact details
It's vital to stay in touch with your customers. You want to share updates, build a relationship, and encourage leads and customers to return to your store. Of course, a strong social media presence is a great way to get followers and increase brand awareness. But if your goal is lead generation, then nothing beats email marketing.
Offer a coupon to users who fill out a registration form. You can collect basic data such as their email address or location, and ask more targeted questions too. Perhaps you'd like to know about their shopping habits, or personal tastes, so that you can create a targeted marketing campaign. To get even more detailed data, run a quiz or survey with coupon rewards.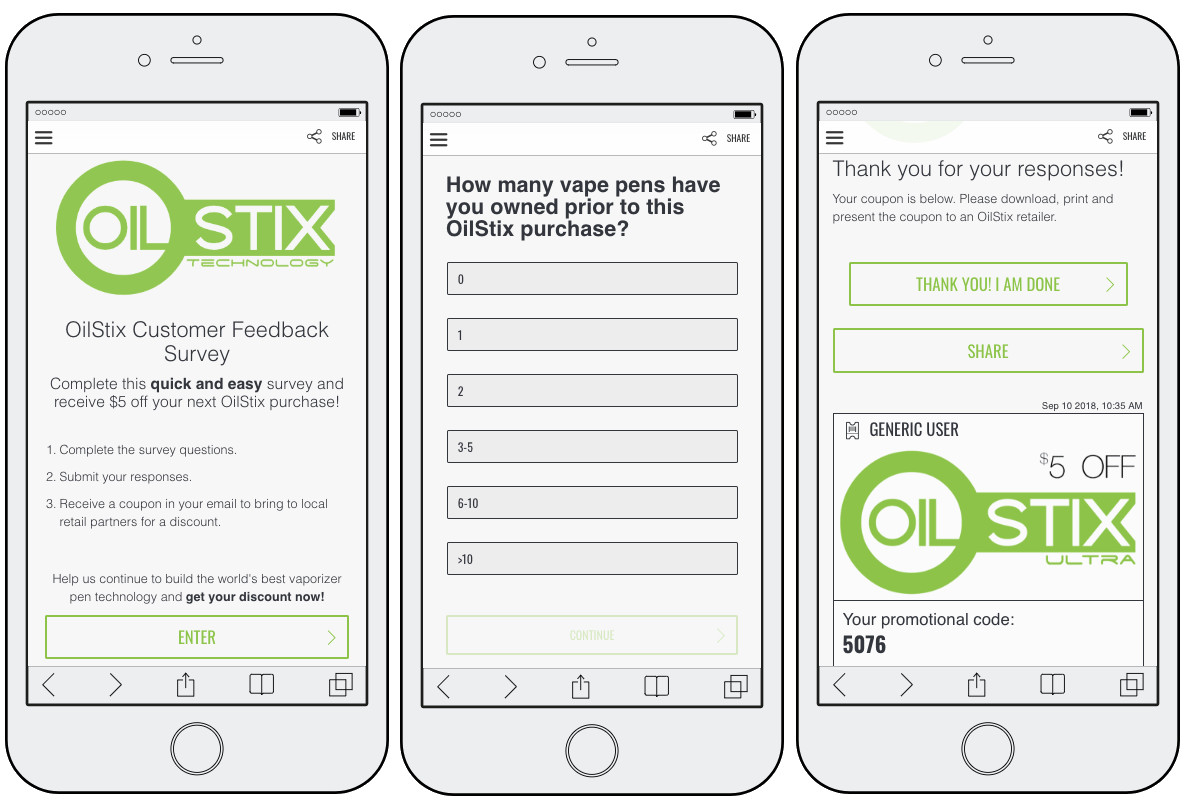 Here's an example from a vape pen company. They offered a generous $5 discount to customers who filled out a survey. Participants were asked about their purchasing history, what kind of products they preferred, and what would motivate them to buy again. The brand collected valuable contact details, too.
Reward customer loyalty and build your brand's reputation
So you've collected contact details from a happy customer – now what? Coupons for ecommerce are a fantastic way to reward customer loyalty and incentivize repeat purchases. Plus, your customers are more likely to tell others about your brand. Don't underestimate the power of word-of-mouth marketing!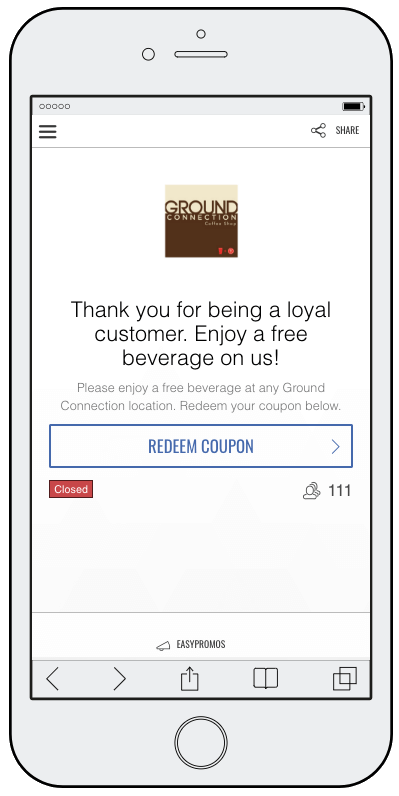 Here's a simple, effective example from a coffee company. Loyal customers were offered a free drink when they visited any of the brand's locations. Even if your business is purely online, you can still offer rewards like this to repeat customers. Show them that you value their business.
Free shipping is always a popular promotion in ecommerce. Sometimes it provides just the push customers need to commit to a purchase. Use it to encourage repeat purchases, or purchases before a specific date.
Incentivize customer behaviours
If you're planning your marketing strategy in detail, then you should have some very specific goals you want to achieve. We're not talking about overall sales numbers, but micro-goals, such as getting an individual customer to sign up for your newsletter.
Use coupons to motivate and incentivize specific customer behaviours. That includes signing up for newsletters, trying out a new app, answering surveys, making purchases on a particular date, and more. You can even use them to spark impulse purchases.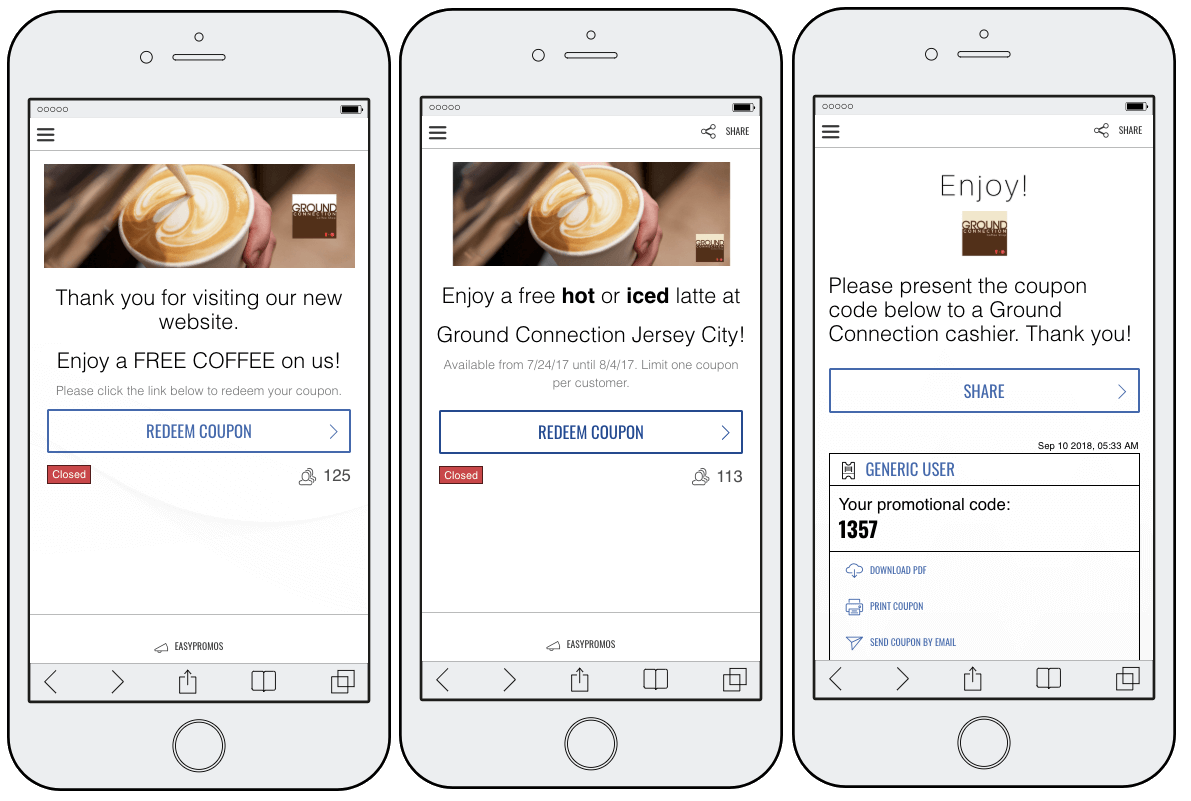 Let's go back to that coffee brand we discussed in the previous section. As well as loyalty rewards, this chain offered regular coupon promotions for lots of different reasons. They rewarded customers for visiting a new website or checking out a specific location.
You'll notice that they offered coupons with unique numbered codes. As they offer frequent promotions, they control the number of participants tightly, to make sure the return on investment remains high.
Celebrate seasonal holidays and events
Seasonal holidays, national days, and big sports or celebrity events are all opportunities to boost your brand. Start a conversation on social media and highlight relevant products or promotions. Coupons for ecommerce are a great way to get customers' attention on key sales dates.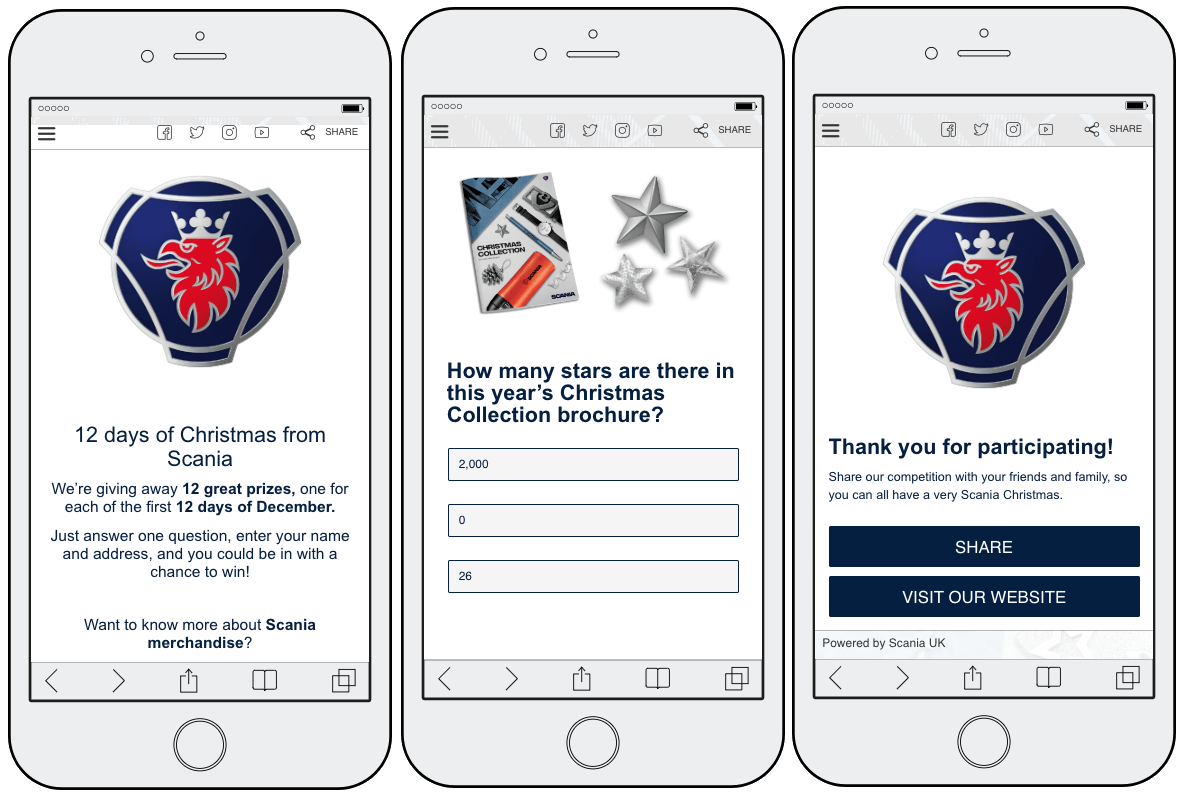 Here's an example from the transport company Scania. They created a Christmas quiz – with the added benefit of collecting customers' data, and educating them about the brand. In return, participants could win fun prizes and discounts for the 12 days of Christmas.
Think creatively about coupon promotions for Christmas, Valentine's Day, Thanksgiving, Back to School, Black Friday, and more. Celebrate days that are relevant to your brand or product. You can even celebrate the changing seasons. Show customers that your brand is friendly, accessible, and in touch.
Create coupons for ecommerce with Easypromos
Some ecommerce platforms offer their own tools to create coupons for ecommerce. So what makes Easypromos different? As well as a range of design features, you can access tools to share and advertize your coupon campaign on social media, your website, blog, and more. Use the platform to create expert-level coupons, easily.
Here are just some of the features you can use:
Maximum publicity. Get a link to share on any format and device. Create viral content that's tailored for different social media platforms. Learn how to link your campaign to Facebook Ads.
Customized, personalized design. Brighten up your coupons with images, colours, font choices, and even emoji. Choose from a range of code formats.
Optimized for mobile. Use the preview feature to see how your coupons will look on desktop, tablet, and a variety of mobile phones.
Large-scale promotions. You can share up to 2 million unique promotional codes. The scale of your promotion is completely under your control.
Prevent fraud. Use the Easypromos tools to protect your campaign and maximize the benefits. Stop users from editing or copying coupons, and blacklist serial offenders.
Creative campaigns. Mix your coupon campaign up with quizzes, surveys, contest, Instant Win and Scratch And Win promotions. Add a hint of competition and get your followers talking!
For more real-life inspiration, check out our Coupon Codes app demo. If you're ready to get started, it's free to create an Easypromos account and start drafting your promotions.
Publication date: 2018-04-20