Posted in: Business newsLast update: 03/07/20
We're happy to announce the newest integration in our promotions, the only integration you'll need from now on: Zapier! With Zapier, you can connect your Easypromos promotions with 1000+ Apps. We have created 16 prepared integrations, for example Salesforce, Zoho CRM or Hubspot. But you can create many others yourself, without the need of any programming skills. So now you can automate much of the manual work and concentrate on optimizing your campaigns. Here we explain much more about the integration of all integrations.

To integrate promotions with Zapier, you can use one of the 16 integrations that we've prepared. Or you can create new integrations. This is already available in all Premium and White Label promotions created with Easypromos at no extra cost.
What can you do with the Zapier integration?
In Easypromos White Label promotions we already offered to use our own API. But with this new Integration with Zapier you can easily send the leads from your promotions to any app available in Zapier, with no need for programming.
Among the available connections are several CRM and Marketing Automation systems such as Salesforce, Zoho CRM, Hubspot, Constant Contact, Marketo and Intercom.
The integrations, or Zaps as they are called in Zapier, are easily set up in a very simple, intuitive and visual way. You can customize the data fields you want to send to the CRM system so that every lead is imported just as you need it for further profiling and segmentation of the leads.
16 prepared connections
We've done some of the work for you if you want to integrate promotions with Zapier to send leads to one of these apps: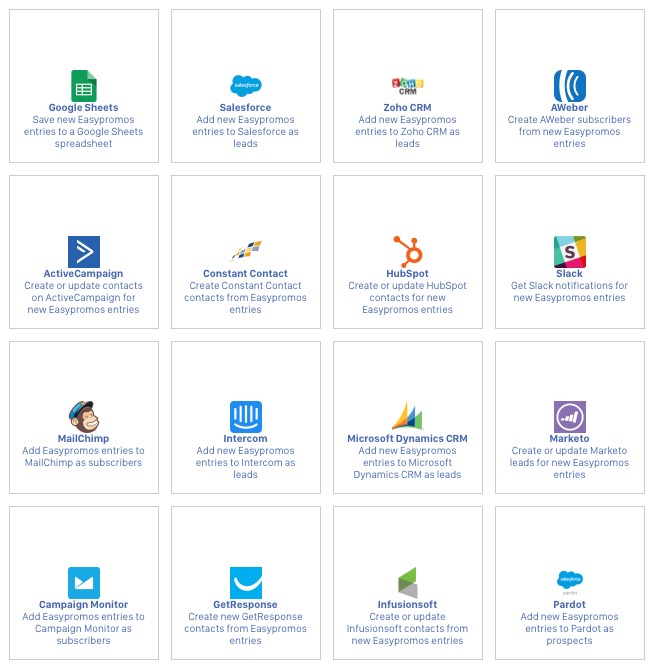 1000+ possibilities
If you're not using one of these apps but the one you are using is in Zapier, you can create your own Zap to create the integration. There are over 1000 apps to choose from so chances are that the one you use is one of them. You can check here if the app is in Zapier.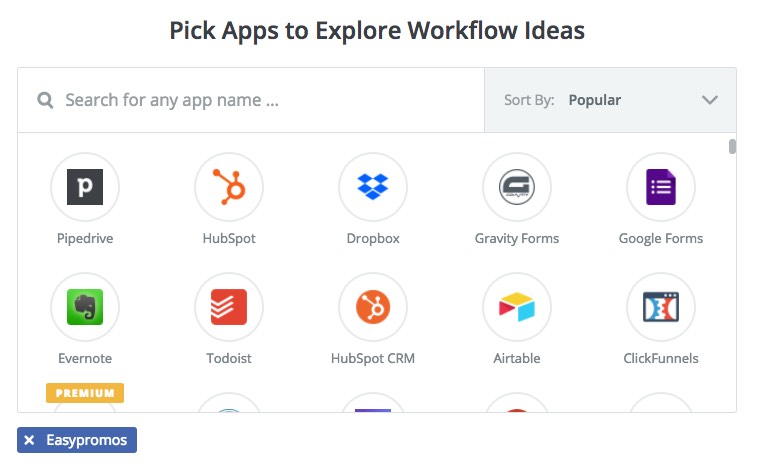 In this tutorial we explain how to set up a new Zap.
We'd also like to point out that this is just the first step, the first integration. We are going to do much more! In the future it will for example be possible to send users from your own system to a promotion inside Easypromos, for example run sweepstakes or give all users a coupon code. So there's much more to come.
We hope that you like this new integration. If you have any questions at all, please don't hesitate to contact us. We'll be pleased to help.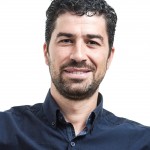 Easypromos CEO and co-funder
Publication date: 2018-04-04