Posted in: Digital marketingLast update: 05/08/22
Malls have struggled to adapt to the modern world of online, mobile-first retail. But as marketing strategies swing back in favor of real customer experiences, things are looking up for commercial and shopping centres. This guide is for mall marketers who embrace the realities of retail – and aren't afraid to experiment.

Some of the new strategies for mall marketing come from new technologies: augmented reality, smart shipping, and the rise of social media. But others are about renovating old sales techniques for modern consumers, from loyalty reward schemes to investment in the local community.
So without further ado, let's dive into the most effective mall marketing techniques and tricks for Instagram, both old and new. Opportunity is knocking – make sure you answer the door in time.
Want even more ideas? Download our free ebook, 12 Inspiring Ideas for Retail and Mall Marketing.
Instagram: the marketing basics for shopping malls
If you work in retail marketing, then you are probably already familiar with Instagram. It's intensely visual, with a relatively young and wealthy audience. And over the last 12 months or so, Instagram developers have started to add more and more features for brands to monetize and advertise.
But not everyone has taken advantage of these features. Of course, you can do quite a lot on Instagram by simply using it as a channel to broadcast news and products, like in the following example: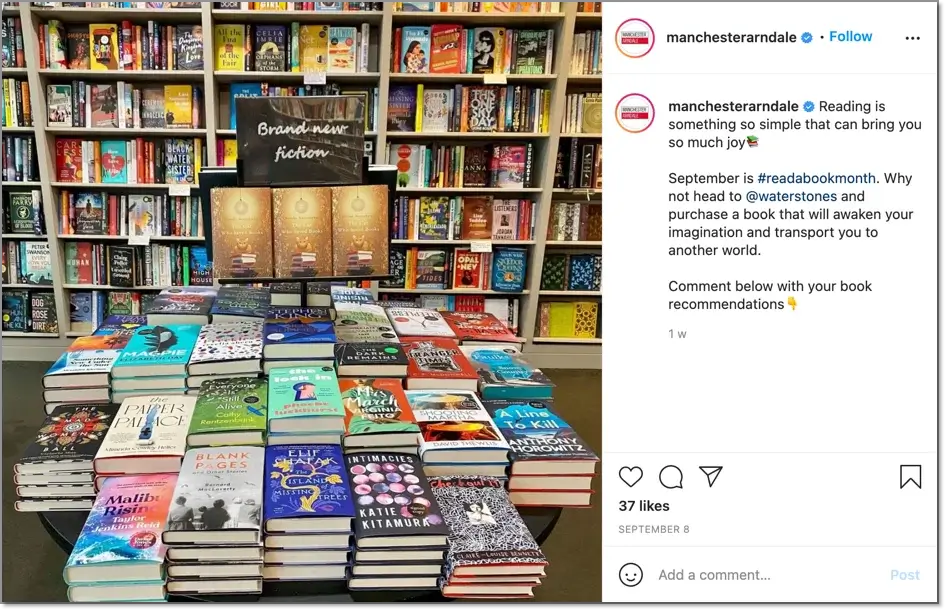 Manchester Arndale wanted to remind their followers about September being a Read a Book Month. Apart from sharing news, the shopping mall also promoted a business located in their premises – and that's often an ongoing task that retail marketers must work on.
But if you really want to get more engagement and stand out from the competition, you need to do more.
The goal is to build a community, where your followers feel like they are being offered exclusive privileges. One way to do that is to use Instagram as a channel for promotions and giveaways.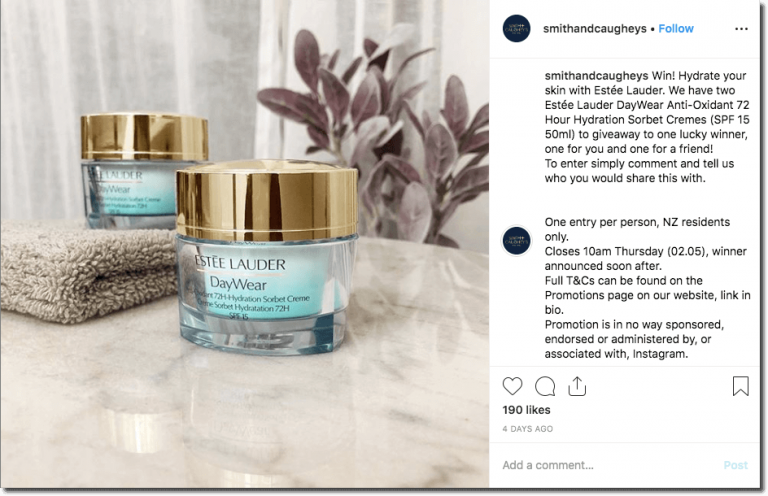 Here's an example from Smith and Caughey's, a popular shopping mall located in New Zealand. The organizers generated engagement by organizing a simple Instagram Giveaway for their followers. They asked interested participants to explain who they'd like to share the prize with if they won. Can you see how this giveaway brought mutual benefits for both, the organizers and participants? Remember, giveaways are easy to run and surprisingly versatile. All you need is do is offer a good prize!
Make sure you've got your basics sorted. Download the Professional Instagram Giveaway Handbook – free from our marketing library.
Shopping malls social media campaigns: build out your loyalty schemes
Customer reward schemes have always been a faithful tactic for brick-and-mortar retailers. And, although they used to be considered old-fashioned, loyalty programs are making a comeback online – especially among Millennial consumers. Growing evidence shows that Millennial parents use rewards and coupons for their regular grocery shopping. And who doesn't like to save some money whenever they can?
There are plenty of ways to link such reward schemes to your Instagram strategy. You can start by simply using Instagram to raise awareness of your customer reward programs: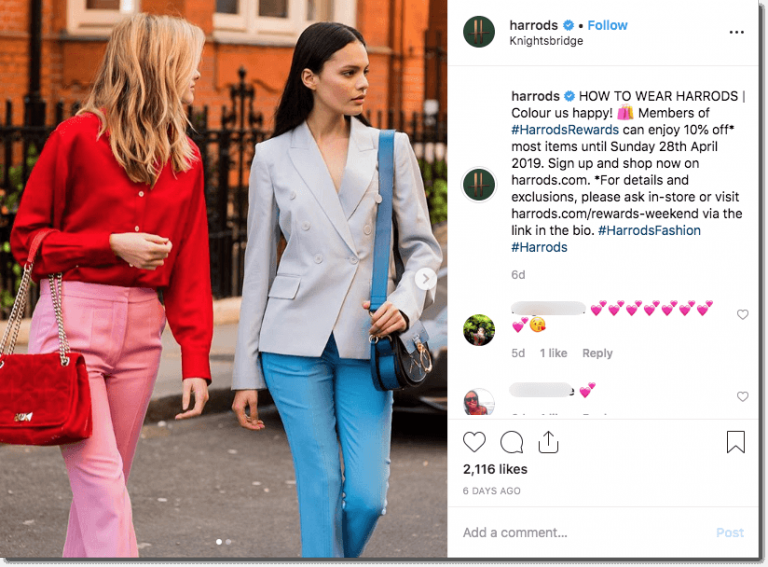 But as always, you can and should do more. Here's a smart example from the Mercato Mall in Dubai. Instead of blasting out information about their PrivilegePlus scheme, they gave customers an incentive to interact and learn about the program.
Instead of passively reading the info, Mercato Mall's followers had to actively research and comment about the benefits available. Note that the brand offered a generous reward, which was designed to appeal to their target audience.
Another way to foster customer loyalty is to share discount coupons and shopping vouchers with a wider public. And what will you see if we tell you that you can generate leads and engage your audience at the same time? Here's an example of a prize wheel that could be created by any shopping mall. All you have to do is configure your promotion and… share the link with your mall's Instagram followers. Redirect users to your Link in Bio, use Ads or add swipe-up links on Stories if you have more than 10,000 followers already! With no doubt, it's the best way to generate leads on Instagram.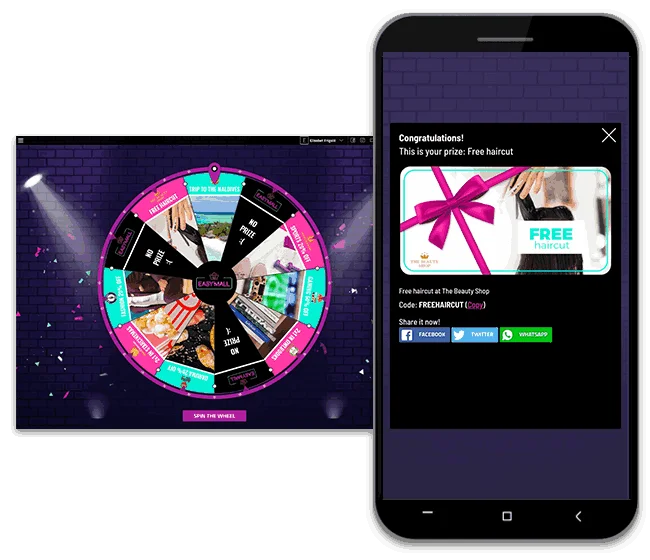 Interested in testing the user experience? Try our prize wheel DEMO for shopping malls and make sure to use our pre-configured template if you want to launch your own Spin the Wheel promotion.
Are you actively promoting shops located at your mall? How about driving footfall to your center with discount coupons and vouchers? Learn how to create a coupon directory for your shopping mall – and generate loyalty and trust. You can then use your mall's social media channels to share the exciting news with your followers!
Use your mall's Instagram account to demonstrate community values
After a few years of wandering in the wilderness, retailers have finally realized how to make brick-and-mortar stores profitable in a digital world.
It's simple: what do physical stores offer, which online stores can't? A physical presence and participation in the local community.
Take this campaign by the Mayfair Shopping Centre, which cleverly combines real-life benefits with digital trends. Pets are popular on Instagram – so Mayfair offered customers the opportunity to get a Christmas portrait with their furry best friend.
And how did the mall benefit? Well, they brought an influx of customers in-store on December 5th, during the peak of the holiday shopping season. And because the event was announced via Instagram, they could bet that people would go back and share their Mayfair Christmas photos on social media.
Mayfair's campaign also involved charity donations, which are a key part of community participation by businesses. Here's a similar example from the Waurn Ponds retail center, which used their high profile online to support a local kids' foundation.
If you offer a prize such as gift cards or store vouchers, you can obviously target them for stores within your shopping mall. Here's a smart example from the Westfield shopping center in London. They supported local runners in the London Marathon – with exclusive restaurant rewards.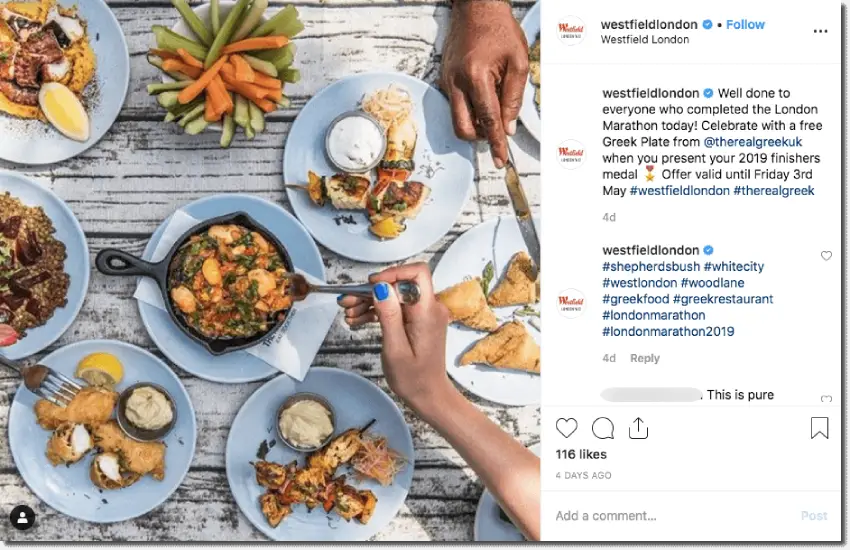 This style of cross-promotion can be used to link multiple stores together – not just connect individual stores to your marketing strategy. Let's take a look, in the next section.
Cross-promote different stores in the mall
Why does cross-promotion matter? Well, in an age of falling store occupancy rates, it's more important than ever to build a strong community within the mall itself. The more individual retailers feel supported and welcomed, the more likely they are to stick around.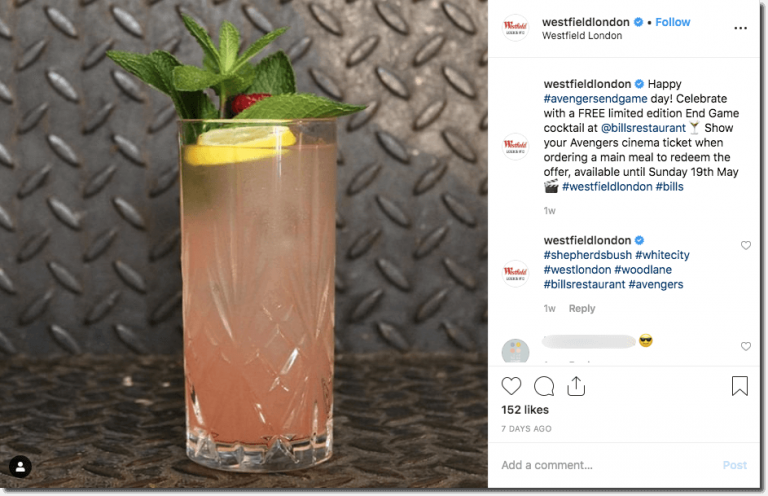 Once again, Westfield retail center leads the way. They frequently offer partner promotions like the one above on Instagram. When customers visited the cinema at Westfield, they could also pick up a drink at one of the mall's restaurants.
Would you like to generate leads for your shopping mall on Instagram? Head to our blog post full of creative ideas for shopping mall contests, games, and promotions with registration forms.
Make the customer the boss, with augmented reality and UGC
Another challenge faced by malls on Instagram is personalization. With social media profiles and fine-tuned analytics, it's much easier for online retailers to fill out the customer experience with customized rewards and personal information.
The solution for brick-and-mortar malls? Bring digital tricks and treats in-store. New tools like augmented reality filters and location-sensitive app rewards are arriving fast.
You can also put the customer in the driving seat by offering them physical opportunities for social media photos and Stories – like this photo wall at the Mayfair Shopping Centre.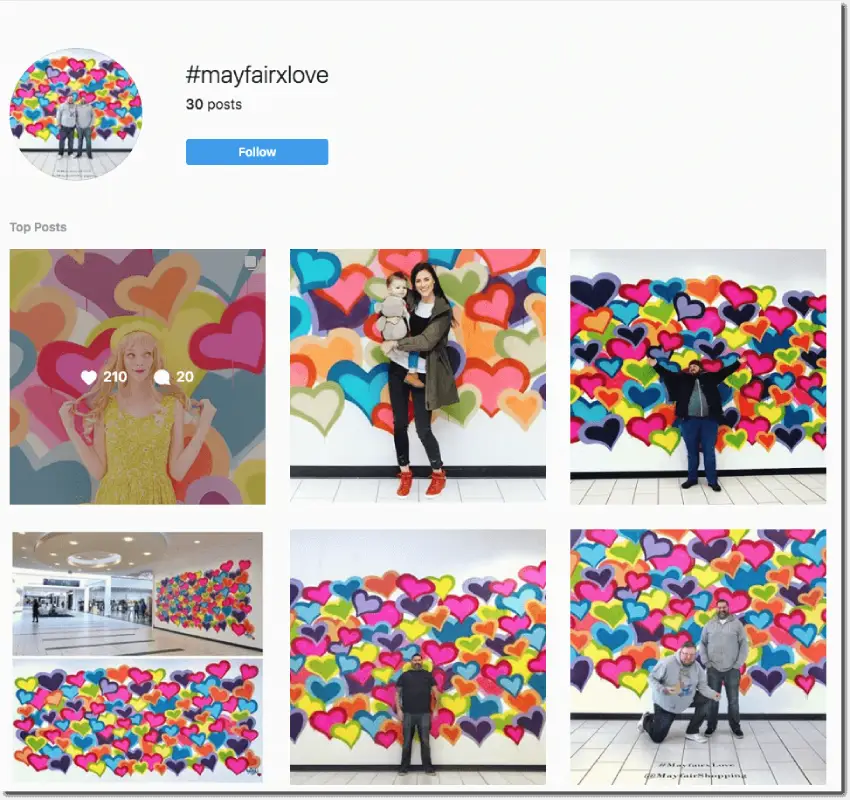 Note how Mayfair has encouraged people to share their images with the #mayfairxlove hashtag – so it's easy for the mall to collect and reuse that content in their own marketing campaigns and Instagram posts.
Increase sales with Insta-exclusive offers
In many ways, your Instagram strategy and in-store campaigns have similar goals. In both cases, the key to success is creating an exclusive, tight-knit community of potential customers. This is highly attractive to shoppers – and keeps your existing customers happy.
One way to achieve this is by offering special workshops and experiences – but only sharing the news on Instagram. (You'll also be able to target a highly specific audience for each event, especially if you use Facebook Ads and segment your audience.)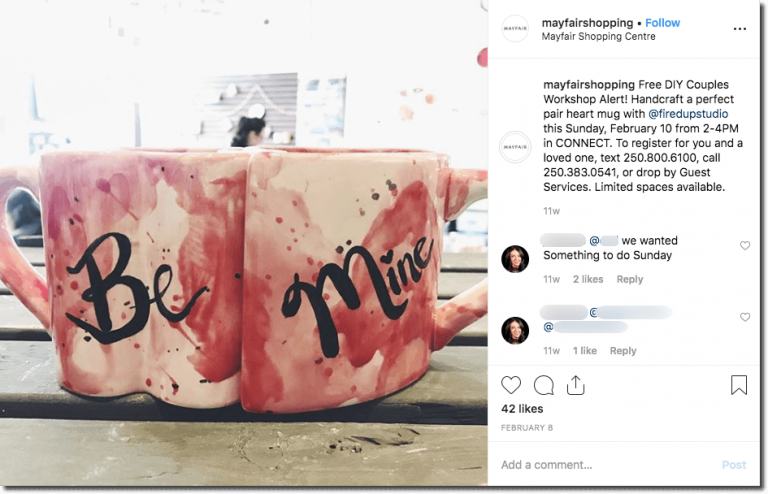 The effect is even more powerful if you run time-sensitive events, like this lightning-fast giveaway announced on Instagram by Smith & Caughey's department store.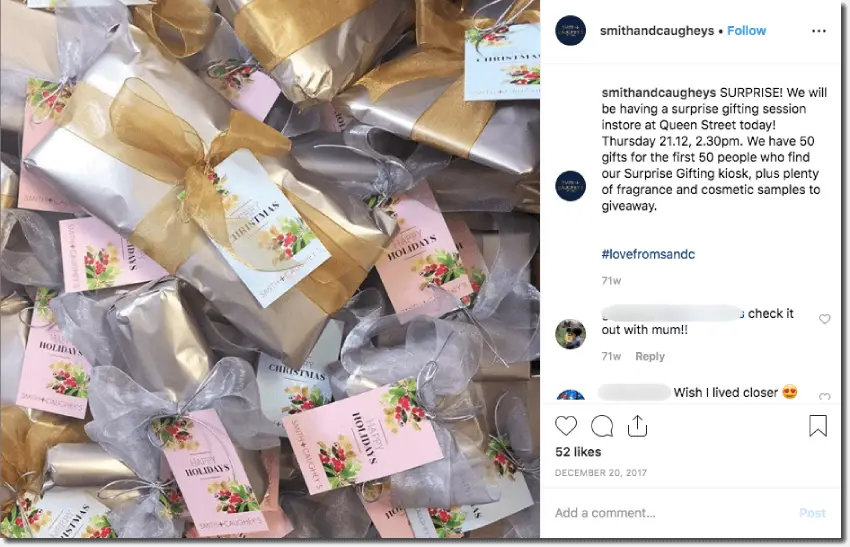 Of course, not everyone who follows you might see the post in time. So don't forget to double down by posting after the flash event has ended…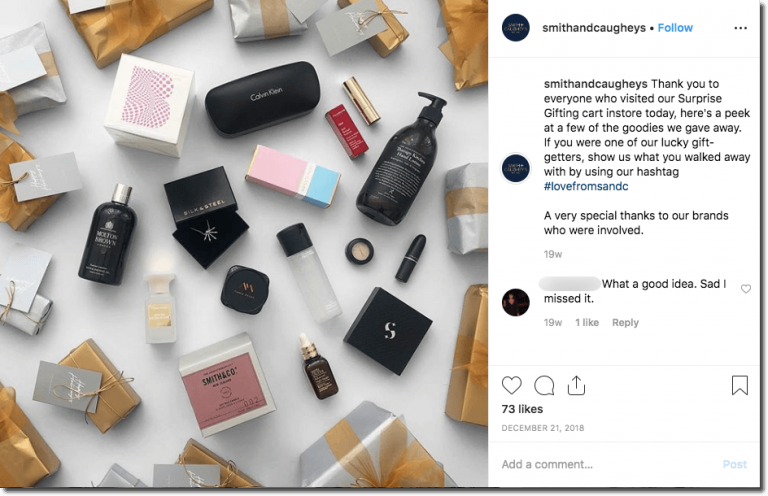 … and sharing any posts created by your satisfied customers.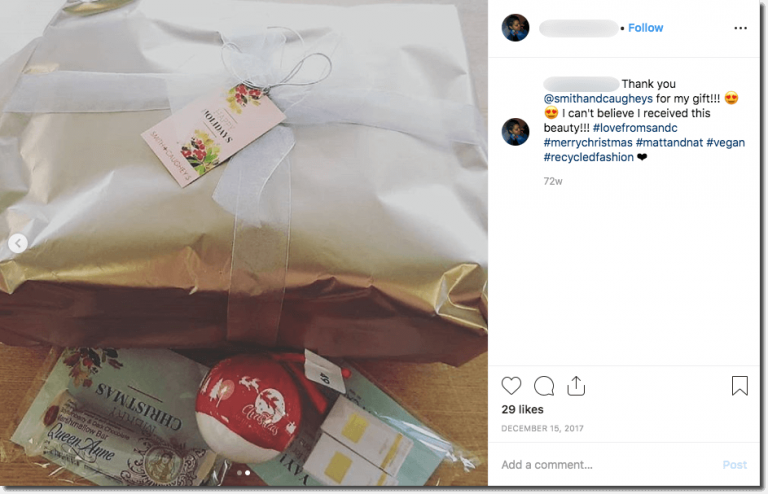 Boost seasonal sales figures with special events and offers
Every retailer knows that sales will rise and fall over the course of the year, following the rhythm of the seasons, holidays, religious festivals, and national days.
On each of these occasions, you'll see a corresponding rise in relevant hashtags, Stories, and images on Instagram. So as well as running seasonal sales campaigns, you should have a joined-up social media strategy.
Here's one example of a mall using a relatively small event – Mother's Day – to advertise multiple stores, reward their followers, and increase online engagement.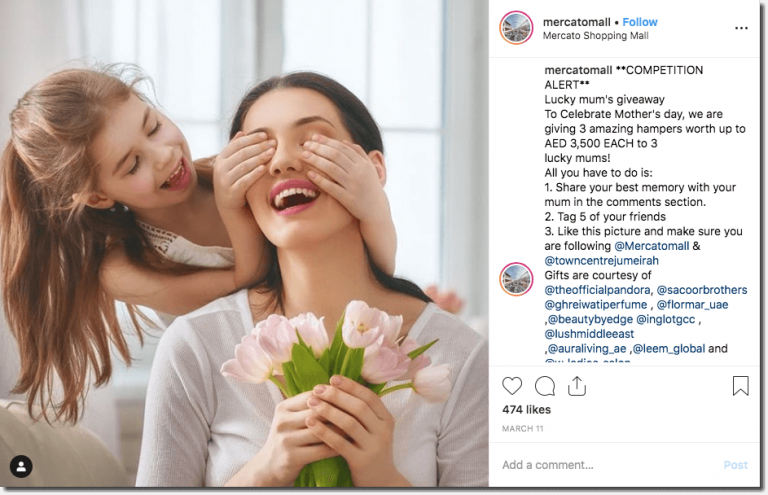 All the same strategies apply – their effect is simply magnified by the popularity of the event at hand.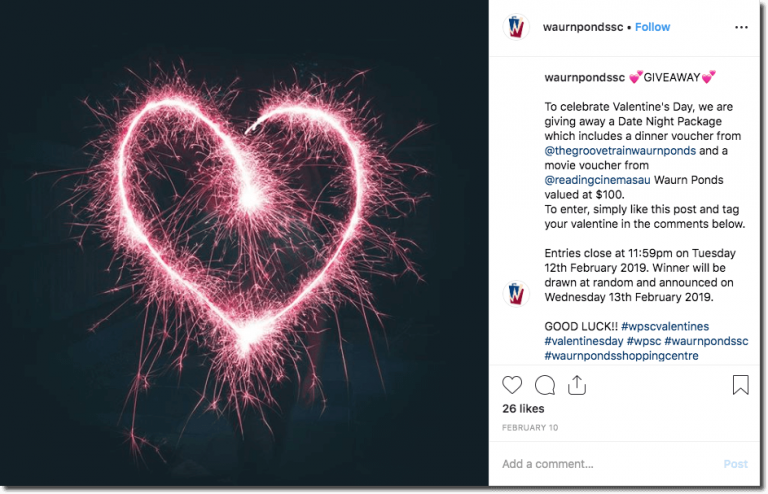 And for some occasions, such as Christmas, you can use the season as a reason to extend your marketing campaign over weeks. Just like this Advent giveaway series from Smith & Caughey's.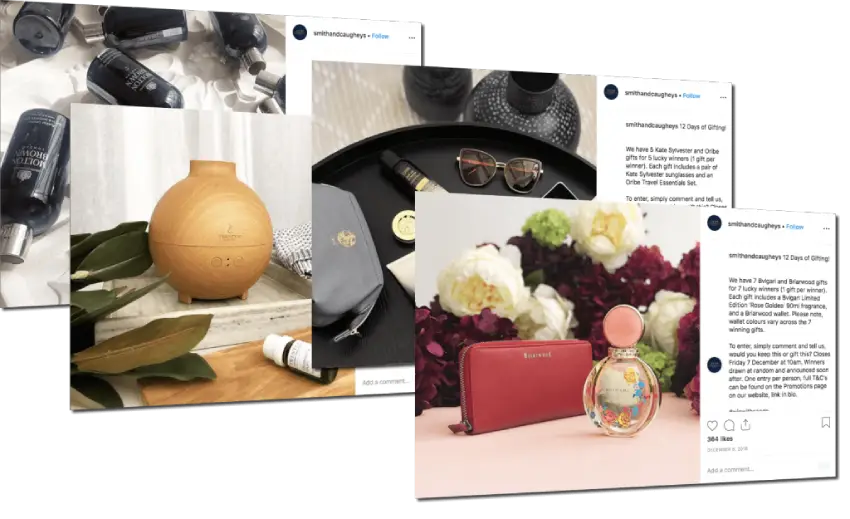 The only real limit placed on an Instagram giveaway is your own creativity. As mall retailers adapt to a world where everyone is online, even in-store, we're excited to see the creative solutions and campaigns you come up with. Make sure you contact us via our live chat in case of questions or doubts!

Publication date: 2019-05-15