Posted in: Digital marketingLast update: 19/04/22
Make the most of your lead generation strategy by combining the power of Pardot and Easypromos. Here's how to set up a Salesforce Pardot integration with your B2B promotions – to generate leads, nurture them, and close those sales.

Online promotions are a powerful way to reach new people, generate leads and collect data about your target customers. But… what happens next?
In this article, we're looking at how to set up a Pardot integration with Easypromos, via Zapier. You'll learn how to sync data from your online contests and promotions with the Pardot B2B lead nurturing system. It's fast, easy and effective.
Learn more about all the integrations available with Easypromos!
Using Salesforce Pardot CRM for lead nurturing
Pardot is a B2B marketing platform released by Salesforce, the CRM software giant. You can automate your marketing processes, set up sales funnels, and get detailed analytics on your leads. You can also use Pardot for email marketing, and it even has a couple of artificial intelligence applications.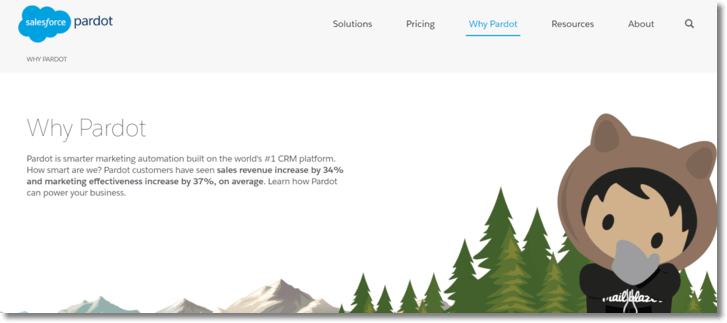 In other words, it can make your job a whole lot easier. The Pardot CRM gives you all the details and fine-grained information that are usually reserved for B2C marketing.
That's why we have integrations: so you can combine the best bits of all the software in your marketing stack.
For example, you might run a lead generation campaign with an Easypromos prize draw… but use Pardot to follow up with your new email contacts.
Or you might liven up a conference presentation with an Easypromos Live quiz… then use Pardot to create dedicated sales funnels for different conference attendees.
Let's get into exactly how the Easypromos x Salesforce Pardot CRM integration works, plus a few bonus tips for lead generation and lead nurturing!
How to integrate your Easypromos leads with Pardot
When you create a promotion with Easypromos – such as a giveaway, a prize draw, a quiz at an event, or a quick mobile game – you'll have the main control panel for your promotion.
The control panel includes an "Integrations" tab:

Once you click on that tab, you'll see a huge selection of different integrations. In order to integrate your promotions with Pardot, you'll need to select Zapier. Linking your Zapier account to Easypromos takes just a few minutes.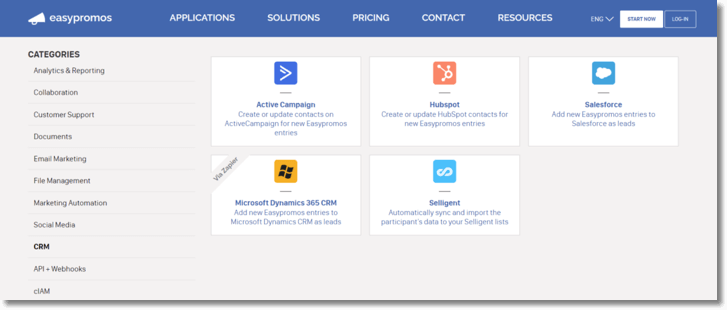 Why Zapier? Because Zapier offers integrations with a huge number of different platforms. If you have a Zapier account, you can connect Easypromos to more than a hundred other apps.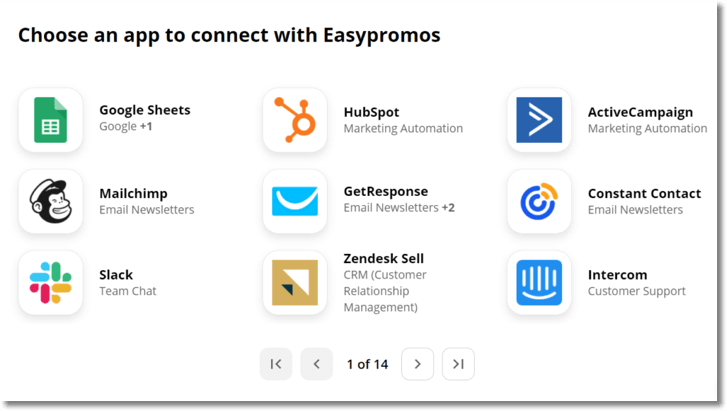 You can use Zapier to set up different automated marketing flows. You just have to select a trigger, and then an action to follow it.

For example, the trigger could be "new promotion entry", and the action could be "add prospect to list", or "update prospect with data from promotion".
Or you could reverse the order, and automatically invite new leads on Pardot to try their luck in an Easypromos contest… giving you more data in the process.
See a more detailed tutorial for setting up Easypromos integrations via Zapier.
Tips for lead generation and lead nurturing
Lead generation and nurturing are different for B2B marketers. Why? Because unlike B2C marketing, you're trying to reach institutions and businesses – not people.
For a long time, this meant that B2B marketing had a reputation for being boring. Lots of people thought that if you were selling to a business, then you didn't need to speak like a person.
However… there are still individuals in that business. The people who make purchase decisions, the people who have to use your product every day, the people who call you for technical support.
So there is value in making personal connections – and in making lead generation more fun!
This is where platforms like Easypromos and Salesforce Pardot CRM come in. They can help you entertain business prospects. At the same time, you can collect the data you need to create a personalized, human-touch marketing campaign.
Sounds good, right? For more information, advice, or assistance, chat live with our support team.
Publication date: 2020-12-31