Online quizzes and polls always generate loads of engagement; people love to share their opinion as much as they like to know which character of their favorite series resembles them. So take advantage of the virality that comes with quizzes, polls and surveys – and launch one for your Facebook audience! They're great engagement boosters and some can even help you nourish your database. Are you ready to take a look at a few different options?
Event Giveaway with questions: live poll
At Easypromos we've developed an app that enables you to take full advantage of the potential and virality of Facebook in a way that's 100% compatible with Facebook Guidelines. The app is called Event Giveaway or Live Giveaway and it enables you to present a series of questions that participants must answer in real-time. In addition, you can present Survey-type questions so that you can collect feedback and opinions from your followers. Check out the example below:
The main characteristic of this app is its ease of use. It enables you to create a poll quickly, straightforwardly, and in a way that's totally compatible with Facebook's guidelines. Most important of all, since no programming skills are required, you can have the poll ready in minutes. All you'll need to bring to the table is your own creativity.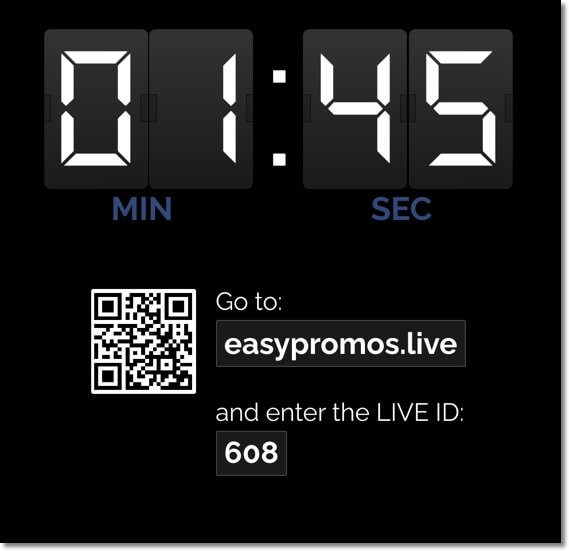 How does the Event Giveaway application work? You can create up to five closed questions for your participants and invite them to enter your poll. Users access the promotion from their mobile phones by entering the URL to a browser or scanning a QR code to introduce the poll ID. The user then sees the welcome page of the live poll and clicks on 'Start' where they have to write their name. The user then sees a set of questions that they must answer as quickly as possible.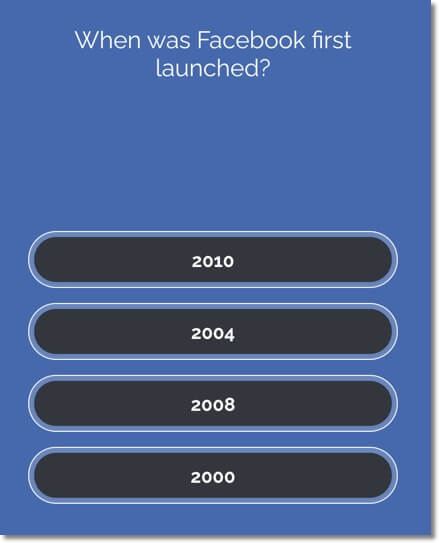 How to attract participants to your Live Poll?
The best way of making sure you attract more participants to your promotion is to disseminate it in advance. Make sure you take variety of different steps to create excitement around your Facebook live poll. You can:
Create a series of posts promoting your Live Poll. Make sure you share the day and time.
Promote the prize that is up for grabs to attract more participants. At the end of the day, a chance to win attractive prizes is the best motivation to participate in online promotions.
Share news about your Facebook Live Poll on other social media networks. You will drive traffic from other social media channels to your Facebook page.
Invite newsletter subscribers and website visitors.
Furthermore, as it's a poll, it will enable you to obtain valuable information from your followers on any topic related to your services. For example: "What's your favorite product from our new collection?"
This app is available for Premium ($199 USD/month) and White Label ($399 USD/month) accounts. View all the features of the Premium Subscription.
Are there any downsides to Event Giveaways? Yes, participants can enter the promotion only while it lasts, which is between one to five minutes. Some people just won't make it. But don't worry, there are other ways to organize polls and quizzes for your Facebook audience!
Surveys, Quizzes, and Timed Quizzes – customize the poll to your taste
Are you looking for a solution that will allow you to collect user data and poll answer over an extended period of time? Opt for one of our quiz applications or Timed Quiz.
Our applications are comprehensive editing tools that will enable you to set up your poll in a highly visual way. Customize the application with your logos and corporate colors, add all the questions that you want your participants to answer and set the participation dates. In no time at all, your poll will be ready to post on social media channels. And the best thing of all is that you won't need any specific HTML or programming knowledge to achieve your desired design.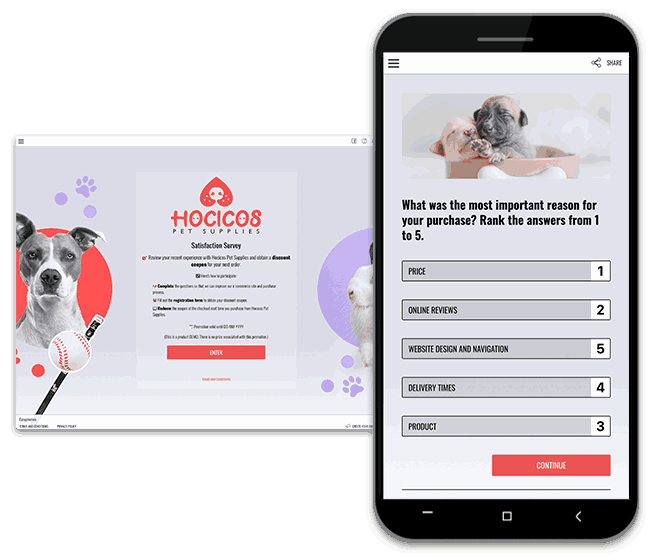 Would you like to try the Easypromos Survey? Give a go to our Survey DEMO and discover how it can help you find out more about your customers.
Incentivize participation by organizing a giveaway
Would you like to reward participation by running a giveaway among all participants? The Easypromos applications are connected with the Sweepstakes Platform, which will permit you to carry out a giveaway between all the users that participate in your quiz or survey. The giveaway winner will be chosen randomly from among all registered users and with all the benefits and guarantees that the Easypromos platform provides: management of winners and alternates; tools for publishing results; Certificate of Validity and so on.
Benefit from the added value that Easypromos provides: constant updates, support from the team, and reliability
The continual evolution and improvement of our products is part of our DNA. However, we always prioritize the reliability, security, stability, and ease-of-use of our apps. We love to see the new campaigns that our clients carry out each day; and we always collect feedback from our clients and incorporate the resulting improvements into our products. We're certain that the improvements we continually make will be reflected in ever-better campaigns for your own clients. Test our application now and send us some feedback. We'll be delighted to review it. Thanks!
Are you ready to create your own poll? Try this new promotion format on your Facebook Page. We're sure your fans will love it! Don't hesitate: create an account with Easypromos now and build your first promotion in minutes! Or simply contact our Support Team in case of questions and doubts.