We know that coupons and promotional codes are very powerful sales tools. However, they also make some retailers nervous. How can you be sure that customers don't misuse the promotion? How can you be sure that coupons are having a positive effect? Using a quick, versatile app to track and validate coupons and promotional codes is the solution. Check out this infographic to see how it works. Below, we've outlined all the ways that the Validation Portal can upgrade your promotions.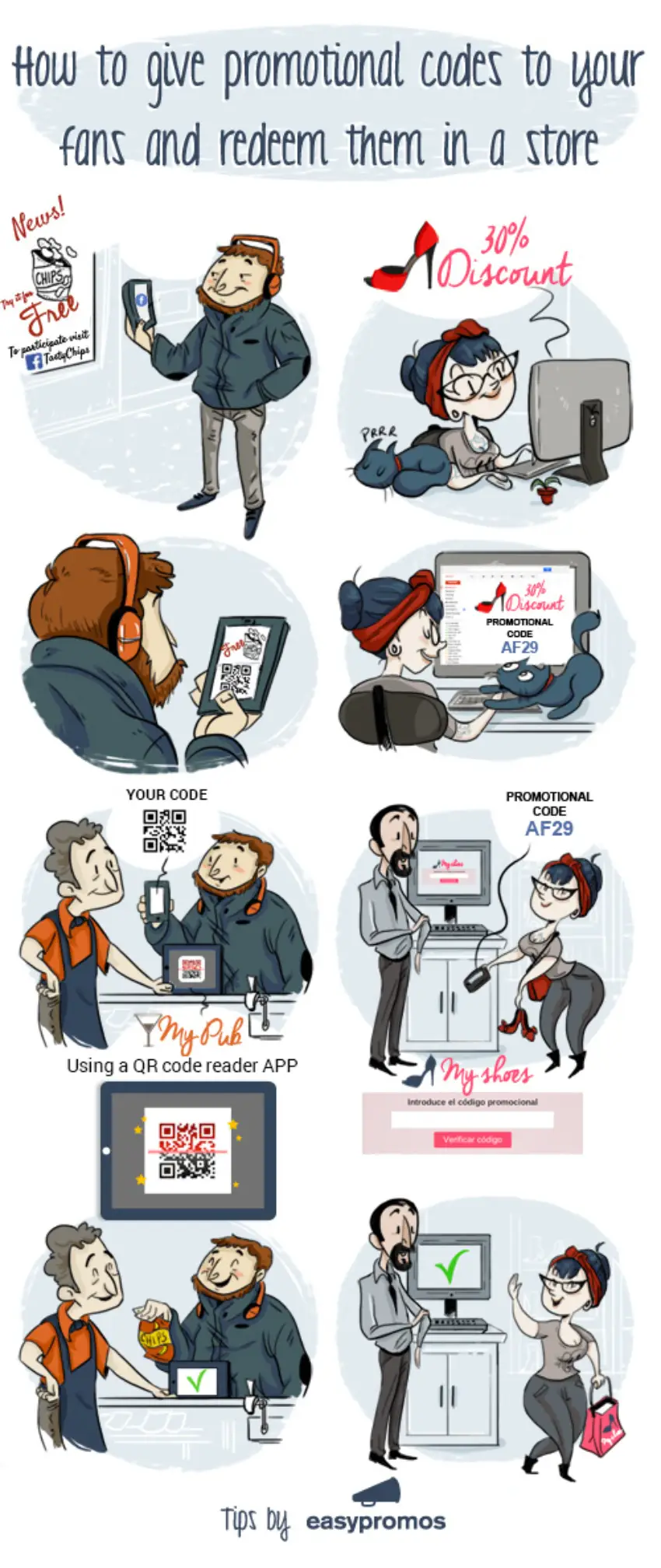 How the Validation Portal helps you
Validate coupons anywhere. All you need to use the Validation Portal is an internet connection, a mobile device, and the promotion URL. Set up the portal so that sales personnel can validate coupons in-store, without missing a beat.
Validate coupons in real time. The Portal will instantly verify if coupons are valid, invalid, or used. Prevent customers from misusing, without adding delays to the sales process.
Compatible with every format. Customers can present their codes on paper, in PDF format, or by showing an email on their smartphone screen. Use the QR code format for coupons which can be instantly scanned by any smartphone.
Compatible with every device. You need a flexible coupon campaign, where codes can be redeemed in-store, online, at events, in restaurants, and more. Use any device with an internet connection to access the Validation Portal.
Track users. Use promotion statistics and coupon data to learn more about your customers. Build relationships through in-store personnel and follow-up emails.
Track points of sale. If you're running a promotion across multiple locations, then you can compare statistics between them. Find out which points of sale have validated the most coupons, and use this information to help plan future promotions.
Reward customers. Customers love coupons! They'll feel rewarded and valued when you offer a free gift or discount. And the fast, efficient Validation Portal will make for an improved customer experience.
Branding and customization. Edit your coupon design, promotion microsite, and even the Validation Portal background to reflect your brand and aesthetic.
Try the Validation Portal
The best way to learn is by trying something for yourself. So here's a chance to use the Validation Portal! Just follow two simple steps:
Sign up here to get a promotional code.
Go to the Validation Portal demo. Sign in with the password Easypromos, and try your code.
If you want to see all the different messages which users can receive, try out these master codes.
Use the code ep_valid to see the response to a valid code.
Use the code ep_invalid to see the response to a invalid code.
Use the code ep_used to see the response to a used code.
How to set up the Validation Portal and validate coupons
The Validation Portal is available to all subscribers with a Premium or White Label plan. Learn how to set up the Validation Portal or live chat with us in case of further questions!