The organization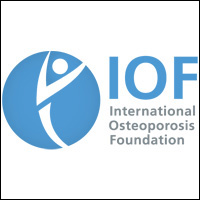 The International Osteoporosis Foundation (IOF) is the world's largest non-governmental organization dedicated to prevention, diagnoses, and treatment of osteoporosis and other bone, muscle, and joint disorders. IOF unites major stakeholders groups, with a passion to advance prevention and improve patient care.
They share resources and advice with patients, helping people to spot the warning signs of osteoporosis and take care of their health. The IOF also publishes scientific journals, organizes conferences, raises funds, recruits volunteers, and runs public awareness campaigns.
The objective
Osteoporosis affects 75 million people in Europe, the US and Japan. 9 million people suffer fractures as a result of osteoporosis every year, and these numbers will probably increase. However, many people do not realize how seriously osteoporosis could affect their lives.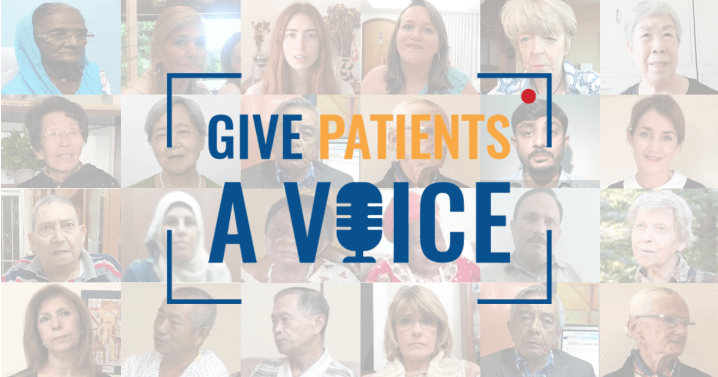 The IOF wanted to showcase different patients from all over the world, and explain how this disease affects their daily lives. So, to raise awareness and give patients a voice, they decided to run an online contest with videos recorded by real patients.
The campaign
The video contest was named after its main goal: Give Patients a Voice.
First, the IOF started by collecting videos from 23 patients in 17 different countries. The videos were subtitled in English to make them accessible around the world. Every entry had to answer 2 key questions: How has osteoporosis affected your daily life? What would you recommend to the next generation?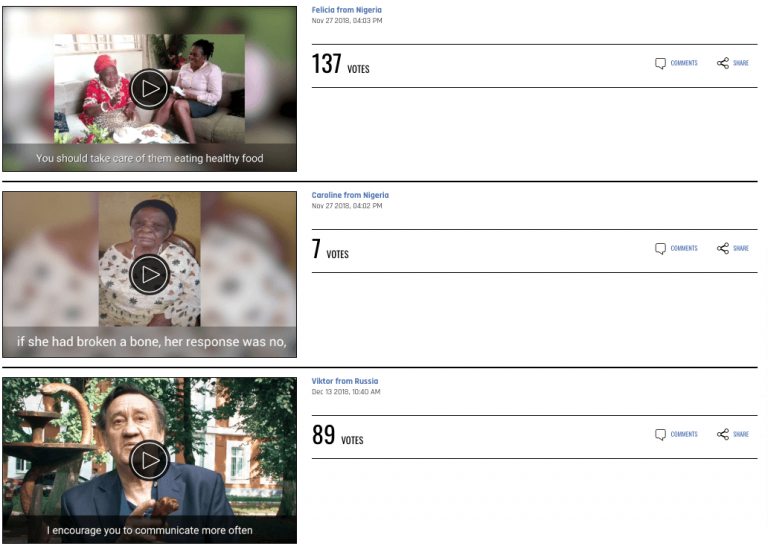 Then the real competition started. The IOF published all the videos in an online gallery, where anyone could watch, share, and vote.
Next, they shared the video gallery via email, on social media, and with a dedicated section on their website.

They kept up the pace with regular updates, even adding an extra week to the voting stage so that more people could join in.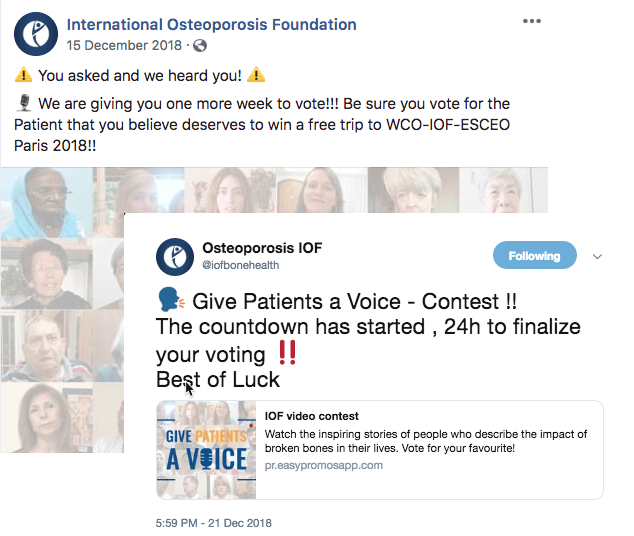 There were three prizes available: a trip to Paris for the World Congress on Osteoporosis, and grants of $1000 and $500. The IOF used Easypromos to collect the videos, organize voting, and create shareable links.
"The idea of a contest appeared to be a way to make people more interested in participating," explained Marta Fernandes, Digital Specialist at the IOF. "I saw different platforms and Easypromos was the one that filled our needs and requirements."
Results
The online response was phenomenal. With just 23 videos in the gallery, the IOF contest received over 57,000 page views. Almost 6,000 people voted, and over 1,000 people shared the contest online.
At the same time, the IOF won more engagement on their social media. They successfully raised awareness about osteoporosis, and spread the news about the World Congress to everyone who entered the contest.
Testimonial
You have all the tools needed to make a contest successful and in a super simple and easy way.
– Marta Fernandes –
Digital Specialist, International Osteoporosis Foundation