Twitch is the biggest live streaming platform you've never heard of… but that's about to change. This video-focused social network is attracting more viewers, content creators, and brands than ever.
In this article, we'll discuss:
1. What is Twitch?
Twitch is a live video streaming platform owned by Amazon. Anyone can create an account and share a live video of themselves chatting, painting, gaming, crafting, cooking, exercising… or anything else you can think of!
You can also log into Twitch as a viewer. You can join the chat on live videos, subscribe to creators and channels you like, and even donate to support them.
Here's what the Twitch homepage looks like the first time you visit. Notice that the platform prioritizes live video. While you can save videos on your channel for people to watch later, most of the action happens during live streaming sessions.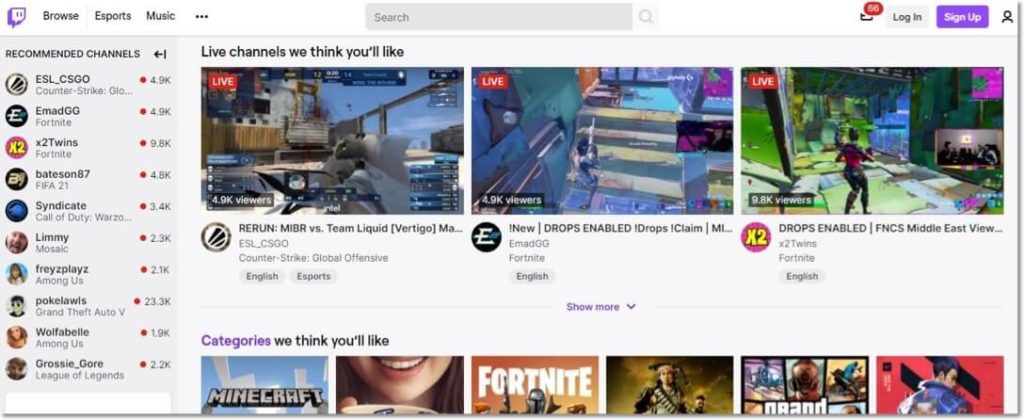 Twitch also organizes content by "categories" such as Minecraft, music or podcasts.
The platform is known for having a strong and active community. You don't necessarily have to stage big events or invest in a fancy gaming set-up to build a following. "Just Chatting" is currently one of the most popular categories!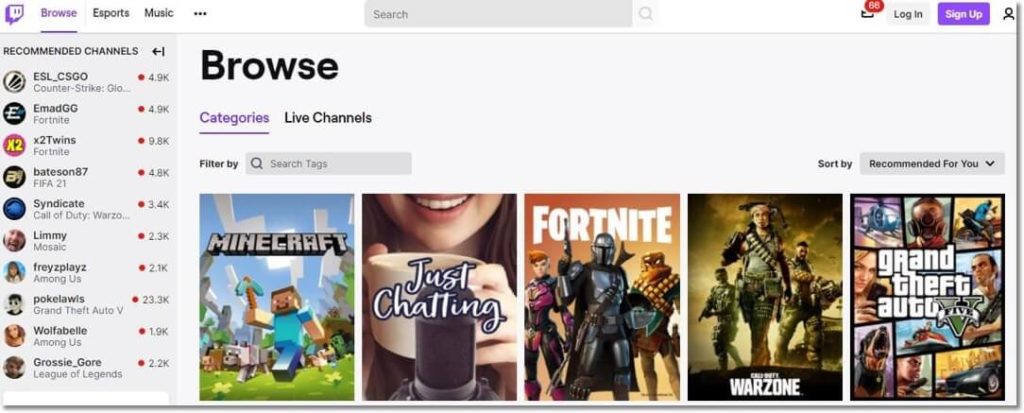 When you click through to a specific channel, you'll see the streamer's latest live video – as well as saved content, more details about them, and info about how to donate or subscribe.
2. Who uses Twitch?
Twitch stands out from other social networks because it has a very specific user base.
73% of Twitch users are under 34 years old.
41% of them are aged 16-24, also known as Gen Z.
65% of users are men, but more women are joining all the time.
The average user spends 1.5 hours a day on the platform. That's over 500 hours a year!
70% of Twitch users donate to support their favorite creators.
64% of users have bought products recommended by Twitch streamers.
Twitch is by far the most popular streaming site for gamers, taking up a whopping 73% of the market share.
The platform has a strong global presence and hosts top gamers from both English- and Spanish-speaking countries.
Sources: Sprout Social, Powerspike, Twitch, StreamScheme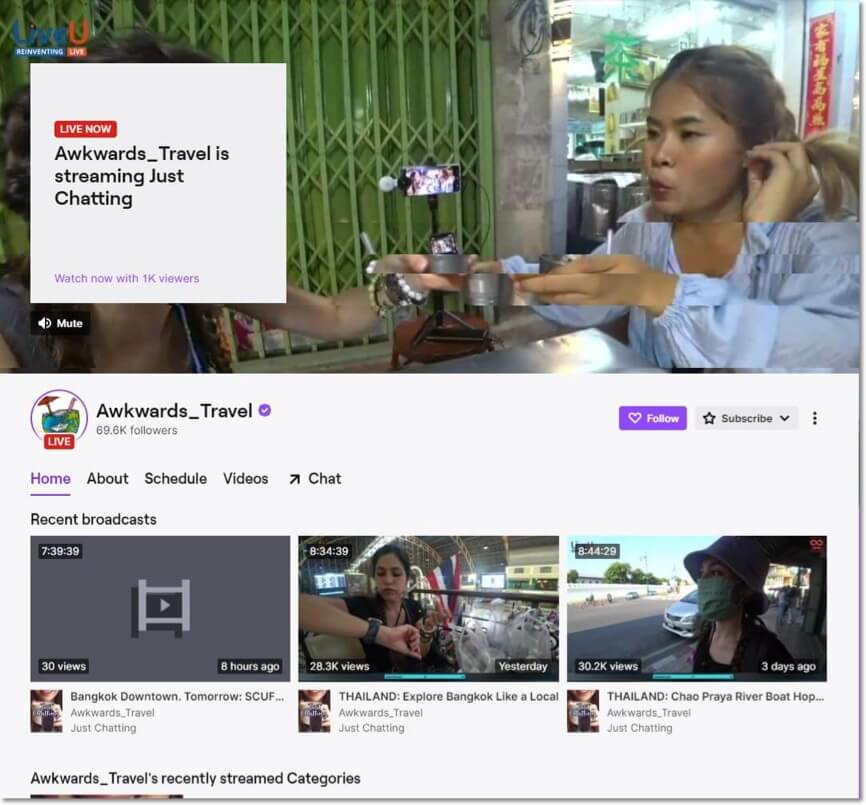 In other words: Twitch users are young, dedicated, and ready to spend. And marketers are starting to catch on.
While the platform has been dominated by the gaming industry in the past, Twitch is now a major platform for food advertising and beauty brands. An increasing number of brands are using Twitch to reach Gen Z and Millennial audiences.
3. Who are Twitch streamers, and how do they get paid?
Anyone can become a Twitch streamer… in theory. But there are a few things that every streamer needs:
Video equipment and software. Twitch doesn't offer its own video tools; it just gives you a channel to broadcast on.
Time. Most livestreams on Twitch tend to run for at least an hour. To grow your audience and earn money on Twitch, you need to clock up a certain number of hours each month.
Something unique to offer. Whether it's skills, knowledge, access to fascinating interview subjects or personality – every streamer has something that makes them stand out.
An audience. Some Twitch features are only available to streamers who have a certain number of followers.
Once you have a Twitch channel up and running, there are several different ways to get paid as a Twitch streamer.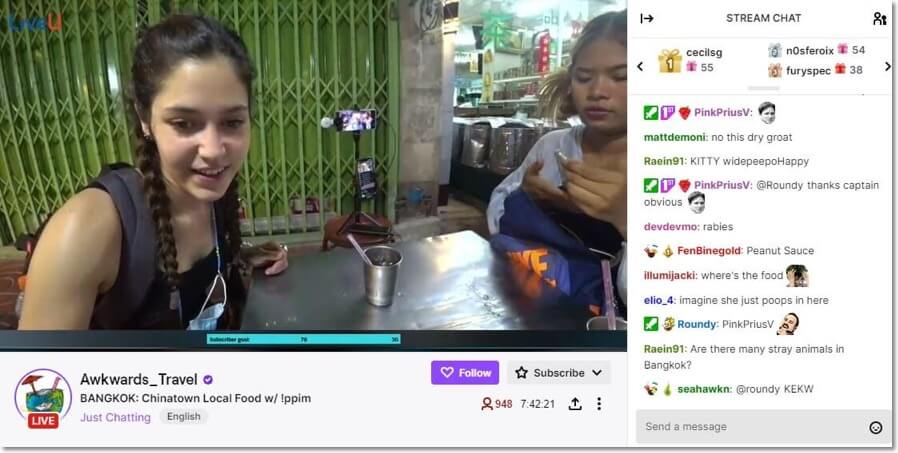 Creators on Twitch can become affiliates or partners. This means that Twitch offers them extra features and ways to earn, while investing in their success.
Affiliates have at least 50 followers and stream for at least 500 minutes each month. They can receive donations, recruit paid subscribers, promote games created by Twitch, and receive a share of the money when viewers purchase extra chat features.
Partners have to fulfill more stringent requirements, such as averaging 75 viewers per stream and streaming at least 12 times a month. They get all the same benefits as affiliates – plus, they earn money from ads that are shown before their content.
Twitch is a really great platform for influencer marketing. Twitch streamers – and their audiences – are used to brand sponsorships. You can think of affiliates as micro-influencers and partners as macro-influencers
Next, let's take a look at how brands are using Twitch and the different strategies in play.
4. How are brands using Twitch?
Twitch offers a lot of potential to marketers. It's a fresh new platform that's known for its high levels of engagement and strong community. It's also highly interactive and reflexive: streamers can respond and adapt to viewers, moment by moment.
So we can expect to see some creative marketing on Twitch. Twitch users may not respond well to traditional campaigns such as pre-roll ads or heavy-handed product mentions. But they love unboxing videos, witty shout-outs, giveaways and gamified campaigns.
Here are just a few of the ways brands are using Twitch in 2021:
Joining esports competitions, or sponsoring major players
Livestreaming digital events
Running masterclasses and group activities
Screening interviews and panel discussions
Sponsoring top streamers
Streaming games or activities as charity fundraisers
Unboxing new products
Running giveaways for viewers
There's a strong element of content marketing on Twitch. You'll also notice that several of these ideas focus on the community – taking a class together, supporting causes together, or starting a conversation.
Many brands with Twitch channels have also used them to replace events and experiential marketing during the pandemic lockdowns of 2020-2021. Because Twitch streams take place live, they can pick up on some of the excitement of a one-off, live event.
To learn more about how brands can collaborate with streamers, check out this article on how to run a Twitch giveaway for a brand .
5. Why your brand should be on Twitch
Every new social network has a brief window where it's scoring a huge audience, but the brands have yet to arrive. Brands with Twitch channels are still few and far between, so now is the time to join! Chances are, you'll stand out in your industry for getting on the platform and releasing some new content.
Even when the first rush is over, Twitch still has huge potential for marketers. Because of its focus on live, interactive content, it's a fantastic platform to build a truly engaged community. However, you will need to invest some serious time and social listening to make sure that your content hits the right spot.