Posted in: EventsLast update: 18/12/19
Calling all authors, publishers, literary magazines, bookshops, and book bloggers… Are you ready for World Book Day? Try these fun ideas to make new contacts, learn about your readers, and spread the word about your favorite books.

Every year, UNESCO organizes World Book Day on April 23rd. Why April 23rd? Because it marks the death of Miguel de Cervantes. Or possibly Shakespeare's death day. Or possibly Shakespeare's birthday… But whatever the reason, WBD has become a key date in your calendar. Read on for our top World Book Day marketing ideas.
And last of all: What's the best prize for World Book Day?
The confusion doesn't end with Shakespeare. Always keen to stand out, the United Kingdom celebrates World Book Day on the first Thursday in March. And yes, they still call it World Book Day.
1. Run book giveaways on your social media
Social media giveaways are a fantastic tool to create a lot of visibility and engagement in a short time span. That's why they are perfect for specific events, like World Book Day, book fairs, or publication dates.
Take this example of an Instagram giveaway, to celebrate a new edition of a bestseller: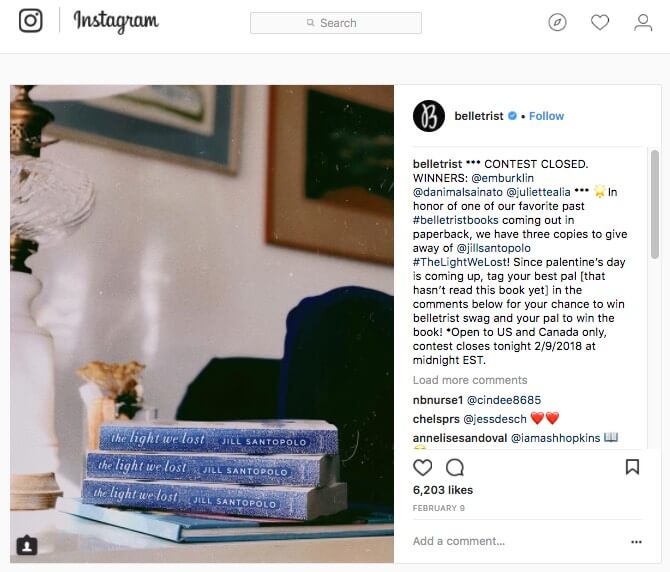 You can run giveaways which are limited to a single social network, or unite your followers with a multi-network giveaway. In this case, a kids' publisher celebrated Book Week with campaigns on Facebook and Instagram.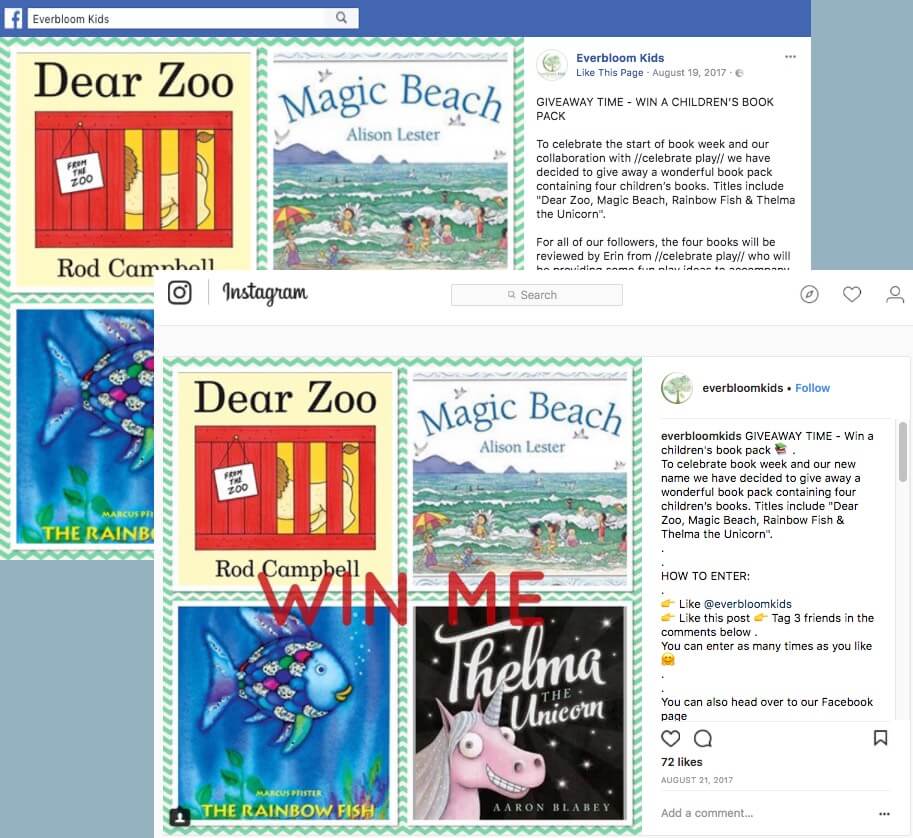 And it's often a good idea to team up with a sponsor. If you're trying to reach a highly specific audience, then you could also look for representatives or popular social media profiles.
That's right – we're talking about influencers. But not necessarily the stereotypical, over-the-top influencers you're imagining! Think about the accounts that you love to follow. If they have a reasonably-sized audience, consider offering them a couple of free copies to read and give away.
Here's an example of an author teaming up with a brand. They had a very similar target market – so the giveaway was a win-win for everyone.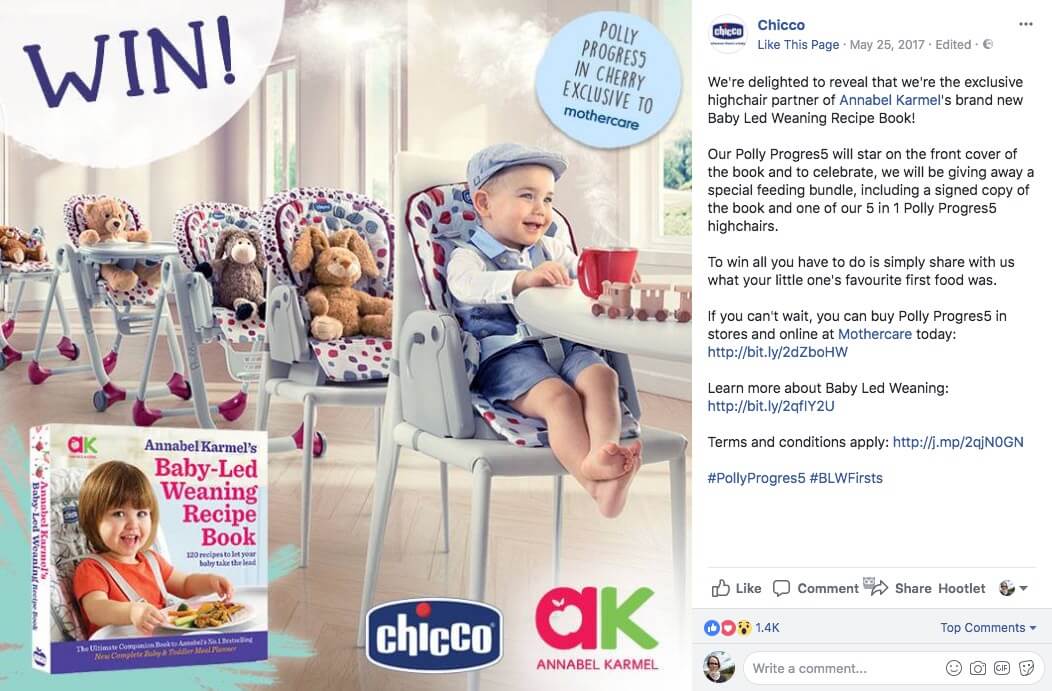 Social media giveaways are quick and easy – and they just got easier. Try our free templates for Facebook and Instagram to get started right away.
2. Collect newsletter subscribers on World Book Day
Staying in touch through newsletters has been popular since the earliest days of the internet. And that's especially true for writers. Personal, text-focused newsletters are one of the trends to watch in 2019!
You can use promotions as an incentive for people to join your newsletter. Simply create a basic giveaway where people share their contact details to enter.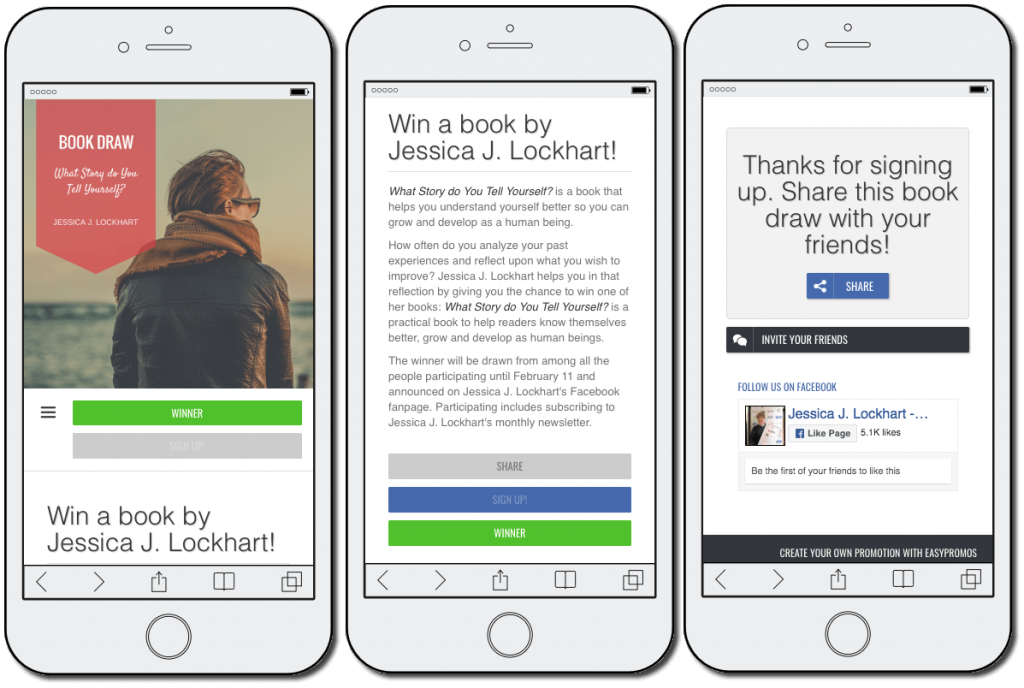 Of course, you'll need to make sure that you collect these subscriptions in line with the new GDPR rules. Here are the key points:
clearly explain that you are collecting newsletter subscriptions
include an optional check-box for people to join the newsletter
include a privacy policy so that users know how you will take care of their information
always include an unsubscribe link and physical address in your emails
Already have a thriving email list? Upload your list of contacts to our pick-a-winner app, and we'll help you award a World Book Day prize.
3. Speak to your most creative followers with a writing contest
A writing contest includes the same form for contact details as a basic giveaway. But there's more: you can ask users to share written comments, or even upload files.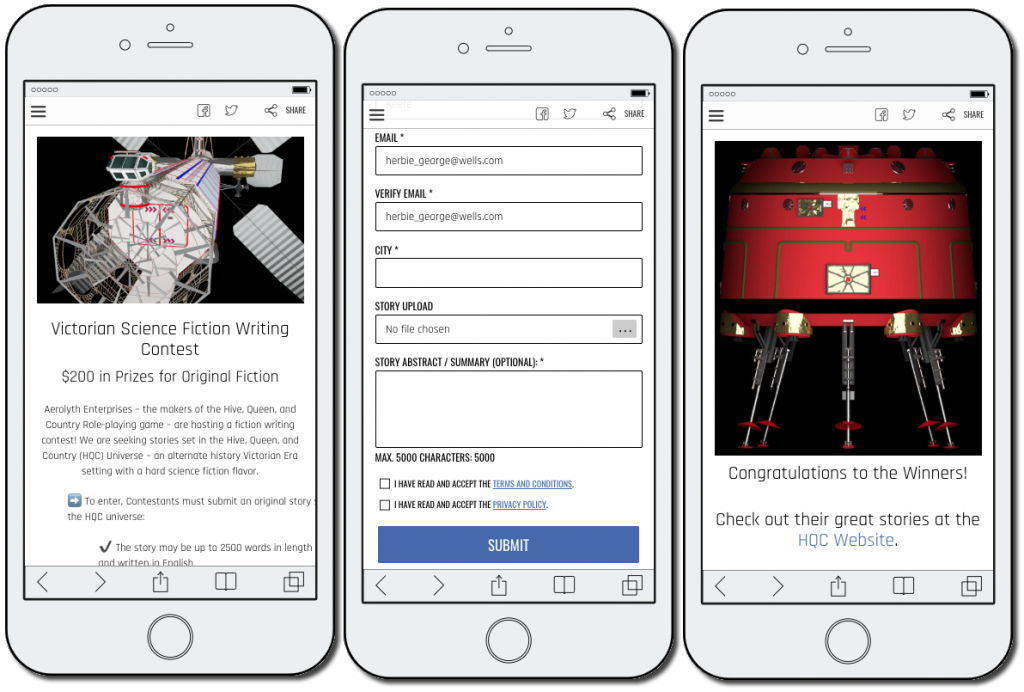 There are so many possibilities here. We've collected just a few of our favorite ideas:
favorite quotes for World Book Day
quick reviews of your latest book
flash fiction contests
favorite books, and why people love them
For really short messages, you could stick with a hashtag contest on social media. When people share posts on Twitter or Instagram, and use your chosen @username and #hashtag, the app will collect their messages. So you can see all the entries – and select a winner easily.
Whether you choose the writing app or the hashtag app, you can choose to display all the entries in a public gallery. Everyone will be able to vote and share their favorites. Our experience shows that this can double engagement with your World Book Day promotions!
Want to know more? Click here to try the World Book Day writing contest demo – then create your own from the template.
4. Challenge your readers to a quiz
A quiz is a popular, fun way to entertain your followers and meet new leads. Here are some of the most creative ideas we've seen:
trivia about the book or author
a quiz about World Book Day
trivia about previous books in a series, to prepare for the latest instalment
a "book finder" multiple-choice quiz which recommends books based on people's interests
If you're interested in learning more about your readers, you could also run a survey.
5. Discount codes – just for the day
One of the most popular British traditions for World Book Day book fairs. Every child gets a £1 book voucher to spend on any book they choose – including £1 books, published especially for World Book Day.
Coupons and discount codes are an eternally popular way to boost sales. And because you can limit them to a specific timeframe, or a certain number of people, you don't need to worry about giving away too much for free.
What are the best prizes for World Book Day?
OK, it's a pretty obvious question for World Book Day promotions. And yes, the most obvious prize is… a book. But there are alternatives!
First of all, there are lots of different ways to share a book. Instead of mailing out hard copies, you could give away discount codes or access to audiobooks and ebooks.
If many people in your audience are writers themselves, then you could share writing materials, like these luxurious notebooks.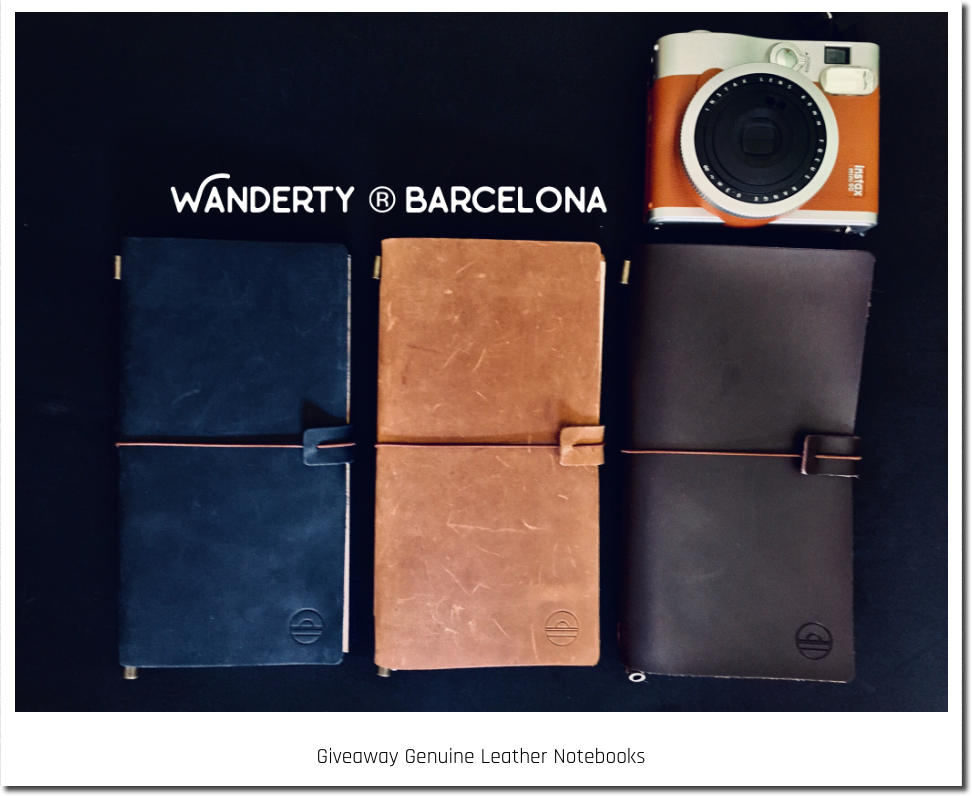 Think about sharing related merchandise, or exclusive content. Try to choose a prize which is designed for your audience. So, for example, if you are marketing recipe books, you could give away cookware or luxury ingredients.
Just like writing, the only limit is your imagination. Set up your account now to run social media giveaways and start designing promotions for free.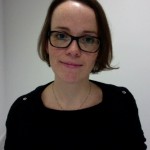 Randi Jensen
International Business Developer in Easypromos
Publication date: 2018-04-16