Posted in: Digital marketing,Ideas for your websiteLast update: 26/07/22
Does your agency publish digital promotions for different brands? Does your company take a high number of promotional actions annually? Our mission is to make your life EASY… And this is why we have recently added a new feature to our platform, that can be accessed from any user role. You can now save your promotions as templates! Keep on reading to discover all benefits of saving your own promotion templates.

Back in December, we anticipated that brands would systematically use online contests as a lead generation tool. This trend is still accelerating. 
As a specialized platform for large companies, we constantly work on improving our products and systems, so that we can provide our clients with automatic solutions, which will simplify different processes and tasks. Recently, we have detected the challenge that big companies might be facing (especially ones with multiple departments, headquarters, or worldwide locations using the platform in different languages).
In the first phase of the Easypromos Corporate solution, we launched new multi-agent accounts that can be customized for different roles, and thus facilitate the management, organization, and monitoring of campaigns. 
In the second phase, we took a step further as we launched the new Corporate feature "My Templates". This new option now allows brands to create their own promotion templates, which can be accessed and edited at any time. By using their own templates brands can improve productivity and security since the possibility of committing errors when configuring and launching promotions is minimized. To put it simply, the new feature allows account administrators to create promotions and convert them into unique templates for other agents to use.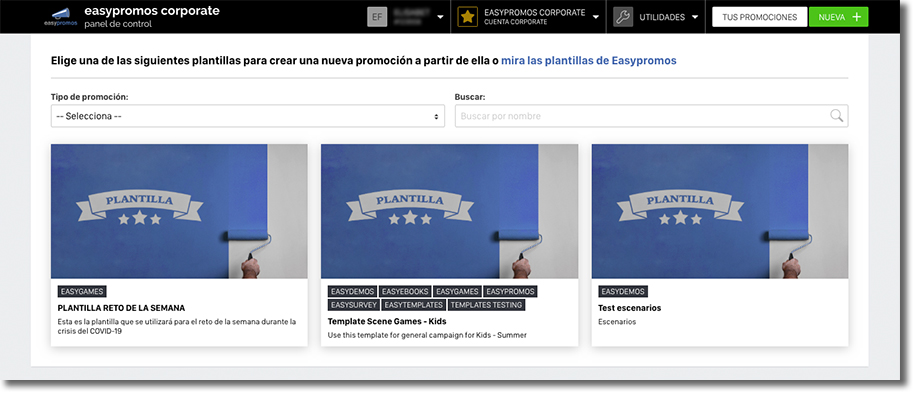 Here are 8 advantages of using your own templates to create digital promotions:
1. Own style guide
The two most time-consuming steps when launching a new promotion is the design and legal texts. This is because on many occasions you need to collaborate with graphic designers and legal departments. Therefore, having ready-made custom templates is a great advantage.
The flexibility of our promotions editor, which has the Premium template format available by default, allows designers to fully exploit their creatives, adapting to almost any type of design. The Corporate version agents have the option of introducing their own HTML and Javascript codes and using their own CSS styles. When creating promotion designs, the only limit is the experience of the programmer.
Here is an example from Orbea. They created the promotion using our Premium template and then applied their own styles to the background, buttons, texts, etc. Don't you think it'd be a great idea to create a template and reproduce the design for future promotions?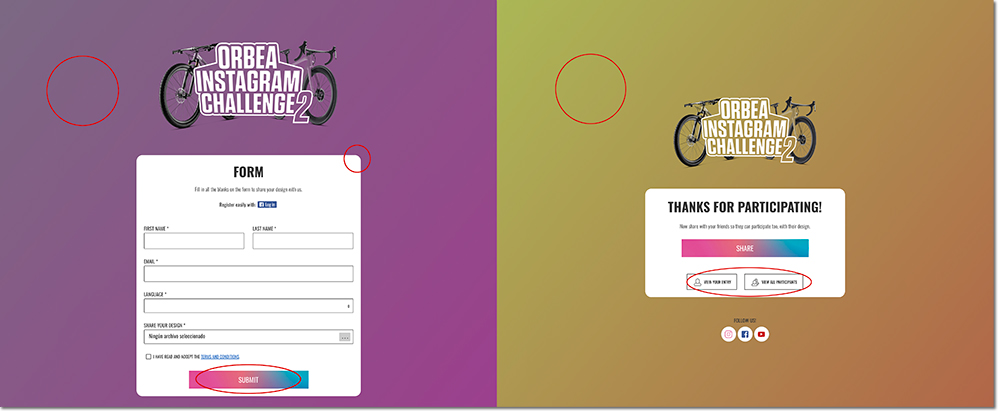 2. Terms and conditions ready
As we've already mentioned, legal texts are one of the most time-consuming steps when creating a promotion, concurrently highly important. In the promotion panel, agents can download a ready to edit Terms and Conditions templates. In addition, in the Corporate version, the administrator can incorporate the company's terms and conditions in the promotion template. At the moment of launching a new campaign, the agents will only edit the information about dates and prizes.
3. The same Privacy Policy for all promotions
Privacy Policy texts are usually much more simple and generic. In the promotion editor, you will find a text already written, available for download in your administration panel. In the Corporate version, the administrator can also incorporate the company's Privacy Policy into the templates. This way the agents will have the Privacy Policy text already written in the promotion, without the need of making any additional changes.
4. Improve productivity
Using your own pre-configured templates will save you a lot of time, eliminating repetitive processes and allowing you to work more efficiently and organized.
The fact that several promotion templates available to use will allow the account ages to be much more autonomous, launch promotions in less than, and, especially in promotions with slightly more elaborate configurations, speed up the editing process. What can you preconfigure?
Registration form fields
Emails
Integrations with other platforms
Social media channels
Footer text
5. Improve security and eliminate possible errors
Companies that take steps towards automation will gain a competitive advantage over those that don't. With this type of systemization, companies not only improve their employees' productivity but also reinforce security, as possible errors are minimized. This is a case of, for example, clients, who use webhooks to receive and manage registration information from participants in real-time. This type of integration must be configured prior to the launch of the promotion. One of the steps would be inserting the URL where you want the registration information to be sent. In case when the organizer doesn't enter this link, they won't be able to obtain the data. Therefore, if this integration is already configured by default in the template, the margin of error is reduced even further.
6. Agents' independence
Ready to use templates will also minimize the time administrators spend on supervising agents with promotion launches, as the design, terma and conditions and IT aspects have been already taken care of.
7. Better internal organization
When organizing templates the administrator has two options:
Generic templates available for all agents
Templates organized by agent types and brands they manage so that each agent will only see templates associated with their brand. This option improves organization and management when working with multiple customer accounts.
The tool comes with search options such as list, search, and filter (filter by application type and organizing brand). There is also the possibility to edit the characteristics of the template or delete it.
By using #templates we already have 80% of the #promotion configured. 
Click To Tweet
8. Take care of the details
By using templates we already have 80% of the promotion configured, so all that remains are details. At the time of creating the template, the account administrator can add instructions for account agents, for example, a list of points that should be reviewed, or recommendations or tips on configuring the promotion.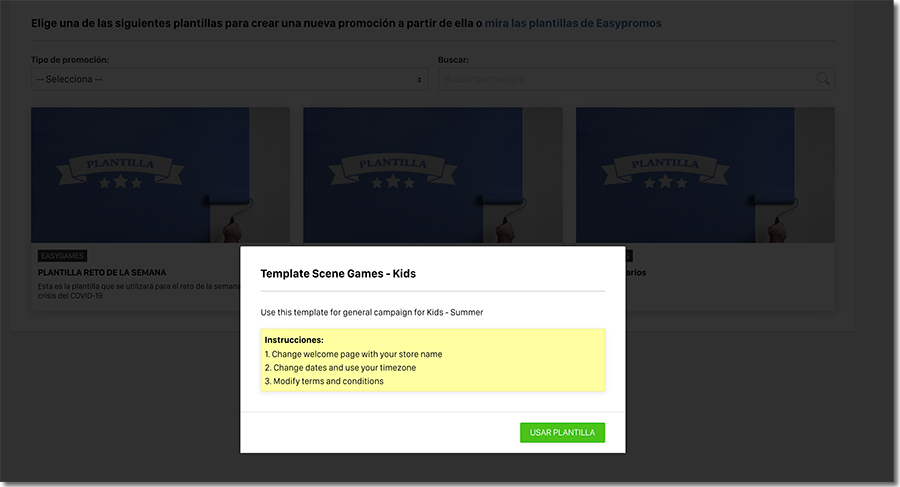 We hope that we have convinced you to start using your own templates! We want you to get the most out of our platform.
Do you need help with creating your own templates? Or maybe you have a question that hasn't been answered? Contact us now! 
Publication date: 2020-05-15