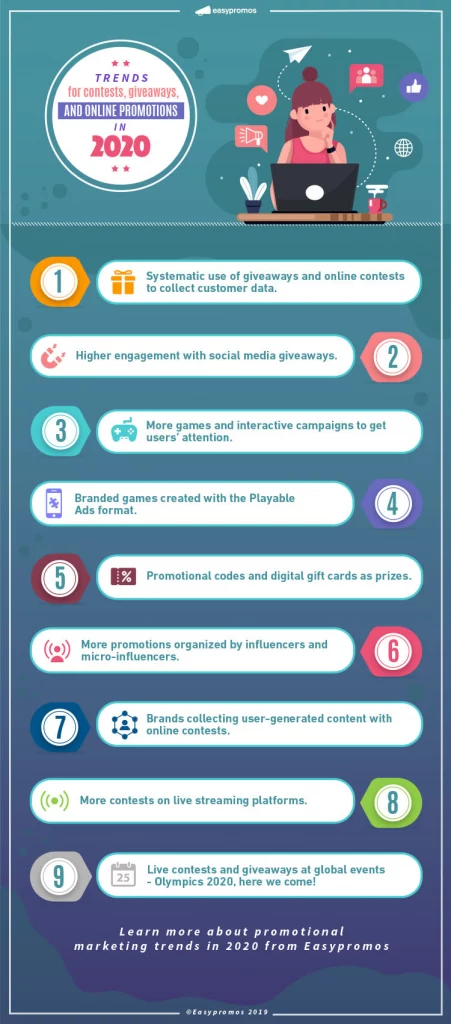 People no longer watch television; they watch their phone screens. So knowing how to get and keep users' attention has become one of the biggest challenges for digital marketers. Then there's the question of data privacy. Users are increasingly aware of how much their personal data is worth. As a result, they are more careful and less casual when a brand asks for their data – or attempts to capture it. Users want to know more about who will receive their data and how it will be processed.

That's why the winning combination of interactivity, data registration, rewards, and social media is taking over marketing campaigns. Brands can set up a profile on their customers' preferred social network, offer great rewards, entertain them with an interactive game or contest, and collect marketing data with full consent from happy customers.

So with that winning combination in mind, here are the trends for contests, giveaways, and online promotions that we expect to see in 2020.
Systematic use of giveaways and online contests to collect customer data
The marketing strategy of most big brands will be built on data analysis and artificial intelligence, to speed up decision-making and run more efficient campaigns.

Brands already understand the potential of social media giveaways and contests to collect data. And for big brands, it's even easier: users trust their reputation, and they can access attractive prizes to motivate participants. They have everything they need to attract users, register their data, and inform new marketing campaigns.

For businesses that manage multiple brands or operate internationally, the challenge for CMOs is: How can we organize and automate our campaigns? A wise CMO will build a lead-generation machine. That's what we call the systematic use of giveaways and online contests.
But systematic, large-scale contests are complex to set up. There are the terms and conditions, the privacy policy, the design, managing the winners, sending out the prizes, publicizing the contest, analyzing the data, providing user support, et cetera. That's where well-regulated workflows, policies, and tools for productivity and automation come in. This will be one of the biggest challenges for CMOs, throughout 2020 and beyond.
Higher engagement with social media giveaways
During the buyer's journey, every contact with the brand counts. How do you contact potential buyers? By being active on the same channels as your target market.
Social networks have been a key marketing channel for years. Brands know this, and they know they need a presence online. But simply having a social media profile is not enough; brands need to reach and interact with buyers.

That's why prize giveaways on social media – such as a giveaway for users who comment on a branded Instagram post – are currently so effective, and will carry on being effective in 2020.

Instagram, Facebook, YouTube, and Twitter will continue to be powerful media for giveaways and promotional campaigns. However, brands should also investigate other networks such as TikTok, Twitch, Pinterest, or Strava, to see if their audience is there.
More games and interactive campaigns to get users' attention
In September 2019, Facebook published a study that showed that users are changing the way they interact with advertizing. Instead of passively consuming ads, people want to interact with branded posts. For example, 60% of brands on Instagram have created Stories with Mention, Hashtag or Poll stickers. These are all interactive elements.

So in terms of promotional campaigns, we predict an increase in interactive, branded games such as puzzles, memory games, word searches, and quizzes. These types of campaigns enable brands to entertain their users and increase the time they spend interacting with brands.

For instance, when launching a new product, a mini-game shared on social media can result in more dwell-time and brand recall than a traditional, audiovisual product announcement.
Branded games created with the Playable Ads format
Playable Ads are a format that was designed especially for game app downloads. Users can play a "taster" of the game within the ad, and then choose to download the app to continue.
The same format is now being used for brand promotion. Playable Ads can be used to show a branded mini-game. When users complete the challenge, they are invited to register their personal details in exchange for a coupon or promotional code. This is a powerful new ad format that will see a lot of use and innovation from brands in 2020.
Promotional codes and digital gift cards as prizes
We've already discussed the concept of using giveaways systematically in marketing campaigns. And it's clear that brands will need tools to increase the efficiency of their contests and promotional campaigns.

A giveaway or contest always has a prize or reward associated with it. The reward is what makes users convert. But rewards also raise a problem: how to deliver those prizes to users?

Digital prizes make it easier to reward users for interacting with a promotion. For an e-commerce brand, prizes can be promotional codes to use during online checkout. The entire process can be automated, from sending codes to verifying email addresses. Other options include digital gift cards, service subscriptions, exclusive digital content, et cetera.

Managing a contest or promotion should be as easy as possible for marketing teams so that they are free to focus on expert and enjoyable tasks.
More promotions organized by influencers and micro-influencers
Influencer marketing has been a commercial reality for years. Brands are learning to promote themselves through influencers, and many influencers have found success through brand partnerships.

However, influencer marketing still faces many challenges: how to balance sponsored posts with authenticity? How much is a piece of sponsored content worth? How can brands measure the impact of an influencer campaign? In what way can brands manage or approve the content created by influencers?

Influencer marketing currently characterizes by two major trends:
Micro-influencer campaigns: Brands are choosing micro-influencers (with fewer than 10,000 followers) over more famous accounts because the cost of engagement is much lower.
Influencer giveaways: Influencers are using product giveaways and promotional codes to promote brands. The influencer can create natural, authentic content which refers to the brand, and their audience is happy to receive a reward.
Brands collecting user-generated content with online contests
Gen Z is the generation of selfies and self-referential content. Gen Z are technologically savvy and love to share content about themselves. This is behind the success of Instagram Stories, Snapchat, and short videos on TikTok. Brands should work with this tendency to encourage more user-generated content about brands on social networks.

We expect contests with rewards for user-generated content to become even more popular in 2020. UGC contests have one key benefit for brands: mentions. Until now, hashtags were the easiest way to track content related to a brand. Now, mentions are more effective, as they demonstrate that each individual user is actively choosing to interact with the brand.
More contests on live streaming platforms
Livestreaming has become a popular format for online content, above all in the world of gaming, on platforms such as Twitch and YouTube Live. A live giveaway for the audience is now a common strategy by streamers, to get and keep users' attention. What's more, it's simple to organize if digital prizes are used, such as in-game credits.

We expect growth in the gaming sector to cause a knock-on effect of growth in live giveaways.
Live contests and giveaways at global events
Contests, giveaways, and online promotions are strongly linked to marketing for special and seasonal events: Christmas, St Valentine's Day, or Halloween, as well as concerts, sports matches, conferences, and so on.

In 2020, the Olympic Games will be celebrated in Tokyo, and we predict many opportunities for giveaways and promotions. Brands will have the chance to interact with audiences around the world, motivated by the universal theme of the Olympic Games.