Posted in: Applications,Ideas for your websiteLast update: 31/03/22
Do you need to foster engagement and increase your brand's exposure? Prize Calendars, or digital countdowns are successful promotional dynamics to distribute prizes all year round. Read on to discover all the kinds of digital calendars that you can create using Easypromos tools.

What are Prize Calendars?
Prize calendars are gamified actions for your clients and fans. These actions are grouped in daily games or check-ins in a digital countdown towards a set date, event, or festivity.
Prize calendars are fully customizable and have a set duration. They help to foster engagement and brand recognition as users participate daily and keep track of the games' final results. Additionally, calendars provide new leads for databases as users need to register to participate.
Easypromos' Prize Calendar app has advanced features that make it easy to configure. Some of the main features are:
They are created from a preconfigured template.
Multiple options to distribute prizes: final prize draw, top-ranked scores, prizes for all participants, daily prizes, and more.
All the screens and participation dates in the calendar are customizable.
Single registration for seamless participation. Users only have to register once, with direct access in the following participations.
Secure data storage. Possibility to link to a database or CRM, or download the data to an excel file.
Technical support via live chat. Quick and personal support to answer any question or doubt.
Every prize calendar has a dedicated URL to share on social networks, websites, blogs, newsletters, or instant messaging to promote participation and advertise the promotion.
Tipos y ejemplos de calendarios para repartir premios online
Easypromos offers several ways to run prize calendars or countdowns, we can divide them into 3 categories:
1. Countdown to an event or preset date
Generating anticipation is a marketing technique to engage the users' minds and feelings so that the desire to learn more about a product, brand, or service increases exponentially with every interaction that they have with the brand's communications.
Therefore, if you wish to generate anticipation towards an event, a date, or celebration, the countdown calendar is the go-to choice. Besides promoting and giving visibility to the event, a countdown will capture the attention of your audience and extend your brand's exposure through the users' daily participation. Thus, the goal is to create a countdown where users participate regularly.
Celebrating a change of season could be a good reason to create an online calendar to promote the new season's products. For instance, requiring users to check in daily for 5 days before a set date to have a chance to win a prize. With the calendar prize app, you can program daily participation dates.
Did you like this idea to give away prizes? Try our Spring countdown demo and if you like it, download the ready-made template and create one for your brand.
Another example of how to use this app is to promote an event and get more registrations. Attendees can check in online and sign up for the lectures they wish to attend. Consequently, the organizers are able to collect the participants' data and information on the attendance to every lecture. Special prizes or discounts can also be included in the check-in process.
Want to check out how this online check-in works? Try this online check-in DEMO and download the ready-made template to create your own.
2. Multiple giveaways or games along a period of time.
You can create marketing actions that include multiple games with the prize calendar app. For instance, you can do this in a countdown format leading up to an event or with daily actions focused around a specific celebration.
These kinds of giveaways or game calendars will keep users engaged with the brand for a given time. Hence, making communication with audiences more effective
In this other example, Carrefour aimed at engaging its audience and building customer loyalty for a 30-day period. As a loyalty-building strategy, they carried out daily prize giveaways among the members of their Clients Club. They also used it to promote the advantages of being part of the Club and to motivate customers to join. To participate, users simply had to check in once a day to enter the daily prize draw.
How about a calendar with a daily game for Easter? This action will help you to boost your branding strategy since the games can be fully customized with your brand image and adapted to fit the promotion's theme.
Users have to play a game or complete a challenge every day to be eligible for a prize. Prizes can then be awarded through a final draw among all participants or the top-ranked players, etc. You can also set it up so that every participant gets a discount code or reward. It is entirely up to you how to distribute the prizes!
Are you considering a Multi-Game calendar for Easter? Try this DEMO and if you like it download the template!
3. Christmas Advent Calendars
In this section, we will go over the best-known modality for online Prize Calendars: Christmas Advent Calendars. These calendars can be set up as a countdown to Christmas. Likewise, they can consist of daily check-ins or challenges for the users, depending on the objectives of the marketing action. Generally, these actions allow to promote products or services, distribute coupon codes to boost sales or carry out giveaways. Let's take a look at some examples.
The first one is a Check-in Advent Calendar organized by Anaya Publishing. This promotion gave away one book every day. Participants simply had to check in every day and they would instantly know if they had won a book. This kind of dynamic is highly engaging as it involves the surprise factor.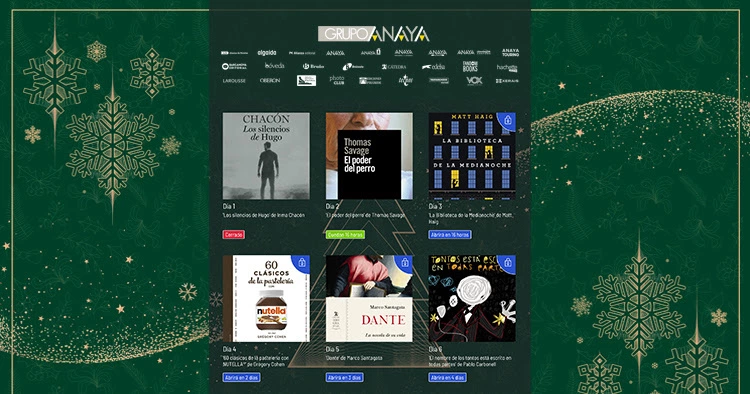 Use our ready-made template to create your own Check-In Advent Calendar easily and in minutes!
Next is Kitoons Multi-game Advent Calendar. Behind every window, users found a game or challenge that they had to complete in the shortest time possible to score points for the overall ranking. At the end of the promotion, the top 3 scoring players won a set of toys. The calendar was fully customized with the brand's products and characters. Therefore, promoting them among their target audience.
Try the Multi-Game Calendar here and download the te plate to create one for your brand.
Lastly, let's take a look at a calendar that combines daily check-in with descriptive content. The descriptive content redirects the user to an external URL or the last page of the promotion. This feature is ideal to drive traffic to a website and promote products or services, or simply to showcase a prize differently.
Participate in a Prize Calendar with descriptive content in this DEMO that we've put together for you!
We hope you find these examples of prize calendars useful and helpful in finding the promotional action that best fits your brand.
Publication date: 2022-02-07