And then Mark Zuckerberg created Facebook… Although the majority of people aged 30 and above remember living, quite well, without social media, it's now hard to imagine living without notifications popping up on our smartphones. Social media makes communicating easier – and that applies not only to the private spheres of our lives.
Thanks to social media brands can touch base with their customers from around the world. They get to connect with new prospects and retain clients that need that extra bit of attention to stay loyal to a brand. However, simple company updates and information about product releases are not always enough. Customers like to know that they're valued by their favorite brands and this is why they respond so well to social media giveaways or other promotions that give them an opportunity to put their hands on freebies.
Facebook continues to be the most popular social media platform, reaching almost 3 billion monthly active users. This network is especially favored by Millennials, with 77% of them checking Facebook daily. However, Gen Z and Baby Boomers are also active users of the platform. 
Reaching your audience on Facebook might be a difficult task for some, however, it's important to first understand how the algorithm works. Facebook prioritizes:
content from sources you often interact with
photos or videos, depending on which content you interact with more
posts with engagement, especially from sources that you interact with
Now that you know the secret to better positioning your Facebook posts, it's time to take a glimpse at a strategy that can take your fan page to the next level. We'll look at real examples of Facebook giveaways that engaged users and generated engagement.
Facebook prioritizes content from sources you often interact with, photos or videos, depending on which content you interact with more, and posts with engagement, especially from sources that you interact with.
Click To Tweet
Run Facebook giveaways to promote your products on social media
Your audience uses social media, we know that for a fact. And that's why brands must focus at least some of their marketing efforts and budget on online communication channels. Unlike offline marketing, digital marketing gives you the opportunity to generate user-brand interaction that leads to increased engagement and brand awareness. If you're not sure where to start, take a look at this example from Degustabox.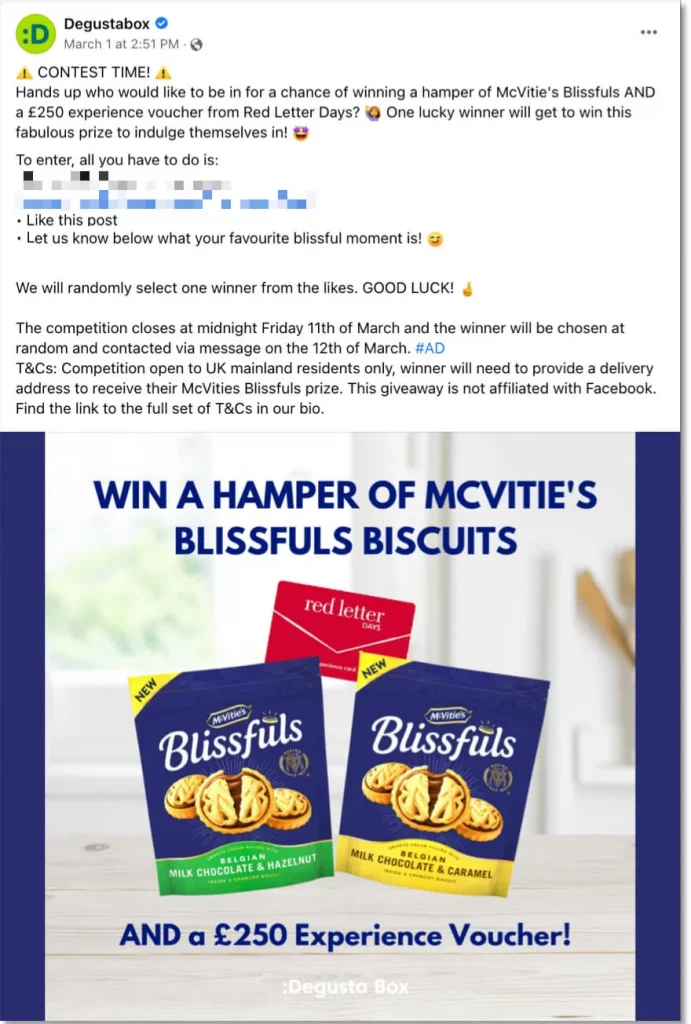 The food experience brand ran a comment giveaway on Facebook, in which they asked participants to like the giveaway post and comment on what their favorite blissful moment is. In return, Degustabox offered the participants a chance of winning a hamper of biscuits and a $250 experience voucher.
Sometimes marketing professionals think that social media sweepstakes don't work well for well-established brands but the 200,000 followers of Degustabox's Facebook page proves otherwise.
Choose winners of your comment promotion by using our Facebook Giveaway app! It's reliable, automatic, and transparent. You'll get a certificate of validity for every draw you run with us!
In order to generate further engagement, the organizers used an open question. This is a great tactic especially if you're looking to generate conversations between users, or if you're willing to reply to some comments. Open questions make people share their likes, stories, and dreams, and that automatically fosters their trust and loyalty towards your brand.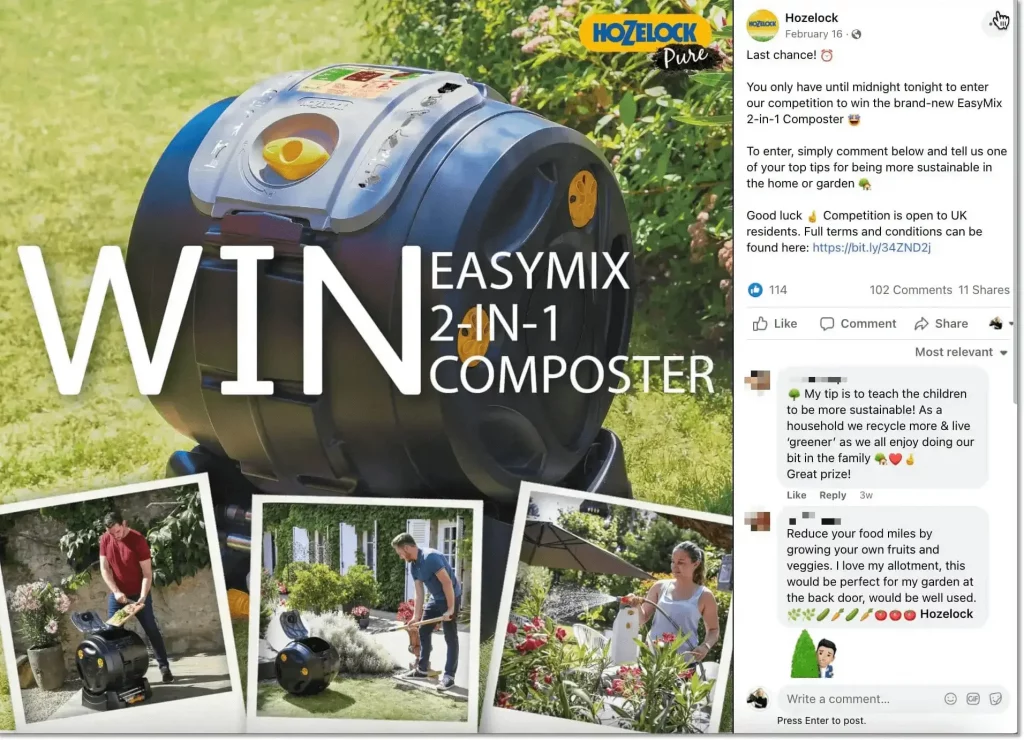 Another great example comes from Hozelock, a gardening products brand that runs monthly comment giveaways on Facebook. Hozelock's products target Millennials, Baby Boomers, and Gen-X, which explains why the brand focuses its marketing efforts on Facebook.
Do you want to organize a Facebook giveaway but aren't sure where to start? We have more than 50 ready-made templates for Facebook giveaways!
Every month, the brand gives its followers a chance of winning trendy gardening tools and gadgets. In February, the organizers asked the followers to share their top tips for being more sustainable in the home or garden. Apart from boosting engagement, Hozelock also encouraged Facebook users to share their experiences and knowledge; this is a clever way of improving relationships between the user and the brand.
Facebook giveaway example: how to run customer-exclusive comment giveaways
The great thing about social media giveaways is that anyone can try their luck. That's exactly why sweepstakes are so popular; they require minimum effort and time and there's a chance to win great prizes. However, it's still possible to organize a giveaway aimed strictly at your private community. And here comes a great Facebook giveaway example from Nicequest, an invite-only community where users earn points (Korus) that they can then redeem for gifts.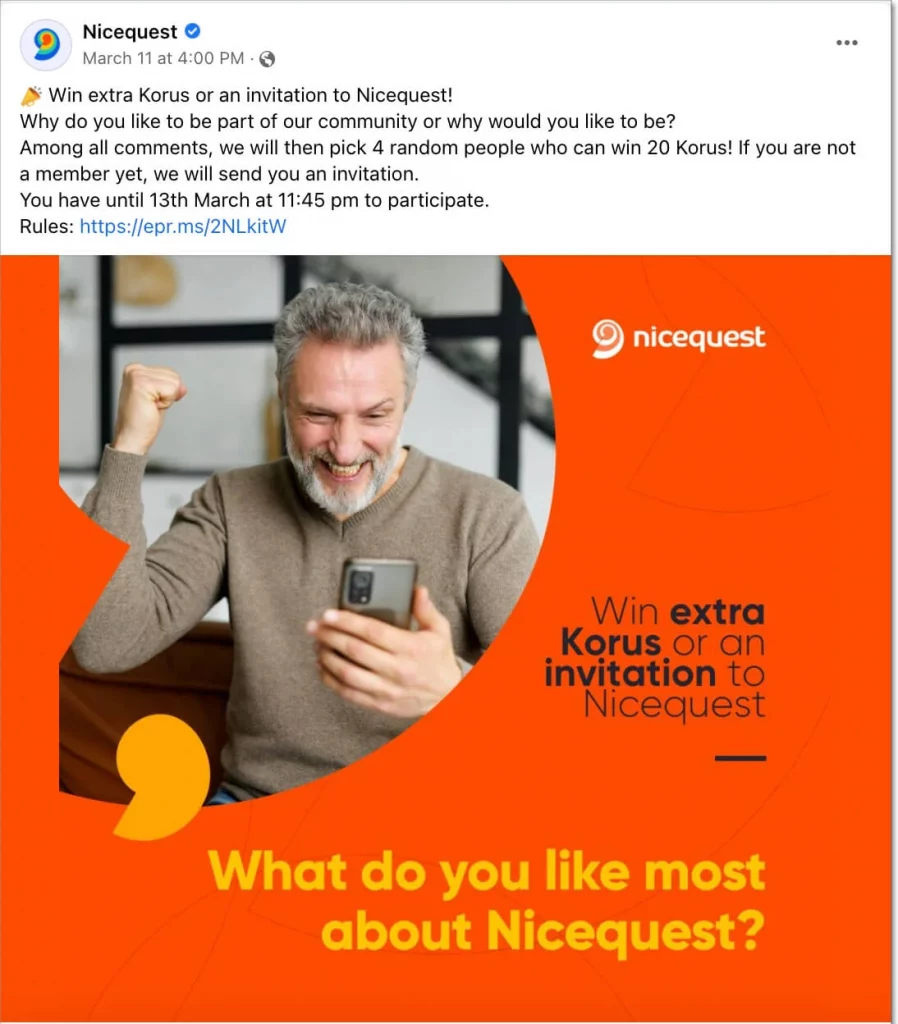 Nicequest wanted to give back to its community in a way that'd allow them to generate visibility and trust online and so they organized a Facebook comment giveaway. Just like in the previous example that we shared, the company asked an open question; "Why do you like to be part of our community or why would you like to be?". The open-ended question once again generated significant engagement, while also fostering customer relationships and sparking interest among potential platform members. However, it's the prize that makes this giveaway special. Nicequest gave away extra points and invitations to their platform!
A similar Facebook giveaway example comes from Cooking Diary, an online game that unites food lovers.
If you've ever played an online game, you'll know that users often collect or purchase points that can be redeemed for game extras, and Cooking Diary is no different. In this example, Cooking Diary gave away 100 rubies to 15 random winners. Entry requirements were once again simple and straightforward: explain which animal shown on the picture you'd take home.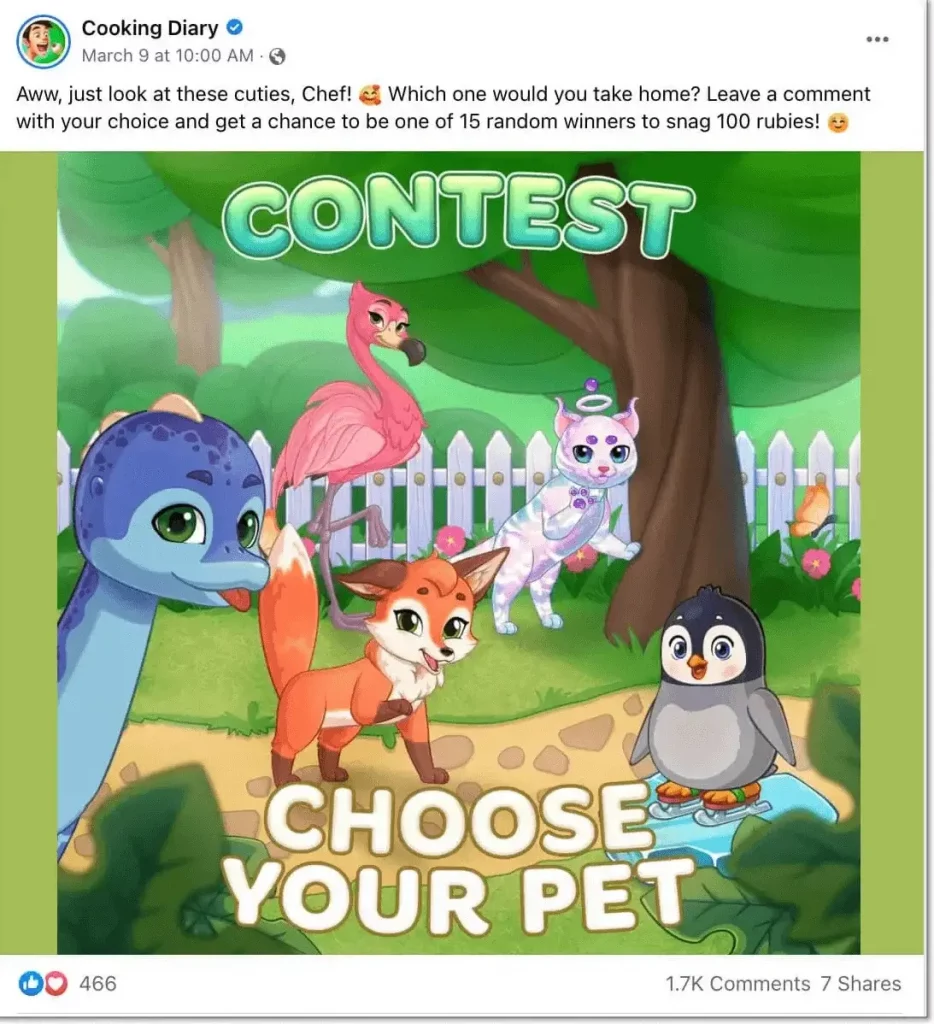 Why run giveaways for active players or members? Apart from reconnecting with your customer base you also get to foster customer relationships and loyalty. By raffling free points or game extras you encourage users to stay active on your platform.
Grow your audience with Facebook giveaways
This section will interest anyone whose brand offers a product or service targeted at a niche audience. Facebook giveaways can help you grow your account, no matter what your offering is. Take this Facebook giveaway example from Tulalip Resort Casino.
If your casino is not based in Las Vegas, you might struggle to reach new prospects from local areas. However, here's a great example of how to generate engagement, attract new followers and stay top of mind with your audience.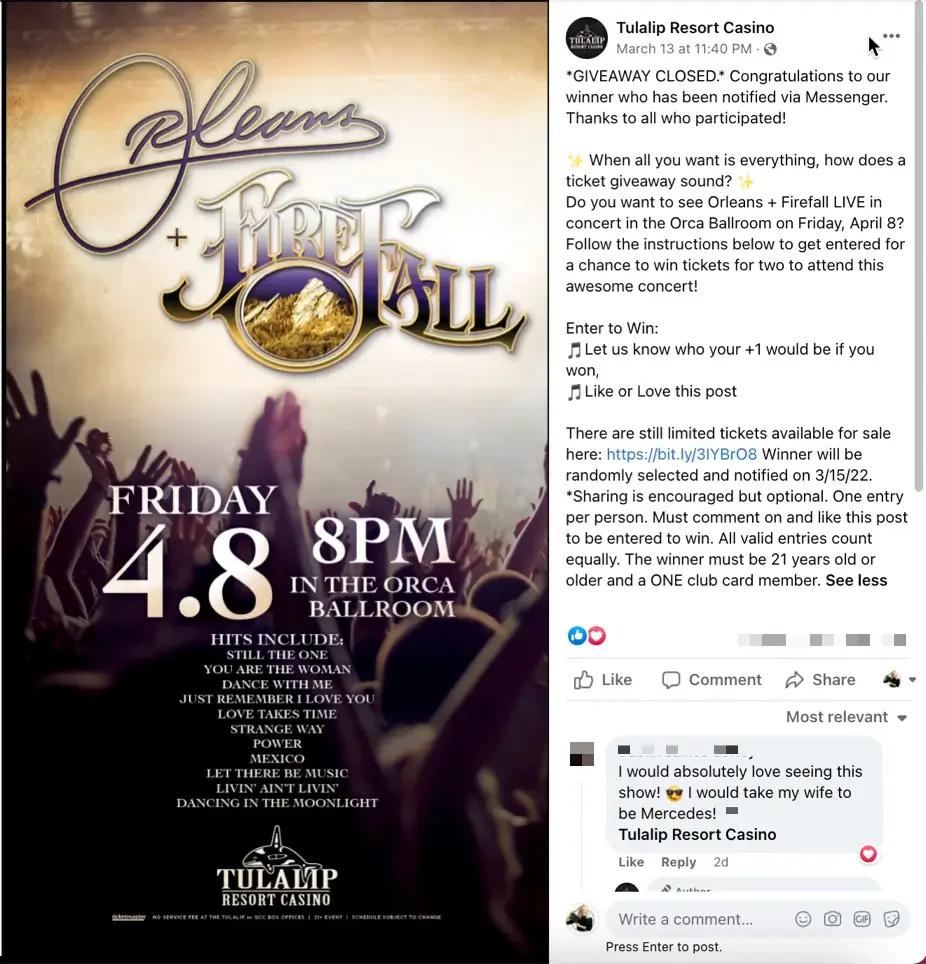 Tulalip Resort Casino was organizing an event with live music. In order to attract more potential clients, the organizer ran a Facebook raffle that helped them reach more users and therefore improve brand awareness and visibility. Tulalip Resort Casino gave a chance of winning two concert tickets to anyone that liked the post and commented who would be their plus one if they were to win.
Facebook giveaway examples that generate social media engagement like no other promotions
We've established that Facebook prioritizes posts with engagement. We've also mentioned that open-ended questions are fantastic engagement boosters as they encourage real conversations, which lead to strengthened relationships. So what would be the best way to see dozens of comments on your post?
Cinnova is a software consulting firm that decided to take advantage of an upcoming cricket match. The brand asked its Facebook followers to predict the winner of the game and one lucky person would win a special gift hamper from Cinnova.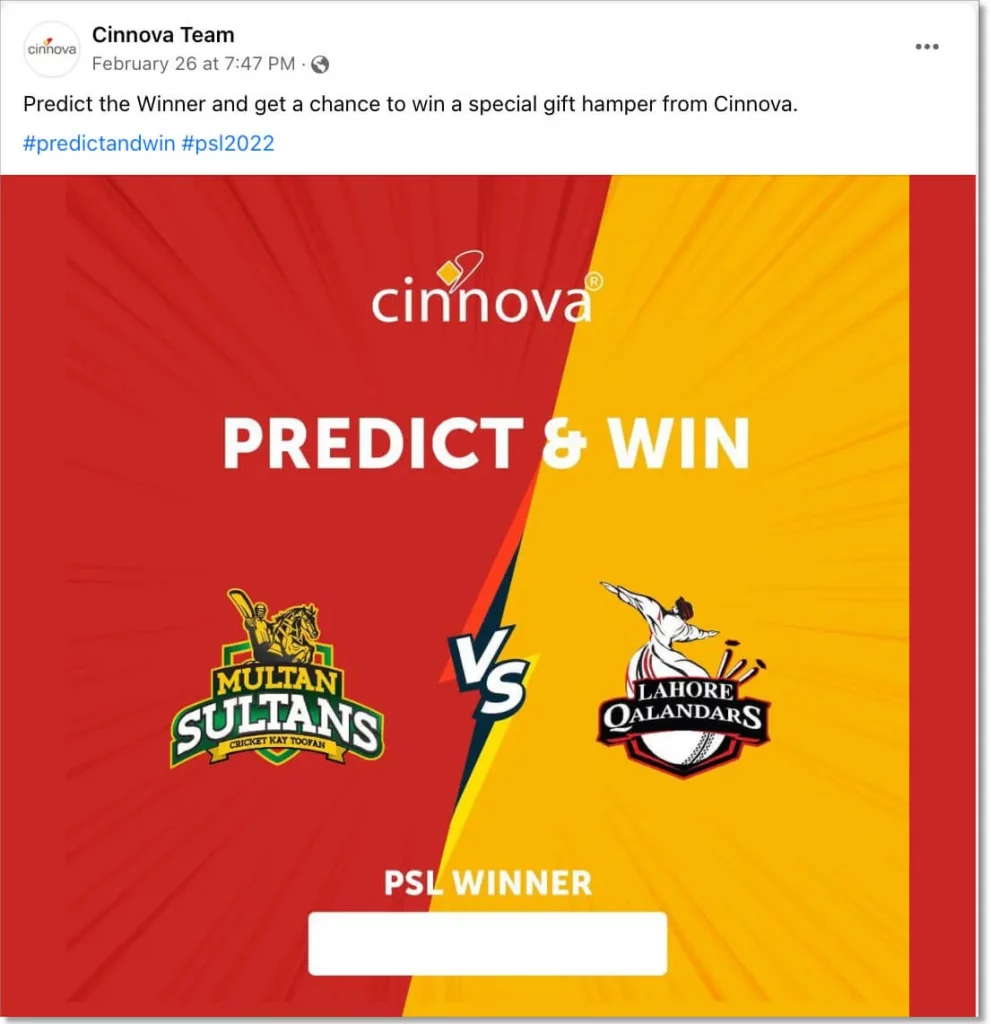 Another great example comes from Milky Mama, a lactation supplement brand, that has incredibly active followers on Facebook. Every Thursday, the brand launches a Facebook trivia that users participate in by answering a question in the comment section. Milky Mama's Trivia Thursdays have become a great engagement generator as they attract hundreds of participants every week. In the following example, you can see how the organizer asks for simple "true" or "false" answers, however, the active fan base always engages in more elaborated answers.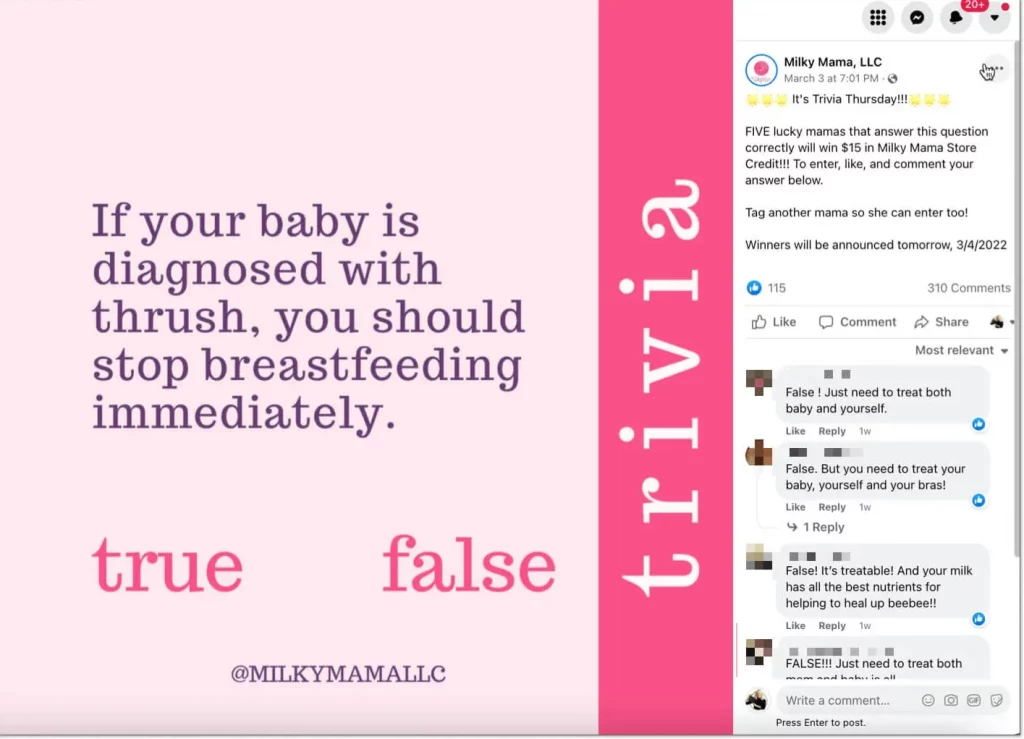 We hope you've seen enough examples to help you come up with an idea for your own promotion! Would you like to share your Facebook giveaway as an example for this blog post? Or maybe you have questions about setting up your sweepstakes? Don't hesitate to chat with us!