The feature that enables you to filter promotions by country can give a lot of added value to your promotions. It allows you to have more control over your contest, game, quiz, or giveaway. With a promotion restricted by country, you might not attract as many participants as in promotions available to all countries, but you will be able to have better control over the users that sign up and vote. It is especially useful if you incentivize participation – shipping to distant countries can sometimes create some problems.
The location restriction feature is based on the IP address of the user. It works for both, desktop and mobile devices.
The location restriction option is available in Premium and White Label versions. The Filter by Country system is based on the geolocation information provided by the IP address. It means that the system doesn't filter users based on their Facebook information (if you're using social login), nor the data the user enters in the country field in the registration form. The only – and most reliable – indicator is the IP address.
The country filter can be enabled and disabled at any time in the editor of the promotion. You can select the countries where you want the promotion to be visible.
By default, the promotion is available to all countries, therefore you must enable the location filter manually if you want to restrict the promotion only to certain countries. Learn how to use the location filter.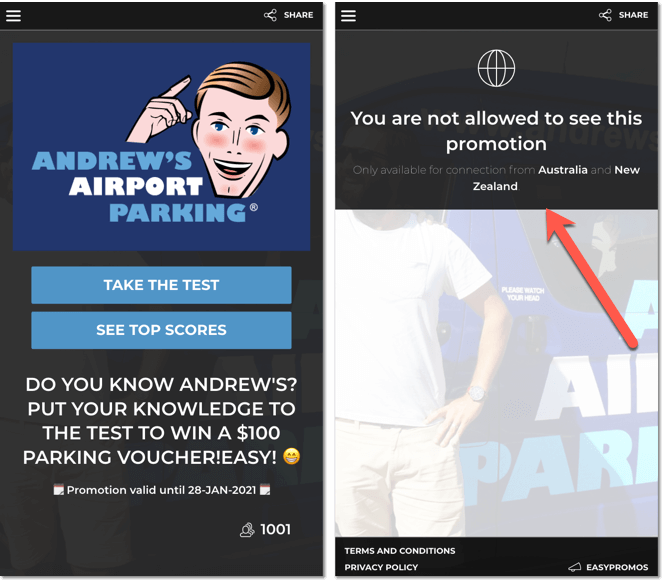 If a user from another country enters your promotion, they won't be able to sign up. All they can access is the welcome page, just as you can see in the above example.
Recommendations for use
If you apply location restrictions to your campaign, we recommend you ask users to enter their country of residence when filling in the registration form. You will be able to identify invalid entries and eliminate them from the control panel.
It should be clearly indicated in the terms and conditions of the promotion that only entries and votes from the countries you have selected are valid. We also recommend that you indicate that the country filter works based on the IP address of the user rather than the country settings in Facebook.
Your Facebook promoting your campaign with location restrictions should likewise be limited to the countries that are included in the promotion, as shown on the following image: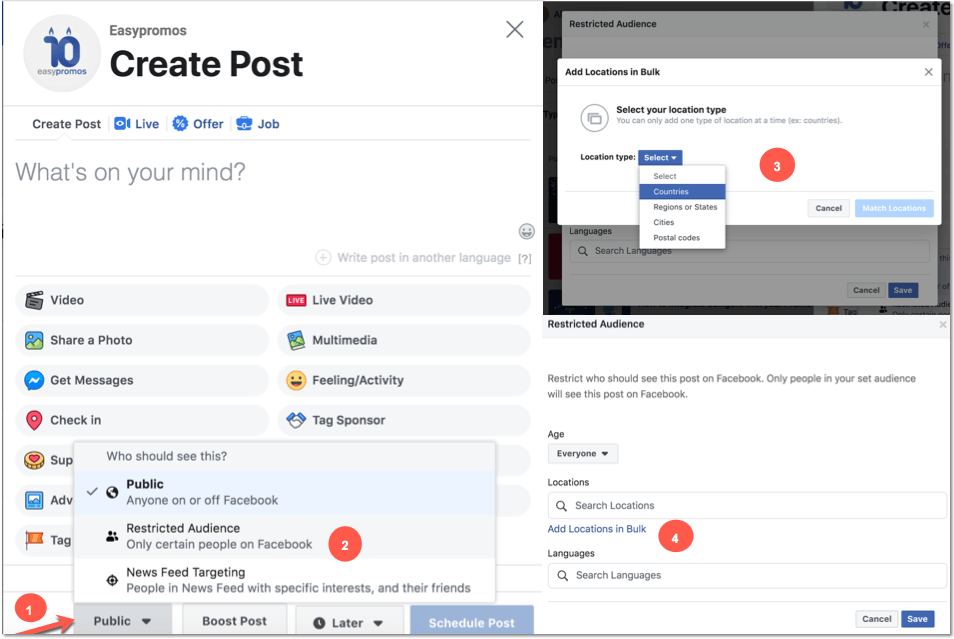 Do you have more questions about restricting your promotion to certain countries? Contact our Support Team in case of questions and doubts – they're ready to answer all your questions.