Reasons to share Terms and Conditions for your online contest, promotion or giveaway
Terms and conditions are a vital part of any online promotion. This is where the contest organizer can specify all entry requirements, rules, as well as restrictions of their promotion and prize details. Sweepstakes that come with T&Cs generate more trust and credibility, which leads to increased customer loyalty but they also protect you – the organizer. In case your promotion is won by a user that didn't comply with the entry requirements, ie your terms and conditions, you can disqualify them and proceed to choose another winner. Therefore, the lack of terms and conditions might bring you extra problems and headaches. Luckily for you, there is a FREE terms and conditions generator.
Giveaway and contest template
The Easypromos Terms & Conditions tool is very simple and FREE. Once you create your T&Cs, the tool automatically creates a shareable microsite.

Our Terms and Conditions tool comes with a T&C template that will help you get started. But you're free to edit the text as much as necessary, change the order of points, etc. You can even add details, like bold or italic text, to make the terms and conditions easier to read.
Here's what the terms and conditions editor looks like: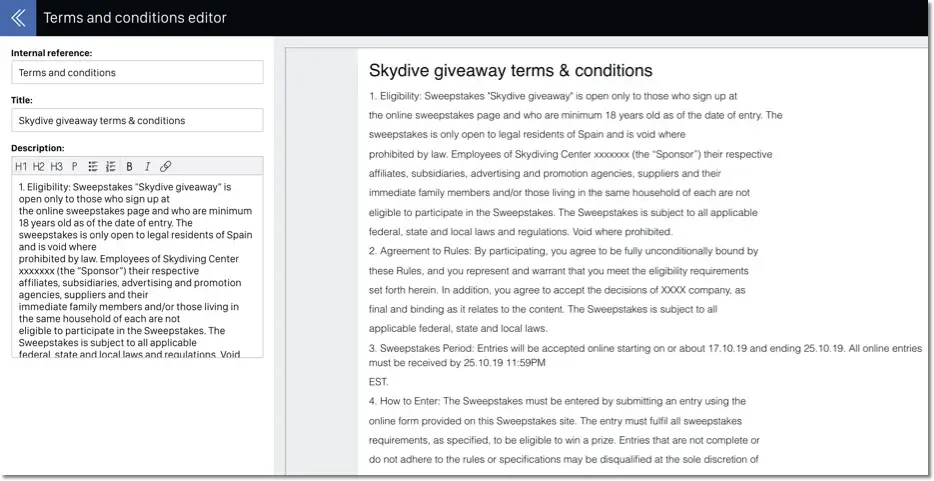 You can add a direct link to your giveaway terms and conditions to your Link in Bio, the giveaway post, newsletter, website, etc: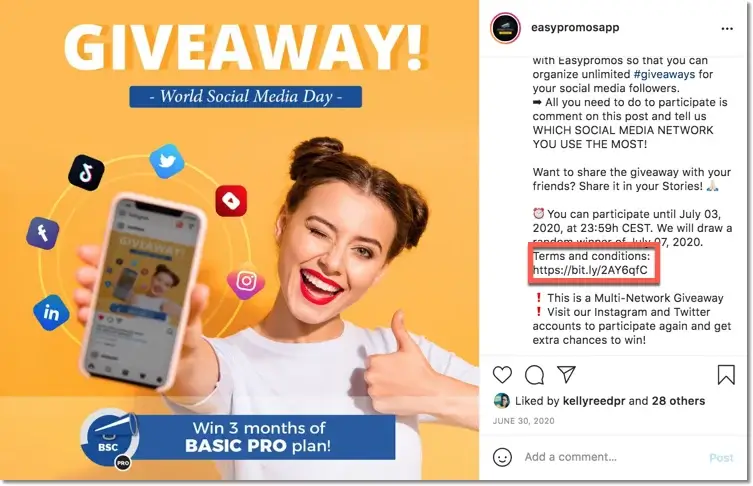 Users just click the link to view the terms and conditions in full. In case of Instagram giveaways where users can't click on the link in a post, we strongly recommend sharing your T&Cs in the link in bio.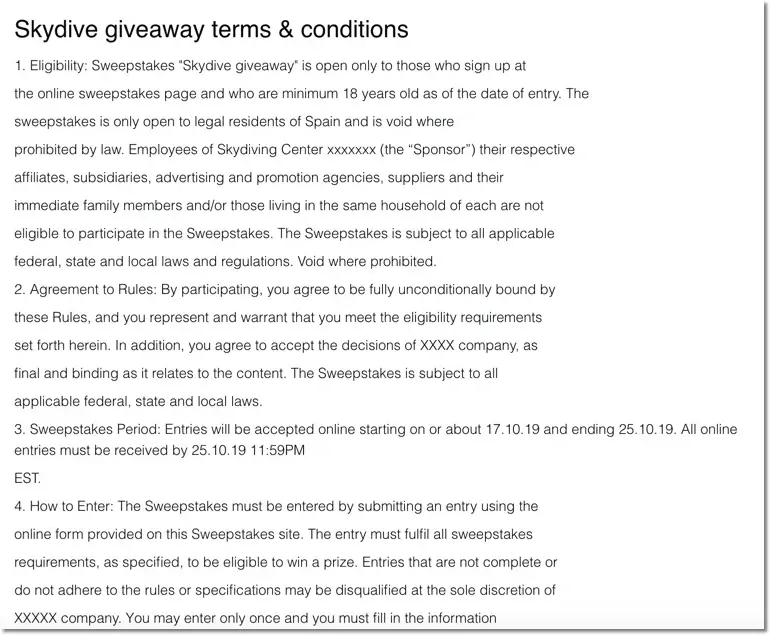 Top tips for giveaway terms and conditions
Essential information. Explain the start and end dates of the promotion, participation requirements, how the winner is selected, and which prizes are on offer.
Save your template to re-use. Once you've edited the model terms and conditions with your brand details, be sure to save the template. You can use it again for your next online promotion or giveaway.
Ready to get started with your giveaway terms and conditions? Head to our free terms and conditions generator and start working on your T&Cs. You will need an Easypromos account but don't worry. Creating your Easypromos account is free!
Need help? Chat live with us!