Why are contests a good way to build brand awareness for businesses?
Organizing an online contest is an action that will take your users from mere spectators of passive advertising to active participants of your marketing strategies. Online contests take user interaction to a level that can provide you with more useful data than marketers ever dreamed of.
Before we dive into practical examples of online contests, let's go over some important aspects to bear in mind before launching a contest. Online contests are great to increase brand awareness as they get the user involved in the action, and in doing so, will keep your brand top of mind. But here's the catch, they can do more than that if you do it right!
Clearly define your main marketing objectives
This might seems a bit too obvious to mention, but it's essential that your marketing objectives are crystal clear before you even start considering what kind of contest you will run. Do you want to collect data to generate leads? Collect UGC? Drive traffic to your e-commerce store? Promote a product line?
Choose the kind of contest that best suits your objectives
Different dynamics fit better with different contest modalities. If you wish to collect UGC, a photo or video contest might be the way to go. Want to promote your product? A gamified solution could do the trick. Looking for some customer insight or feedback? A Pick Your Favorite contest may well be the way to go.
Choose the right platform to manage your contest
Once you've defined your objectives and decided on a dynamic, it's time to make a crucial decision: Which platform to use to run and manage your contest? All the hard work you've put in planning your contest so far has to be, and we can't stress this enough, backed by a platform that is reliable, trustworthy, and robust enough to handle it. And unless you are both a marketer and a coder with superhuman powers, it should be easy to use and not require programming skills.
But hey, we're not here to tell you how difficult this task is, quite the contrary, we are here to let you know that you can take it easy. At Easypromos, it's our job to make it EASY for you. But don't just take our word for it. Check out the brand awareness solutions we have for you and see for yourself.
Having said this, let's go and check out some real examples of some contests that hopefully will help you draw a clear picture of what you need.
Raise brand awareness, promote your product and gather UGC with a photo contest.
It's not the first time we've said this, and surely not the first time you've read it either, but no content is more reliable than User-Generated Content (UGC). Nothing screams customer approval as customers themselves sharing and boasting about what your product can do.
Nokian Tyres is a Finnish winter tire manufacturer, and they are well aware of this. Hence, they organized a photo contest and asked their users to participate by sending pictures of what their winter tires were up to out in the rugged Winterland of North America. The winners got a pack of the brand's swagger and the organizer gathered not only useful UGC but also some very useful market segmentation data.

Consumers will always trust other consumers more for product recommendations and pictures are the ultimate proof of what your product is doing for your customers. And, wait for it… it's almost free!
Snowshoe Magazine, based in the Winterland paradise that Colorado, USA is, also organized a photo contest. In their case, however, the popular vote decided the winner. Aside from the advantages that we have already mentioned, photo contests with voting enabled motivate users to share their participation to get votes from friends and family. This, in turn, gives the contest even greater reach, which also benefits brand awareness.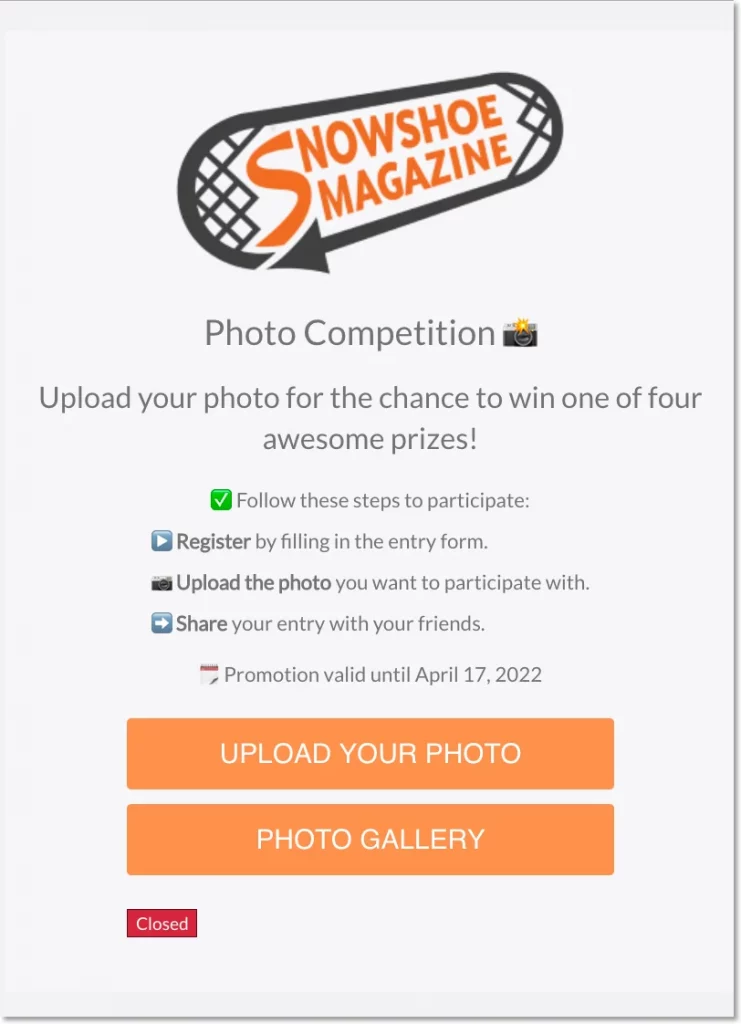 Pick your favorite contest to promote your business, increase brand awareness and gather UGC
Eastwood is a hardware shop that caters to classic car restoration enthusiasts in the USA. In this example, they organized a photo contest that would eventually help them pick the photos to be featured in their yearly calendar.
First, they requested their community to send pictures of the cars they had used their products on. Secondly, they opened a voting stage in which the general public could vote for their favorites. The 12 winning contributions were then featured on their yearly calendar.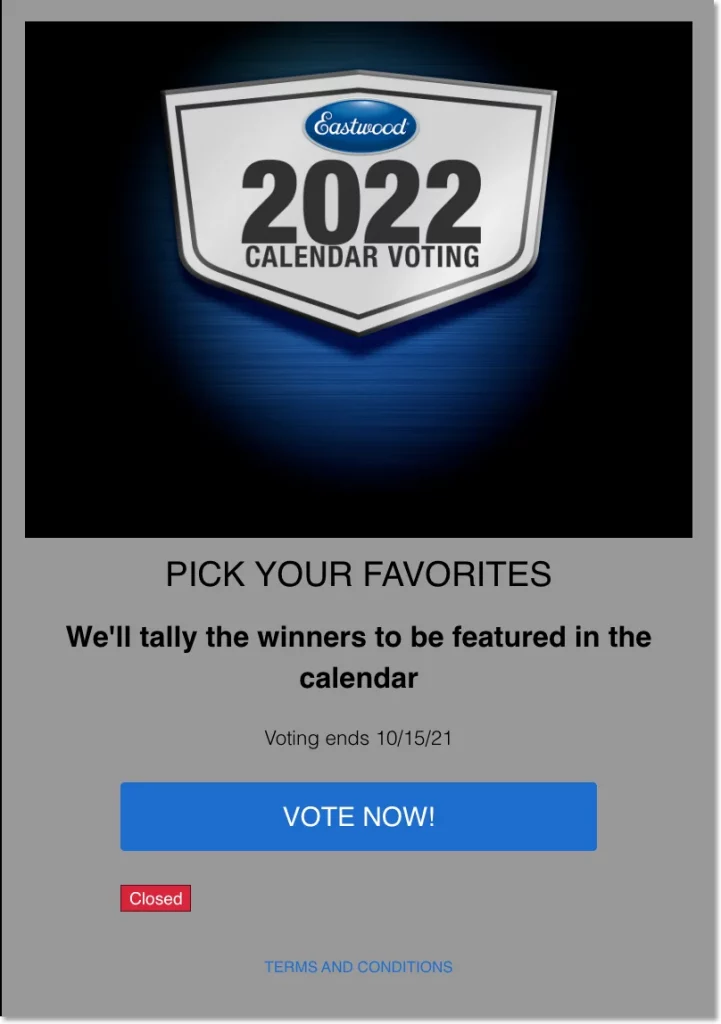 Just take a minute to think about the impact and reach that such a campaign can have on your brand awareness. Not only do you get your product to be praised for what it can do by the customers themselves, but also, a much wider audience will have that precise reminder hanging on their wall for a whole year!
Add some fun and games to the brand awareness mix with a gamified action to nurture your database
Lovemore Music is a music shop based in South Africa. As part of their last Christmas campaign, the shop launched a series of gamified promotions and shared them on their social media to get their audience engaged.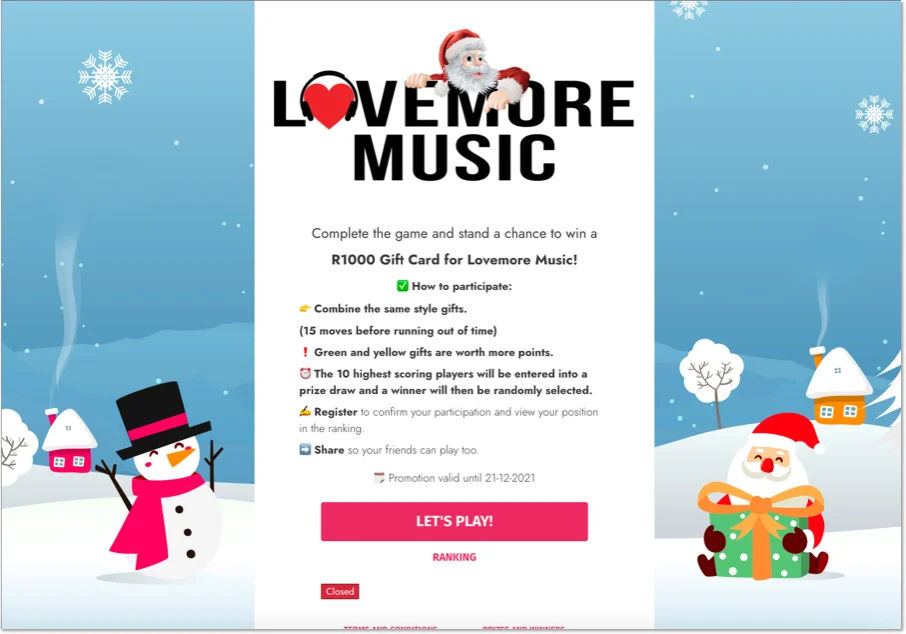 This particular example consisted of the very entertaining Slide & Match game. Users had to register to participate and the 10 players with the highest scores entered a final prize draw. It's no secret that users love a little game here and there for fun, but if you also offer them the chance to win a prize, and foster a little competitiveness among them, they will be eager to participate and share their data with you.
Promote your business and services, and boost brand awareness with a game
Australian Andrew's Airport Parking is also well aware of the benefits that these gamified actions have for your brand awareness. Consequently, they often launch gamified promotions to engage with their audience in a fun way.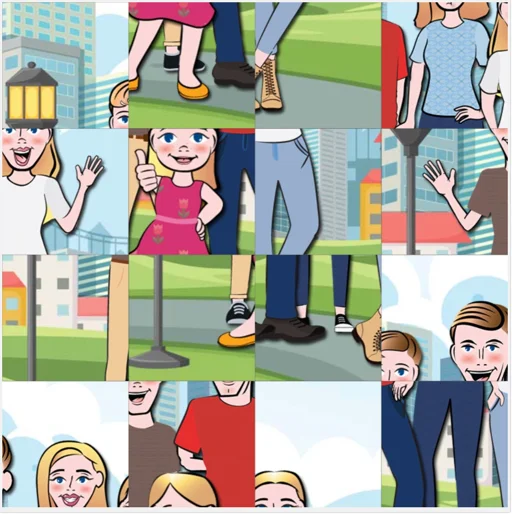 In this example, they set up a puzzle with a customized image and the top 3 scoring players won a $100 airport voucher. To participate, users had to fill out a registration form that provided the brand with valuable information for segmentation purposes.
How do you like these brand awareness contest ideas? Do you have an idea you'd like to share with us? Or maybe you have further questions? Contact us!