The agency

Aftershave.tv is an advertising agency with offices in Valencia, Madrid, and Barcelona. The agency is a leader in modern communications, employing more than 90 people.
The client

The Valencia Trinidad Alfonso EDP Marathon is one of the top marathons in Spain. The new record set in 2018 (2h 04min 31sec) makes it one of the ten best marathons in the world.
The challenge
The main goals were to gain new followers and grow social media presence. It was also important to make The Valencia Marathon's Instagram account more appealing to its audience. The challenge was to accomplish these objectives with a marathon giveaway on Instagram.
The giveaway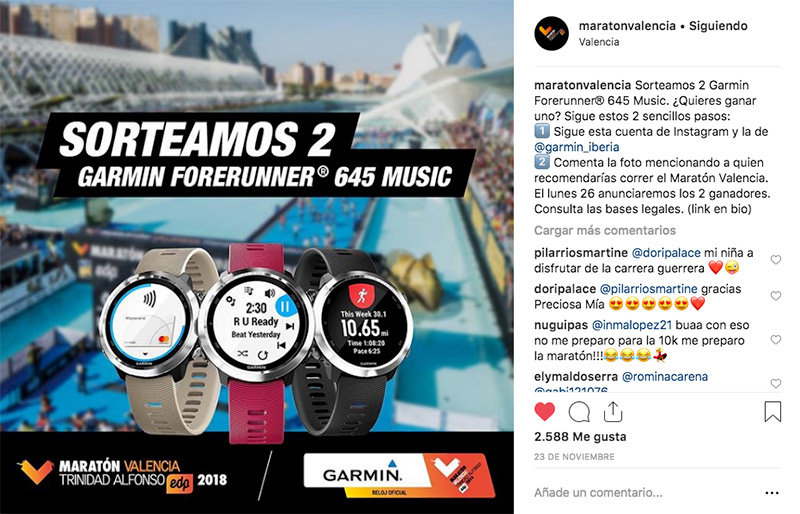 The Valencia Marathon happens to be very popular on social media thanks to their big fan base across all social media platforms. The Marathon is active on Facebook, Twitter, Instagram, and YouTube. They also operate on Strava, which is one of the best mobile apps for runners and cyclists. However, their Instagram account has the highest level of interactions (based on comments and likes). Hence the idea of organizing an Instagram Giveaway. Having in mind the objectives the following entry requirements were set:
Follow the account of The Valencia Marathon (@maratonvalencia) and that of the prize sponsor, Garmin (@garmin_iberia). This allowed both brands to gain new followers.
The Instagram Giveaway was based on comments, therefore the participants had to leave a comment mentioning a friend that could also be interested in winning the prize. The requirement increased online engagement.
The organizers shared the legal content of the promotion in a link in the BIO of The Valencia Marathon account. This way the participants could access the information in an easy manner. The fundamental role of the success of the marathon giveaway was the prize… it was ideal for the target audience! And it attracted their attention, the way it was planned. Two Garmin Forerunner 645 Music watches (400€ each) were waiting for two lucky winners! These attractive awards increased brand awareness and informed potential runners about the event. In addition, the organizers used other social media networks to share the marathon giveaway and reach a wider audience.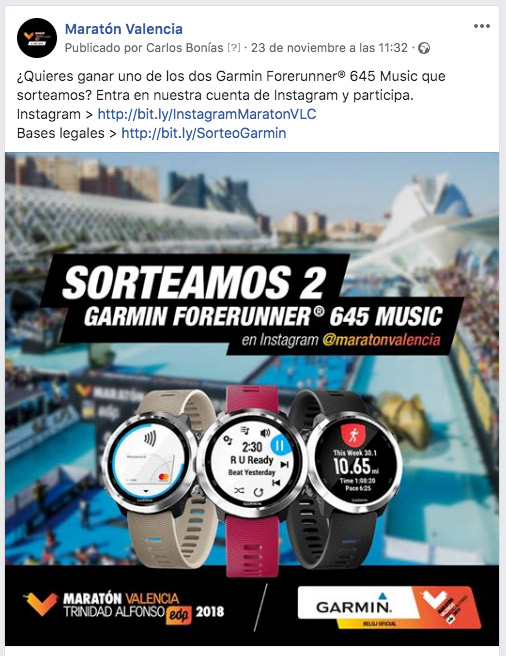 The results
More than 8,000 people participated in the giveaway. And the promotion accomplished the objectives with soaring results.
In addition, the marathon took place one week after, meaning that the emotional content from the finish line was shared with a much wider audience.
Testimonial

Some of the best things about Easypromos are the certificate of validity with the result of the random draw, and the ease of use. It is also very clear from the beginning that the participants can enter the draw only once and that the winner will be random. Thus this emits any negative comments and questions about possible irregularities.
-Carlos Bonías-
Aftershave.tv Agency