Illegal activities that take advantage of the reach and visibility that social networks giveaways get have been around for years. Although in the past they mostly aimed at getting followers, most recently frauds involving phishing have been detected. Phishing consists of the theft of participants' data or taking control of their accounts.
How does phishing work in an Instagram giveaway?
We have observed that the most common way of doing this is through a fake brand account. When the real brand organizes a giveaway, the wrongdoer sets up a fake account that looks like the original. Afterward, they use this fake account to contact the participants that have commented on the post. They will often tell the participants that they have won the prize. Many times the promotion hasn't even finished when they ask participants to submit their personal details so they can receive the prize.
In the following example, we can see how a brand has detected that some fake accounts are trying to gather personal and bank details of the users participating in the brand's giveaway. Commonly, the fake account contacts the users by replying to their comment. Also by following them and sending them a private message. This message usually contains an outgoing link that leads to a registry form. It is then that the users share their personal and bank details, leaving them at the mercy of the scammers.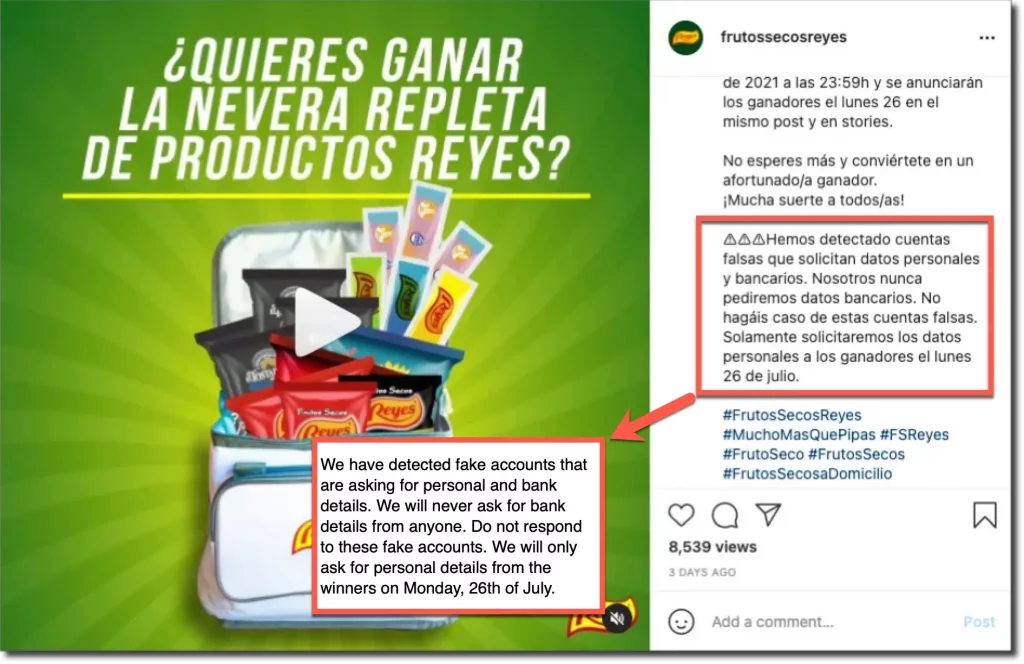 How can a brand protect itself from this wrongdoing and prevent damage to its reputation and the relationship with its audience? Here are 3 measures that you can implement to your business account on Instagram that will help your followers not fall for the trap.
Verify your brand's Instagram account
Followers are becoming increasingly aware that there might be fake brand accounts trying to steal their data. You can help your followers by making sure they are following the real account by going through Instagram's verification process.
As you probably already know, verified Instagram accounts display a blue tick icon next to the brand's name. In the Settings>Account section you will find the option to request the verification of your brand's account. Once there, you will have to fill out the form that Instagram provides and upload a file that proves the existence of the brand. After sending this information, Instagram will review your request within 30 days.
Here you can see two verified accounts of brands on Instagram that usually organize giveaways for the followers that comment on their posts. In the following examples, you can notice that this is a common and very recommendable characteristic for any brand with a presence on Instagram. Although it is true that in the past Instagram only made verification available to brands and influencers with a high volume of followers, nowadays, any brand can request it.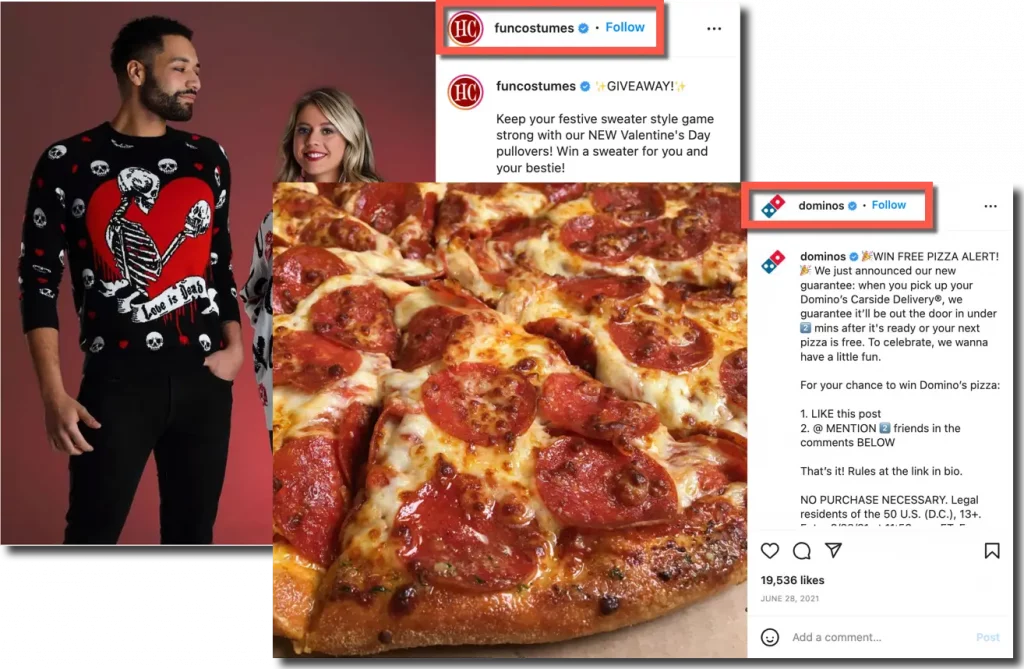 Brands used to include the word "official" in their name to show their followers that the account was the real thing, but that fell short of offering enough credibility. In this example of fraud, the official account of the Spanish influencer Maria Pombo was hijacked by a fake account that added "official" to its name, the same as in the real account. Without an external validation associated with Instagram, it is impossible to determine the authenticity of an account.


Clearly state in your giveaway post how the winners will be notified and contacted
This measure is a best practice that many brands are already using. And one that you should implement in your Instagram giveaways. Even if the terms and conditions of a giveaway include a clause that states how the winners will be chosen and contacted, the truth is that not many participants actually read them. Therefore, you should make it easy: state in the post itself how and when you will announce the winners and how you will contact them.
The Stevie Jade Jewelry account clearly indicates in its Instagram giveaway post how they will notify the winners. As you can see in the image below, it states:
The start and finish dates of the giveaway.
That they will notify the winner on the post itself.
A warning to look out for scams.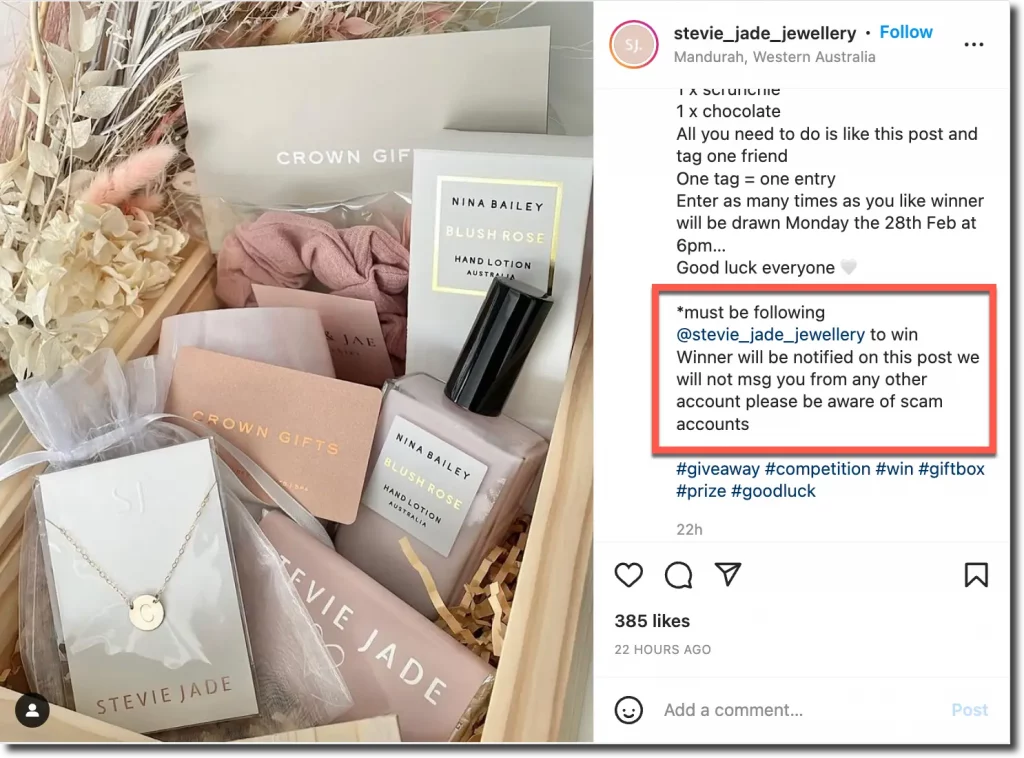 As you can see in the following example, every additional measure is a welcome one. This profile for the brand Scentsy has all the boxes checked, and more! The account is verified. It states the start and end dates. The way they will notify the winner. It warns participants about scams and it provides a link to the terms and conditions.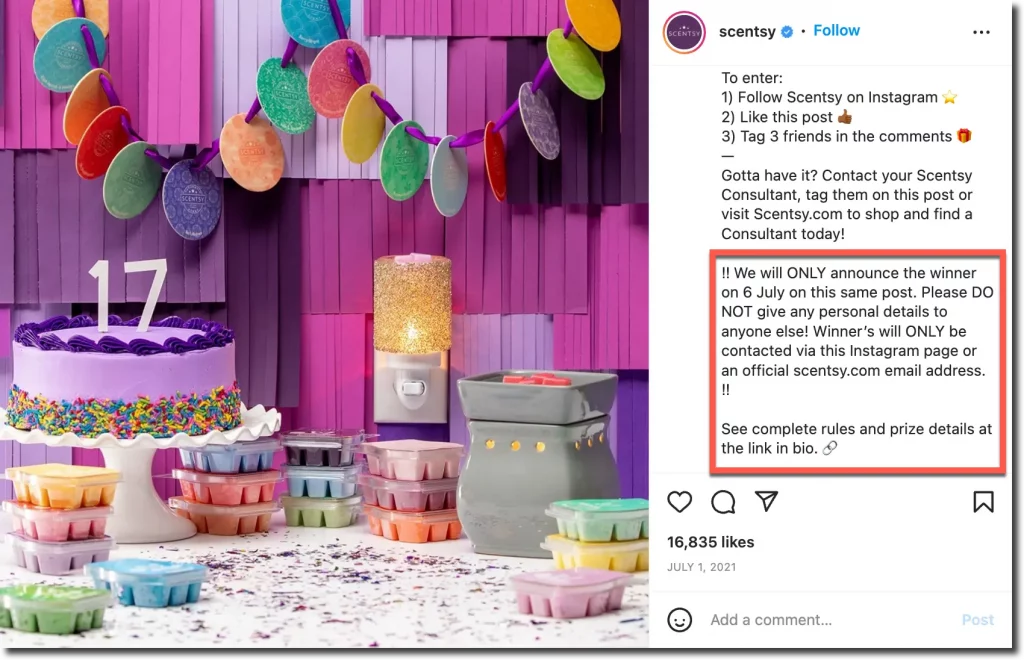 Another common way of communicating the winners is to edit the original giveaway post to announce the winners. This is what Mean Mule Distillery did to announce the winner of its pizza party giveaway.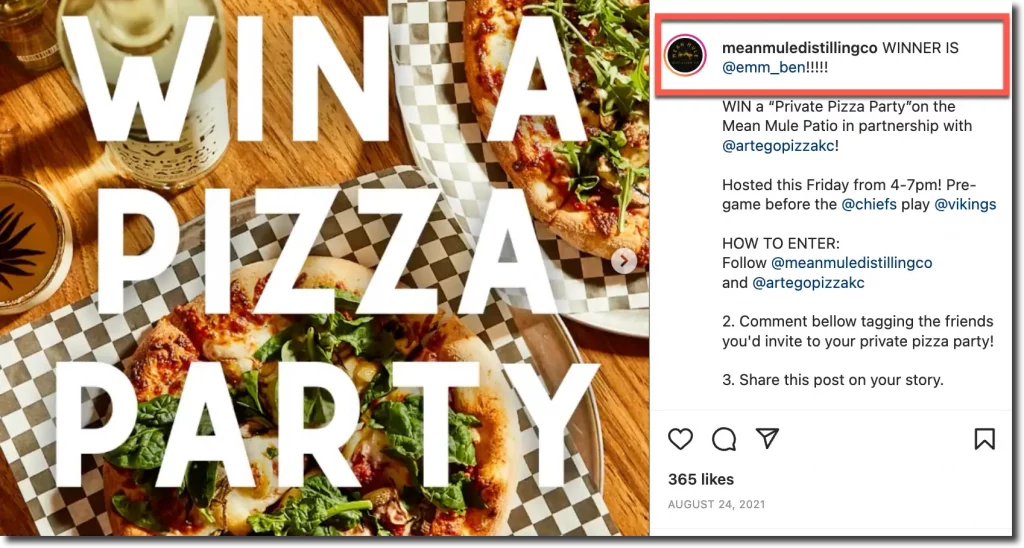 Post reminders of how your will contact the winners periodically
Don't wait until being victim of a scam to inform participants of how you will inform winners every time you run a giveaway on Instagram. As a preventive measure, you can periodically post messages and reminders on how the brand will contact the winners when the giveaway finishes. There are several ways to post these messages. Our recommendation is that you spread them along the duration of the promotion.
Fashion Contemporary Puzzles did this in their 12 Days of Christmas promotion. They advised participants about how they would contact the winners. They also advised them to be aware of possible fraudulent accounts asking for personal information.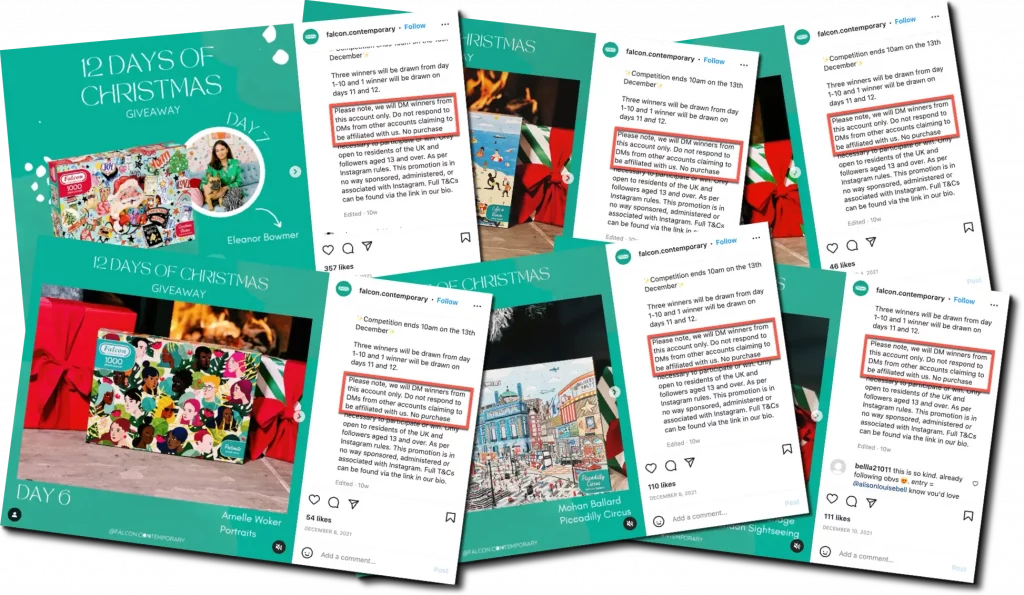 Bloggers At Home with The Couplands include a text in their posts explaining their followers how they will contact them. They also mention that they will not ask their followers for additional information, bank details, or to follow any link.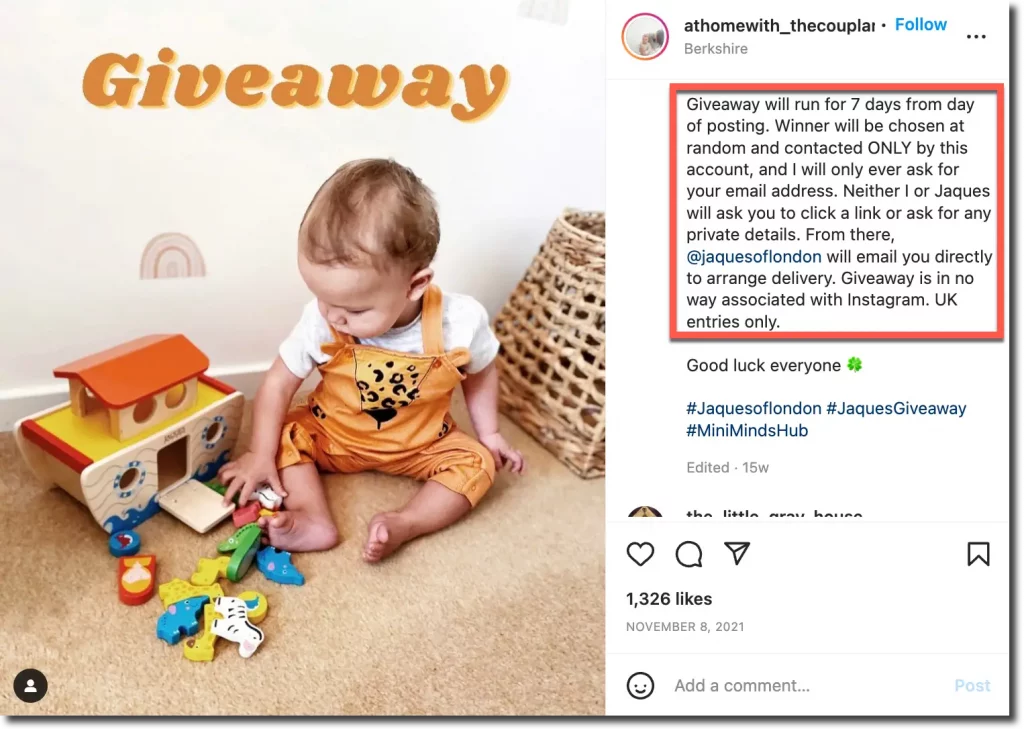 Ecological wine producer Sea Change Wine also includes in its giveaway posts information on how winners will be chosen and notified. Furthermore, it warns its followers about possible scammers trying to impersonate them, and advises them not to follow external links.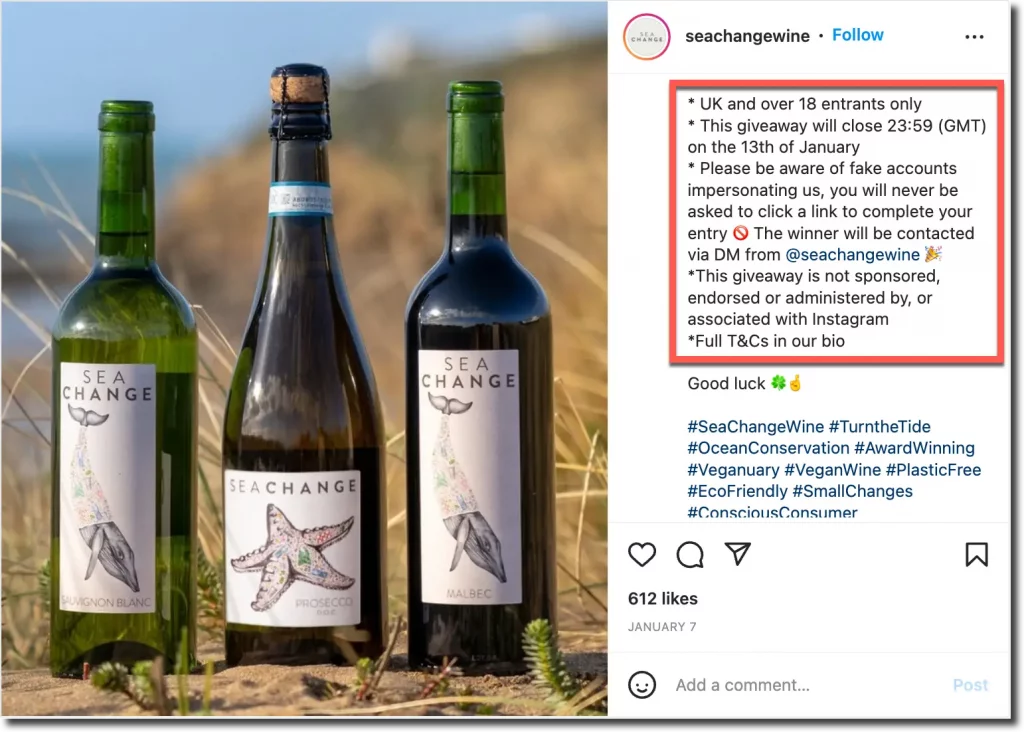 Educational toys brand Galt Toys also includes a message in their giveaways to warn users about possible scammers. The brand clearly states how they will contact giveaway winners. And that they will only do so from the official Instagram account where the giveaway was posted.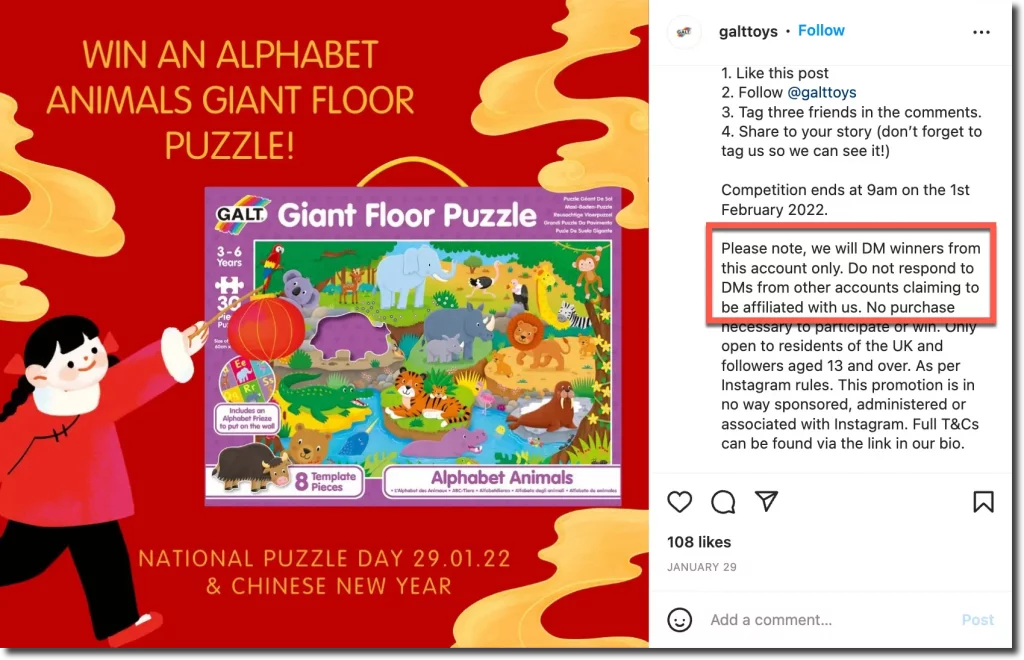 The Spanish branch of Open Bank became aware that scammers where impersonating the bank and were contacting users in an attempt to steal their personal and bank details. In response, the bank warned its clients and followers on Instagram. Additionally, they included a list of instructions to help users how to identify fake accounts. Finally, they also asked users who identified fake accounts to contact the bank to denounce them to help the bank fight the scammers.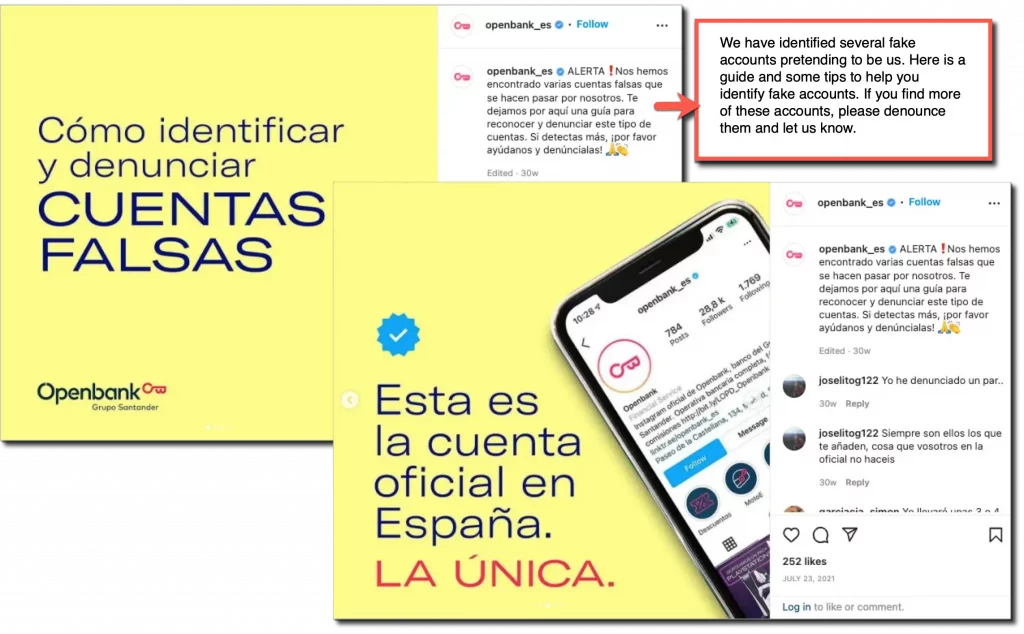 There are other ways to warn users about frauds besides the warning messages in the giveaway posts. For instance, you can use stories and reels. Does your brand often offer advice or inform its audience? If it does, you can create a thematic post or content on how to identify and denounce fake accounts. Just like ObenBank did in the previous example. If you are in the process of getting the blue tick verification, make sure you let your audience know as soon as you get it. Make a big announcement about it in a post and stories.
Were you aware of these scams on Instagram? If you weren't, or hadn't given much thought to it, we recommend that you implement these measures to your promotional actions. Make sure you protect your brand. Denounce fake accounts when you spot them and ask your followers to do the same. Don't let anybody damage the brand reputation you have worked so hard to build!
Do you have any questions on how to organize social network giveaways that are transparent and reliable? Contact us via live chat and we will be happy to help.