Encouraging sales is one of the most difficult tasks for any marketer or business owner. How can you prompt customers to purchase from your store? What's the best way to attract more customers and guide them through the sales process? We say promo codes! And today we're taking a look at how to promote your brand with promo codes on social media.
Define the goals you want to achieve with promo codes on social media
Social media is probably the best medium for growing your audience and increasing brand awareness and visibility. However, social media channels are also vital for driving more sales – and we're not talking about shoppable posts on Instagram! By implementing innovative strategies into your social media plan, you might be able to see a significant spike in sales. One of those strategies could be a promotional codes campaign. And let us tell you that you don't need to sacrifice your revenue to run a codes campaign. All you need is a good plan and you will end up driving sales and increasing profitability significantly.
Start by asking yourself what goals you want to achieve. You might want to:
Reach new customers
Reactive or retain existing clients
Upsell a product or clear out stock
Promote a product or service
Convert followers into sales leads
These five goals are among the most popular reasons for sharing promotional codes on social media. Let's take a look at how to do it!
Reach new customers with promo codes on social media
Don't we all like a bargain? The treat's even better if it's a deal from our favorite store or brand! If you have an active social media following, you're in a good position to run a promo code campaign on social media; it's likely that your discount will be welcomed with open arms by many of your followers, especially those that were hesitant to make a purchase. And did you know that sometimes potential customers are waiting for special offers to try out your product?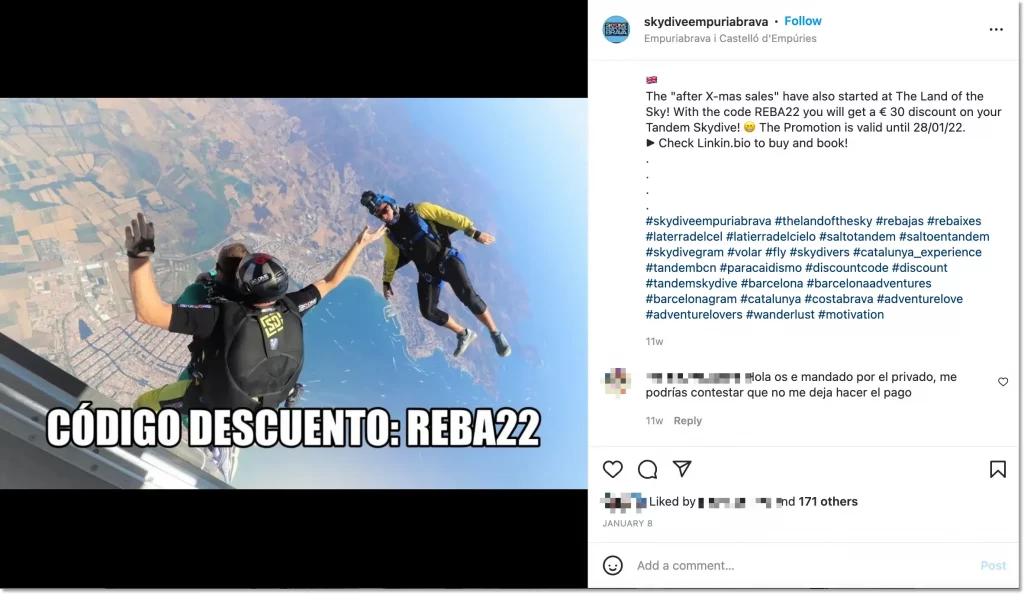 Take a look at how a skydiving center decided to share a promo code on social media. The company looked to promote its services to its social media followers and convince them to reserve a tandem skydive. The promotional code was a great way to drive traffic to the reservation website.
Reactive or retain existing customers with social media promo codes
Social media promo codes can also work really well to reactivate or retain existing customers. Apart from touching base with your followers by sharing your promo codes, you also get to make your audience feel valued, especially if you have a private community for your customers. Let's take a look at an example from a brand we all know, Sephora.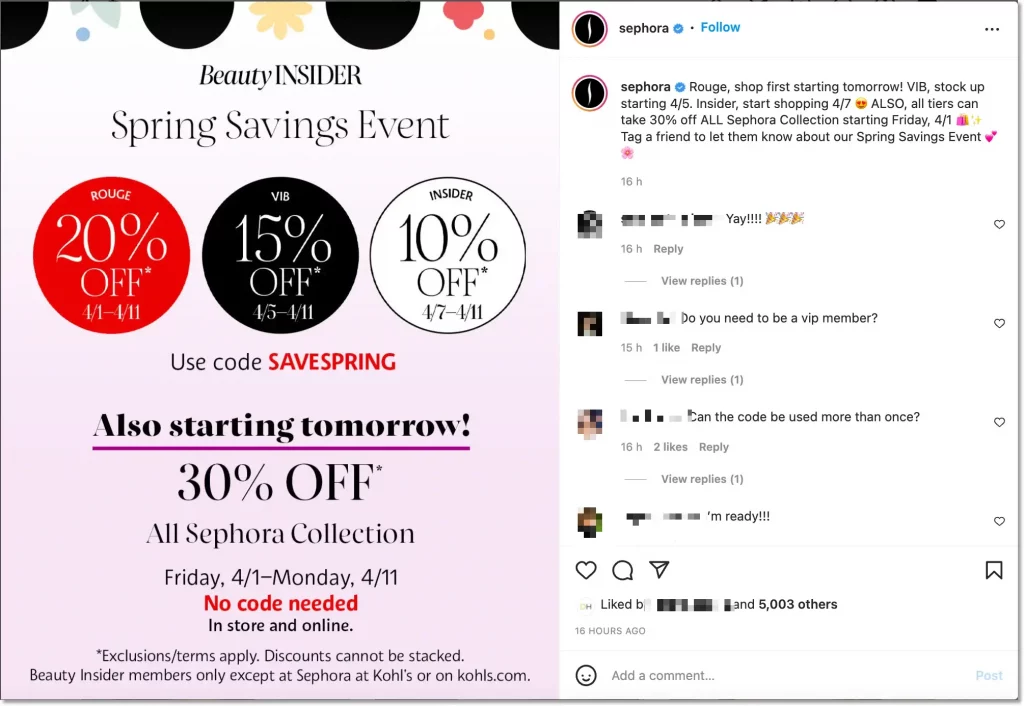 The beauty brand has a private community for the customers that form part of their loyalty program. With the start of their newest spring campaign, Sephora looked to boost sales, while also rewarding paying clients for their trust and loyalty. To do so, they took it to Instagram to share their special promo code. The loyalty program members were invited to enjoy one of the discounts. Depending on their loyalty program status, the promo codes were ranging from 10 to 20% off. Why did they share this private community promo code on social media? It's the best way to promote the scheme, as well as reach many existing and potential members!
Upsell a product or clear out stock with promo codes on social media
Do you want to promote one product specifically? Or maybe you need to clear out stock for your upcoming collection? Apart from sharing your discount codes on deal websites, you can also leverage social media channels!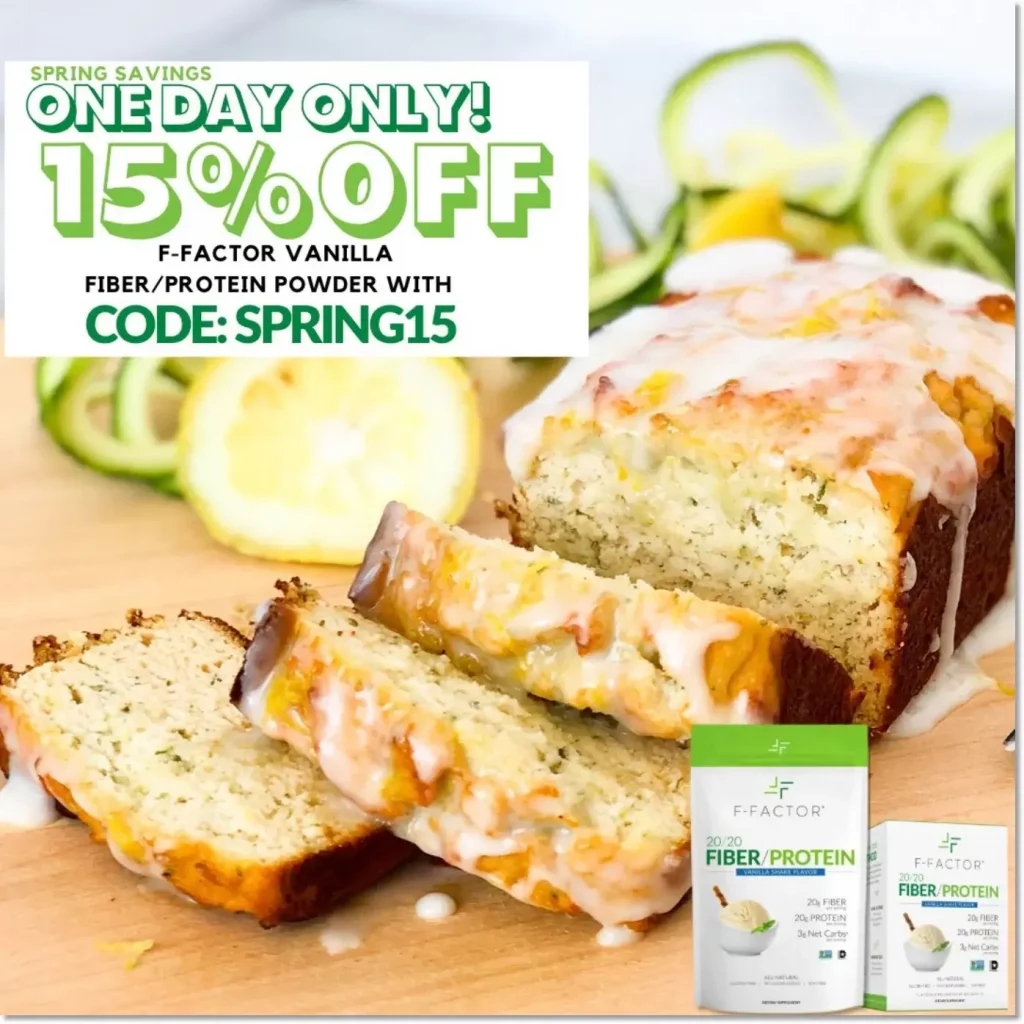 This example shows clearly how a nutrition brand promoted its vanilla protein powder. The brand shared a special code with its followers. However, there was a twist! The code was valid only for 24 hours. Limited time offers create urgency and customers are more likely to redeem them.
Share promo codes with followers that sign up
A popular tactic to gain more newsletter subscribers is to give a 10% discount to new database members.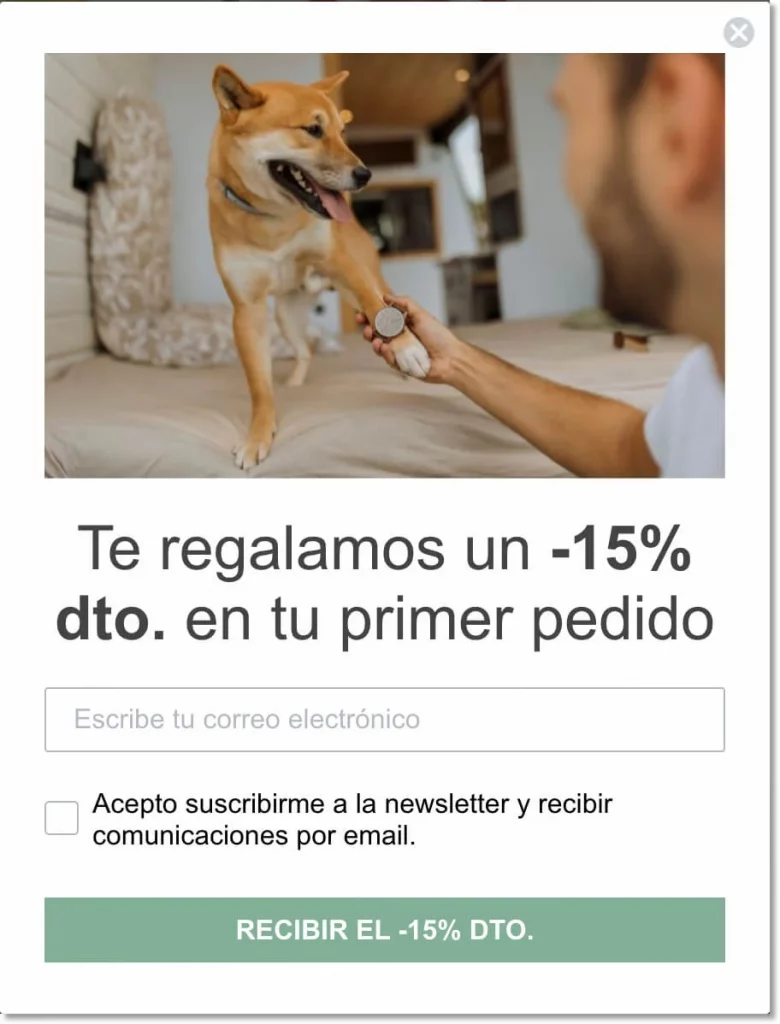 However, this kind of promotion is available only to the users that visit your website. How about promoting your brand with promo codes on social media? Take a look at the next example.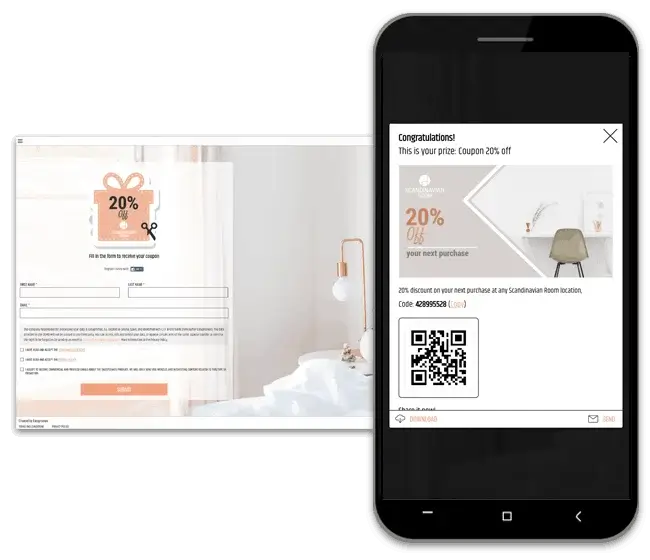 In this example, you can see how users obtain a discount code after sharing their contact details with the brand organizing the promotion. The best idea about this sort of action is that you can share the link on a variety of different social media channels. You won't only get a chance to boost sales and collect new contact details for your CRM or database, but you can also access the promotion statistics to check which social media channel brought the most participants to your promotion.
Are you keen to find out more about sharing promo codes on social media? Check out our codes campaign demos or contact our customer support team in case of questions!