Most soccer matches, basketball games, tennis tournaments, half-marathons, or school competitions (as well as other sporting happenings) have a few things in common:
They gather many people in one location: stadiums, clubs, and courts.
The viewers have common interests, for example, tennis matches unite tennis fans.
The audience has a short attention span as they're most interested in the athletes or competition.
Having all three aspects in mind, you have plenty of options for launching promotional initiatives at sports events, always focusing on the objectives that you want to achieve.
Promotions that generate brand or product awareness
Launch a Survey to promote a new protein bar at a marathon
Imagine that marathon participants receive a goodie bag with product samples, one of them being a new protein bar. A great idea would be to throw in a small flyer pointing out all the product characteristics and nutritional information. You could also add a QR code taking users to an online survey. By doing so, you get to promote your product, collect contact details for your CRM and get to know users' preferences and opinions.
Direct prizes for purchasing a new padel racket at a padel tournament
In this case scenario, we focus on a padel tournament, in which racket manufacturers set up stands outside the courts. If you want to increase sales of a specific product, what would be the best way to do so?You could launch a prize wheel for all the clients that purchase the racket you're promoting. Customers scan a QR code that takes them to an online roulette, in which they upload a picture of their receipt before participating. In this participation flow, there's no need for the organizer's or seller's intervention; the participation process is automatic, just like the ticket validation system.
Generate engagement and leads during a sporting event
Interactive games during the breaks
Imagine being at a basketball game and seeing a QR code displayed on the venue screens during a break. The QR code redirects event attendees to an online game, and dozens, hundreds, or even thousands of attendees play the game within seconds. One idea would be to launch a Timed Quiz game with questions about the teams. You could reward the top five participants with a winning team's jersey or free entry tickets to the next match. You could even integrate the game into your team's app to activate users and prompt more downloads.
For example, the basketball club Basquet Girona often uses its mobile app as well as many different interactive dynamics to generate engagement and promote its sponsors. The following example shows the puzzle they launched in order to generate engagement and visibility for one of their sponsors.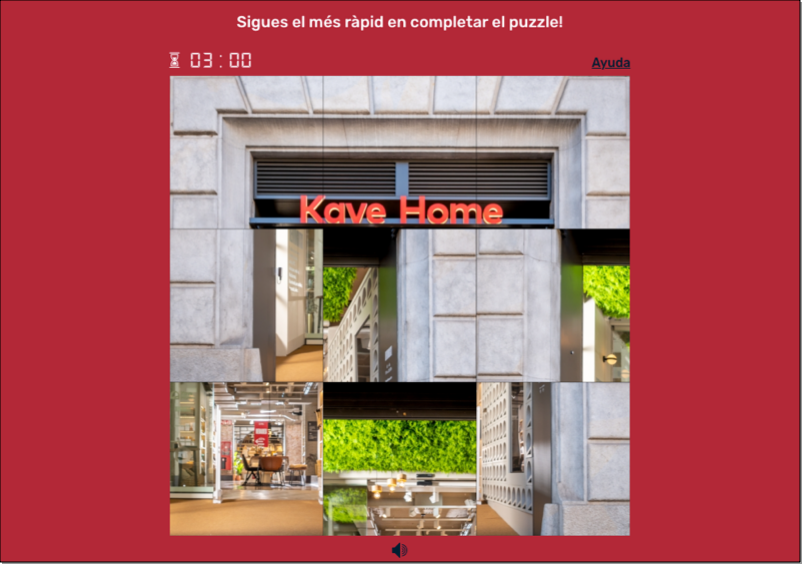 Raffle a product bundle among all attendees
Organizing quick prize draws during the breaks of matches and tournaments is a popular tactic to wow the audience. Attendees buy participation tickets or get a unique number at the entrance. However, digitalizing the whole process can make it very simple. A great idea would be to announce a giveaway through the loudspeakers located in the stadium or arena, inviting all attendees to participate in the promotion. Everyone could participate by scanning a QR code displayed on a well-visible screen. Another way would be to use an easy-to-remember website link, for example, giveaway-name-of-the-club.com. In both cases, you'd be able to collect participants' contact details. You could even sell advertising space to one of the local businesses (for example, giveaway sponsored by EasySport shops).
Foster customer loyalty at sporting events
Use race bibs to raffle prizes
When it comes to cycling races, triathlons, or marathons, participants must collect their race bibs prior to the race. Why not take advantage of the bibs and use them to give away prizes?
Put up posters saying "upload your race bib to win great prizes" in the pre-race area and wait to see what happens! Athletes would participate by scanning a QR code located on the posters, to then upload their racing number in order to gain access to an online prize wheel, virtual scratch card, or winning moments promotion. After winning a prize, the app would ask the participant to register in order to claim their prize. As the bib number is unique, you get to ensure that each runner/cyclist/triathlete can participate only once. With such a promotional dynamic you get to generate visibility for the sponsors and foster relationships with athletes.
The following example shows a very similar dynamic. Flowlife, a sports products brand often joins sporting events. They sometimes put up stands in which they offer recovery products for all participating athletes, or, like in the case of the Gothenburg marathon, they sponsor some races. At the Gothenburg marathon, Flowlife put up a stand in which they rewarded visitors with prizes and gifts distributed via a virtual prize wheel.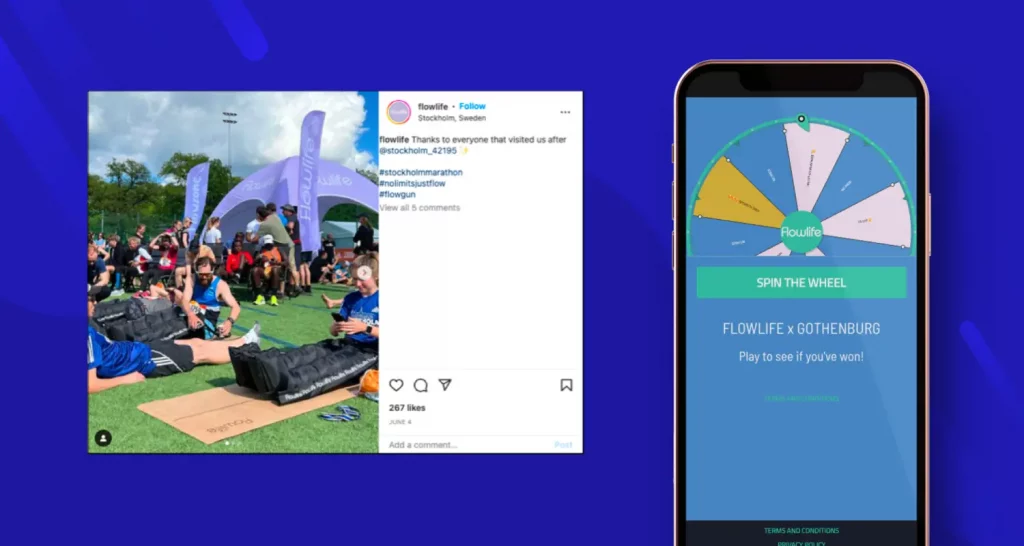 Satisfaction survey at the end of the race
Another way to generate loyalty and take care of race participants is to ask them to share their opinion about the experience. Encourage participation in your survey by throwing in some prizes, for example, offer a discount on the participation fee in the next edition of the race. You can also raffle bigger prizes that would definitely attract more entrants. As an organizer of a survey, all you have to do is set up the app with some questions. And in return, you get to show that the athletes' opinion matters to you and that you strive to improve in order to offer a better experience.
If you're the organizer or sponsor of a sporting event and you'd like to find out more about promotional dynamics, make sure to contact us! We'll help you to generate leads, engagement, customer loyalty, as well as improve recall for your brand!