Let's start by stating the obvious: the final goal of all brands is to be profitable. And in order to make a profit, you must attract and retain customers. And obviously, that's not possible if your brand is not visible and your audience not aware of our existence. This is why brand recognition and awareness are so important.
The saying out of sight, out of mind couldn't be more relevant when it comes to staying top of mind with customers. Want to attract clients? You need to be visible!
In this blog post, we take a look at how to stay noticeable and relevant thanks to online promotions and games – and therefore how to improve brand recognition when your competitors are more active than ever!
Work on brand recognition with mini-games and expose your logo
So what is brand recognition? It's whenever your audience can identify your brand from visual or audio cues. To be able to do so, you need to deliver enough of these clues. One of the best ways to expose your existing and potential customers to your brand is to organize a branded game, full of corporate colors and logos.
Take a look at this successful campaign launched by Andrew's Airport Parking; you can see how gamification can better position your brand thanks to brand livery elements. The airport parking business organized a Memory game to raffle a $100 parking voucher among all registered participants.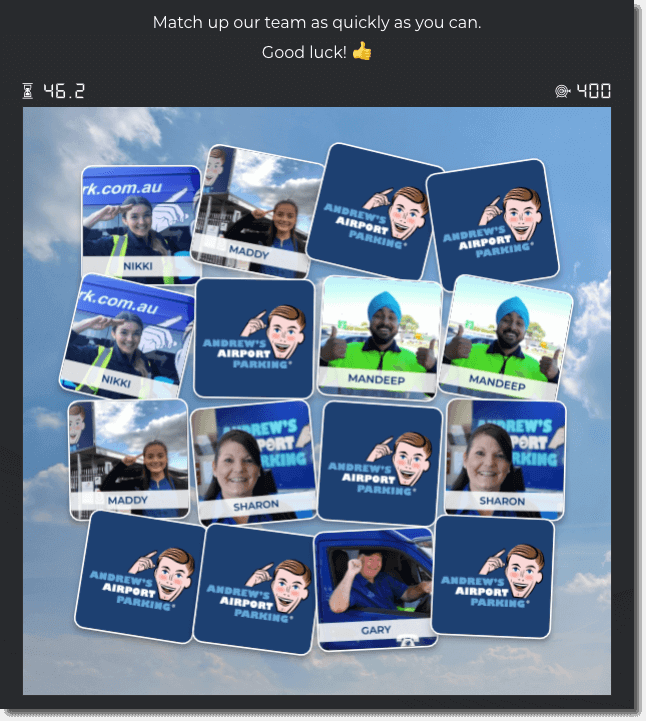 Apart from seeing the organizer's logo on the back of the cards, the users also saw it on the welcome and thank you page of the game, as well as on the registration form.
Wondering how to make sure you make the most out of a gamified promotion? Give your audience more than one opportunity to participate in your game in order to improve their score and therefore their ranking place. We guarantee it'll work – online audiences love rivalry! The more they play, the more time they will spend looking at your brand colors and logo!
Launch photo contests with branded frames and stickers
We've already mentioned that brand recognition comes from brand visibility. Various contests (for example photo or video competition) are a popular form of digital promotions. They're a fantastic solution for brands that are already well-positioned in the market, especially if you're asking participants to share pictures of your products that they purchase. However, there's also a fun tactic for anyone looking to improve brand recognition and stand out from the crowd.
Take a look at this following PhotoFun contest, in which users decorated their selfies with branded frames and stickers.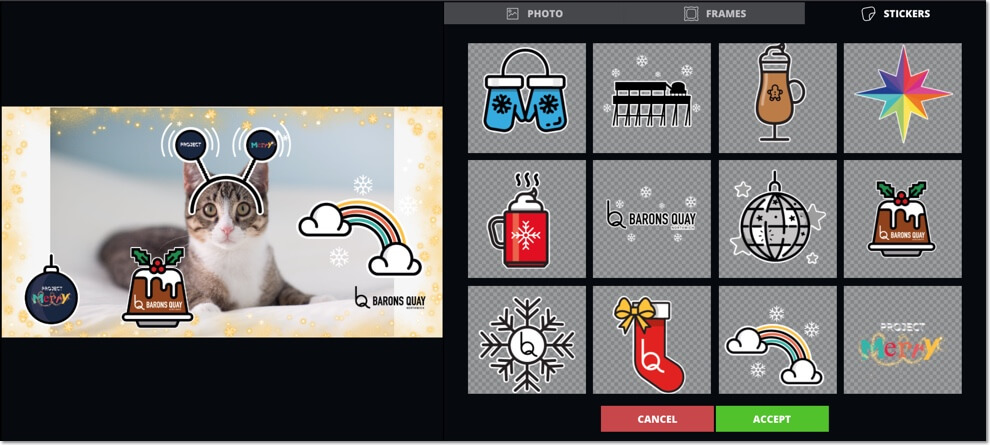 Barons Quay, a British shopping center, looked to engage their audience and increase brand visibility and awareness. They launched an online photo contest for users that wanted to decorate their selfies with festive stickers and frames that came with the organizer's logo. Each time a participant shared their postcard with their friends or on social media, new users were exposed to Barons Quay, making them aware of the brand and more likely to recognize it in the future.
Additionally, the brand obtained great user-generated content for their social media channels; and that's a perk for anyone looking to boost customer loyalty and trust.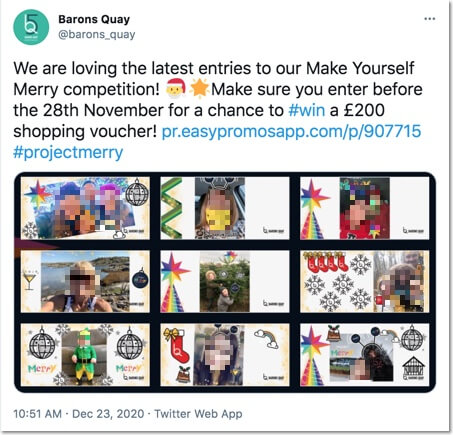 Launch brand recognition campaigns and win customer loyalty
Whenever users participate in a giveaway they automatically become more aware of the brand behind it. It's even likely that they'll come back to find out who won or to see if the brand is running other promotions. Take advantage of all the benefits that come with digital promotions and organize an Entry Form Giveaway for your audience, just the way Fairfield Forum did. Apart from completing a variety of different marketing objectives, you will also make sure that your audience will be more likely to identify your company over others.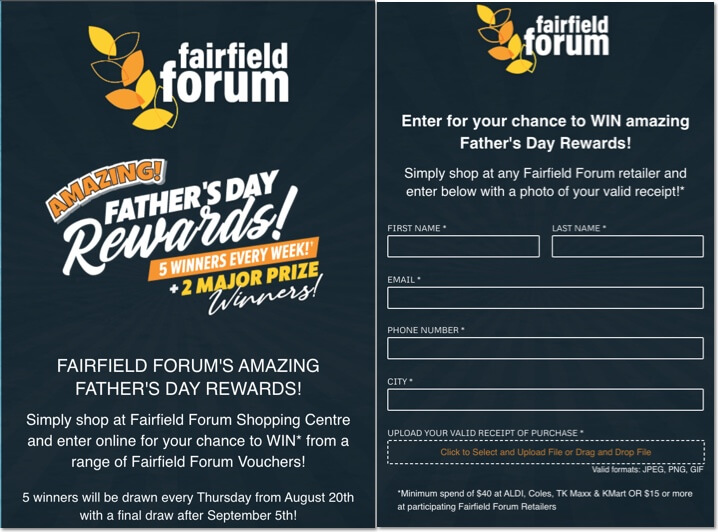 The commercial center ran a Father's Day giveaway for all customers that spent the minimum amount at the participating stores. Apart from boosting brand recognition, Fairfield Forum also drove customers to their premises and boosted sales.
Promote your brand with a quiz to collect leads and reinforce exposure
Quizzes are popular with all types of customers because they're fun for all age groups! It doesn't matter if you launch a quiz that will help your audience determine which movie character they most resemble or if you check your customers' knowledge about your products and brand; quizzes engage and entertain!
Launching Personality Quizzes is a great way of standing out from the crowd and converting followers into leads. Especially if you throw in some nice incentives!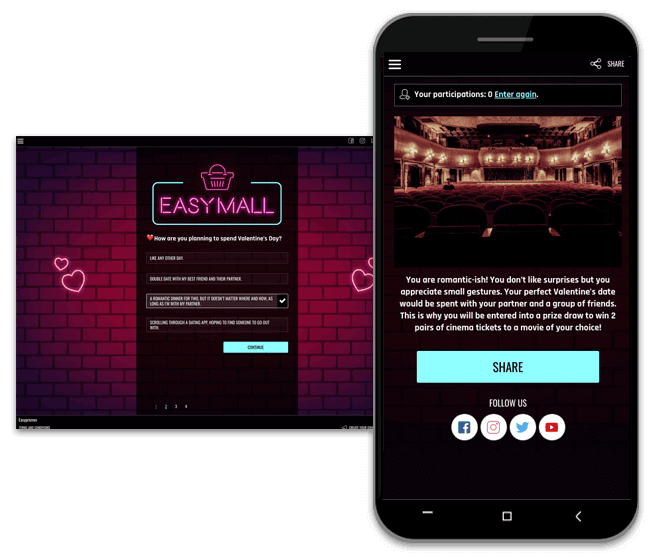 Here's an example of a Personality Quiz organized for Valentine's Day. Users answered a series of questions about their preferences and based on their responses, the application displayed personalized final messages. Additionally, each participant entered a draw for a chance to win the prize that most suited their personality (based on their answers, of course!). Providing fun experiences is one of the most successful ways of working and maintaining brand recognition online!
We hope these examples of brand recognition campaigns helped you understand how online campaigns can increase brand awareness online. Don't worry if you still have some questions – our customer support team is here to help!