According to the publication Marketing Directo, UEFA received 300 million visits to its official website and apps during EURO 2016. The championship final set an online audience record, with 3.31 million online viewers. It's clear that this sporting event has a huge digital impact. And it's worth noting that EURO 2020 is expected to surpass these figures.
As a brand or business, you can't let this promotional opportunity slip away. It doesn't matter if your business is not related to sports or the soccer community. All you have to do is adapt your strategy to find a way to follow the tournament with your community. We suggest an online tournament with prizes for participants!
Why create an online tournament for EURO 2020?
Using tools supplied by Easypromos you can create an online tournament built around the different days of the European Championship. This will allow your audience to stay connected with the tournament through your brand, thus boosting engagement with your brand for an extended period of time.
In these types of contests, as well as interaction through voting, participants can accumulate points for correct answers. You can carry out sweepstakes among those users who got the most right answers, or simply boost competitiveness among users and generate awareness of your brand. It's up to you!
How to create an online tournament for EURO 2021
You may be wondering how to set up an online tournament for the UEFA EURO? Which tools do I need? It couldn't be easier. Register for free at Easypromos and start setting up a new promotion using the Tournament Bracket App (available with the White Label and Corporate plan).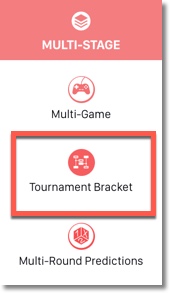 Once you've selected this option, use the editor to configure the promotion to your liking. You can start by setting up the welcome page with all the information about the tournament: your brand logo, participation dates, prize(s), entry requirements, etc.
Then you can go to the "Design" tab and set the color of the buttons, add a background image, set the promotion typography, and so on.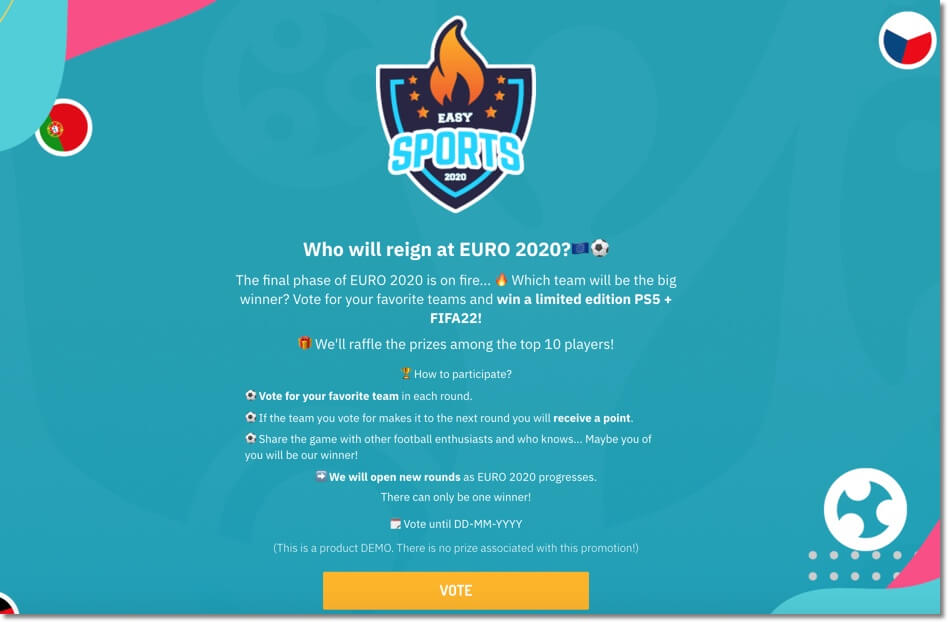 Once you've customized the tournament with an eye-catching corporate design, it's time to set up the login and the registration form. You'll find two tabs in the editor for modifying these sections. When configuring the login we suggest you make it as straightforward as possible for your target audience so they can log in quickly and easily. When setting up the registration form make sure you use the fields to identify the participating users and contact them. We also recommend adding the alias field so that participants can give themselves a nickname for the tournament ranking table.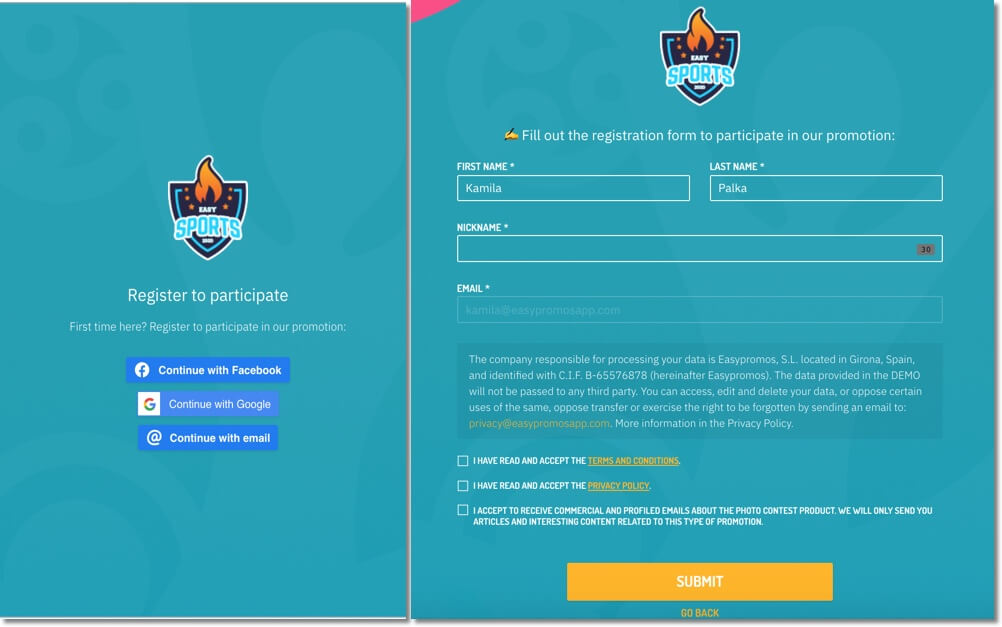 Next, you can configure the different days and matches of the tournament. For this you can check the official UEFA website. When editing the different sections, you can upload images for each team, enter their names, sort the matches by groups, configure the tournament visuals… the possibilities are endless!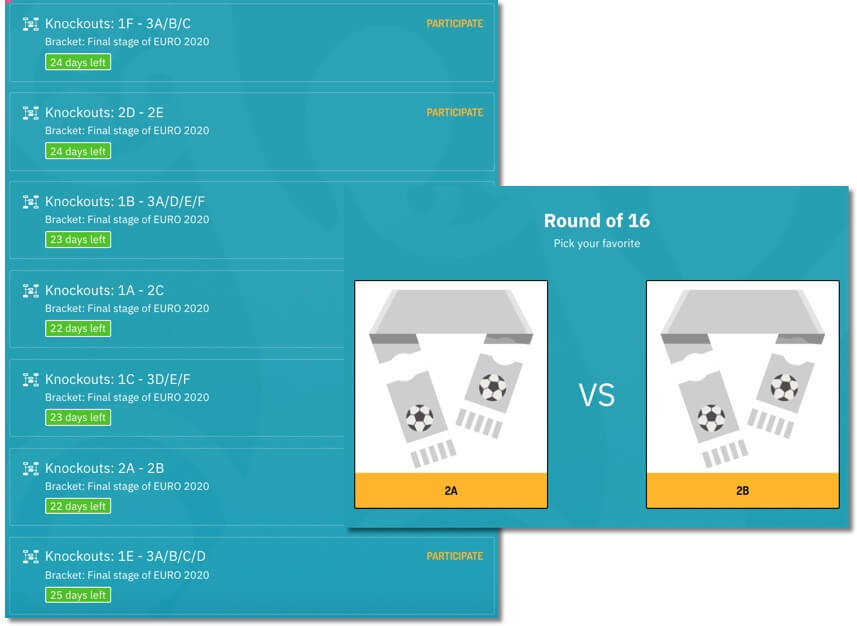 Finally, finish setting up the different sections of your online contest by filling in the following sections: prizes (with the different prizes that you offer), terms and conditions, promotion footer, social networks section, automatic emails for participants, etc.
Promote your online tournament to celebrate EURO 2020 with your customers and fans
Carrying out promotional actions to publicize your brand is a great way of ensuring that users remember you when they next go to make a purchase. That's why it's so important to take advantage of a popular event such as EURO 2021 to set up your own promotion. We're sure that there are plenty of soccer fans among your customers!
We know it's not easy to create an online EURO tournament from scratch, so, to save you work, we've developed a preconfigured template with all the teams and images. Try the tournament DEMO and download the template now!
Take advantage of the promotion link to share it across all your channels, including social media, your website, blog, and newsletter. You can pay to advertise the promotion on social networks too. Your objective should be to impact your target audience, encouraging them to take part in the promotion. That's why it's also important to choose appealing prizes and show them off in the images and posts.

Do you still have questions about how to set up a tournament bracket? Check out this tutorial with a step-by-step guide. Do you have any questions? Do you need support? Chat with us.