In this case study, we're taking a look at two very different types of promotion.
In a Facebook giveaway, people interact with your post, which increases your reach and helps more people see your Facebook Page.
In a giveaway with registration form, anyone can sign up and share their contact details – they don't need a Facebook account, and you can save their information in your own CRM database.
Both types of promotion have obvious advantages and disadvantages. But what happens when you combine Facebook giveaways with a registration form? Let's find out!
The client
María Lunarillos started out as a recipe blog for cakes and sweet treats by María del Mar Díaz. What began as hobby is now a benchmark in the world of baking blogs. As well as the María Lunarillos blog, the brand now also sells cookware, craft tools, ingredients and party accessories in Spain and Portugal.
María Lunarillos has a powerful social media presence, too. The brand boasts over 180,000 Facebook followers, 96,000 Instagram followers, and over 800,000 monthly viewers on Pinterest.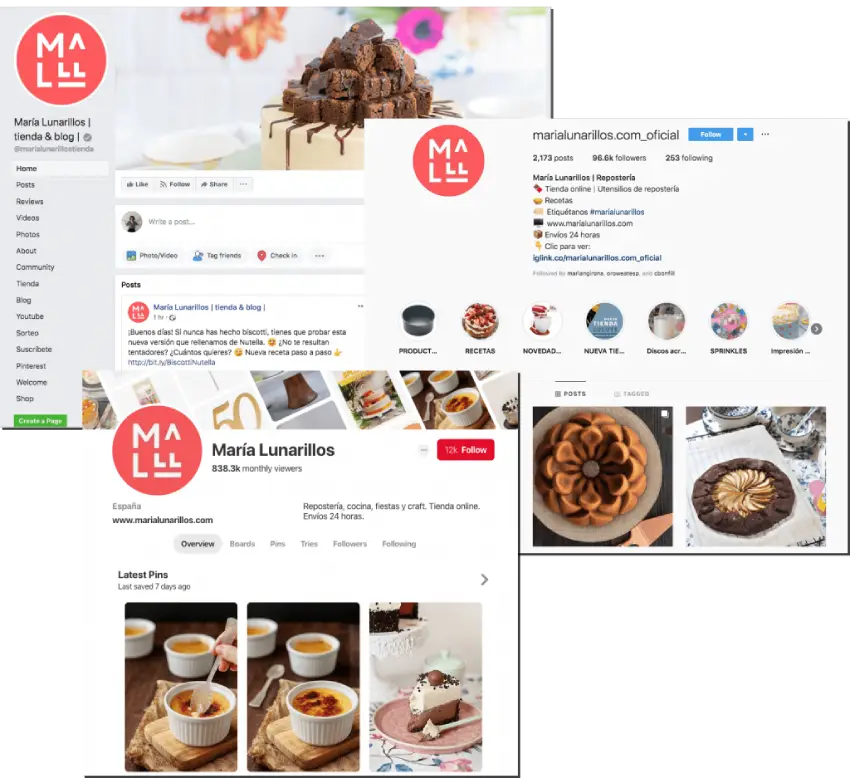 The strategy
So what is the secret to María Lunarillos' success on social media?
Well-crafted content which invites a lot of interaction from followers.
Responsive social media managers. Take a quick look at the María Lunarillos Facebook page – every comment from a follower gets answered.
Regular, targeted Facebook giveaways. María Lunarillos has run social media giveaways for years. Every single promotion has a carefully chosen audience, design, and prize, all with the goal of creating a high-quality community where followers convert to customers.
Are Facebook giveaways effective?
In terms of engagement, the results are truly amazing. Even though María Lunarillos has prioritized quality over quantity of followers, every Facebook giveaway results in a big boost for engagement.
According to our own research, a Facebook giveaway can result in…
716% more likes
1774% more comments
1582% more shares
In María Lunarillos' case, the Facebook giveaway collected 5,900 comments and 3,400 shares.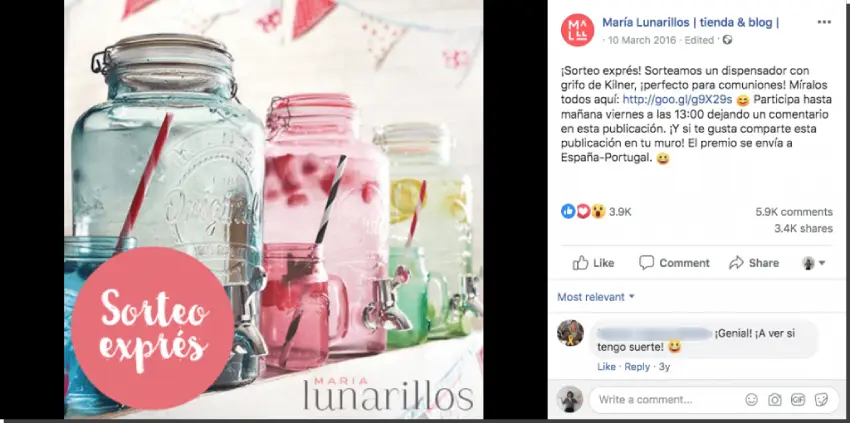 Want to create your own Facebook giveaway? It's easy! Click here to view our library of free Facebook giveaway templates.
How to combine Facebook giveaways with customer registration forms
Of course, there is one problem with Facebook giveaways. You don't own your leads on Facebook. Your Page, and all its engagement and followers, depend on the social network.
So how do you turn followers into website visitors, email subscribers… and eventually, customers?
That's where the giveaway with registration comes in. After building up an active, engaged community on Facebook, María Lunarillos decided to convert them with a simple prize draw.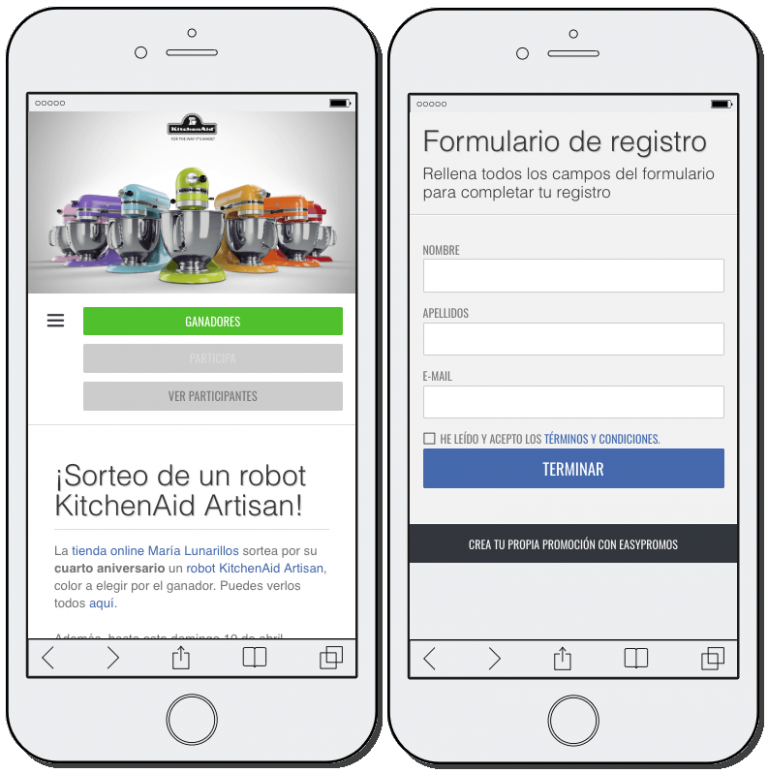 On the brand's 4th anniversary, María Lunarillos offered a KitchenAid Artisan Mixer, in any color the winner wanted. The promotion was exclusively shared on Facebook as a reward for loyal Page followers.
Over 17,000 followers signed up for the promotion and shared their email contact details. That's over 17,000 leads which the brand can nurture and convert – without relying exclusively on social media.
Click here to learn more about the Easypromos giveaway app and create your own promotions. Your first giveaway is free!