Why a Twitter giveaway could be good for your brand
The latest social network news bombshell is the acquisition of Twitter by Elon Musk and with it 217 monthly active users, its potential for growth cannot and should not be underestimated. There's never been a better time to build your profile with a Twitter giveaway. Here are the top four reasons why your brand should be on Twitter:
Breaking the monopoly. Facebook and Instagram have dominated the social sphere, but Twitter is starting to catch up. Many users are turning to Twitter because of its new features and readiness to listen.
Flexibility. Of all the social networks, Twitter is the most relaxed about giveaway rules. For example, you can ask users to tag, share and follow to win contests – which Facebook forbids.
Video content. Everyone knows that social video is the next big thing. But did you know that Twitter recently increased the maximum length for video clips to 220 seconds?
Instant communication. Twitter users are famous for their sense of humor. But many consumers also see the platform as a way to voice concerns, opinions, and reviews of brands. Make sure you build up your presence and offer great customer service through the social network.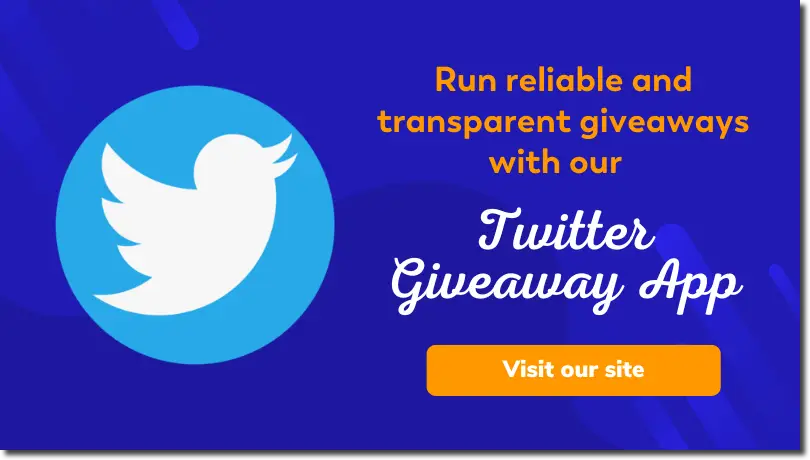 Twitter Giveaway Ideas: Increase reach with retweets
Unlike many other social networks, Twitter allows you to run a giveaway based on shares – known on the platform as retweets. Just create a post which explains the giveaway, and ask your followers to retweet it to their friends. This is a great way to make your posts more visible and increase your reach.
Here's a great example from Rondiaz Rum. They decided to celebrate the start of summer – and National Rum Day – with an on-brand Twitter giveaway. Participants just had to retweet and follow the brand.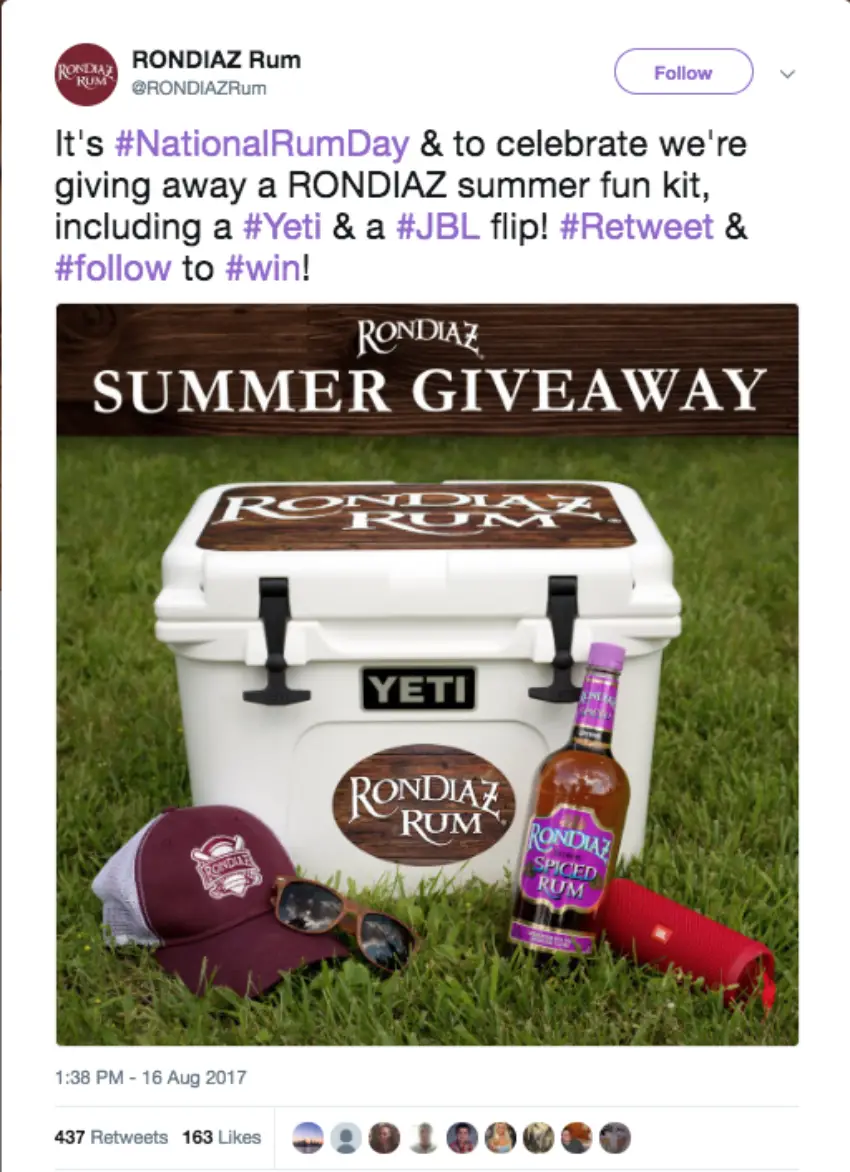 To stay within Twitter's character limits, they used a photo to display all the details of the prize. This is a great strategy to save space. Remember that you can add unlimited text to Twitter images and videos.
Social media giveaways must include clear rules, terms and conditions. Use Easypromos' free tool to write, host, and share the legal details with a short link or follow-up tweet.
Twitter Giveaway Ideas: Get high-quality interactions with replies
So you've got publicity with retweets, and increased your follower count with an exclusive Twitter giveaway. Now the challenge is to maintain a relationship with your followers. How?
Interaction and engagement are the key to long-terms success on social media. Asking for retweets and follows is a great place to start. But your next step should be creating quality, user-generated content and conversations. Run a Twitter giveaway for followers who reply to a question or comment with interesting and original ideas.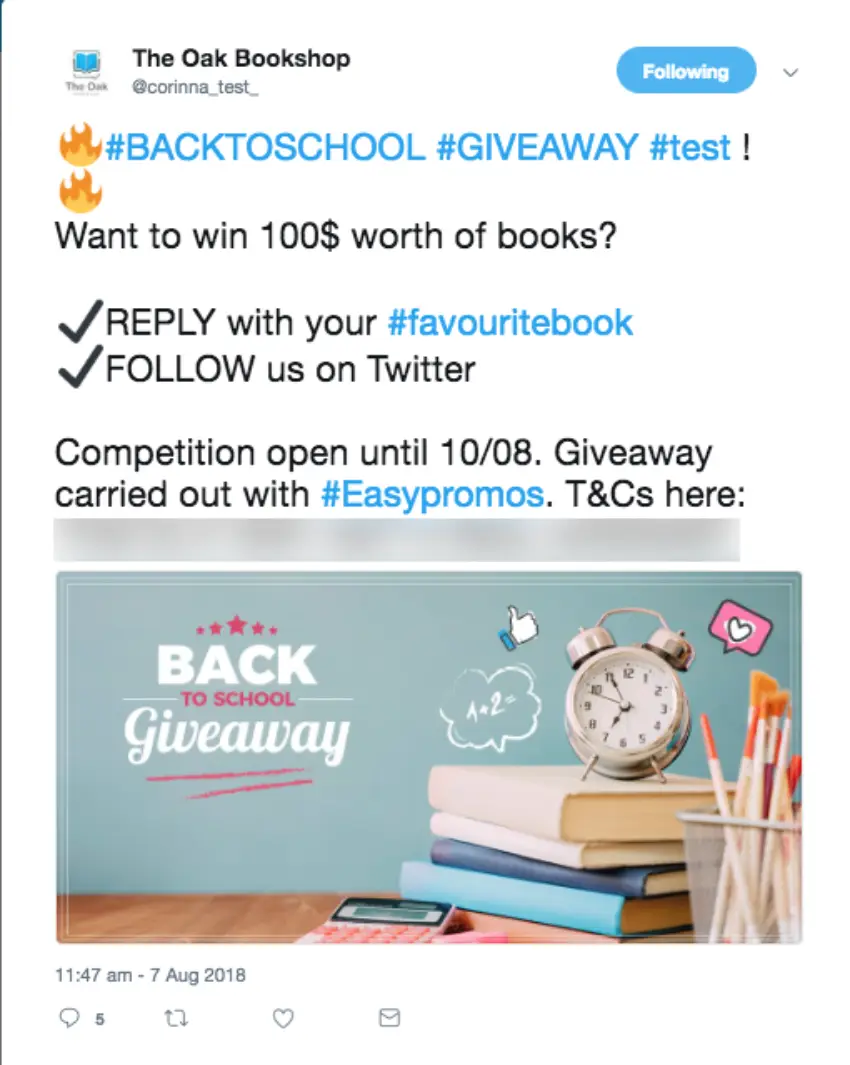 Here's an example from a bookshop. As part of their Back to School sales campaign, they asked followers to share their favorite read.
When you ask users to share their opinions and experiences like this, you demonstrate that you are ready to listen to customers. And with luck, you'll spark a conversation which will boost your brand's visibility even further.
Attract attention with a mention + hashtag contest
Another way to encourage original content is a Twitter giveaway with mentions and hashtags. Instead of simply replying to a Tweet, ask users to @mention your profile and use your #competitionhashtag.
We picked out this example from a concert center. It's the only example in this post that wasn't made with Easypromos – we just really liked the jokes.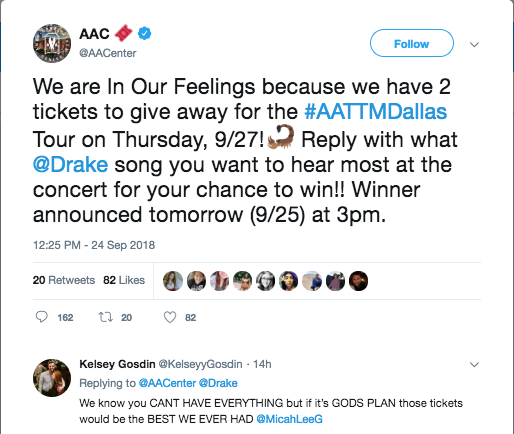 The AA Center asked users to reply with their favorite Drake song, for a chance to win concert tickets. As you can see in the screenshot, their followers responded with some creative puns on song titles.
When you use Easypromos for your Twitter giveaway, you can filter replies by hashtags, and exclude specific users temporarily or permanently. So it's easy to make sure that only users who follow the rules can win the prize.
Twitter Giveaway Ideas: Gather UCG
Twitter is a great place for sharing ideas and opinions, but it can also be a source of high-value UCG. Launch a reply-based giveaways and ask participants to reply to your giveaway Tweet including a photo of your product or showcasing your brand. Include a predefined hashtag as a participation requirement to make your giveaway more visible and to be able to manage all participating entries.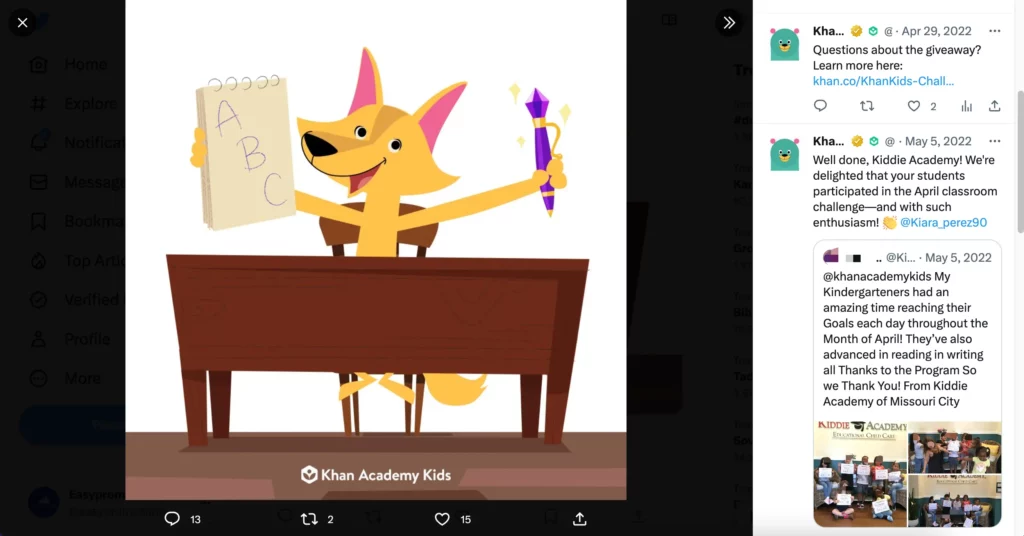 Take a look at this example by Khan Academy Kids. The brand ran a giveaway among teachers and asked them to include a picture of their classroom challenge tracker as a participation requirement.


Maintain momentum with multiple tweets
Once your Twitter giveaway is up and running, you'll want to maximize engagement. You can include up to 10 tweets in a single giveaway, including promoted posts. Alternatively, you can run repeated giveaways on a single tweet.
You can also run a series of giveaways. Take a look at this example from the heavy machinery manufacturer, Kubota. They ran a twelve-day countdown to Christmas, with a new prize each day.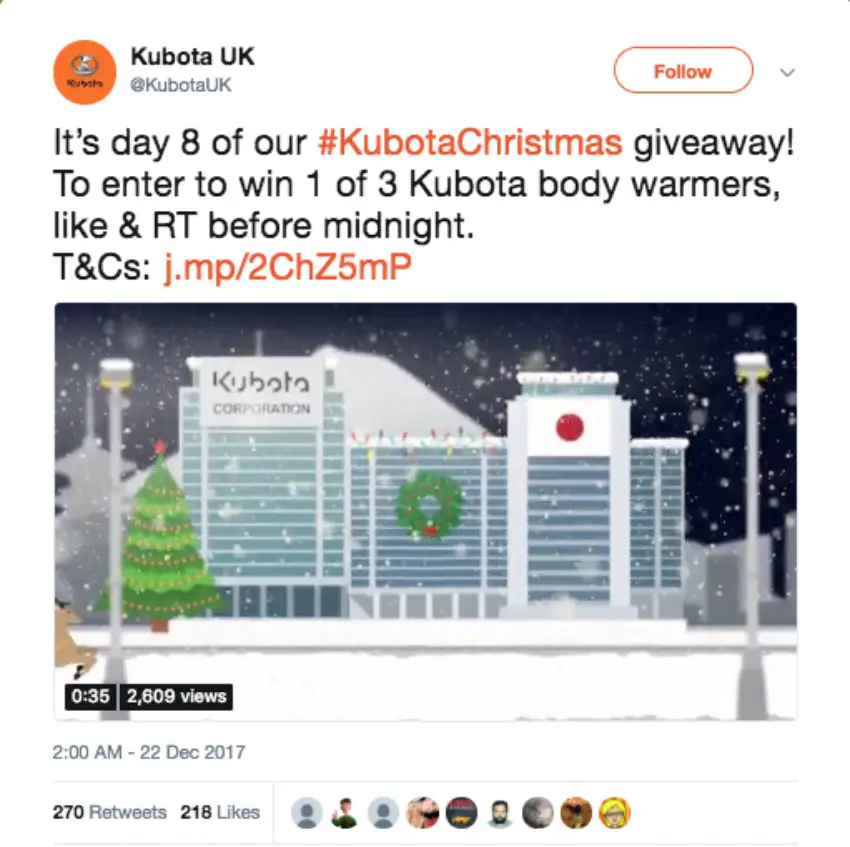 They asked users to like and retweet their posts, including a competition hashtag. Because the competition lasted several days, users were highly motivated to follow the brand for more. And they made the most of Twitter's video features, with a cute animation that highlighted their products and explained all the details of the contest.
Collaborate with co-branding
Twitter is a great platform for co-branded promotions. It's as easy as @mentioning your partner brand. Team up with other businesses to share prizes and celebrate events. Both brands have the chance to increase followers, views, and engagement.
Here's an example from StubHub, the popular website for concert tickets. They teamed up with a stadium venue to give away VIP tickets.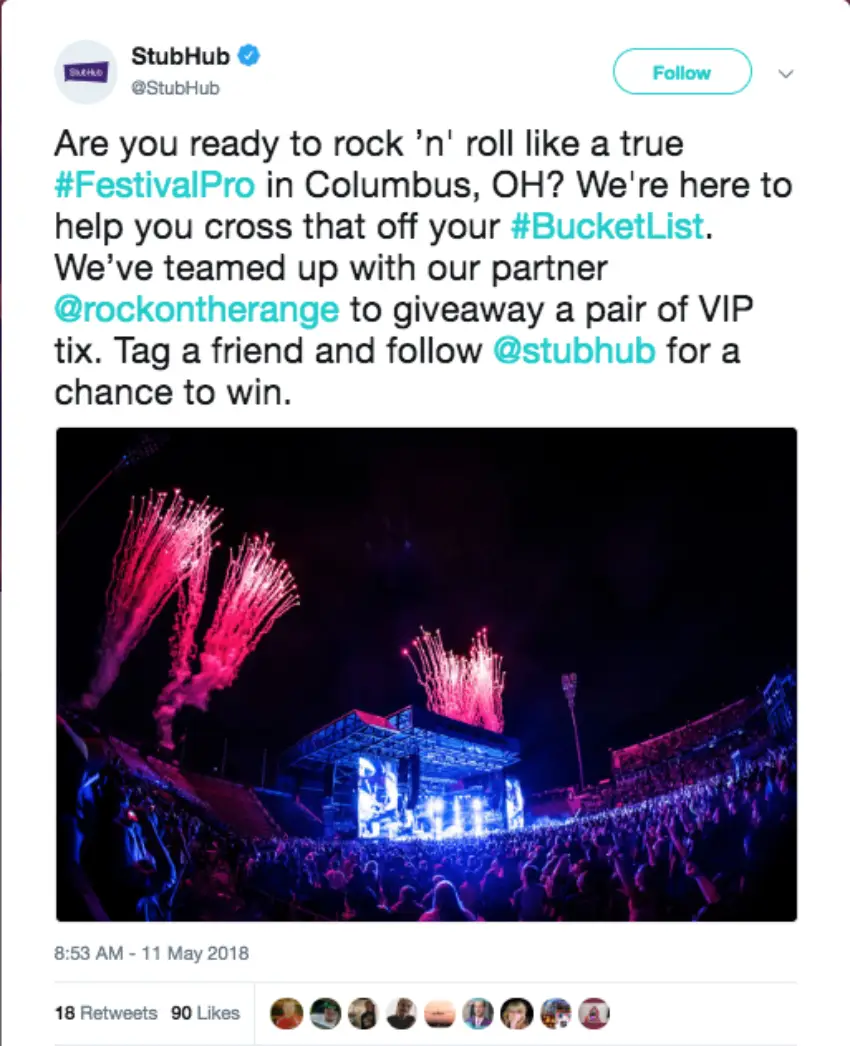 Not all co-branding events have to be so closely related. Use co-branding to make a connection with a theme or holiday that would normally be out of reach.
For example, you might want to run a Valentine's Day promotion, but your brand isn't naturally romantic. You could team up with a restaurant or florist brand to share relevant, seasonal prizes.
We hope you find these ideas inspiring and useful. If you have any additional questions, feel free to contact us via live-chat, we will be happy to help! And remember that it's totally free to create an account and start drafting your promotions.