Posted in: Applications,Ideas for your websiteLast update: 04/08/22
Easypromos Groups is a feature which enables you to display a group of promotions on the same screen so that they can form part of the same campaign. Now we want to show you some genuine examples of how different brands have used the Groups feature to carry out their campaigns. Giveaways with daily prizes, questionnaires with a new question every day and photo contests by categories are just a few examples. In this post you can find out how to use Groups to organize these types of actions.

Below, we will give you some ideas on how to use Groups to organize the following dynamics:
1. Award prizes daily/weekly
2. Contests by categories
3. Promotions with different geographic locations
4. Betting pool over various days
5. Trivia quiz with a new question each day
6. Contests by phases
7. Let the user choose which promotion to enter
8. Promotions in different languages
9. Track several hashtags
Important: As of October 1st, 2022, Promotion Groups will be permanently removed from the Easypromos platform, and replaced by Multi-Stage promotions, allowing organizers to create multiple promotional dynamics in a single campaign and filling in the gaps experienced by Promotion Groups users.
1. Award gifts and prizes daily/weekly
To celebrate reaching 500,000 fans, Men's Health magazine organized a promotional action in its Facebook Page which consisted of a series of sweepstakes offering a variety of prizes over the course of a week. The idea was to hold a new promotion every day, with the aim of satisfying the tastes of all their followers. Each day 5 different prizes were raffled off among all the users who took part in the promotion.
The Groups feature allowed the 5 sweepstakes to be presented on the same page, with each giveaway focused on a specific package of prizes. This approach allowed users to decide which prize they wanted to win (eBooks, sunglasses, luggage, clothes, or wristbands). In other words, the user could decide in advance which promotion he or she wanted to take part in.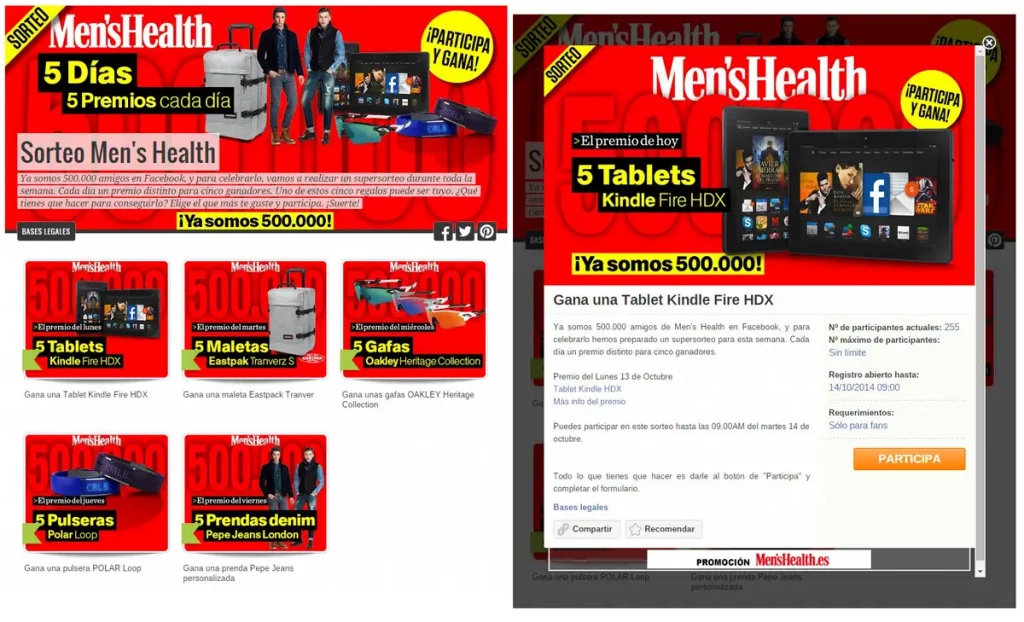 Carrying out the campaign across a series of separate promotions meant that a giveaway could then be held among all users who had decided to participate in each promotion. At the end of every day, the organizers published the name of the winners in the application itself.
Apli also wanted to thank their Facebook Page followers for their brand loyalty by giving away prizes during the course of a whole day. In their case, the company took advantage of the immediacy of our Winning Moment system to create a dynamic action that would engage users. A new promotion was activated every hour allowing participants to try their luck, again and again, to try and win one of the 20 prizes on offer.
To facilitate participation, the 10 promotions were presented from the same group, which made it possible to enable the 'Single registration.' This meant that users only had to fill in the registration form the first time they took part in a promotion. To encourage users to take part the following hour, the Group Page made it clear via the graphics which promotion was due to begin at any given time.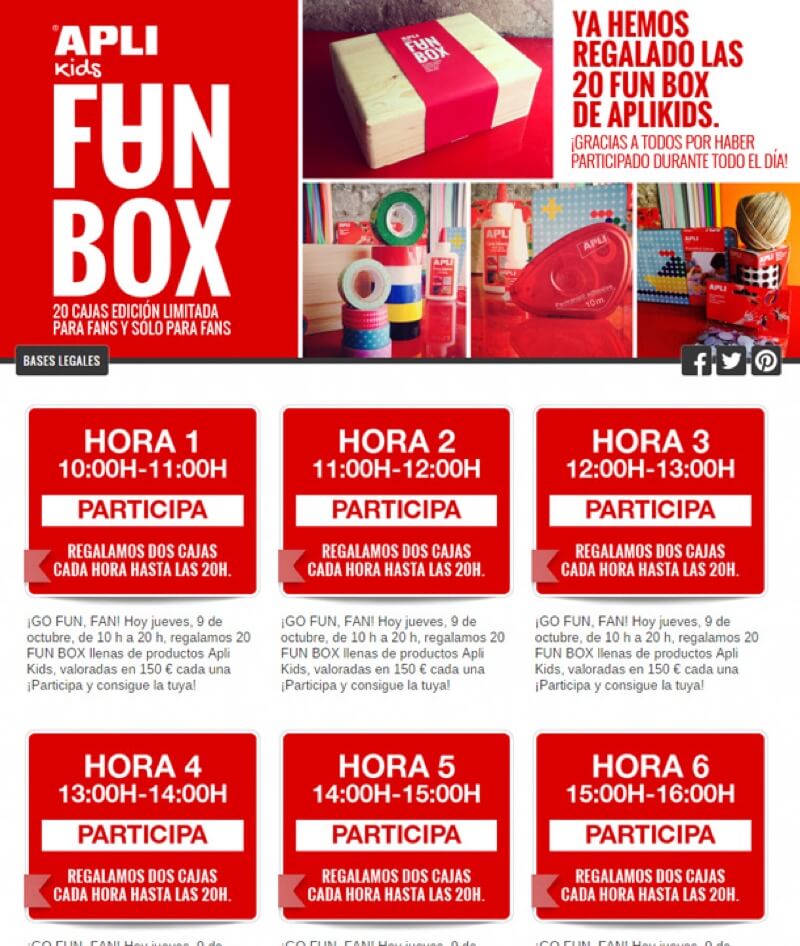 The Easypromos Multi-Stage application now comes with an automatic feature that displays whether the stage is open, about to open or if it has already finalized.
2. Create a contest by categories
The Asturias Tourist Board organized a photo contest via their Facebook Page inviting users to share their photos of Asturias. The contest was divided into different categories: nature and landscape, beaches, gastronomy, towns and cities, culture, sport and adventure, festivals. This meant that participants could choose exactly how they wanted to express themselves and which corners of the region they felt like sharing their photos of.
Users could enter the contest with as many photos, and in as many categories, as they wished.
Under the title, 'Photo contest #NaturalParadise', the Page received over 1000 photographs during the month that the campaign was active. In order to organize and present all this content, 7 contests were created, all of which were displayed together in the same Group. In this way, 7 different photo galleries were created: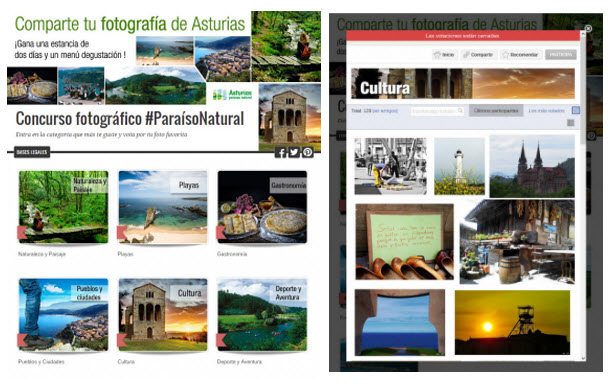 3. Organize a promotion with various geographical locations
To celebrate the World Basketball Championship that was held in Spain last summer, the newspaper AS decided to give away tickets to different games to followers of its Facebook Page. The championship was held throughout different Spanish cities, so with the aim of enabling users to win tickets to an event at the city nearest to them, the campaign was organized as a single Group of separate promotions.
In this way, a total of 7 different promotions were held, each focusing on a different city (Granada, Madrid, Barcelona, etc.), and the Instant Win system was used to award winners with their tickets instantly. This meant that users could try their luck at winning tickets to a game at the city of their choice.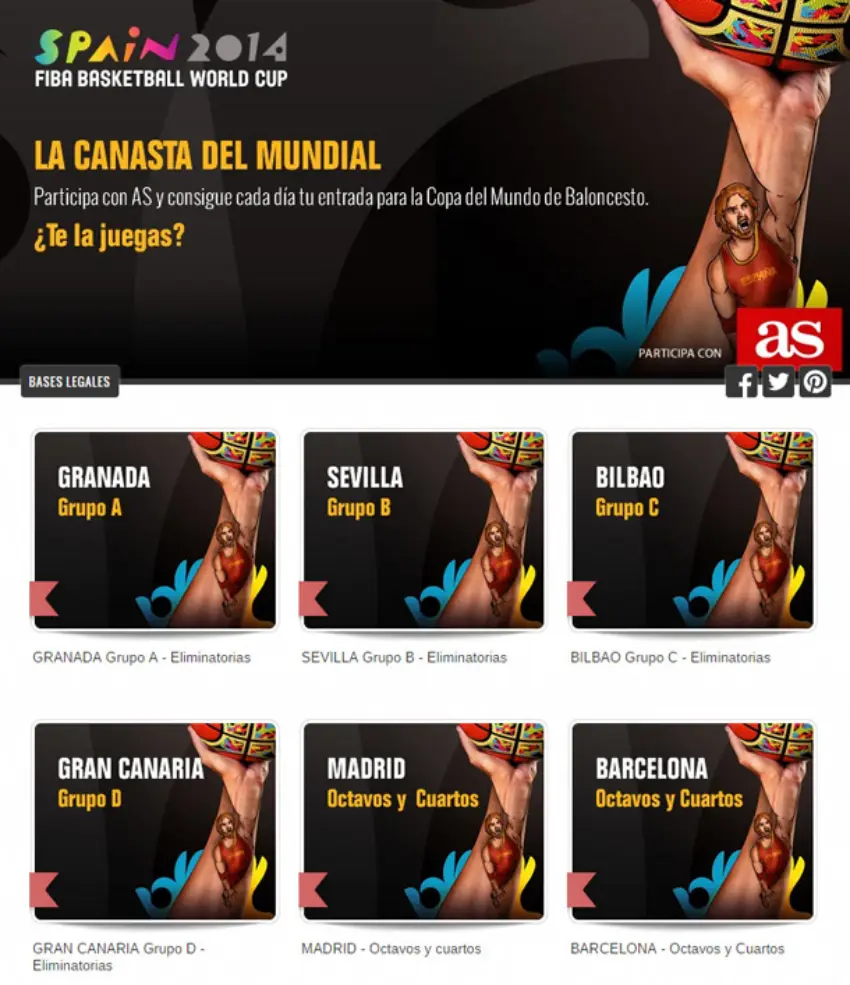 4. Betting pools over various days
To celebrate the Brazil 2014 Soccer World Cup, many Pages took advantage of the event to organize a promotional action and interact with their followers. This was the case with William Lawson's page which launched a month-long campaign consisting of a betting pool held over various days, so that users could guess the result of the different games: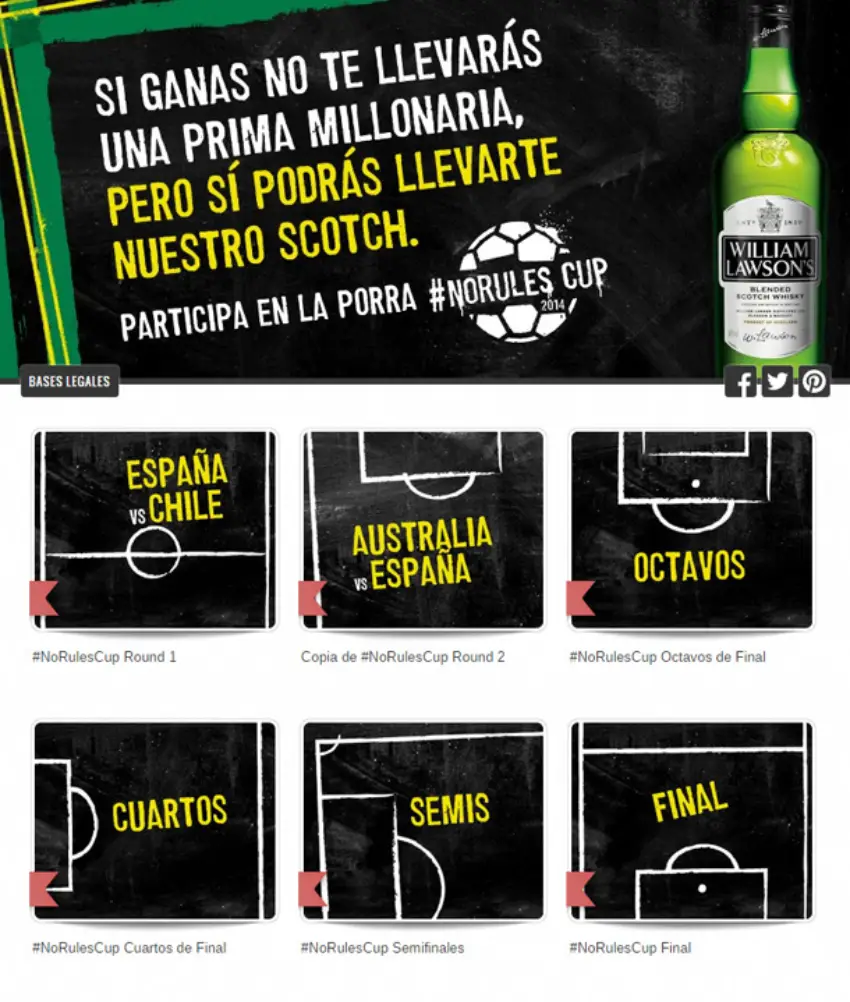 To collect the different pools together, a Promotions Group was created which enabled participants to test their luck in as many competitions as they liked. To give it a more personal touch, the Group was customized with original creativities which made reference to the world of football.
5. Organize a quiz with a new question each day
A new question each week to discover how much users know about the brand's products. With this premise a contest was created for the Llet Nostra page, which gave the brand´s Facebook followers the chance to win a crate of Llet Nostra products each week if they correctly answered the question.
The action lasted one whole month, and to keep their followers engaged, the Llet Nostra divided their campaign into 5 different promotions. The idea behind holding the campaign over the course of various phases was to have the chance to ask users about different aspects of the brand´s products and services. This meant that each week a new video was presented, and the users had to correctly answer a series of questions in order to be entered into the weekly sweepstakes.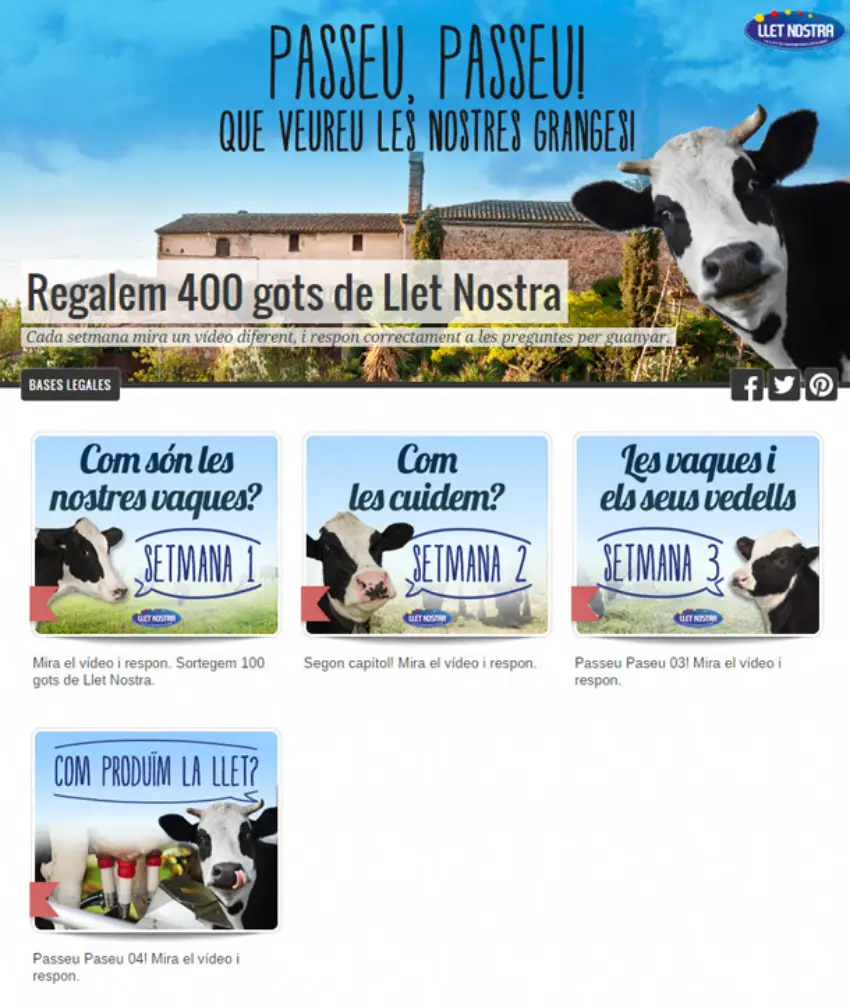 6. Organize a contest by phases
The Facebook Page of the World of Warcraft videogame set up a month-long campaign which consisted in three new promotions each week. In this way, the users could participate in as many promotions as they wished, and in each one they had the chance of winning a prize. The campaign climaxed in a sweepstake held among all participants, offering the exciting prize of a holiday.
Holding the action in various phases made it possible to organize mechanisms of distinct promotions, while presenting the different actions on the same Group Page, which was creatively and graphically impressive:
7. Let the user choose which promotion to participate in
Because not all users like the same things, the Consorcio Facebook Page organized a campaign to mark the Brazil World Cup which was divided into two promotions: 'I love it' and 'I hate it'. The first promotion was aimed especially at football fans who had to explain what they enjoyed most about the World Cup. The second promotion was aimed at football haters who had to explain why they couldn't stand the sport.
The Groups feature meant that the two promotions could be displayed together. A lot of work went into the graphics to make sure that each promotion could be individually identified. In addition, running the campaign as two separate promotions enabled the company to obtain databases of users segmented by interests. A different prize was raffled for each set of participants: a television for the soccer lovers (to watch the games), and a cookery course for the haters.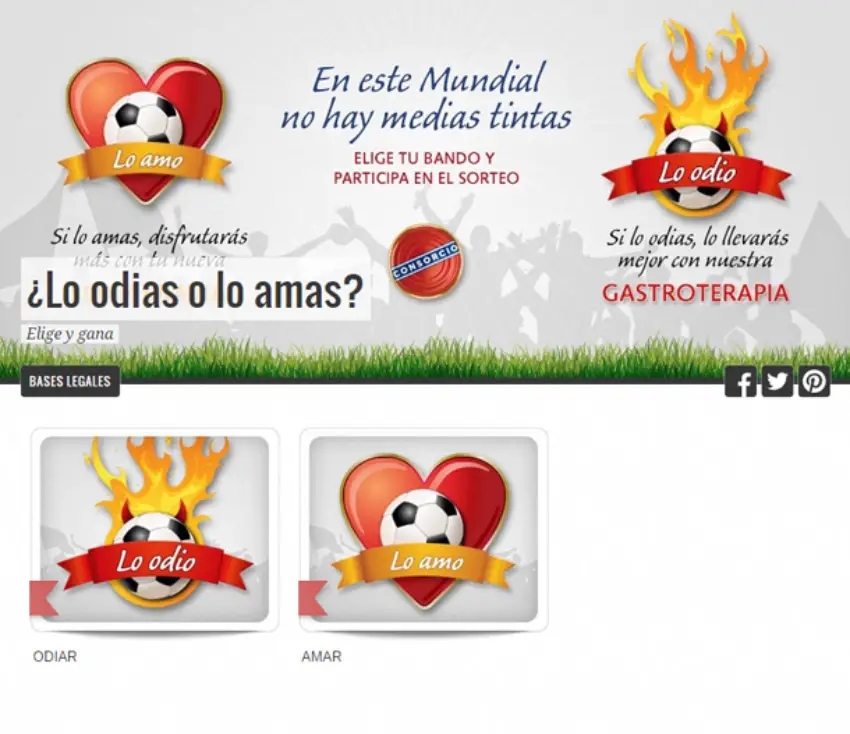 With the same idea, Vive Telefonica organized a campaign on its Facebook
Page to raffle off t-shirts representing two different football teams. As before, a Group was created in order to display two separate promotions, so that the users could choose their team and enter into the sweepstake for the t-shirt that they wanted to win: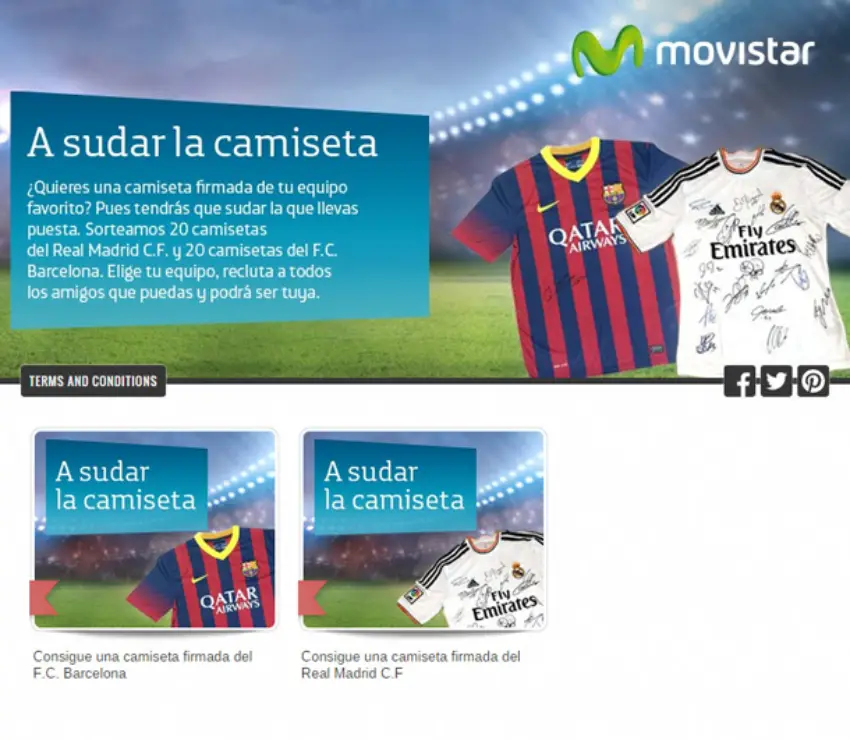 8. Promotions in different languages
The brand Lycra organized a fun photo contest where users had to upload a 'legfie' – a photo of themselves wearing stockings, tights or leggings – to try and win a holiday to Australia.
This promotional action was aimed at consumers from a variety of nations: Spain, the UK, Germany and Poland, so an individual promotion was created for each country. This individual configuration enabled the contest to be customized in the language of each country. To limit the focus on each target country even further, the promotions were filtered by country, meaning that users could only participate in their own country's contest.
This action was configured as a Group made up of 4 promotions, and a great deal of care was put into the graphics to highlight the language of each promotion. This permitted users to quickly see which promotion was appropriate to their language and country: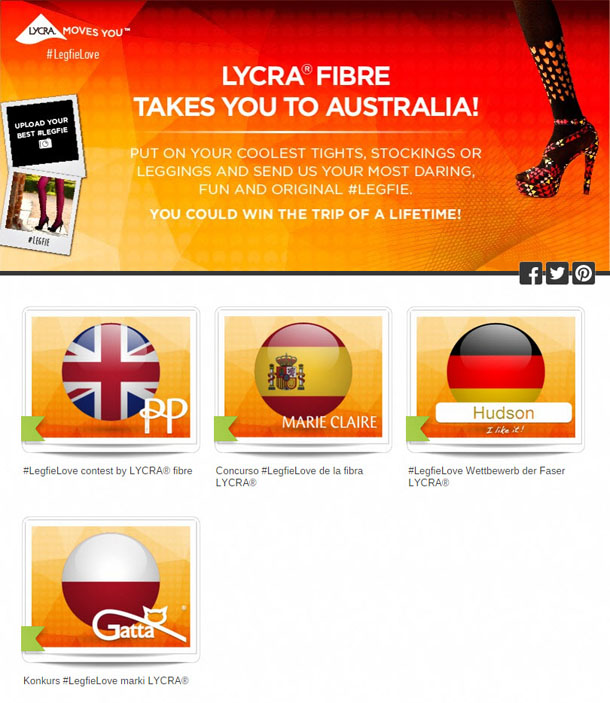 Using a similar idea, Maremagnum shopping mall organized the Downtown
Market – an event that combined music, gastronomy, and, of course, shopping. An action was organized across the social networks with a double objective: to encourage followers of the brand to attend the event, and to publicize some of the items that could be found in the stores present at said event.
The promotion was set up as a survey, in which participants had to choose their favorite products from a range of items available on the market. All participants were entered into a final sweepstake and the winners could collect their prize in person on the day of the event.
The main target audience for this action was made up of the tourists who came to the city, so the action was initially prepared in English. However, it was also considered important to reach local fans and tourists, and so in the end the campaign was launched in two languages: English and Spanish.
The solution was found by creating a Group of two promotions: the first one in English and the second in Spanish. Images and texts were used to guide participants in choosing which promotion was appropriate to their language: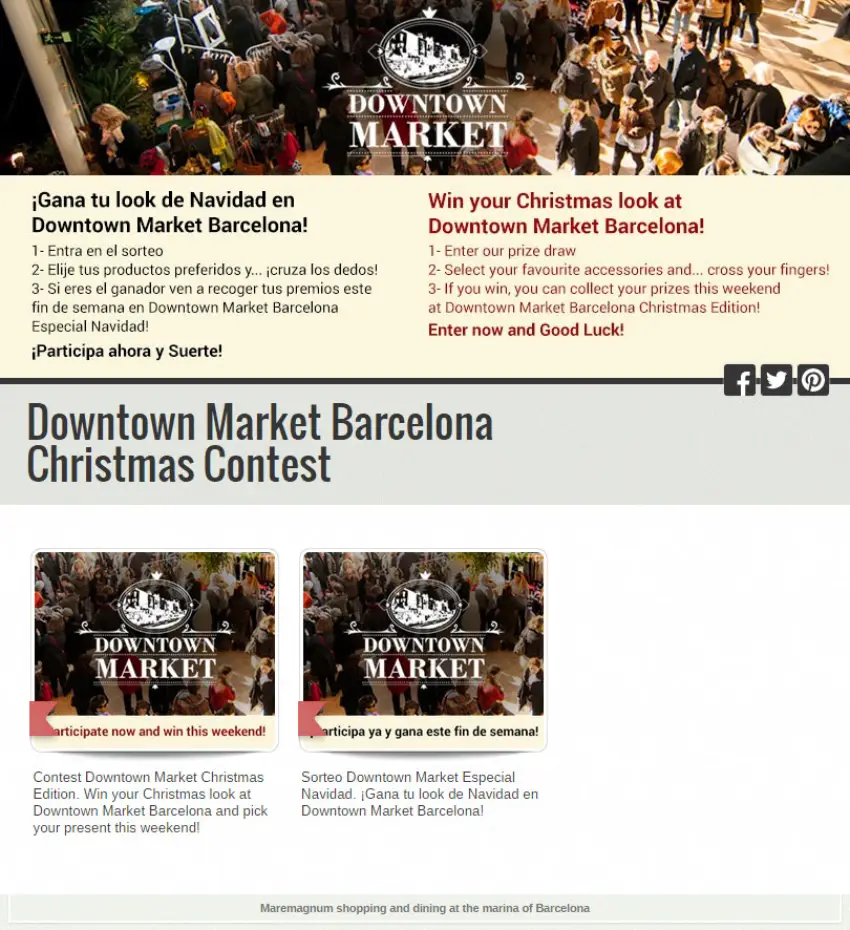 9. Track several hashtags
The ski resorts of the Catalan FGC group (La Molina, Vallter 2000, Vall de Núria and Ski Pallars) organized together a photo contest where users took part by submitting their best pictures of the ski season. Pictures should have been taken in any of these four ski resorts, and in order to facilitate participation, Facebook, Twitter & Instagram submissions were accepted.
The contest was planned in 4 different contests, one for each ski resort, and in each contest a different hashtag was tracked, so that users could decide which contest they wanted to participate according to their favorite ski resort. The Group functionality allowed to show the four competitions on the same page, thus presenting the contests as a single campaign, but with an individual photo gallery each.
Additionally, once the period for submitting pictures was closed, a fifth contest was launched where the four final pictures were displayed (one picture from each resort). These pictures were subject to a final vote through the 'pick your favorite' system: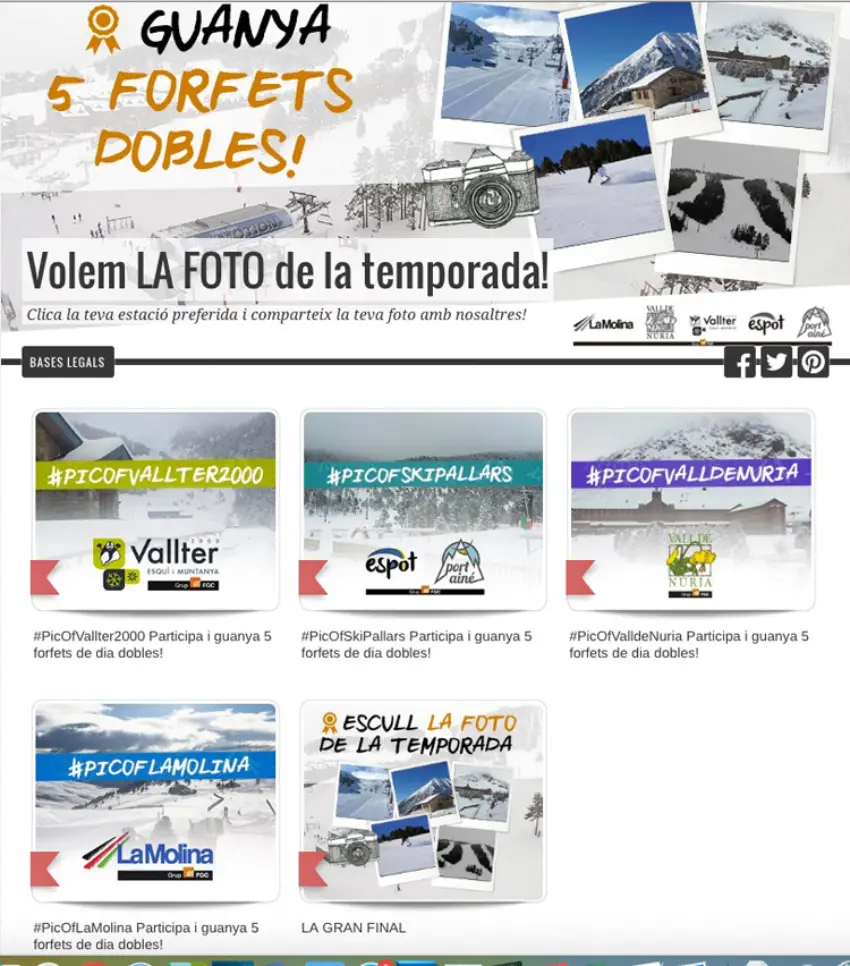 Do you have questions regarding long-term promotions? Contact our Support Team, ready to answer all your questions!
Publication date: 2014-11-19