Posted in: Applications,Digital marketing,EventsLast update: 07/11/22
Advent arrives, and the countdown to Christmas begins. The excitement increases, as we buy the last few Christmas gifts and put up decorations. Get your Instagram followers in the festive spirit with consecutive days of promotions. It's the Easypromos Instagram Advent Calendar!

The key to creating an Instagram calendar is to plan plan it in advance and clearly define the participation dynamics and steps. In this article you will find a step by step guide to explain how to set up a calendar. Additionally, we will provide you with graphic resources to help you configure it. There are two different dynamics to set it up:
A. Advent Calendar on your Instagram feed
B. Advent Calendar on Instagram Stories
Decide how many giveaways and prizes
The first thing you need to decide is how many giveaways you will carry out and the prizes associated to them. Consider your goals carefully: are you trying to capture leads, increase followers, or showcase products? How big is your target audience? And which promotions worked well in the past?
Depending on the marketing objectives of your Christmas campaign, you can decide on one on three kinds of giveaway:
Short version: 5 days, 5 giveaways – choose one week of the Advent month to run your 5 daily giveaways. You'll need to create or schedule 5 posts, one for each day of the week. To organize this sort of Instagram Advent Calendar, use your BASIC subscription plan to run unlimited Instagram giveaways.
Run a final big prize. Go big or go home! Post throughout 5 days to promote your giveaway, and on the 6th day draw a winner from all the participants that commented on the previous posts.
5 days, 5 giveaways and a final big prize – you still need to create 5 daily giveaways. But here's another opportunity to win; draw a big and final prize on the 6th day from all the participants that entered the previous draws. Keep in mind that to run such a give away, you will need an active Basic PRO plan.
Free resources for your Instagram Advent Calendar
Next, let's talk about those posts. Each one needs to be original, attention-grabbing and festive, of course! Several creative, original posts is a must and the texts, images and prizes have to be customized for each day.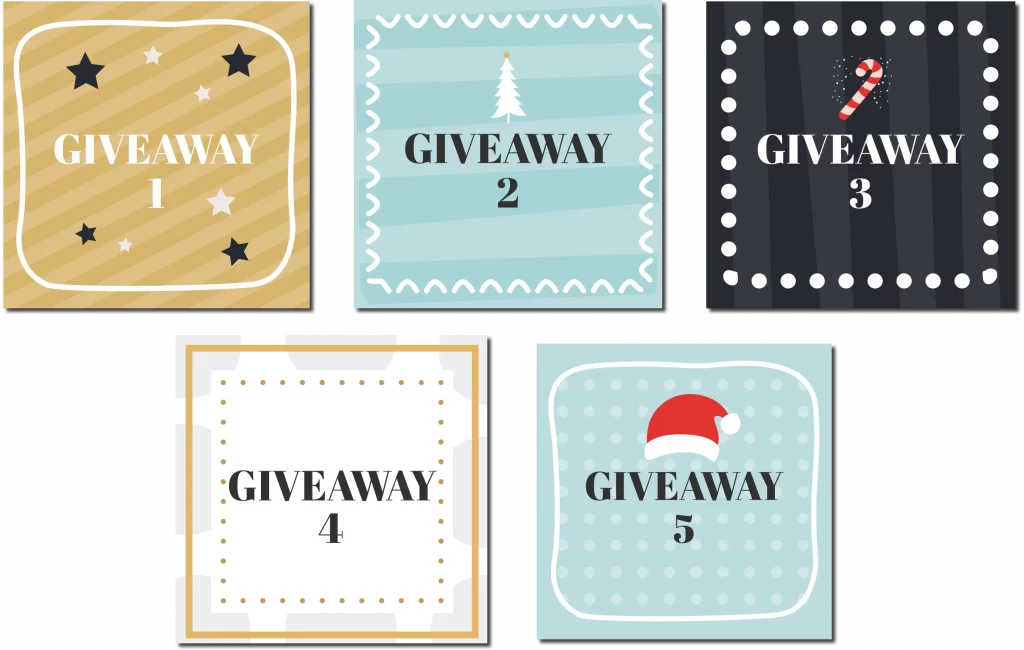 The images you chose for your calendar play a fundamental role in its success. Hence, make sure they scream of Christmas and have a coherent style. We have put together a collection of images for you to download and use for your Instagram Advent calendar. Just click on the banner below to download them, Easy!

Finally, get your followers' attention with short and punchy posts. Add emojis and punctuation to make it look exciting! Here's a template you can copy:
---
#InstagramAdventCalendar DAY [XX]! Want to win [PRIZE]? Here we go…
✅ COMMENT and tell us [OPEN QUESTION]
✅ TAG [1-5 FRIENDS] who'd love a chance to win!
You can FOLLOW us [@USERNAME] for results, updates, and even more giveaways!
⏰The contest ends on [DATE] at [TIME]. ⏰ We'll announce the winner on [DATE]!
This giveaway is guaranteed by Easypromos: http://bit.ly/IG_giveaway. This promotion is not endorsed, sponsored or organized by Instagram. ➡ Terms and conditions link in bio. Good luck!
---
Tip: Post Instagram Stories daily to remind your followers about the giveaway and promote related posts to give your promotion a wider reach.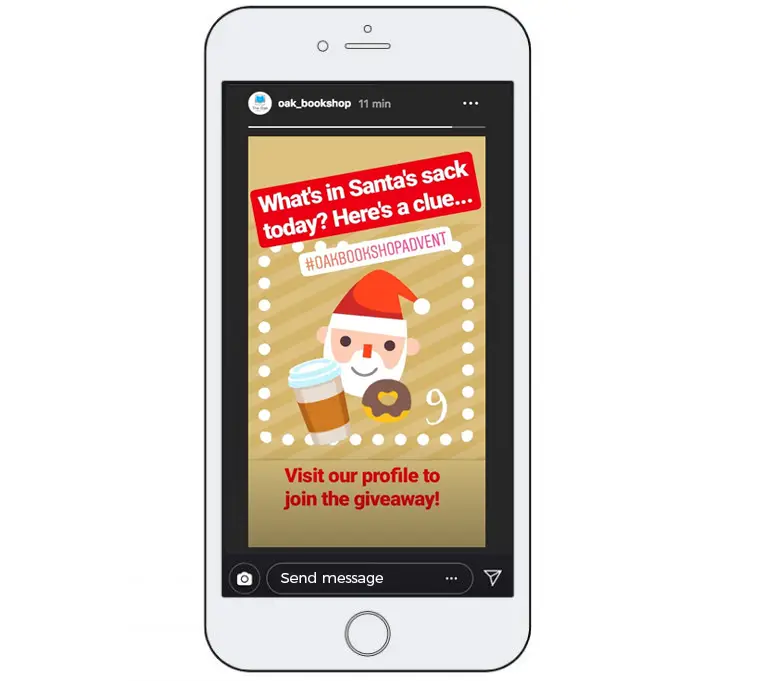 Pick a winner of your Instagram Advent Calendar giveaways
Once the giveaway is over, it's time to pick the winner. If you're running daily giveaways, that means selecting a new winner each day. On the other hand, if you decide on a single prize draw, you'll only need to select a winner once. Fortunately, whether you have 1, 5 or 6 winners, it only takes minutes.
Here's how to select a daily winner:
If you don't already have an Easypromos account, start by registering for free.
Click the green Create New Promotion button.
Choose Instagram Giveaway with Comments from the list of apps.
Follow the steps on-screen to select your post, collect the comments, and pick a winner. There's even more detail in this tutorial.
Your first giveaway is free! For the remaining days, you'll need an active BASIC plan.
If you decide to run a final giveaway among all users that participated, you will need an active Basic PRO plan. The steps to pick the winner are all the same, except that you need to select all the posts.
Organize a giveaway on Stories
Stories have become an integral part of Instagram and with Easypromos it is now possible to organize an automated giveaway on Instagram Stories. Post one story for each day of Advent and ask your followers to participate by replying to your stories with a hashtag of your choosing. The Stories format is great to keep your audience engaged, which in turn will improve your brand awareness.
With Easypromos you can run two kinds of Stories Giveaways: through mentions or through replies. For advent calendars, we recommend using the "replies" mode and ask participants to reply with a different hashtag for every day of the calendar. This will allow you to carry out the giveaway easily and automatically. Furthermore, you will the users' replies in your inbox and filter them by hashtag from your Easypromos' control panel.
Learn more about how to create and run an Instagram Stories Giveaway in this article.
Free Images for your Instagram Stories Giveaway
If you want to give this new and attractive format a try, we've put together a Canva template to make it easy for you. To download it, click on the image below.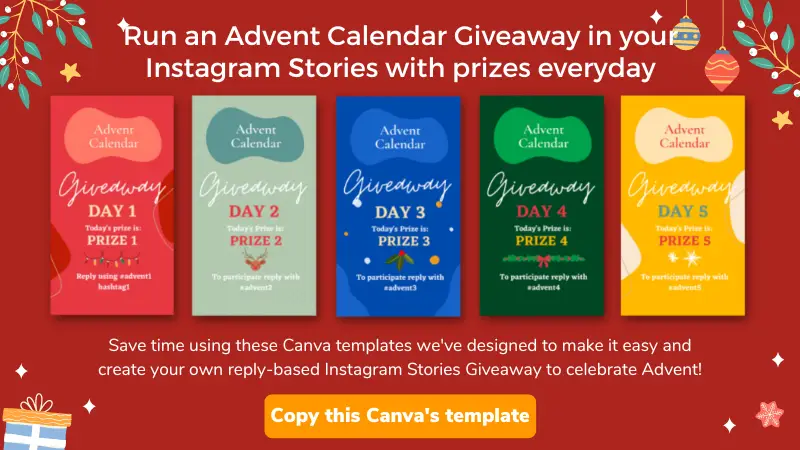 We're excited to see what you create! And if you want to discuss your ideas, or need any help, contact our Support Team through our Online Chat.
Publication date: 2018-11-09