What is an Instagram Advent Calendar?
People have used Advent Calendars to prepare for Christmas since the 19th century. The tradition started in Germany, where people would count down to the holiday with chalk marks or religious pictures. Today, you can find hundreds of different Advent Calendars. Each day of December, you open another tiny door to find a sweet treat, miniature illustration, or even a Bible verse.
And as luck would have it, Advent Calendars work perfectly on social media. With Advent Calendars, you can share delightful prizes, and build a strong relationship with your followers.
However, if you don't want to spend too much time planning 24 days of giveaways, we now offer you a great idea to create a very easy to organize Instagram Advent Calendar.
In this post, we show you how to connect with your audience over the Christmas period with 5 daily giveaways on Instagram. This way you hold festive giveaways but with much less hassle, while your audience is still left satisfied and happy.
Check out how to set up your 5 giveaways and once you activate your campaign, you can sit back and enjoy the Christmas spirit, while you watch comments, leads, and conversions roll in.
Social media Advent Calendar examples
Do you need some Instagram Advent Calendar ideas? Fantastic, we're about to show your some real examples of promotion created by brands in the previous years. Let's take a look.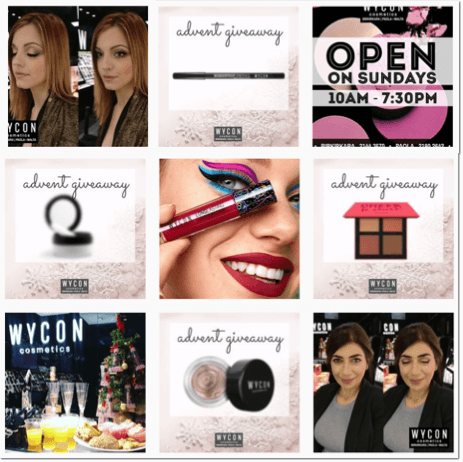 Wycon Cosmetics organized a social media Advent Calendar, in which they raffled their best selling products. Every day the posted a new picture showcasing the prize.
Another fantastic example comes from Orbiloc, a producer of safety lights for dogs. The brand decided to run multiple giveaways, in which they promoted their products with the help of comment-based giveaways.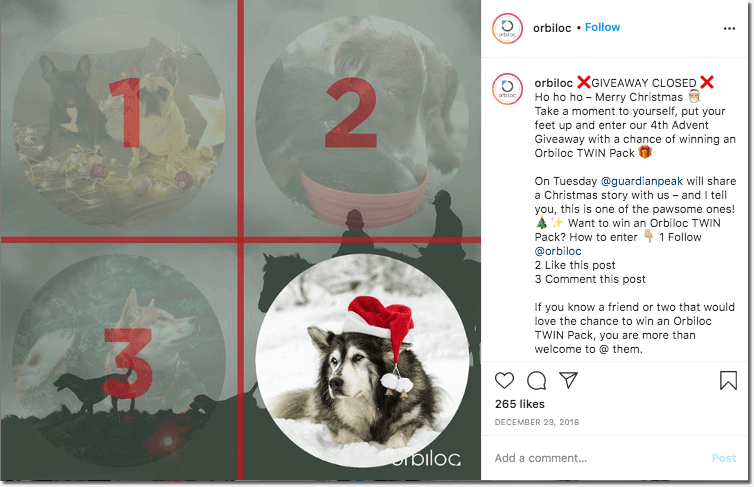 Do you feel adventurous? Or maybe you have a lot of different prizes to give away? Here's an example of how LesFills – a coffee shop – raffled special discounts and offers over the whole month of December.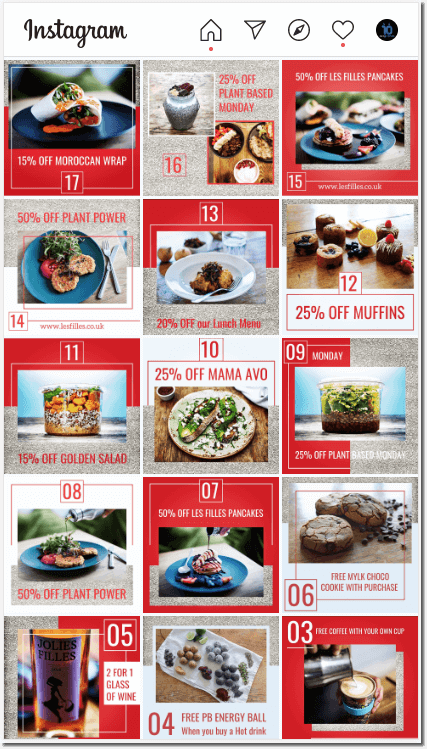 Irene Forte Skin Care is another great example for anyone looking for inspirational Instagram Advent Calendars. Over the course of two weeks, the brand raffled their best selling and favorite products of their customers.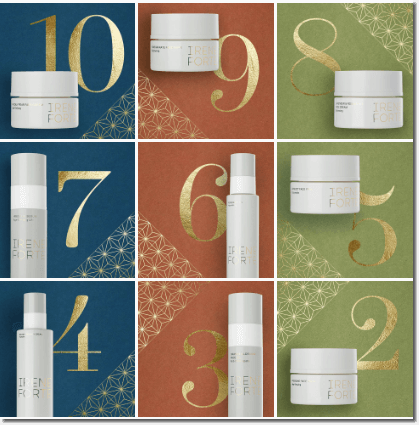 Choose apps and prizes for your Instagram Advent Calendar
The first thing you need to decide is the style of contests you want to use, and the prizes you'll offer as a reward. Think carefully about your goals: are you trying to capture leads, increase followers, or show off products? How big is your target audience? And which promotions worked well in the past?
Here are three options for your Instagram Advent Calendar to help you with your Christmas campaign:
5 days, 5 giveaways – choose one week of the Advent month to run your 5 daily giveaways. You'll need to create or schedule 5 posts, one for each day of the week. To organize this sort of Instagram Advent Calendar, use your BASIC subscription plan to run unlimited Instagram giveaways.
Run a final big prize. Go big or go home! Post throughout 5 days to promote your giveaway, and on the 6th day draw a winner from all the participants that commented on the previous posts.
5 days, 5 giveaways and a final big prize – you still need to create 5 daily giveaways. But here's another opportunity to win; draw a big and final prize on the 6th day from all the participants that entered the previous draws. Remember, that if you use Facebook Ads, you will have to use our Multi-Network giveaway app to collect comments and users from all the posts in a single prize draw.
Free resources for your Instagram Advent Calendar
Next, let's talk about those posts. Each one needs to be original, attention-grabbing and festive, of course! Several creative, original posts is a tall order. So we've decided to help you out with some free images and resources for your Instagram Advent Calendar.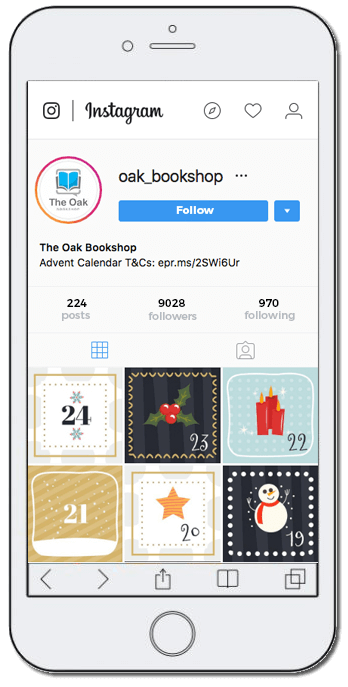 Start by downloading these original images to create posts for your Instagram Advent Calendar and a quick guide to help you set up your promotions.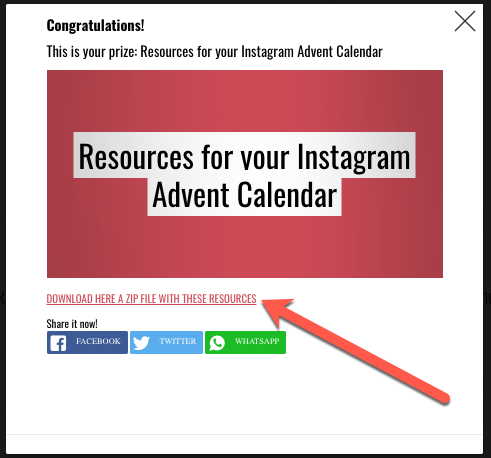 And now let's start with the posts!

Firstly, it's always a good idea to describe your prize. So whether you run daily giveaways, or just have one big reward, be sure to remind your followers of what they stand to win. At the same time, you need to keep the contest fun. Ask an open question in the post caption. Here are a few ideas…
What's on your list for Santa this year?
What's the best/worst part of Christmas dinner?
Tell us a Christmas joke!
What's the next line of this Christmas carol? "Silent night, holy night…"
When do you put up your Christmas tree?
Are you taking part in a Secret Santa this year?
Get your followers' attention with short and punchy posts. Add emojis and punctuation to make it look exciting! Here's a template you can copy:
---
#InstagramAdventCalendar DAY [XX]! Want to win [PRIZE]? Here we go…
✅ COMMENT and tell us [OPEN QUESTION]
✅ TAG [1-5 FRIENDS] who'd love a chance to win!
You can FOLLOW us [@USERNAME] for results, updates, and even more giveaways!
⏰The contest ends on [DATE] at [TIME]. ⏰ We'll announce the winner on [DATE]!
This giveaway is guaranteed by Easypromos: http://bit.ly/IG_giveaway. This promotion is not endorsed, sponsored or organized by Instagram. ➡ Terms and conditions link in bio. Good luck!
---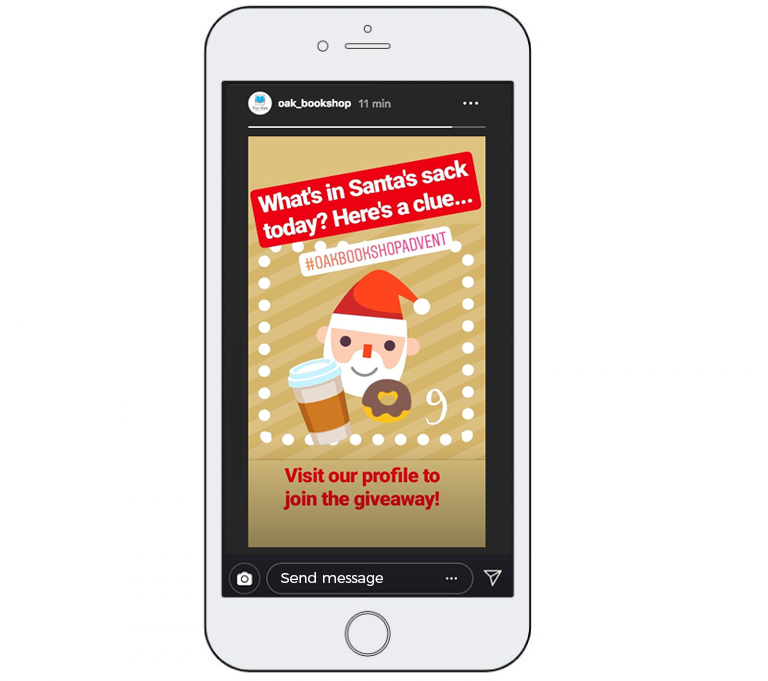 Don't forget to boost engagement with daily Stories, and promoted posts if they're a part of your marketing strategy.
Pick a winner of your Instagram Advent Calendar giveaways
Once the giveaway is over, it's time to pick the winner. If you're running daily giveaways, that means selecting a new winner each day. On the other hand, if you decide on a single prize draw, you'll only need to select a winner once. Fortunately, whether you have 1, 5 or 6 winners, it only takes minutes.
Here's how to select a daily winner:
If you don't already have an Easypromos account, start by registering for free.
Click the green Create New Promotion button.
Choose Instagram Giveaway with Comments from the list of apps.
Follow the steps on-screen to select your post, collect the comments, and pick a winner. There's even more detail in this tutorial.
Your first giveaway is free! For the remaining days, you'll need an active BASIC plan.
And here are the steps to carry out a final prize draw:
Make sure you're signed up for an Easypromos account.
Click the green Create New Promotion button.
Choose Instagram Giveaway with Comments from the list of apps.
Follow the steps on-screen to select your post, collect the comments, and pick a winner. There's even more detail in this tutorial.

We're excited to see what you create! And if you want to discuss your ideas, or need any help, contact our Support Team through our Online Chat.