Earth Day provides your brand with the perfect opportunity to set up an interactive campaign to capture users' attention. Are you looking into gamifying your marketing strategy? Make the most of the games and customizable promotions that Easypromos has to offer to engage your audience and collect their contact details.
Let's take a look at some ideas and resources to create an interactive Earth Day campaign.
Interactive Earth Day Promotion: Timed Quiz
Nothing beats celebrating Earth Day with a timed quiz to challenge your audience on their knowledge of the topic. Foster participation by offering a prize to users that complete all the levels of the quiz or by raffling a final prize among all participants.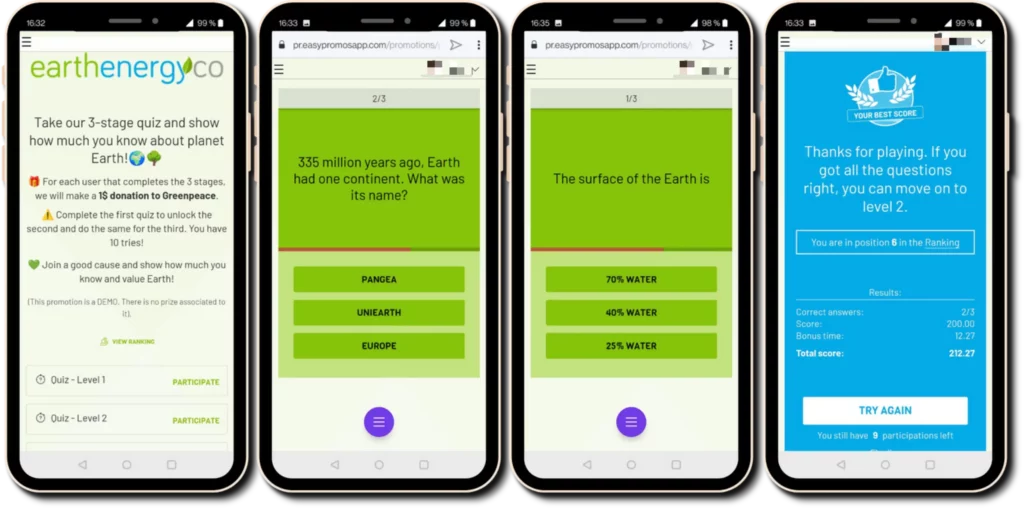 Since we want to make it Easy for you, we have prepared this ready-made template of an Earth Day timed quiz so you can set up yours in no time and share the link to your promotion on your social media for maximum participation.
Interactive Earth Day Promotion: Entry Form Giveaway
If you're wondering how to launch an Earth Day promotion and gather customer data, an online Entry Form Giveaway is the answer. It's simple, straightforward, and easy to set up. Users simply have to fill out a registration form to participate in a prize draw. If you want to give an extra incentive to participants, you can distribute coupon codes among all participants in addition to the final prize.
In the following example, the furniture brand Mitchell Gold + Bob Williams launched an Earth Day giveaway to promote their brand values and eco-friendly products. To participate, users had to follow the brand's profile on Instagram and fill out the giveaway registration form for the chance to win a $500 gift card.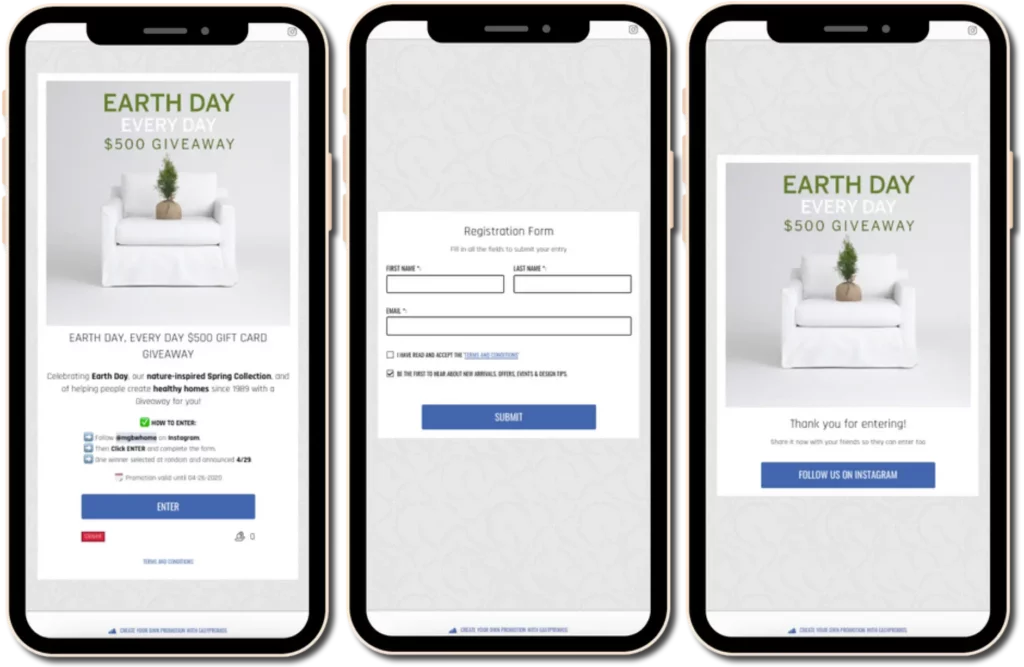 This is another example of an entry for a giveaway themed around the environment and the planet from the Spanish bookstore Casa del Libro, in which users registered for the chance to win a book. It's worth mentioning that the bookstore drove traffic to its website by placing a linked button on the "thank you" page of the promotion. Hence, when users registered and received a "thank you" message, a window popped up with a button that redirected them to the book's listing.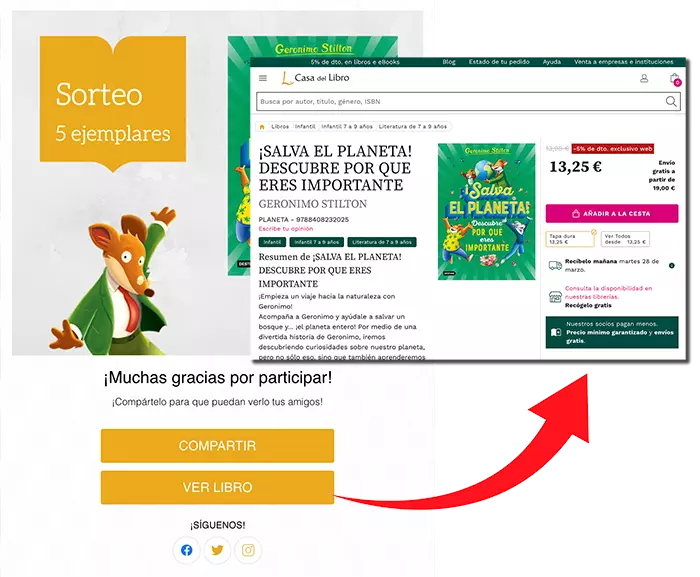 Awareness campaigns to generate engagement and promote brand values
Raising awareness on social and environmental topics is a responsibility that both businesses and people should share in an effort to make our communities, and the world as a whole, a better place.
For brands, it is paramount to show and share their corporate and social values. This will give the brand value as customers and the rest of the community perceive it as a positive contribution to society. Therefore, Earth Day provides the perfect opportunity to show your brand's commitment and values.
This is an example by the travel brand ByHours. In the midst of the Covid-19 pandemic, the brand launched a knowledge quiz to celebrate Earth Day. The quiz was aimed at educating people on the environmental impact of human activity, which became very evident during the lockdown.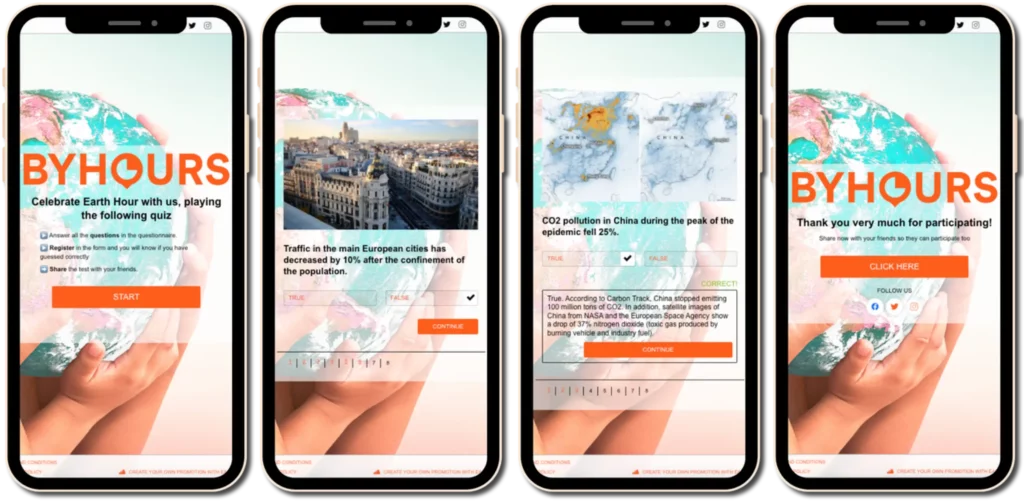 The beauty of this idea is that the only incentive was to raise awareness and challenge its audience with a timed quiz, no prizes, and no competition. Just plain and simple environmental awareness and education.
Earth Hour interactive campaign with photos and filters
We'll finish by taking a look at how a photo contest with filters and stickers can be the ideal option to create an interactive campaign and celebrate Earth Hour or Earth Day and entertain users while they interact with your brand.
Easypromos offers a wide variety of contest applications to create photo, video, text, or multi-media contests with stickers or votes, etc. All you have to do is choose the option that better suits your needs.
SIGNUS is a Spanish non-profit organization in charge of collecting, handling, and recycling all of the country's discarded tires. The organization celebrated Earth Hour with a very original action launched with the Easypromos Photo Fun tool. Earth Hour asks people to turn off their lights for one hour to raise environmental awareness and save energy. The non-profit recreated this action online by creating a photo contest in which participants had to "dim down" their photographs. All participating images were displayed in a public gallery.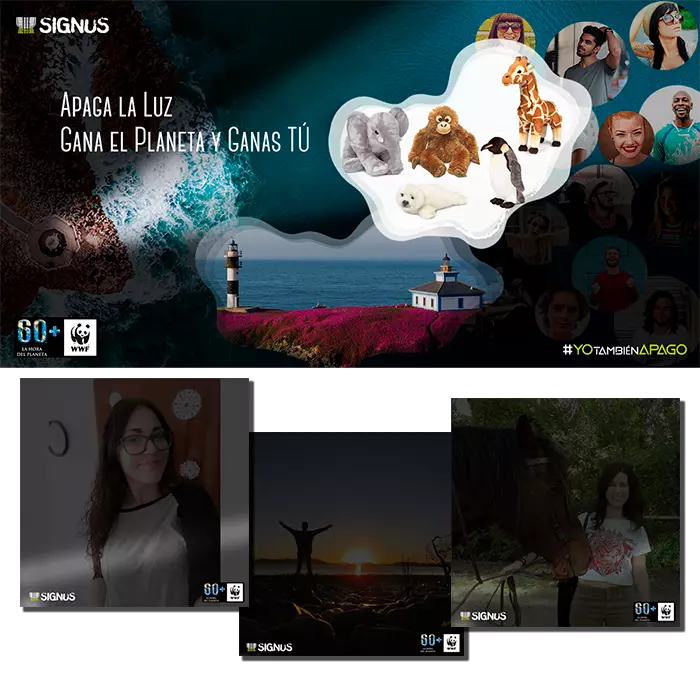 We hope you find these interactive campaign ideas useful and inspiring to celebrate Earth Day. If you have any questions or would like to know more, contact our customer support team via live chat. We will be happy to help.