Travel Club is a loyalty program that rewards customers for regular purchases in certain establishments with points exchangeable for trips and gifts. This time, Travel Club launched a new catalog that was fully digital, without printed copies. This is why it was so important and challenging to reach all the Travel Club members.
The Client: Travel Club
Founded in 1996, Travel Club has become the leading Spanish loyalty program that rewards regular purchases with trips and attractive prizes. Consumers collect points in more than 12,000 different establishments where they earn points by presenting the card when paying for food purchases, fueling, or contracting holidays.
Additionally, consumers also collect points in more than 200 collaborating online shops (for example, El Corte Inglés, AliExpress, MediaMarkt), by accessing them through Travel Club.
The accumulated points can be redeemed for holidays (flights, hotels, event tickets, car rental, etc.) at attractive rates, or more than 600 free gifts including electronics, small appliances, activities, etc.)
Travel Club's campaign and strategy
The Travel Club catalog is updated every six months, but this time, it was the first time the brand launched the catalog without printed copies available in stores or shipped to members' home addresses. As you've read at the beginning of this article, Travel Club wanted to present and disseminate the new virtual catalog, as well as convince users to get familiar with it.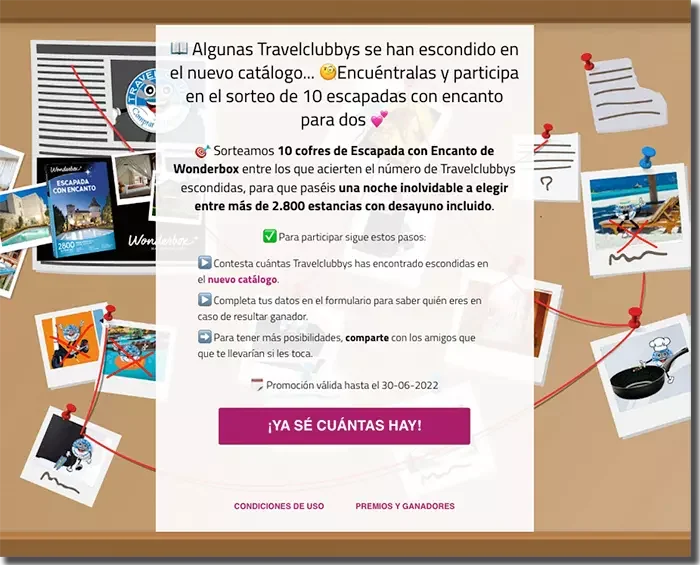 To do so, they created an entertaining game, in which in order to complete the game, entrants had to look through the catalog to obtain necessary information.
On some pages of the catalog, users could find various "Travelclubbys", the Travel Club mascot. All they had to do was precisely count the number of Travelclubbys and then introduce it on the promotion page. The organizers used the Easypromos Knowledge Quiz app that allowed them to customize the registration form, as they asked participants to enter their club member numbers.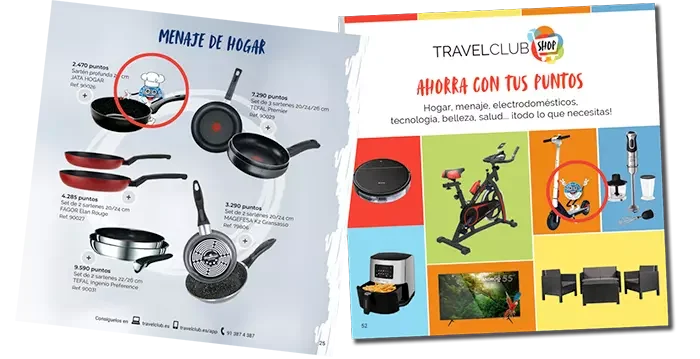 In order to attract more participants and generate more engagement, the brand raffled ten experience gift boxes among those that correctly counted the Travelclubbys.
Campaign dissemination
Apart from disseminating the promotion in the catalog, Travel Club promoted the campaign on the website via a series of banners. Additionally, the brand ran an email marketing campaign, as well as a social media campaign highlighting the promotion.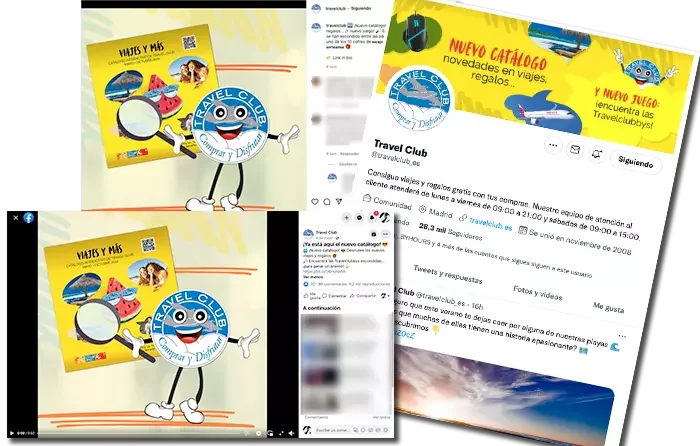 Results
A total of 6,345 users participated in the promotion
In just one month, the catalog achieved 40% more views than the previous – November 2021 edition – during six months.
Travel Club's social media accounts grew considerably
Testimonial
Easypromos allows us to easily access gamification for our strategy. We can create promotions that engage users to interact with our brand, as well as better understand the Travel Club loyalty program.
-Travel Club's Marketing Team-