What is a Multi-Stage promotion or campaign?
A Multi-Stage campaign is a promotion with its own URL, ideal for generating user engagement over a longer period of time. It has an umbrella structure, meaning there are multiple stages within each campaign, each stage fully independent, with different dynamics and structure.
Currently, there are various types of Multi-Stage applications available at Easypromos:
Take a look at our short Multi-Stage webinar. It takes you through different types of Multi-Stage promotions and real examples.
Main characteristics of Multi-Stage applications
The Easypromos Multi-Stage applications are a broader concept of digital promotions, designed to attract and retain online users by offering them a long-term experience with new challenges published daily, weekly, or monthly.
All the different Multi-Stage promotions have the same characteristics:
Single registration: users register only once. The next time they access the promotion they only need to log in.
All promotions are accessible from the same microsite. You can modify the open stages without having to deactivate the campaign.
The overall ranking page is optional but recommended. Users participate in different stages and collect points, which the system sumsup and displays on the ranking page.
Each stage has its own dynamics and independent configuration of participation dates. You can choose to open more than one stage at a time or activate a new stage every week.
Prize management and winner selection follow the standard Easypromos structure. You can run random prize draws, reward the best player, give incentives to all registered users, or raffle gifts between the participants with the best scores.
Although you might have dozens of stages, there are certain settings that you only have to configure once. The Privacy Policy, Terms and Conditions, and registration form are an element shared by all the stages, therefore you save time by configuring them only once.
All the Multi-Stage applications are available in White Label and Corporate Plans, starting from 349$/399€.
When to use Multi-Stage promotions
As you already know, Multi-Stage applications are useful for campaigns that run over a longer period of time and for those that combine different dynamics in one application.
Integrate Multi-Stage promotions with customer loyalty programs
The Easypromos Auto Login system allows brands to integrate Multi-Stage promotions with their customer loyalty schemes. The integration happens thanks to the Auto Login API, which connects your promotions with your mail lists, CRM, or private customer areas. This way participants can access the Multi-Stage promotions by using their login credentials for your web or app. It's a great way to create customer-exclusive promotions.
Create campaigns with multiple promotions
Want to publish multiple promotions but only with one database? This is often the case for shopping malls, commercial centers, and events that happen in a variety of different locations. The Multi-Stage application allows you to create multiple promos within one campaign. You can for example offer discounts for a number of different shops in your shopping center or raffle free entry tickets for festivals happening in different cities. Users will only participate in the stages they're interested in.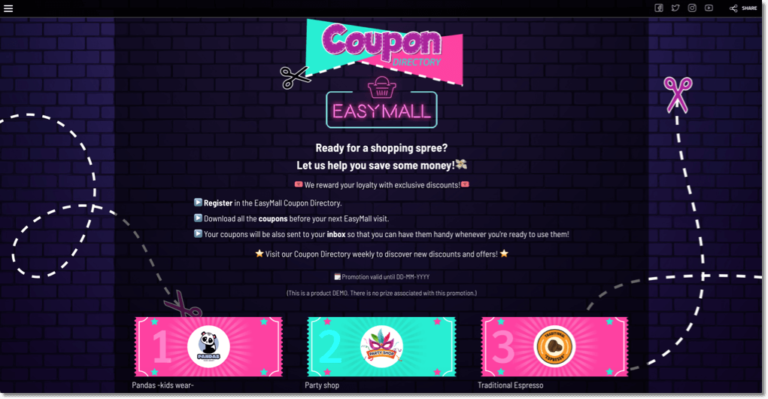 Launch a portal with promotions active throughout the whole year
Many brands dedicate independent microsites to promotions and special offers. The Multi-Stage application can be easily embedded into any page or e-commerce site. Promotion organizers can therefore activate and deactivate promotions whenever the time is right, without having to worry about creating new URLs, registration forms, or even integrating new promotions with the database, as newly activated promotions will belong to the same campaign, which can be active for months.
Are you thinking about launching a Multi-Stage campaign but you still have some doubts? Live chat with our customer service representatives, they're always happy to help!
We hope that you now have a better understanding of Multi-Stage promotions. The Easypromos application can help you save time and facilitate the whole campaign launch process.