Facebook is still popular and many brands use the platform to run giveaways and contests. But what do the Facebook competition rules actually say? Let's take a look at the dos and don'ts of Facebook competitions, as well as examples and ideas.
The don'ts of the Facebook competition rules
Other social networks don't say much about competition rules. But Facebook's promotion policy is very clear: "Personal Timelines and friend connections must not be used to administer promotions (ex: "share on your Timeline to enter" or "share on your friend's Timeline to get additional entries", and "tag your friends in this post to enter" are not permitted)".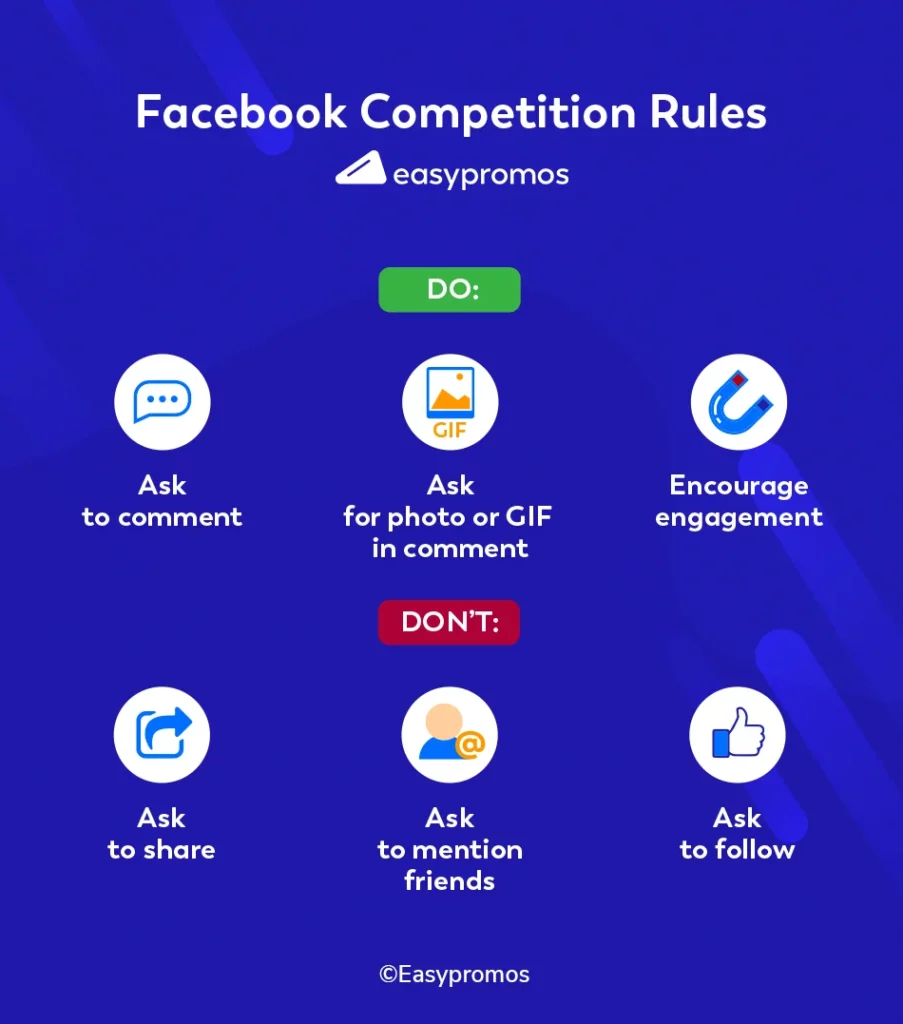 So here we see that the typical giveaway post where organizers ask users to tag and share is, in fact, not permitted according to the network itself.
Even though Facebook does allow competitions on Pages, Groups, Events, or within apps on Facebook, it's not technically possible to obtain the comments from Facebook Groups or Events automatically with a third-party app like Easypromos. Not even through the official Facebook API. In groups and events, you can post an externally hosted promotion as described below.
The do's of the Facebook competition rules
So what can you do according to the Facebook competition rules?
You can ask users to comment on a post or like a post in order to enter a giveaway. With our Facebook Contest App, you have to choose between the two when creating the giveaway.
The system then imports the post and gives you a list of users who have either commented on your post or liked the post. This is the only information we get through the official Facebook API; the username, the comment (if choosing comment giveaway), and the timestamp.
You can encourage users to follow you, name friends, and share the post, but these actions can't be a requirement for participation. And the Easypromos giveaway tool can't filter by these actions because Facebook doesn't allow external tools to access this information.
Here you can see an example of a well-done Facebook giveaway from University Games & Paul Lamond Games for May the 4th. The post includes clear instructions and a time frame, only asks for a comment, and includes T&Cs: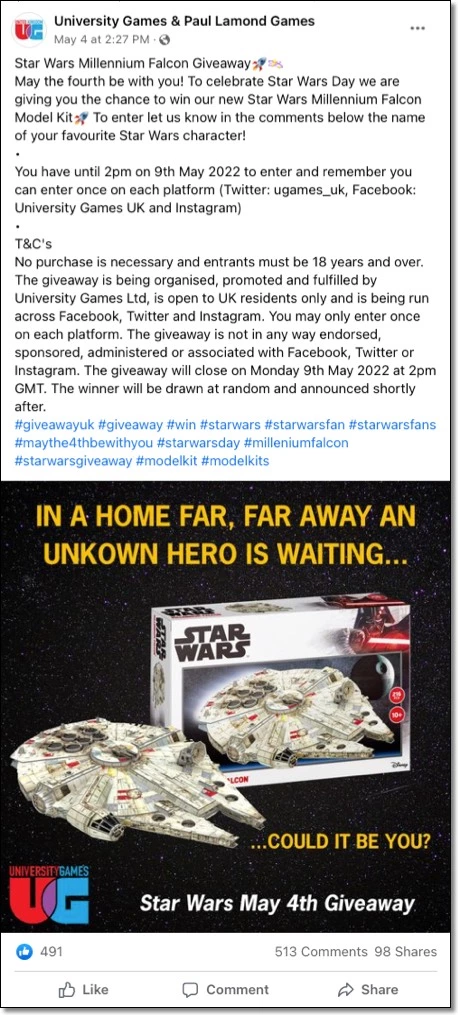 Options in Facebook comment giveaways
Now we've learned that you can't make a 'tag & share' giveaway on Facebook if you want to follow the official Facebook rules. The way to enter a giveaway on a post on your business page is by commenting on the post (recommended) or liking the post.
Take the opportunity to start a conversation with your followers and get to know them through their comments. You can ask them their opinion on something, for example, which option (product, color, etc.) they prefer. Or you can ask them how they would solve a problem or situation. If you do this, remember to reply to their comments.
Hozelock asked their followers for their top tips for low maintenance garden and received many detailed comments and enthusiastic participants: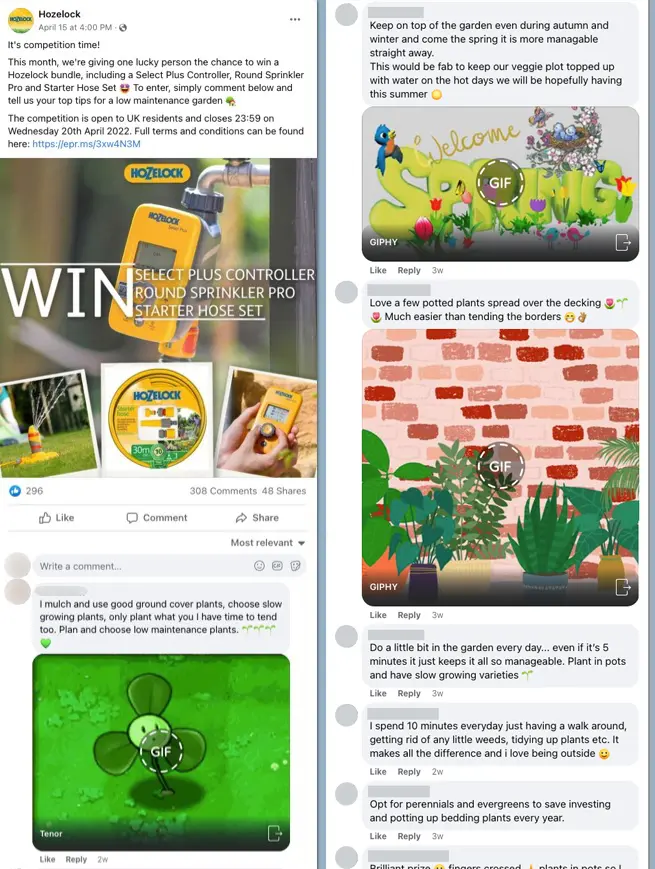 Within the comment giveaway, you have some additional options. You can ask users to add a hashtag in their comment, either your campaign hashtag or to answer a question. The Facebook Giveaway tool will give you a list of all the hashtags used in the comments. You can then select to run the random draw among the users that have used a specific hashtag.
Another option specific for Facebook comments is that you can ask users to include a photo in their comments. And you can exclude anyone comment that doesn't include a photo from the prize draw.
What to include to create a compliant Facebook competition
When you announce a promotion or a giveaway on Facebook, be sure to include all the relevant information. You also need to make sure that the promotion complies with all applicable rules and legislation. This includes Facebook rules and national/regional/local regulations.
Facebook also specifies in its promotion policy that the contest post should include: "A complete release of Facebook by each entrant or participant; and acknowledgement that the promotion is in no way sponsored, endorsed, administered by or associated with Facebook."
You should always include a link to your terms and conditions or official rules so that any user can access them. These terms and conditions should include all the information about the competition, such as dates, eligibility, requirements, how and when you will pick the winner, the prizes, etc.
In your Easypromos account, you can find a free terms & conditions tool where you can host your competition rules. There is also a template that you can fill in and complete with the data of your Facebook competition. In this article, you can find a guide to writing the terms and conditions for your social media competition.
Among the Easypromos resources, we offer many different themed templates to make it easier for you to launch your Facebook giveaway. The templates come with an image and text examples that you can adapt to your giveaway.
Facebook photo contests
A contest type that is very popular on Facebook is the photo contest. You can create the contest site with Easypromos and publish the link to the contest on your Facebook page. Users have to click on the link to go to the competition site to participate. Here they will register and upload their photos in the registration form. The contest is external to Facebook but you can share the link to the participant gallery and the individual photo entries on your Facebook page. You can also enable voting in the gallery which uses the anti-fraud system to ensure the votes are genuine.
Here is an example where the Invasive Species Council of BC posted their photo contest on their Facebook page: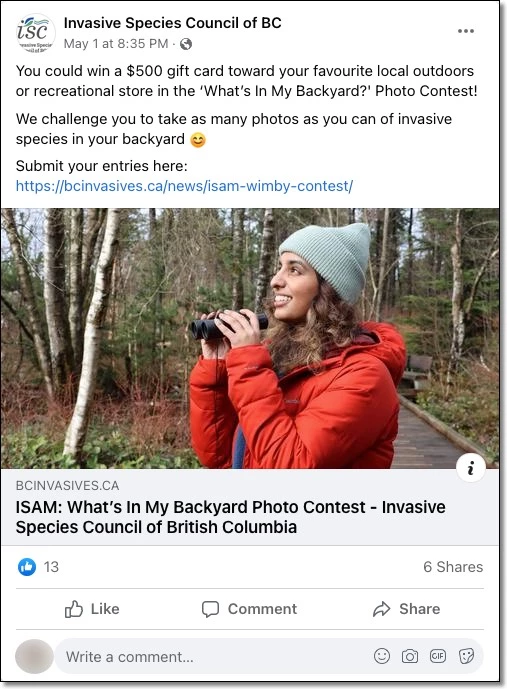 We strongly recommend using an app to host your photo contest. It will make the whole process easier for you because it automates most of the mechanics. We have seen examples of brands asking users to vote on each other's photos posted with hashtags on Facebook, but it gets out of hand very quickly. When you use the Easypromos voting system, you get a whole host of fraud control points so you can avoid fake users, robots, etc.
More Facebook competition options
Just like photo contests, you can link to any other kind of hosted promotion, contest, or interactive game on your Facebook page. Make it attractive so users click and go to the promotion site to participate. This way you not only offer your followers entertaining content, but you also collect data for further marketing activities.
Some of the most popular gamification options right now are the puzzles, and the match 3 game 'Slide & Match'. Instant prize promotions are also a bit hit, such as 'Spin the Wheel' or 'Scratch & Win'. You can customize them completely with your brand image and colors. And with our themed templates, you can have them ready to launch in no time.
See how Uniform Advantage Retail Stores posted about their 'Savings party' Spin the Wheel with a video of the wheel: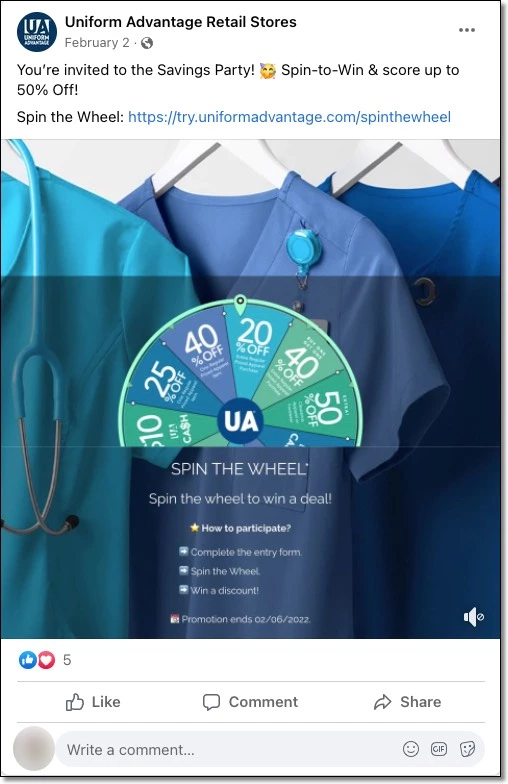 Now you know what to keep in mind when organizing a Facebook competition. Take a look at all our promotion types and if you have any questions, please feel free to contact us in the live chat.