What if you want to give away prizes at random, but still make sure everyone gets a reward? What if you have 200 small rewards and 3 grand prizes? There are hundreds of different ways to award prizes and get your audience's attention. Let's take a look at all your options with Easypromos for fair, random giveaways that are tailored to you and your needs.
Are you looking into organizing an online prize giveaway? Read this article to find out how to do it easily and quickly.
Award random prizes when users register
First up, an option which is available for all Easypromos contests and giveaways. You can assign and award prizes as soon as users sign up.
You can even define several different prizes. The system will hand out the different prizes at random.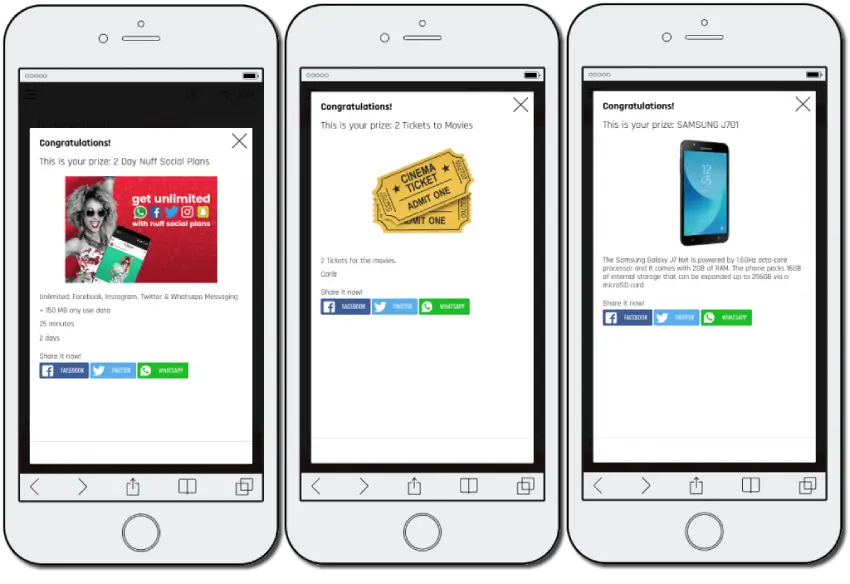 Let's take an example. Imagine you're clearing out your stock of merchandise. We have 10 t-shirts, 20 mugs, and 30 pencils to give away.
Every time someone registers, the system will assign them one prize only. It selects the prize at random from the 3 different categories (t-shirts, mugs, and pencils). So your participants know that they're going to win something… they just can't predict what.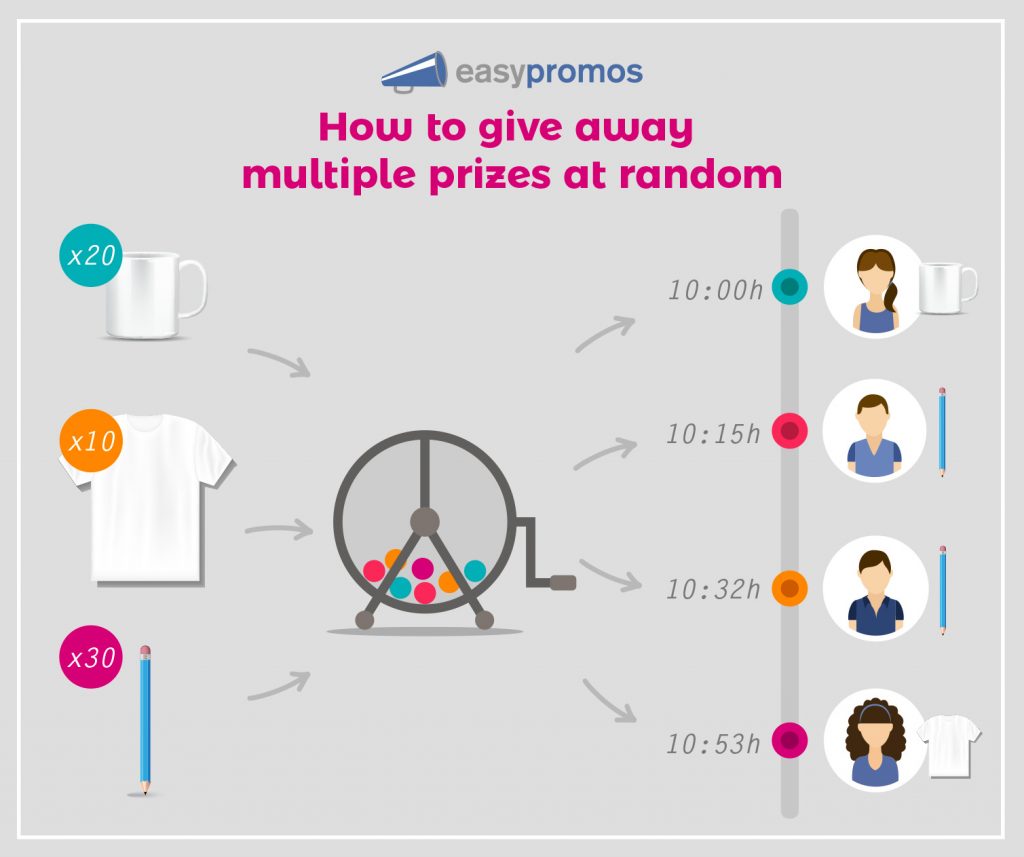 This is an excellent way to share lots of small prizes that you already have in stock – like merchandising or brand freebies, for example. The main goal is to increase brand awareness by spreading those prizes through your audience.
Adding a grand final prize is also a popular strategy. It gives your followers yet another incentive to join the contest. Choose something high-value that will attract a wide audience – such as a mini-break, the latest technological gadget, or an experience to share with friends.
You can even combine random rewards with the instant win system. Choose when specific prizes will be awarded, right down to the day, hour, and minute.
Let's go back to our imaginary giveaway. As well as the 3 types of merch, we decide to give away 2 luxury holidays to the Bahamas. So we'll add those grand prizes to the list, but with a different mechanism. The 2 luxury holidays will be treated as instant win rewards. And we'll need to make sure that no one wins a grand prize and a small prize at the same time.
Sort multiple prizes according to their value
Now for the final touches.
The Easypromos system is set up so that people can't win more than one prize (unless you want them to). Here's what happens when someone signs up to our imaginary giveaway:
The instant win system. First, the system checks if the user has won a grand prize (our luxury holiday to the Bahamas).
The standard prize draw. If the user didn't get a grand prize, then they enter the normal prize draw for everyone who signs up. They'll get one of the small rewards instead of a grand prize.
The user will never see these two prize draws take place. From their perspective, they just sign up and get a reward. And it's easy for you, too: once you've defined your prizes and how they will be shared out, you don't need to monitor the system in action.
What to do when the prizes run out
You have two options:
Close the giveaway to new participants.
Set up a message which explains that the prizes have all been awarded. This way, users can still sign up after the prizes are gone. To soften the blow, you can offer an alternative – for example, a follow-up giveaway that's only open to people who missed out the first time around.
Run a giveaway your way
The ideas we've used in this article are just examples. You can do so much more. Like, for instance…
Give little prizes to the first 300 people who sign up.
Award 2 high-value prizes, completely at random.
Send a discount coupon to anyone who doesn't get a prize.
Give a prize to a winner chosen by your team.
Run a final prize draw after the contest has closed, including everyone who signed up.
Sound good? If you're planning to give away multiple prizes, we're sure that our platform can save you time and trouble. And if you'd like to talk about your ideas, you can chat live with our support team.