Organize your online prize giveaway
Organizing a prize giveaway is easy if you know how to do it. You just have to dedicate some time to plan your online prize giveaway to make sure it will be successful. Don't know where to start? We are some tips:
Start by choosing the right online giveaway app. For instance, Easypromos allows you to raffle prizes in many different ways: on social media, through games, from a list, etc. Visit the Easypromos website to learn more and test the different kinds of applications. Create an account for free to set up your promotion, and if needed, contact our customer support team to get personalized guidance.
Decide the kind of prize to give away depending on the interests of the audience you want to reach and the product you wish to promote.
Determine where your prize giveaway will take place and which channels to promote it on. For instance, if your online prize giveaway will take place on social media or if you will create an entry form for participants to fill out.
Set clear guidelines for your prize giveaway: how winners will be chosen, participation requirements, starting and finishing dates, how winners will be notified, prize delivery conditions, etc.
Draft clear Terms and Conditions and make them easily accessible so participants can check them if they have doubts.
Once the prize giveaway has taken place, don't forget to announce the winner publicly along with the certificate of validity and contact the winners directly.
Available options to give away prizes
Once you've decided that a prize giveaway is the main way to attract, engage, and grow your online community, it's time to consider the alternatives to give away prizes and coupons online.
As mentioned in the previous paragraph, Easypromos is a platform that provides you with fun ways to give away prizes in a quick, transparent, and reliable way. Here are the three most popular ways to do it:
Entry Form Giveaway
With the entry form giveaway app, you can give away prizes automatically, randomly, and transparently among all those who have filled out a registration form. Additionally, you will gather the participants' contact information as they will be required to fill out the information fields in the registration form.
In the following example, the car restoration products company Eastwood carried out a Black Friday prize giveaway. The company distributed over $10,000 in prizes among users who filled out the registration form.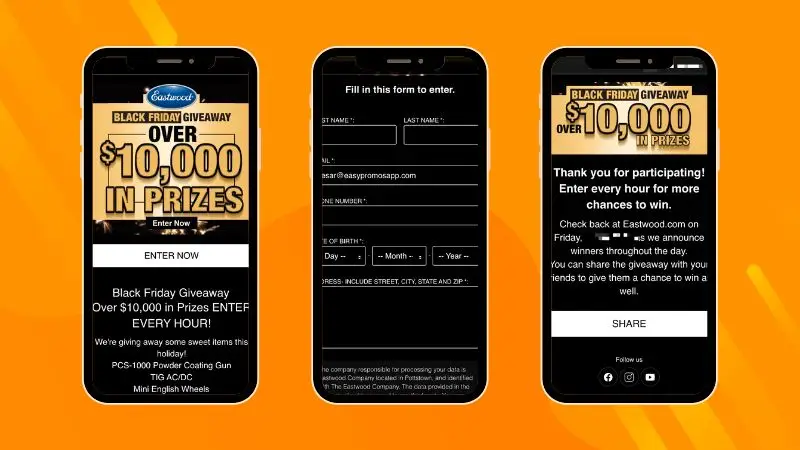 Raffle prize from an excel file list
Another common way to raffle prizes is from a list of users. With the list giveaway application, you can upload an Excel or CSV file, or copy a text list to choose the winners in an automated way. As a final result, you will obtain a certificate of validity that assures participants that the giveaway has been carried out completely randomly.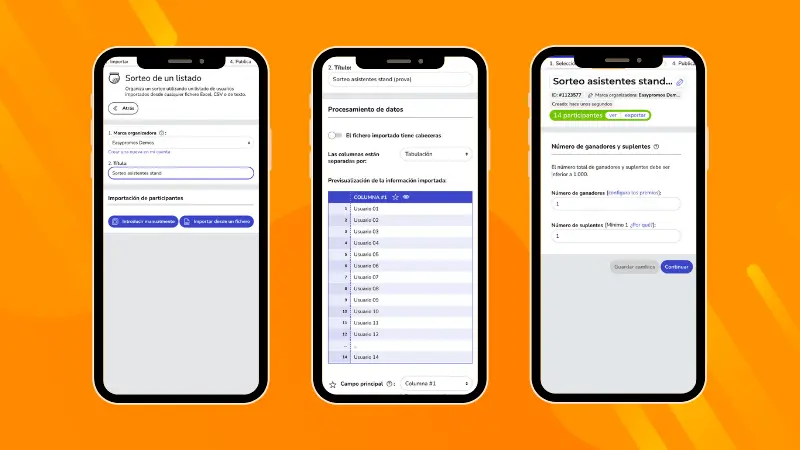 Social Media Prize Giveaway
Carrying out a prize giveaway on social media is quite easy. Hence, it is one of the most widely used dynamics when done with a professional app. With our giveaway apps you will be able to randomly select users among participants that comment on your posts on Instagram, Facebook, or X (Twitter).
The restaurant reservation and review app The Fork, in collaboration with Whitcomb's restaurant and The Londoner Hotel of a full dinning experience and a 5-star hotel stay. To participate, users had to follow the organizing brands, like the post, and tag a friend with whom they'd like to share the experience.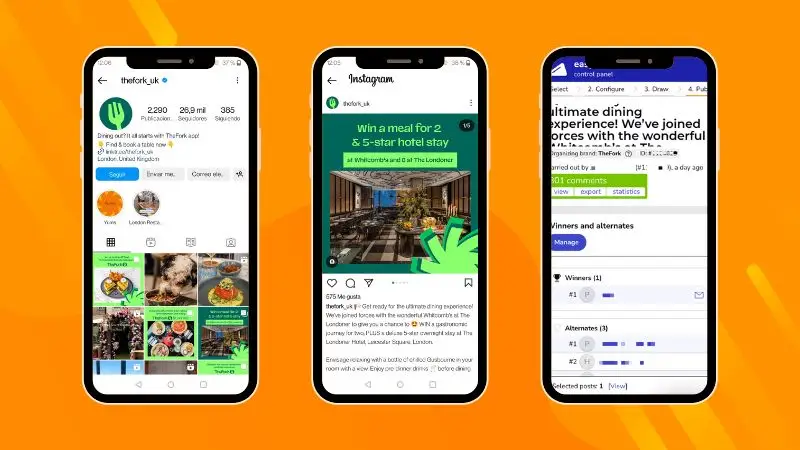 Prize Giveaway Games
Another type of dynamic that is very appealing to users is challenges and interactive games. That's why, if you want to gain visibility and brand recognition, creating games to raffle prizes is a great idea. Using the Easypromos platform, you can create the game and get a URL so you can share it digitally through several channels. Let's take a look at four examples of games where the distribution of prizes is determined by chance.
Prize Giveaway with a digital prize wheel
Entertain your audience with a spin the wheel promotion where users can try their luck and win prizes. Capitalize on the excitement of the game and chance to collect contact information for future use and achieve greater brand exposure. When the participant spins the wheel, they will instantly know if they have won a prize and how to claim it.
Take a look at this Prize Wheel organized by medical uniform manufacturer Uniform Advantage. After filling out the registration form, participants got to spin the wheel for the chance to win a discount coupon that could be redeemed at any of their shops.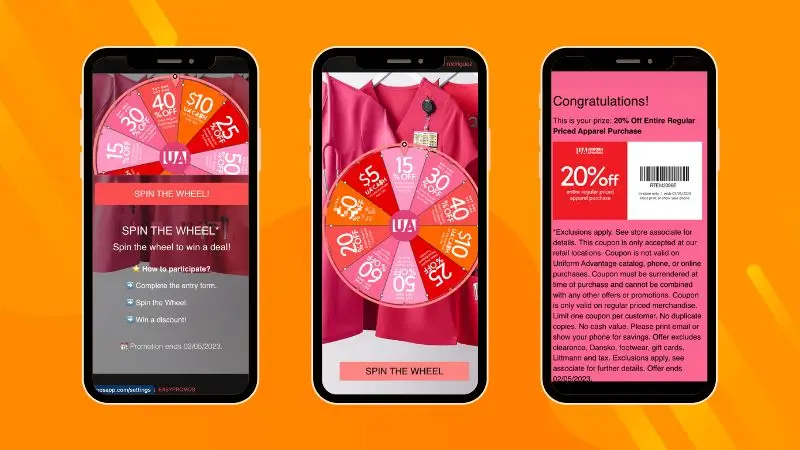 Prize Giveaway with a digital Scratch & Win
Recreate the excitement of a digital scratch card by setting up this type of game using the Easypromos Scratch & Win app. Users register and are presented with an image that they can scratch by swiping their finger across the screen to see if they've won a prize or if a "no prize" message appears.
New Year's resolutions often include get in shape. In the following example the South African gym chain Edge launched a promotion to attract new users by offering discounts and vouchers through a Scratch & Win promotion.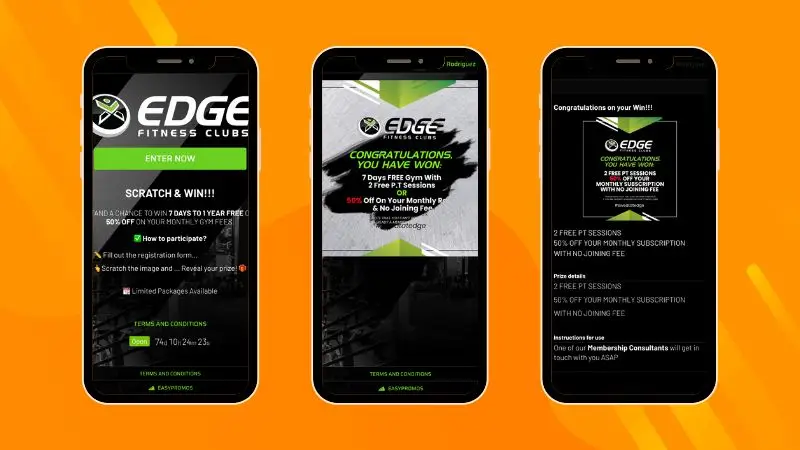 Prize Giveaway with Instant Win
With an instant win promotion, you can distribute multiple prizes and capture data from your target audience. Users register to try their luck, and after completing the form, they instantly find out if they have won a prize.
In the example below, the food brand Knorr launched a promotion to promote their products among supermarket customers. User simply had to visit the brand's booth and register to win a free sample of one of their products.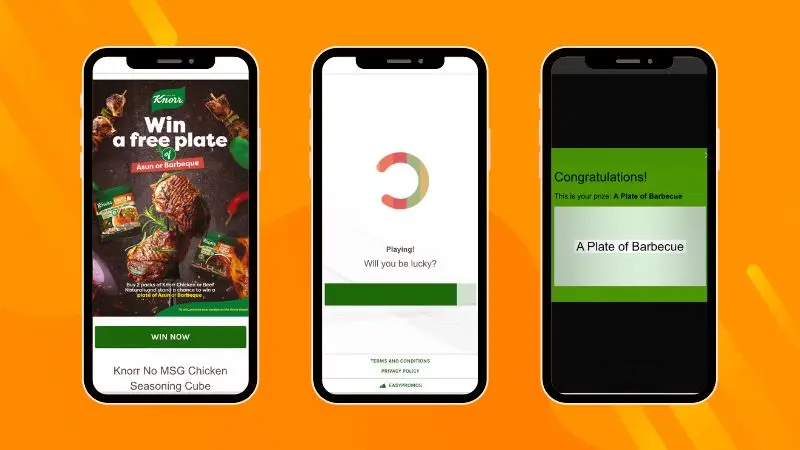 Reveal & Win prize giveaway
Capture the interest of users with a "reveal and win" type of dynamic. While playing, participants see a board with various elements that they must select randomly to find out if they have a prize. Yet another example of how you can carry out prize giveaways online.
Take a look at this Reveal & Win promotion that the running training app Coopah launched. The brand included a questionnaire in the registration form that provided valuable information on their target audience's preferences and needs.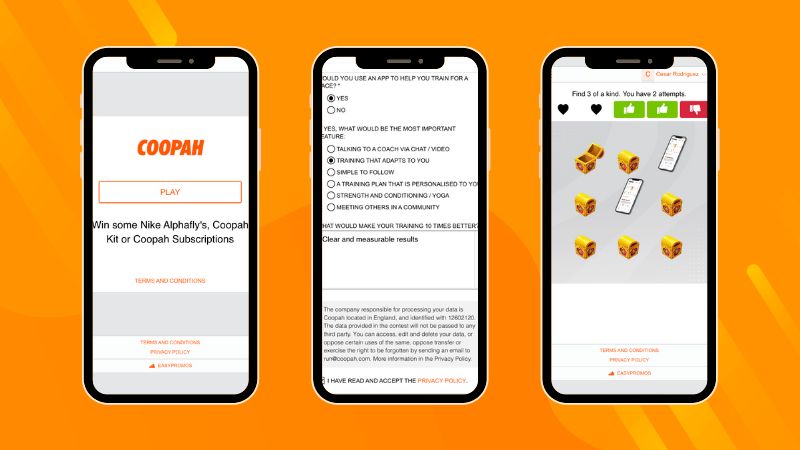 We hope you find these examples helpful and inspiring. If you have any questions or need further assistance, don't hesitate to contact our customer support team via live chat.