The International Day of Yoga has been celebrated each year since 2015 on June 21. It was first suggested by the Indian Prime Minister, Narendra Modi, during his speech at the United Nations General Assembly. He suggested this day because it's the longest day of the year in the Northern hemisphere and it is an important day in many parts of the world.
Yoga teachers, studios, and communities celebrate the day but they are not the only ones. Different types of brands and businesses are connected to the world of yoga and physical, mental, and spiritual well-being. All of these can boost engagement on their social media profiles by creating giveaways for International Day of Yoga.
Yoga teachers connect with their communities through giveaways
Nowadays, it's a must to have social media profiles for any kind of self-employed. They use their online profiles for practically everything that helps sell their services. This can be a brand image, inspirational texts and photos, class and event announcements and reminders, and why not, giveaways. Like any business, it's a good idea to use special days to create an action to generate engagement with the online community. Celebrating International Day of Yoga with giveaways is a great way to do that.
Yoga with Jamila used her upcoming birthday to run a giveaway on both her Instagram and her Facebook profile. She also took the opportunity to announce the launch of her new website. Apart from the two posts, Jamila also used a sponsored post to reach a wider audience. Then she used a Multi-Network Giveaway to pick the winners. She raffled different prize kits: a Home Yoga Kit, a Self Love Kit, and a Manifestation Kit. The winners were announced with a Show Mode winners video in her Instagram Stories. To complete the giveaway action, she also showed how she prepared the prizes to be shipped to the winners.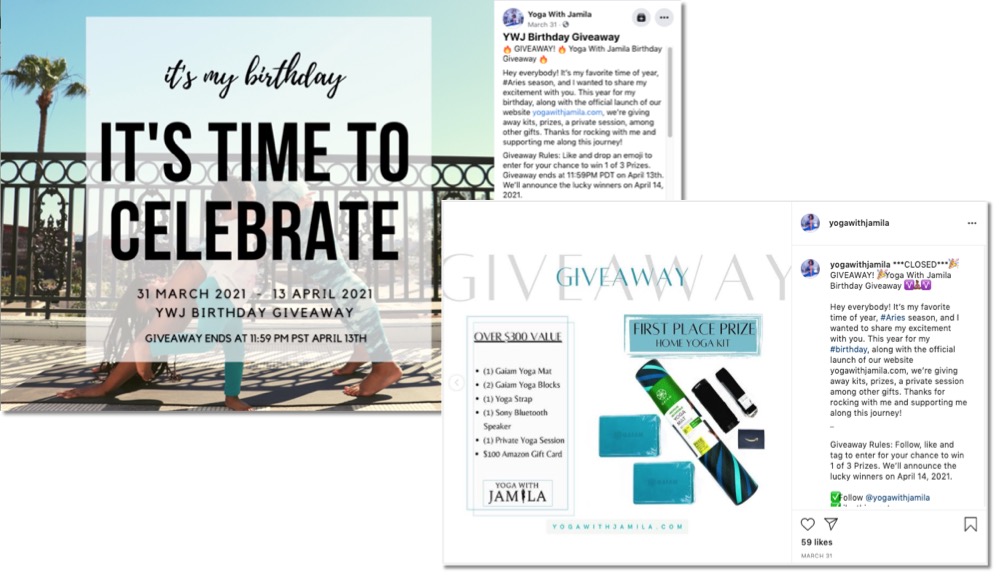 Yoga with Jennison also used a giveaway to connect with her followers. In her giveaway, participants could win an online yoga session for the winner and two friends. Users had to comment on the Instagram giveaway post and tell how yoga had helped/benefited them during the lockdown. Participants also had to tag two friends they would like to invite to the yoga session in case they won. The prize draw served to boost interest in Jennison's offering of online yoga sessions.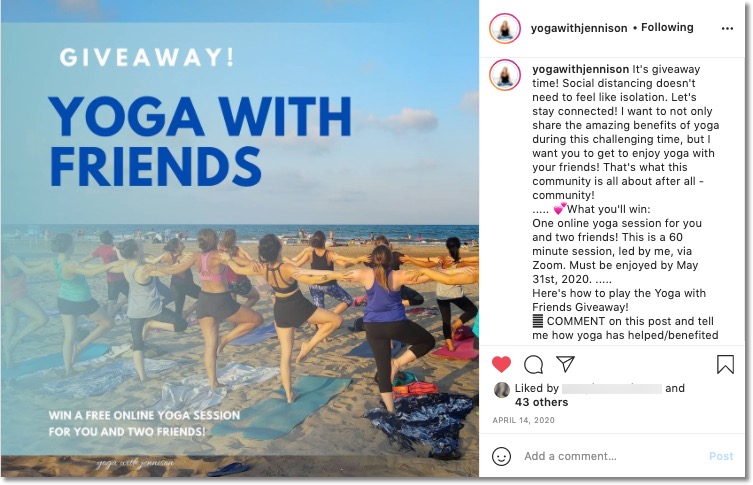 So, as you can see, yoga teachers can raffle their own "product", yoga classes, but they can also raffle other types of prizes to celebrate International Day of Yoga with their followers.
Yoga studios attract new and old users with giveaways
Most yoga studios also use social media to promote their services and attract new customers. Using the International Day of Yoga to interact with the online community through giveaways is a no-brainer.
The shopping, dining, and entertainment destination Bella Terra Huntington Beach in California also hosts a CorePower Yoga studio. They ran a giveaway on their Instagram profile, giving away one month of unlimited yoga in the yoga studio. It was a great collaboration to draw more yoga students to the studio.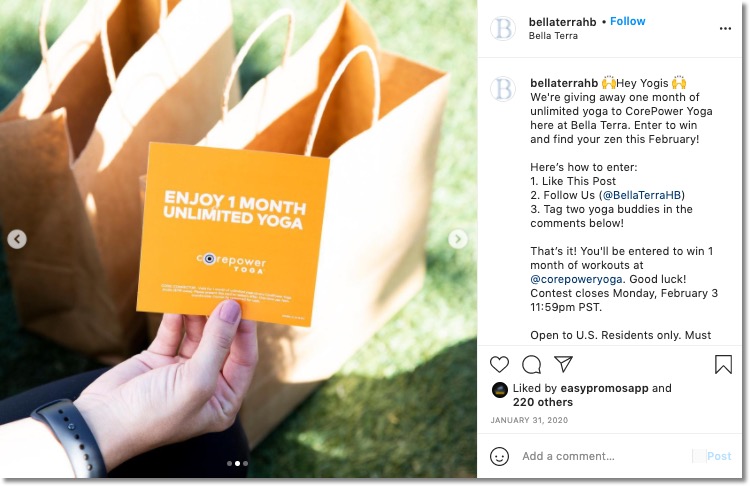 Optimum You Yoga & Wellness Yoga Studio in Market Harborough, UK, used a giveaway to announce the reopening of the studio after lockdown. Users could win unlimited access to yoga classes in the studio and online, plus a yoga mat for the first prize winner.
It seems obvious that yoga studios give away free yoga sessions. This can be a good way to attract new customers because they have the chance to try the classes before becoming paying customers. But it can also be a very nice treat for yoga students who are practicing at the studio, especially when returning to in-person classes after a break, like holidays, lockdown, etc.
Do you need a little help to get started with your giveaway for International Day of Yoga? We have prepared giveaway templates for International Day of Yoga for your Facebook and Instagram giveaways.
Brands connected to yoga also celebrate International Day of Yoga
Not only yoga teachers and yoga studios can use giveaways for International Day of Yoga to interact with their followers. There are many brands related to the world of yoga, like clothing, equipment, meditation, health. And many other brands can create a connection to yoga, for example, any brand that promotes health and mental health.
YAM Mala Beads sells malas, bracelets, and crystals for meditation and healing, practices, and tools closely related to yoga. The brand runs regular giveaways on its Instagram profile. They often run them in collaboration with other brands such as natural beauty brands, ecological clothing, yoga equipment, etc.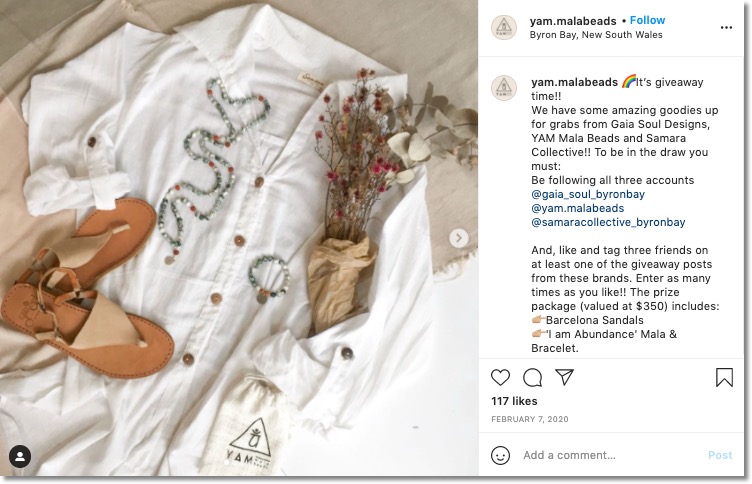 American sparkling water brand LaCroix obviously sells water, but they use other products as well to help build the brand image and brand recall. In their online shop, apart from water with different flavors, customers can also buy clothing, accessories, and collectibles. By creating and selling these products with a very clear brand image, the customers who purchase them automatically become brand ambassadors.
The brand promotes a healthy and active lifestyle and one of their special products is a yoga mat with their recognizable branding. They have given away 50 of these special mats to lucky giveaway winners on several occasions. One was for Pay it Forward Day in April, and the other in January to encourage their followers to keep up with their New Year's resolutions. LaCroix has a big following on Instagram and with a single organic post, they achieve a large number of comments.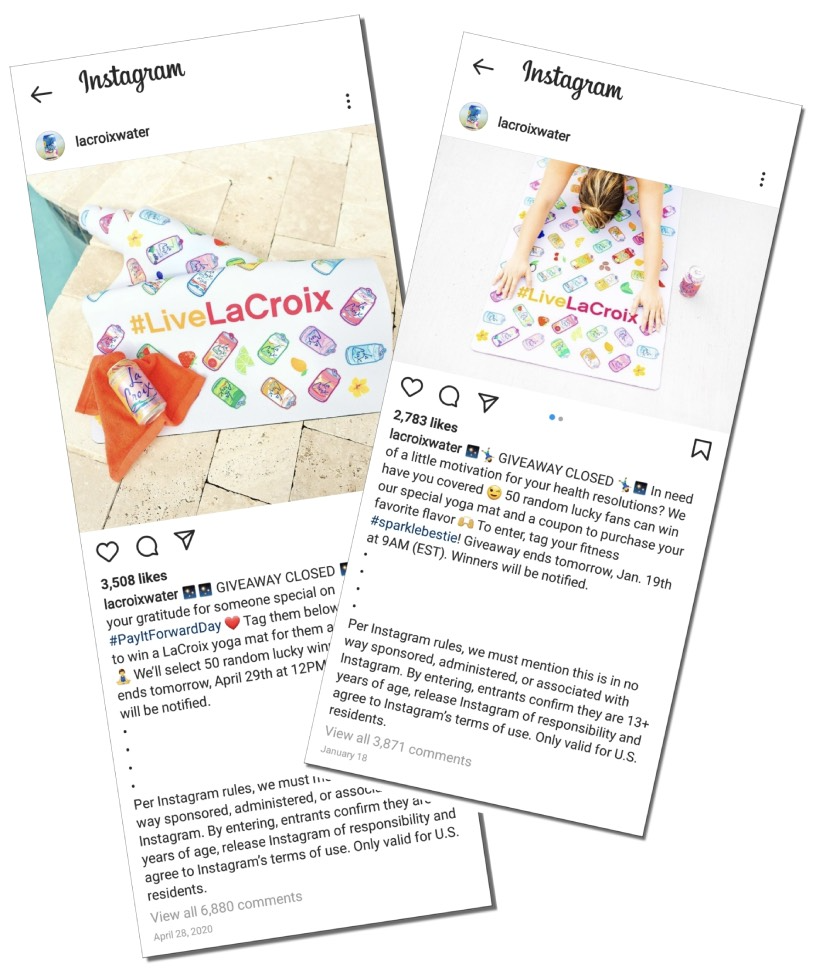 Twitter giveaways for Yoga Day
Twitter is a social media network popular for its flexibility when it comes to running giveaways. You can ask participants to like your post, retweet it, reply to it, mention a friend, and follow your brand. So if you have an active follower base on Twitter or wish to increase visibility, opt for a Yoga Day giveaway on Twitter. The best news is that you don't have to be directly linked to yoga! It's all about promoting health and well-being.
Take a look at this example from The Range UK, a British furniture shop.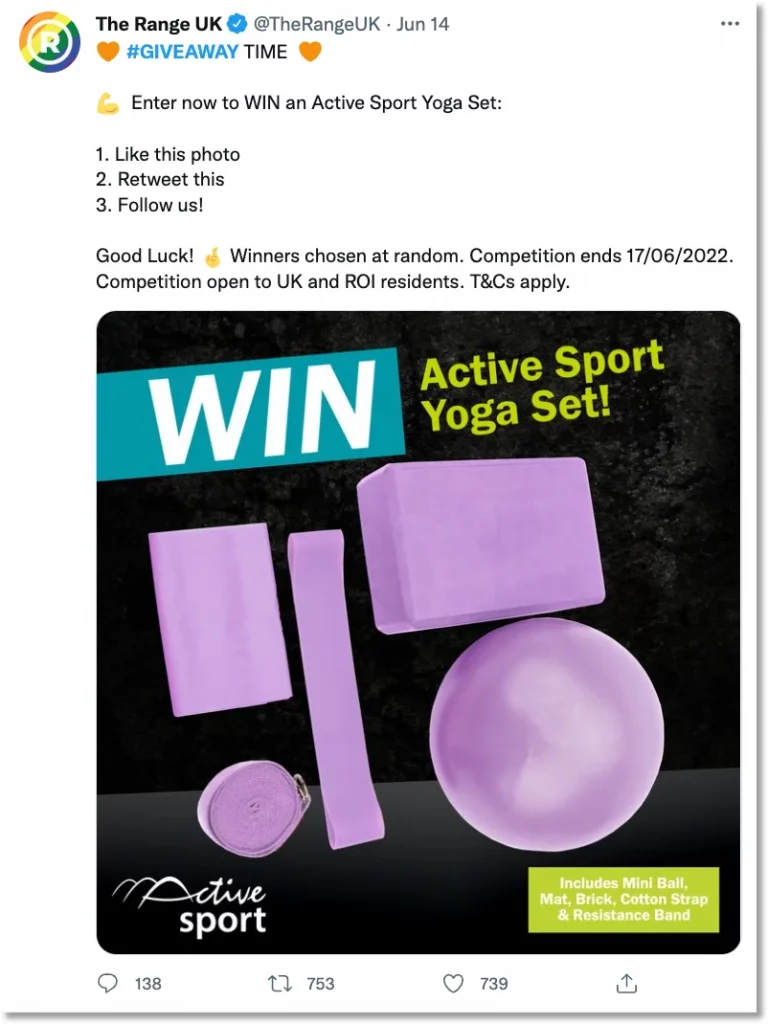 In this example, the British brand organized a giveaway right in time for the International Day of Yoga. Twitter users had a chance to win a yoga set.
Convert followers into leads on Yoga Day
If you want to take it further and rather than just engage on your social profiles, another option is to convert followers into leads through an Entry Form Giveaway. There are many other options, for example, a Puzzle or another game.
We've prepared a Yoga Day Entry Form Giveaway that you can use as is just by adding your brand name and changing the dates.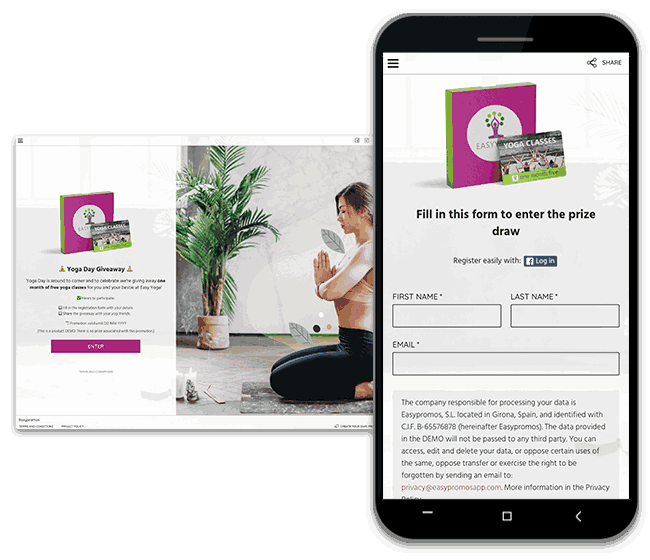 We're ready to help you in our live chat if you have any questions. We look forward to hearing from you and seeing your Yoga Day promotions!